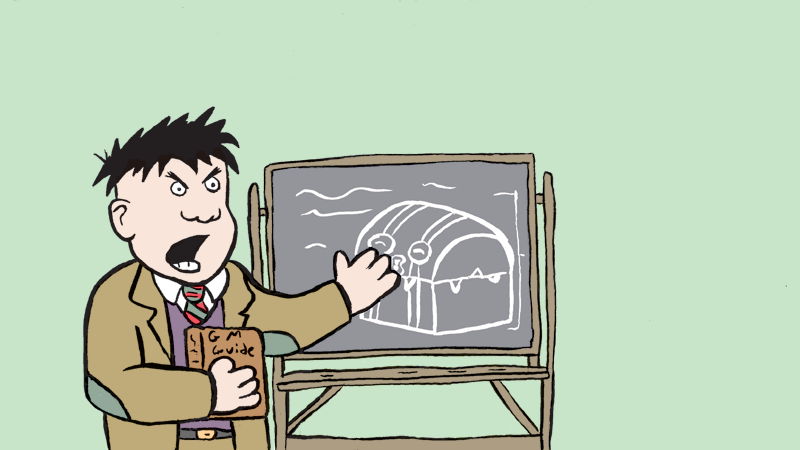 Hello Clarice. I want to play a game.
Imagine we're going to add a new mechanic to Dungeons & Dragons, 5th Edition. Or Pathfinder. Or whatever. It works the same in any edition of D&D. It's a new, defined combat action. Like Dash and Attack and Cast a Spell and Dodge. But it's one only monsters can take. That's important. And it's a free action. We're going to call it Charge Up. Here's how it works: as a Free Action, once per turn, a creature can use the Charge Up action. If they do so, at the end of their turn, they become Fully Charged. And they remain Fully Charged until the end of their next turn. Neat, right? And just to make sure we get all the nitpicky rules out of the way, a creature can't use the Charge Up action if they are already Fully Charged.
The only other stipulation is – and we have to make this clear – the GM must declare that the monster is taking the Fully Charged action. Ideally, they use narration to indicate the monster is pumping itself up. Going super senpai. Over 9000! Whatever.
So, at any time during their turn, a monster can freely Charge Up. And then, at the end of the turn and for the duration of one round, they become Fully Charged. And then the charge dissipates. Simple, right?
Now, here's the other half of that: take monsters with big, blammo signature abilities – dragons with breath weapons, for example – and add a conditional to that big, blammo signature ability: they can only use that ability when they are Fully Charged.
How does that change the game?
No. You can't interrupt the Charge Up or Fully Charged thing. The creature can freely do it. And if the creature doesn't use it, it just dissipates. No harm, no foul. Except the creature can't hold the charge over two turns, so a dragon couldn't Charge Up in Round 1 and then breathe fire in Round 3. They'd lose the Fully Charged status in Round 2 if they didn't use it and wouldn't be able to Charge up again until Round 3. But aside from that one particular case of a creature locking itself out of a signature ability for one round if it chose not to go through with a Fully Charged attack, nothing changes. The only thing that's different is that the monster – and therefore the GM – has to decide one turn in advance before he can unleash its blammo ability. And the creature has a strong incentive to follow through. And the GM has to announce that plan to the players.
So, what changes?
While you ponder that question, I'm going to wrap up this Long, Rambling Introduction™. That's right, suckers. I tricked you. Just like Jason Meyers, who I quoted at the beginning. This was just the introduction. Yeah, this isn't a hacking article. I'm not really building a new mechanic. Look at the feature art. It's Professor Angry, not Scientist Angry. This is How to GM, not Hack Your Game.
But I COULD hack your game here.
The exchange above was actually part of a discussion that happened in my super awesome Discord that has recently become more super awesome because I revamped the whole thing to allow the now two hundred users to have multiple conversations about various different topics in several chatrooms. And now it's more active than ever. And it's open to all Seriously Not Hated tier Patreon supporters.
All right, sorry for the plug.
We were talking about narrating combat. It started with someone lamenting how terrible his players were, then I came in and gave a bunch of general advice about how to narrate combat when your players won't, and then I talked about some of the other, advanced things you can do with combat narration to not only make your even better but also to make the game better AS A GAME. And the end result was my revealing the above thought experiment.
So, we're going to talk about bringing some real life to your combat. How to narrate your combat. Especially when your players won't.
Why Won't My Players Describe Things?
If there's one complaint that I hear all the time from GMs, it's that I'm a major asshole. Which is fair enough, but it's still hurtful and I wish people would learn to just not read things from people they don't like. But if there's two complaints I hear all the time from GMs, they are the asshole thing and that players don't like to fail and why don't they like to fail? Okay, hold on… that's not it… but I have to write that article someday. Hold on. Let me count these quick.
If there's seventeen complaints that I hear all the time from GMs, one of them is that their players just won't describe stuff. Especially in combat. That is one of the top seventeen things I hear from GMs all the time. The most they can get out of their players is "I attack the goblin with my sword, 17 to hit." Or worse, "I attack with my sword, 17 to hit." Or even worse, "I attack, 17." Or even worse, " 17."
So, there I was the other day, sitting in front of my computer, making a list of things that GMs complain about, when one of my Discord members started complaining about number 17 on the list. At first, they weren't entirely clear. And I am masking their gender and identity partly because I don't know if they are male or female based on their username and partly because I don't remember who the hell it was. I can't keep track of this crap. Anyway…
At first, they weren't totally clear. I thought they were having trouble with action declarations. And I totally agreed. At the very minimum, a player MUST state – or imply – what they are trying to accomplish and how they are trying to accomplish it. Clear as frigging day. So, if a player says, "I attack, 17," I smack them and they lose their turn. The minimum action declaration for an attack at my table includes the target of your attack and the weapon or implement you are using. "I attack the goblin with my sword," is the only one of those declarations above that I actually allow.
So, I agreed with whoever and said, "yeah, you've got to get your players to at least identify their target and the means by which they are attacking. Otherwise, they haven't met the basic rules for declaring an action." And the person was like, "but that's not enough." And I was like, "yes, it is. And I provided a link to my article on Action Adjudication because, obviously, I'm the only authority worth a damn. I also pointed out that you could find the same rule in Chapter 5 of my book on pages 58 and 59, get your copy today. Man, am I ever becoming a whore.
Eventually, I worked out what the problem was. The problem was that this GM – like many other GMs – wanted some flowery purple prose from their players. "I attack the goblin with my sword" wasn't enough. They wanted, "I lunge forward, dodging the goblin's attack, and I swing my longsword in a wide arc, slashing at the goblin." Which they also referred to as "role-playing in combat."
I'll skip the part where I point out that role-playing is making choices, it's not acting, and it's not prose. Flowery speech does not a role-player make.
Now, some players will do that crap. And those players are usually annoying as hell. Because they have very little sense of when to STOP doing it. Every attack becomes a damned Shakespearian soliloquy. And it gets old. Fast. But, obviously, no one wants to deal with that crap for every attack on every goblin in every round of combat. But, yes, in general, I agree that it would be nice if the combat narration sounded at least a little less mechanical and a little more, well, narrative. I'd be happy if the players would just remember to tell me what weapon they are using and to vary the verb once in a while. "I slash the goblin with my longsword," or "I stab the goblin with my dagger," or "I impale the goblin with my spear," or "I bash the goblin with my maul." That's about the best you can expect from most players anyway and, frankly, I don't need more than one declarative sentence per action with no extraneous clauses.
But this GM wanted more. Lots of GMs do. Many GMs strain against the overly mechanical feel of combat in role-playing games. Because the game is supposed to be about story and narrative and all that crap. A thing called a ROLE-PLAYING GAME shouldn't feel like a GAME, it should feel like a STORY.
Okay, okay, I kid. But I do think GMs make a lot out of combat feeling too mechanical because the solution always involves lots of flowery description and prose and demanding the players write a poem for every swing of their axe. And there is nothing good about that.
A battle should be fast and tense. Which means any narration should be snappy and blunt. I'll come back to that in a second. Because, finally, I have the GM a useful piece of advice: "if that's what you want the game to sound like, well, isn't that YOUR job? YOU'RE the narrator!"
Seriously. This is generally how I do it:
Bob: "I attack, 17."
Angry: "I'm sorry, what?"
Bob: "Oh, crap. I attack the goblin with my longsword. 17 to hit."
Angry: "No. You had to redeclare the attack, you reroll the die."
Bob: "I attack the goblin with my longsword." *sigh* "13 to hit."
Angry: "You hit. But barely. Damage?"
Bob: "5 slashing damage."
Angry: "Bob charges the goblin and catches it with a swing of his sword. The goblin tries to dodge backward, and it gets grazed. Just a flesh wound. It readies its dagger to counterattack, but before it can, Carol…"
Carol: "I got a 20! Crit."
Angry: *sobs*
Now, this isn't news to any of you. You've all read my excellent article about how dolphins run combat. Basically, you view the mechanical part of the game and the narration part of the game as two different levels of play. Narrate the situation, resolve the action, narrate the result. When the player declares their action, that's the transition between narrative mode and mechanic mode. And the reason it feels gamey is that you only see half the transition. The half that they say. The other half is in their head. The player takes your narration – about vicious goblins ambushing the party – imagines their character in that situation, and decides how their character would react. That, by the way, is the role-playing part. "My character would run forward to meet the goblin and attack it with his sword." The stuff that comes out of the player's mouth is now game speak. Because once the character has made the decision, we have to resolve the action as a game action. It's YOUR job as the GM to take the resolved action and turn it into part of the narrative. And to transition to the next player. Right?
And that's why, if you're frustrated with the level of description your players are providing because it's making the combat seem like a game, you're really just complaining that the players aren't doing your job for you. And, no, your players aren't disengaging from the combat as a story just because they aren't poets. Though different players do engage with the game differently. Not every player is driven by the narrative. And that's fine. But if YOU are – and if SOME of your players also are – well, then, it's YOUR job to provide that. That's why you get to sit behind the screen and make the big bucks.
But – and I warned the GM I was talking to about this – but – and this is where the advanced advice comes in – but, once you start doing that, you're going to discover why the players don't do it more. It's hard to come up with forty ways to say "attack" in every damned combat. But that's good because you really don't want to anyway.
Fast and Blunt
In D&D, 5E, the average party of four PCs has four to six combats a day. Let's say five. And each combat lasts about five rounds. If combats are fought against an average of three monsters apiece and everyone attacks every round, you are going to be describing 175 attacks at every single session. 175 slashes, bashes, stabs, and impalements. Even allowing for different weapon types, how many different ways can you say "attack?"
And here's something else to consider: the average person speaks about 100 to 110 words a minute. But, if you're being creative and thoughtful at the same time, you tend to speak slower. So, let's cut that down to 75 words a minute when you're narrating. And even that is probably pushing it. So, it takes you 0.8 seconds to say a single word when you're narrating. My little description of Bob's attack was 37 words. So, it'd take me about 30 seconds to say that. That means I spend 90 minutes of every session adding narration of that caliber to every attack. Even if I do get my narration speed up to the normal human average because I think on my feet, I'm adding an hour of time to the game for that crap. Holy crap, right?
Yeah. The fact that combat is mostly repetitive and the fact that that description actually substantially slows things down is why I don't actually do that for every attack. Some attacks get that sort of full descriptive treatment, but most don't. Many get something more like "Bob slashes the goblin; it reels backward but keeps fighting. Carol, what do you do?" Some get "Bob grazes the goblin. It barely notices. Carol?" And some get even shorter descriptions. But I'll get to that in a second.
The point is to vary things up. Every minute that you – as the GM – are narrating is a minute that the players aren't actually playing the game. And, I hate to break it to you, Mr. or Ms. GM, but the players aren't there to listen to you weave a narrative. They are there to make choices and play out the results. Even the ones who like a good story. So, while your job is to bring the world to life, it's to bring the world to life in the briefest way possible.
This is especially true in combat because become is supposed to fast and tense and exciting. It's not supposed to feel like sitting through an English literature class. So, your narration needs to be tense and exciting and fast too. Now, tense and exciting require some actual narrative. "Bob hits and does 13 damage, now the goblin hits and does 6 damage, now Carol hits and does 2 damage…" is not tense and exciting. It's fast, sure, but it's just math. Just games. That's bad.
So, the key is to focus on short, punchy description. But not all the time. See, it's also good sometimes to linger on things. To take your time once in a while. For example, when you fight undead in my game, you feel pretty grossed out. I make sure of it. Trust me. In my last home session, my players were just fighting some standard zombies and skeletons and one of my players complained about how gross it was while another said they felt like they needed to take a shower after the game. And your gods save you if I find out you're an arachnophobe. Because I will put a swarm of spiders in the game and they will get everywhere. I relish that kind of thing, to be honest. The ability to make my players feel emotions in combat. Dread, horror, discomfort, excitement, fear, anger, vengefulness. You can't do that short and punchy.
I tend to have these patterns when I narrate a combat. It's not like I consciously follow a rule. It's just a groove I've settled into. The first round of combat, I tend to be very descriptive. But it quickly drops off to very short descriptions after the first round. However, if there's an exciting or decisive event – like the players land a critical hit or miss with a really powerful attack – I ramp up the description accordingly. And once a round, I make sure I do get in one medium-length description. And when I say, "short description," mean really short and not descriptive at all. But, I also don't mean game speak. Because…
Emotion is Better than Description
Engagement isn't about narration, it's about emotion. It's about making the players feel like they are IN the action. Being descriptive isn't the only way you can do that. In fact, often, being too descriptive at the wrong moment can ruin engagement. If a player lands a decisive critical hit, yes, play that up. Describe the crippling blow. But, also, don't linger too long. Because players get bored with narration quickly and listening to too much narration reminds them this is just a bunch of people talking about pretend elves.
So, consider this:
Carol: "I bash the goblin with my mace. I hit AC 17 for 7 points of damage."
Angry: "Solid hit! He really felt that! He's bloodied! Dave, you're up. Want to finish him off?"
There is nothing remotely descriptive in what I said there. It's almost pure emotion. It's exciting, it's rewarding, and it passes the momentum to the next player. And, let me tell you something, it puts the players IN the battle. It gets them pumped. They are feeling something of what their characters are feeling. And that's the real key to engagement.
The nice thing about pure emotional descriptions like that is that they are always short and punchy. They keep the energy and emotion up without needing a lot of words. They are great workhorse descriptions to maintain whatever emotions you've built with the occasional long and medium descriptions. Especially if you use them to emphasize the same emotions your long descriptions were building.
Dave: "I attack one of the zombies with my sword. 13 AC for 3 damage."
Angry: "A graze. Doesn't even slow it down. Alice, the wall of zombies is still advancing. What do you do?"
That's a little more descriptive, but it's still not precisely a proper narration. It's just a couple of words. But if I've been talking about the inexorable advance of the zombies and how attacking them is like attacking a slab of meat and how they don't wince or even notice as they're being dismembered, their jaws slack and their empty eye-sockets vacant and unchanging, yeah… that keeps the right tone.
See?
And that's really the trick to narrating combat. Don't expect the players to fill in the narration; you have to do it. Use strong narration sparingly to establish the mood at the start of the fight and to punctuate decisive events. Use medium narration occasionally throughout the combat to keep the mood up. And use short, emotional, and fragmented narration most of the time to maintain the pace without losing the feeling. And, of course, switch consciously between narration and resolution like a dolphin.
Oh, and don't worry about being repetitive. Using the same words over and over doesn't make you seem stupid and uncreative. Players don't notice the repetition. But they notice what you're repeating. If the goblin is always dodging and nimble, the players won't notice that you keep using the same words as if you can't think of anything else to say. But they will notice that the goblin is nimble and dodgy. So the goblin will feel like a goblin.
Which brings me around to the advanced, advanced advice…
Information is Better than Emotion
When it comes to running a descriptive combat, most GMs are focused on helping the players "see" the combat in their "mind's eye" or some bullshit like that. They want to "bring the action to life." They are afraid that combat is "too mechanical" and "too gamey" and they want to make sure "it still feels like part of a story." And the advice I have above will help you do all of that. But it's really bad for your players. Because, like it or not, combat is a game. The whole game is a game. There are challenges to overcome. And the players have to figure out how best to face those challenges. They aren't just trying to experience a story, they are also trying to complete a quest, overcome an obstacle, defeat a foe, and win a game. And if you move too far toward "making it not feel like a game," you're obfuscating the issue for your players. You're making their decisions harder.
Fortunately, there is a way to get what you want and also improve the game experience. Since you're going to be doing all of this narration anyway, why not use the narration to convey useful information.
Now, I'm not saying to mix game speak into your narration so the players never get confused as to what has an actual game effect and what doesn't. You should do that too. Do not describe an attack that leaves a goblin with most of its hit points intact as "running it through" and if you want to have a goblin knocked back by a powerful blow, make sure you also point out that it quickly rebalances itself and darts back into the fight or else the players will wonder why you didn't move the mini. Do not let your narration confuse what's happening in the game.
I'm also not saying that you should modify your narration to take into account all of the game mechanics. You should do that too, obviously. Give some sense of how badly the monster got hurt by the blow based on how many hit points it lost compared to how many it has. A blow that does 4 damage would cripple a goblin and graze an ogre. Make sure you convey that. And if the monster is nimble and lightly armored, describe misses as dodges. If the monster is heavily armored, describe misses as bouncing off its shell. And if the monster has a shield, describe misses as blocks. This is amateur-hour type stuff. And I shouldn't HAVE TO say it. If the players can't make reasonable guesses as to the stats of the monsters based on your descriptions, you suck at description. If the players can't remember what equipment the monster has, you suck at description. Fix it.
But, have you ever noticed that the only tactical decisions players make in most combats is which attack to use against which target. And once a player settles into a position and picks a target, they tend to just stay in that groove until their target is dead or some emergency pulls them away. Like their hit points drop too low, for example. Have you ever seen a player take any sort of a defense action? Or even reposition unless their target moved first? Very rarely do you see players think about anything other than what attack to use. And very rarely do you see them consider anything beyond how many resources they have left and which attack is the most powerful.
And that brings me back to the question I started this whole article with. What if monsters had to declare that they were using a powerful ability NEXT round on their CURRENT round? What if the dragon couldn't breathe fire without warning the players to expect a breath weapon in one round? When the dragon started inhaling – started charging up – what would the players do?
They might ignore it and just keep doing what they are doing, but they would be making a choice to ignore it. They would be betting they can handle the attack. Or that reacting to the incoming attack isn't worth losing the chance to attack. More likely, they would spread out to minimize the number of heroes that could get caught in the blast. Or the cleric might take that moment to cast some sort of energy resistance spell. Or they might even – *gasp* – use a consumable item like a potion of fire resistance. Preemptively. Because they'd shift their thinking from "what attack should I do next" to "okay, I'm about to get blasted with fire, do I have a response to that?" The point is, they would start thinking reactively.
Now, I KNOW there are people who are already making a beeline for the comments section saying, "but that will make things too EASY if the players can see the monster's biggest attacks coming and then respond to them." Those people are idiots. Because they are missing the point of the whole game. It's not about how easy or hard a combat is. You can always scale up your combats. As a GM, if players are having an easy time with your fights, just USE THE DIFFICULTIES SETTINGS IN ENCOUNTER BUILDING TO SCALE UP! But you usually don't have to if the fights are interesting and dynamic. Players don't get bored with fights that are too easy just because they are too easy. They get bored with fights that are too easy because the players feel like nothing they do matters. They will win the fight no matter what, so why are they are even at the table? What's the point? If your choices don't matter, you don't have to show up. And that's what makes fights boring.
If the fight is easy because you made all the right choices, you drank the right potion at the right time, disengaged and dodged to protect yourself from the right attacks, and then unleashed your best abilities at the proper moment, that's a good fight. It feels good. You feel like you earned that win. And D&D doesn't offer that kind of win often because the only choices most players make are "what attack do I use" and "when do I need some healing."
If you look at combat systems in video games, one thing you'll notice is that players get a lot of information about the enemy, and you can react to that information. Enemies wind up their attacks and have visible wind-up animations. And you can decide whether to land a blow in that time or whether to dodge roll. Maybe you think you can take the hit. Maybe you'd rather play safe. That's a choice you can make because you have some idea of what's coming. And it's the choice that's important, by the way. This isn't just a matter of letting players roll to dodge against powerful attacks. And that's why a game like Dark Souls can be very difficult but can still be called fair. And it's what makes combat systems in action games in general fun. You have choices and those choices are driven by information.
The example mechanic I gave is an example of telegraphing. Now, telegraphing these days is usually used in the context of video games. And it means that an opponent some shows what they are planning to do next. It's a wind-up animation. It's the dragon taking a deep breath before it has to breathe. Or it's Bahamut in Final Fantasy IV – or FFII if you're American, over 35, and correct – counting down the rounds before it used Megaflare. But let me tell you where I first heard the phrase telegraphing. It was back in 1992 when I was learning how to fence – the sword fighting sport, not the erecting of barricades – and the coach was showing us videos of other fencers to demonstrate how they gave away their next move somehow. We were learning that for two reasons. First, if you can spot an opponent telegraphing their move, you know how to counter it before they've even started the move, which increases the amount of time you have to react. Second, if you're aware of your own telegraphing, you can put a stop to it and not give your opponent an advantage OR you can use it to your advantage by actually establishing a telegraphing pattern on purpose and then changing it up once you train your opponent to see it.
Now, I am not encouraging you to trick your players with telegraphing. I'm just telling you that it has actual combat applications. It isn't just about video games. But in the context of a video game, it's there because it empowers players to make interesting tactical choices. If the player can't see the dragon's breath attack coming, he'll just keep hammering away at the dragon and take the fire on the chin. Because what else can he do? I mean, sure, smart players stay spread out during dragon fights. But that's a choice they make in round one and never again. Players who can see the dragon's breath coming one round in advance have more choices.
Me? In my narration, I like to telegraph the big moves a round in advance. Yes, it means my monsters sometimes get locked into bad moves because the players counter their action, but that also makes my players feel smart. And tactical. It makes them feel like they are earning their wins. And in more complex fights, the decisions can get pretty ugly anyway. For example, when fighting a dragon and his two ogre slaves, do you spread out and leave the wizard defenseless to avoid everyone getting blasted with the breath weapon or do you stay together to protect your squishies from the ogres and take the breath or do you try to make sure everyone is engaged with ogres so the dragon can't breathe without hurting his allies too?
So, telegraph. You don't need a special mechanic like "Charge Up," though there are a lot of possibilities that such a mechanic could entail. And don't let your telegraphing be interrupted by an attack because you want the players to make decisions other than attacking. Telegraphing makes your game better and it gives you something to narrate other than a blow-by-blow account of 175 attacks between five PCs and three monsters chipping away at each other. Telegraph.
And I'm going to end by sharing a particularly advanced form of telegraphing that works very well for groups of intelligent opponents, one that might also train your PCs to do something else they never do in combat. It's called barking. You need to start barking at your players.
Now, this is actually a video game design term. As far as I know – and I admit I didn't actually research this or anything – as far as I know, it doesn't come from anything else. In video games, the NPCs have a tendency to speak out loud. A lot. In a stealth game, if you make a noise, an enemy might say "what was that noise" before he started to make his way to your position. And if you conceal yourself and his search doesn't turn you up, he might say "just the wind, I guess" and head back to where he came from. In combat, especially in military shooter games, the NPCs to tend to communicate between themselves a lot. They will shout things like "try to flank" or "grenade out" or "taking fire" or whatever. Things that soldiers might actually say to each other during battle. To communicate. Because, unlike computer-controlled NPCs or monsters in a table-top RPG, real-life combatants aren't all sharing the same brain.
There's no reason for NPCs in games to talk to each other, to share information, to give instructions, or even to talk at all. They are all being operated by a computer. By the same computer. Every NPC knows exactly what all the other NPCs know. Well, they don't always. Depends on how the AI is programmed. But you get what I'm saying. The reason for these barks is that they tell the player what the NPCs are thinking. Which allows the players to react to what the NPCs are going to do. It's a form of telegraphing.
When you have a team of intelligent monsters on the battlefield in your tabletop RPG session, do you – as the GM – talk to yourself? Do the monsters have conversations amongst themselves? Do they should tactics? Does the leader ever say "crap, they have a healer? Bob, George, take that guy down!" Does anyone ever say, "I'm hurt, someone help me." Most GMs don't bother having their monsters communicate. And then many GMs wonder why the players don't communicate in combat. Or, at least, why they don't communicate in the right way. Because no, your players should not be having team-based tactical conversations during a battle. But they should be saying stuff. Short stuff. Like, short, six-second blurbs of communication about needing help. But why should they? They never see the enemies do it.
Moreover, if the enemies don't talk amongst themselves, the players can't overhear their plans and know what they are thinking. Which is a shame because telegraphing is a super-useful thing and also makes the enemies feel more alive. More real. If only there was some kind of action that any creature could freely take on their turn in combat that allowed them to emit a short, audible chunk of linguistic communication. Say, six seconds worth.
Well, maybe we can have a future hacking article on inventing such an action. Because, man, that would be even more useful than one about Charging Up and all the interesting mechanics that could hang off that.