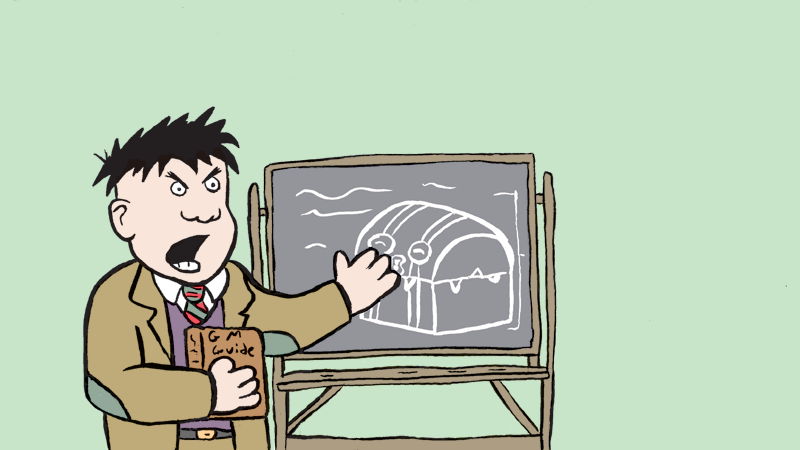 On Monday, I wrote a rant about how I'm tired of hearing dips$&%s GMs complain about the speed of combat because the speed of combat is in their hands. The thing is, a good two-thirds of my articles are written as a result of my getting tired of listening to GMs complain about stupid things. Or give bad advice about how to fix stupid things. Seriously? Do you want me to write an article on a specific topic? Go ahead and start complaining about a stupid thing and then send me a link. If I don't hunt you down and slap you unconscious – just block you on social media channels – I'll probably write an article about it. Of course, you could just submit a question to Ask Angry (it's back, baby!), but man do I ever have a huge backlog of questions.
My point is, I have a lot of trouble listening to GMs getting worked up over stupid, nonsensical things. Trivialities. Non-issues. Like the recent article from Self-Proclaimed Lazy DM, Sly Flourish, explaining the logical arguments why NOT rolling for monster damage is better for your game. The thing is, I'm not even weighing in on the issue of whether it is or is not better for your game. I think actually wasting time on that little non-argument was a waste of virtual ink. Or pixels. Whatever blog entries waste. Because, the possible cost-benefit calculation for static or rolled damage is so close to even that it doesn't matter. It's ultimately going to come down to whether you, as a GM, like rolling more dice or not. There's really no place for logical argument to enter into it. It's a non-problem.
Speaking on non-problems, let's talk about initiative. See, initiative is one of those things that drives me f$&%ing bonkers. Why? Because GMs have been making a big deal about it for years. F$&%ing YEARS! And every gaming blog and every advice-giving GM and every podcast eventually shares their brilliant method for "taking the pain out of initiative." Use index cards. Use table tents. Ask a player to track it. Game Mastery is actually making ACTUAL F$&%ING MONEY selling a goddamned magnetic initiative tracking board. Holy mother of f$&%.
And newer GMs or players who are turning into GMs see this s$&% and think initiative is the most daunting f$&%ing thing they ever have to do. Never mind that there are literally five hundred pages of rules to the goddamned game you have to manage. Never mind the fact that you are responsible for forcing five anti-social dips$&%s to compromise enough that they can work together to accomplish a simple goal like "rescue the monster from the evil princess." Never mind the fact that there is a constant stream of new material and new errata for every goddamned game AND a constant stream of new games out there to keep abreast of. Never mind the fact that a GM has to be an expert on an entire f$&%ing imaginary world, on game design, on story structure, and on group f$&%ing psychology. Never mind all of that. The real test of a GMs mettle, the true challenge, is how to keep track of a sequence of LESS THAN TEN TURNS that DOESN'T CHANGE FROM ROUND TO ROUND! Well holy s$&%. Stop the f$&%ing presses. We need to fix THAT pronto.
In point of fact, as much as I've complained about how most GMs treat initiative tracking like it's trying to work out the recipe for the Philosopher's Stone using only a Dan Brown novel written in the same mystery script as the Voynich Manuscript, I've avoided weighing on the topic because it seems like such a stupid thing to waste a blog entry on. See above. After all, my response to to all of the initiative arguments is "it's just a list of f$&%ing numbers! Holy mother of f$&%! Write a list of f$&%ing numbers! On a piece of paper!"
Recently, someone – I won't say who because he's getting really damned clingy via social media and I need to put the kibosh on that before I have to take out a restraining order – recently, someone on social media suggested I write a joke article about initiative tracking where I explain in my usual, painstaking detail how to write a list of numbers. And, you know what? It actually seemed like a funny idea. And I was thinking of doing just that. But, two things stopped me.
First, I don't do that s$&%. My blog isn't a joke. I pride myself on not wasting people's time. If I am going to ask you to read 5,000 words on a topic, they'd better be 5,000 useful words. Hell, even this overly long intro is going to transition into something much bigger than actually just how to track initiative. See, the thing is, the conventional wisdom among bloggers and social media dips$&%s is that the modern reader has no attention span. You can't write more than 1,500 words or so before you lose your audience. And me, I break that rule CONSTANTLY. I use my blog wrong. I use Twitter wrong. I do it all wrong. And the only reason I can get away with that is by actually saying valuable, useful things. Also, because I've cultivated an intelligent, attentive audience that consists of the best of the best of the gaming crowd and now that Stockholm syndrome has set in, I can get away with anything.
But second, I recently wrote an article about how D&D is NOT too easy the way some people claim. And the backlash from that raised another point, that D&D combat can be too slow and that it takes too long. So, I railed against that. And there hasn't been a backlash against that yet because it's been out for less than a day as I write this. But there will be. There ALWAYS is.
But then I realized that there's a real problem joining together the whole initiative and pacing issue in combat. In fact, the initiative tracking issue (and various proposed solutions) just lead to the pacing issue. Suddenly, I begin to suspect that the issue of how to track initiative isn't about initiative at all. It's about how to control a combat. How to run a battle.
Because, here's the thing: like everything in D&D, there's actually a process. And good GMs eventually stumble on the process. It varies a little from GM to GM, but the essential steps are always the same. And no one – NO ONE – has ever just spelled out the steps. It's kind of like how I spelled out the steps of "how to figure out what happens when a player says 'this is the thing my character does'" No one had ever just explained it.
So, this article is about how to track initiative using a simple list of numbers. BUT, it's also about how to actually pace and control a combat. And, by the end, you'll see why overly complicated initiative solutions don't actually solve any real problems. They just mask them. And why delegating initiative is pretty much the worst thing you can do for combat.
You Are In Control
Let's start with the idea of delegating initiative and why you absolutely should never, EVER delegate initiative to a player.
The thing is, you – as the GM – have absolute control over the pace of combat. Combat is supposed to be exciting, fast-paced, and tense. And it relies on momentum to keep the tension high. And, like everything in the game, you – the GM – have to maintain the proper pace. You have to be in control.
Initiative tracking is not just about whose turn it is. See, initiative – as the controller of the turn and round order – literally sets the foundation for the pace of the entire combat. And you can't put that tool in a player's' hands. Now, you might think that I'm overstating the case. As long as you can rely on the player to announce whose turn it is, initiative tracking doesn't have to break the flow. But, by the end of this article, you will understand that the initiative doesn't just determine whose turn it is. It also helps narrate the combat. And narration is the tool by which you maintain the pace. Let me explain.
Why Dolphins are Great GMs
Let's talk about the actual pace and flow of combat. Let's talk about how combat actually plays out on a moment by moment basis.
First, the combat begins with scene-setting narration, just like any scene. The GM describes the situation and gives the players the information they need to make their first set of decisions in the combat round. That's the opening narration.
Next, the combat actually starts to play out. And it plays out in turns and rounds. Each turn – each turn taking by a PC, that is – follows a simple process.
The GM Transitions Into the Players' Turn
The Player Asks a Question or Declares an Action
The Action is Resolved
The GM Describes and Applies the Results
The GM Transitions Out of the Players' Turn
Now, the funny thing about this is that steps 1 and 5 are not even often thought of as steps. And that is why initiative isn't thought of as part of the narrative. Because, here's how it plays out at a typical table.
GM: Alice, your turn.
Alice: I'll run up and attack the goblin with my mace. 15.
GM: You hit the goblin. Roll for damage.
Alice: 6 bludgeoning damage.
GM: Great. You hit for six damage. Bob, your turn.
Here's how it usually plays out at my table.
GM: Alice, four goblins are charging the party. What do you do?"
Alice: I'll run up and hit the goblin with my mace. 15.
GM: Damage?
Alice: 6 bludgeoning damage.
GM: You charge the goblin and smash it with your mace, bringing it to a stop. It's allies are hesitating. Bob, you've got an opening…
It's a very slight difference. And the difference is entirely in the transitions. It's a little rule I call begin and end with narration. There's nothing inherently narrative about calling out whose turn it is. Here's the deal. The flow of combat is like a dolphin. I s$&% you not. Ever watch dolphins swimming along the surface? They tend to follow a wave pattern. They jump out of water in an arc and then plunge down under the surface. Then they swim back up toward the surface, jump out again, then then plunge down under the water.
That wave pattern demonstrates the interplay between narrative and mechanics in a well-run combat. See, dolphins need to breathe air. They can't stay underwater forever. And if they are trying to cover a lot of distance quickly, they need to breathe a lot. Just like how when you run, you breathe more quickly. So, they leap up out of the water, take a breathe, and then plunge down under the water to swim. Jump, breathe, plunge, swim. The swimming maintains the forward momentum, the breathing keeps them from – you know – dying.
Mechanics in D&D are like breathing. You have to keep doing them or there is no game. But They don't keep the game actually moving forward. That's the narrative. The narrative is what drives the momentum of the game forward. And that is why every turn in combat begins and ends with narrative. That's where the game plunges down under the water to keep the speed and momentum. And then we break out of that to resolve the mechanics and take a breath of air. Then, splash, back down into the water.
Those transitions are important on a fundamental level. They keep combat exciting and interesting. In fact, they are more important than huge amounts of description. In fact, in fact, they are more important to the pace and flow and narrative of combat than convincing your players to describe their actions in excruciating detail. Seriously. I know I'm once again going against the conventional wisdom, but if you want the game to feel like it's telling an exciting story, description is less important than pacing and narrative flow. People's imaginations will fill in the description. They will. I swear they will. But only if you pace it properly.
Now, transitions – as you've learned – are an important part of narration. And between every turn in combat, there's a transition. You have to move the spotlight from one character to the next. And if you do that in a wholly mechanical way, you lose the flow. You don't get that nice Ecco the Dolphin effect.
And that means you need the initiative tracking in front of you and easily referenced so that you can weave that list of numbers into something remotely interesting narratively. And remember that after every transition, because we've covered this, you also need a bit of scene setting. Even if it's just a single goddamned sentence. In fact, that's all it should be. At the start of every turn in combat, you should say a few words (and NO MORE) about what's going on in the scene right now, specifically to the person whose turn it is. Even if all you do is remind the player of what just happened.
And when you get good at this, the transitions out of one turn and into another meld together. The resolution of one action sets the scene for the next. Alice meeting the goblin's charge head on and causing a momentary hesitation creates the opening for Bob to act. That's both resolution for Alice and scene-setting for Bob. Now Bob can act. And when Bob moves forward to fight alongside Alice, the missed attack with his great axe sets up the flow into the goblin's turn.
GM: The goblin leaps aside, dodging your axe. He tries to dart past you to close with Dave. You get an opportunity attack. Roll it.
Bob: 11.
GM: The goblin dodges that too and dashes forward, lunging at Dave with his shortsword. Dave, what's your AC?
Dave: 13.
GM: Ouch. He stabs you in the side for 6 piercing damage, sending you stumbling backwards while the other two goblins draw to a stop and face Alice and Bob head on. Alice, the goblin recovers his breath from your blow and thrusts his shortsword. A crit! You take 12 damage.
Alice: Damn it! I'm really hurt!
GM: The other goblin closes with Bob as he's trying to stop the one getting past him. But… Bob sees him coming and dodges the blow. That's a miss.
Bob: Phew.
GM: The goblins range themselves in front of Alice and Bob while a third goblin is ready to strike another blow at Dave. Carol, they seem to be ignoring you. What do you?
See how this works? Can you see the dolphin leaping up into mechanics and down into the narrative. See how there's a cadence? A flow? And it isn't overly descriptive either. Which is good, because it's fast. Read it out loud. Seriously. Right now, read it out loud. How does it sound? It's fast and exciting. Right?
And the only thing going on there is an awareness of transitions and scene setting.
How to Actually Make a List of Numbers
A few years ago, I went to a con and had some sort of mental breakdown wherein I decided to actually be a player at a game. I don't know what the f$&% I was thinking. But whatever. And that's when I discovered that, not only do some people overcomplicate initiative to the point of stupidity, some people even overcomplicate keeping a list of numbers. What happened was this.
The GM asked us to roll initiative. We all did. Then he took out a piece of paper. And he started asking "does anyone have over 30?" And then he asked "does anyone have over 20" and two people raised their hands. And they each gave their score. And he listened to both and then wrote them both down. And then he asked if anyone had over 15. And there was a person and also a monster. So he made some more notes. And he kept going on like this until he had all the initiatives recorded. It was weird. And it wasn't exactly a speedy process. And it required more cognitive load from the GM than initiative really should. One combat, we had three people and one monster in the same narrow range of initiative and, holy f$&%, you'd have thought his brain actually short circuited. Because he has to ask about three numbers, add one more, put them all in sequence, decide how to resolve ties, and so on.
Now, this is how initiative works at my table.
Me: Roll initiative.
[Clatter of dice]
Me: Alice?
Alice: 14
Me [quick note]: Bob?
Bob: 8
Me [quick note]: Carol?
Carol: 22!
Me [quick note]: Cool. Dave?
Dave: … 7.
Me [quick note]: Ouch. That sucks.
Me [rolls dice, adds three monsters, done]
It is an extremely quick pass around the table with no extraneous questions and no extra wasted time. Because, remember, when we're writing down initiative, we're out of the water. We're in the mechanics. The game is stopped. Get that s$&% done.
How do I perform this magical feat of pure genius? By not being a dumba$&.
Start with a piece of paper, right? Imagine the top of paper is like 30 or 40 or whatever. And the bottom of the piece of paper is 0. Don't actually number the paper. That's dumb. You don't need to do that.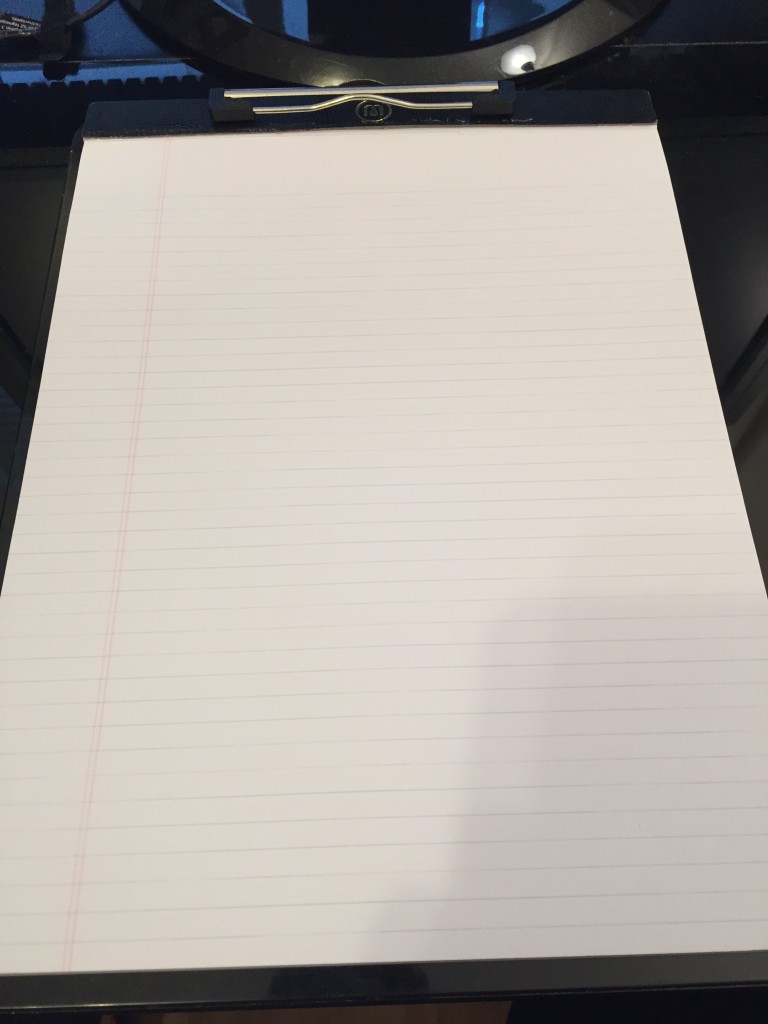 Now, you ask each player (and, by the way, I use character names) their initiative. If the number is high, it goes near the top. If it's low, it goes near the bottom. Write the number and the first letter of their name down. Use two letters if you don't use the rule that each character's name must start with a different first letter (I s$&% you not, that is an actual rule in my game for precisely the reason that I only need ONE letter for each character). For example, Alice got a 14. She's a little above the middle.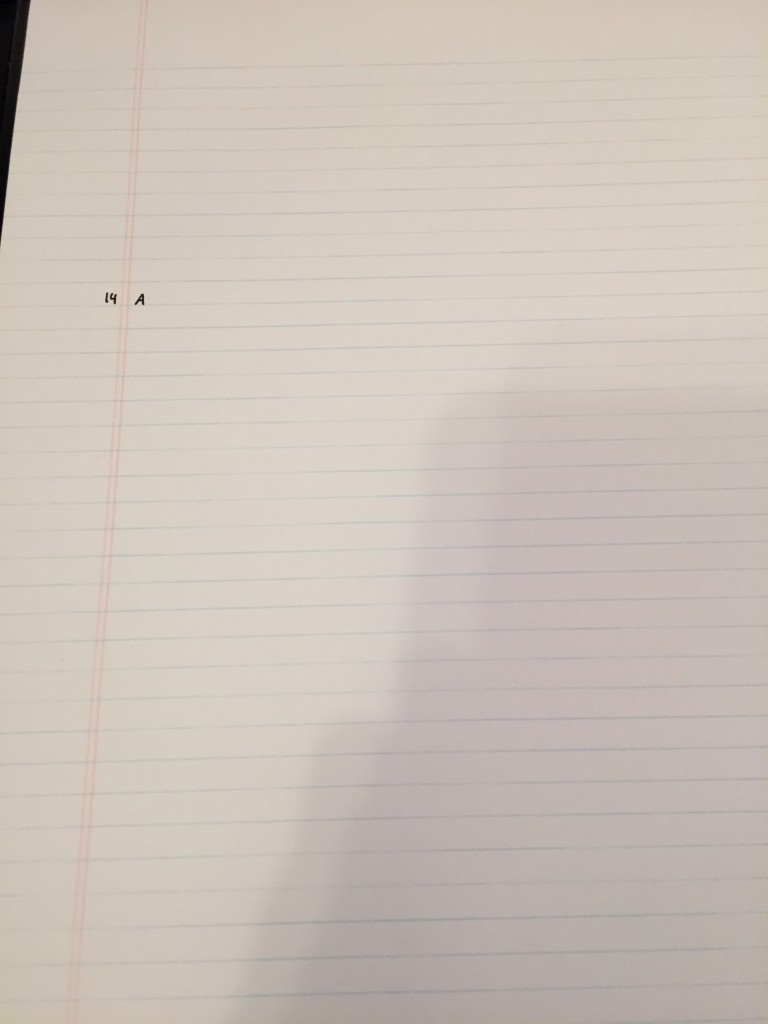 Bob got 8. He's below the middle. Carol got a 22, she's pretty high up there. Dave got a 7, he's right below Bob. But you always leave a space until you add your monsters. So that you can squeeze monsters in there.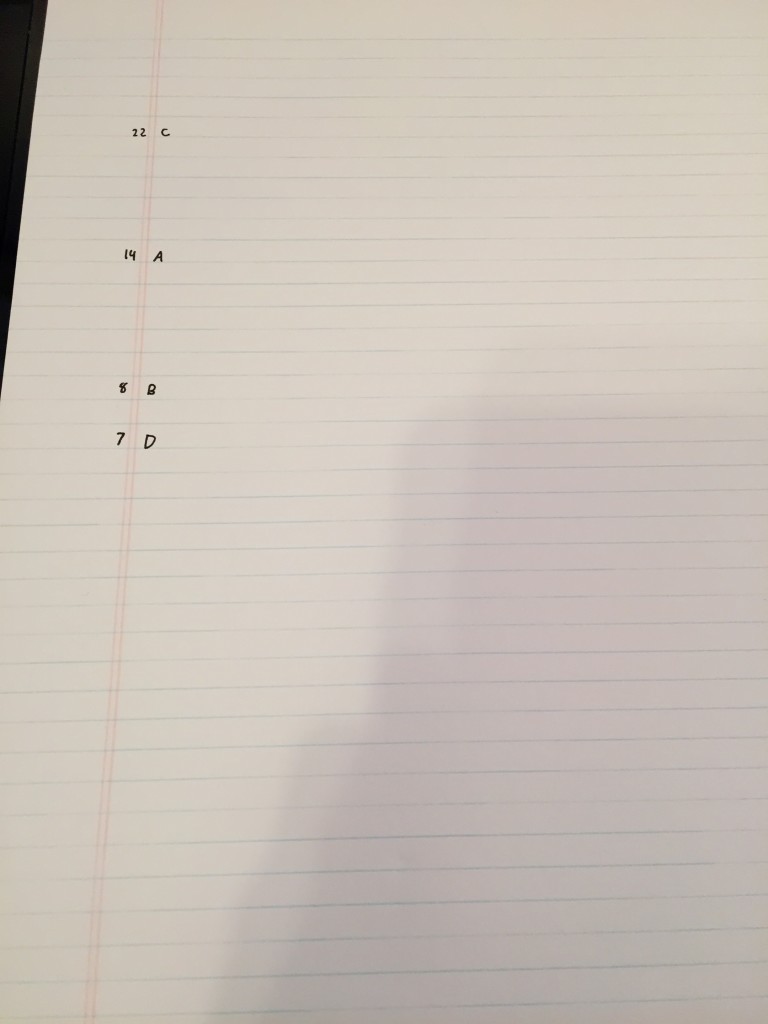 Then, you roll for your monsters and add them to the list. You can abbreviate them however you want. And then you can just go down the f$%&ing list. The point is, though, you didn't waste a lot of time with "who got a number between 25 and 30? Both of you? Okay, who rolled higher?"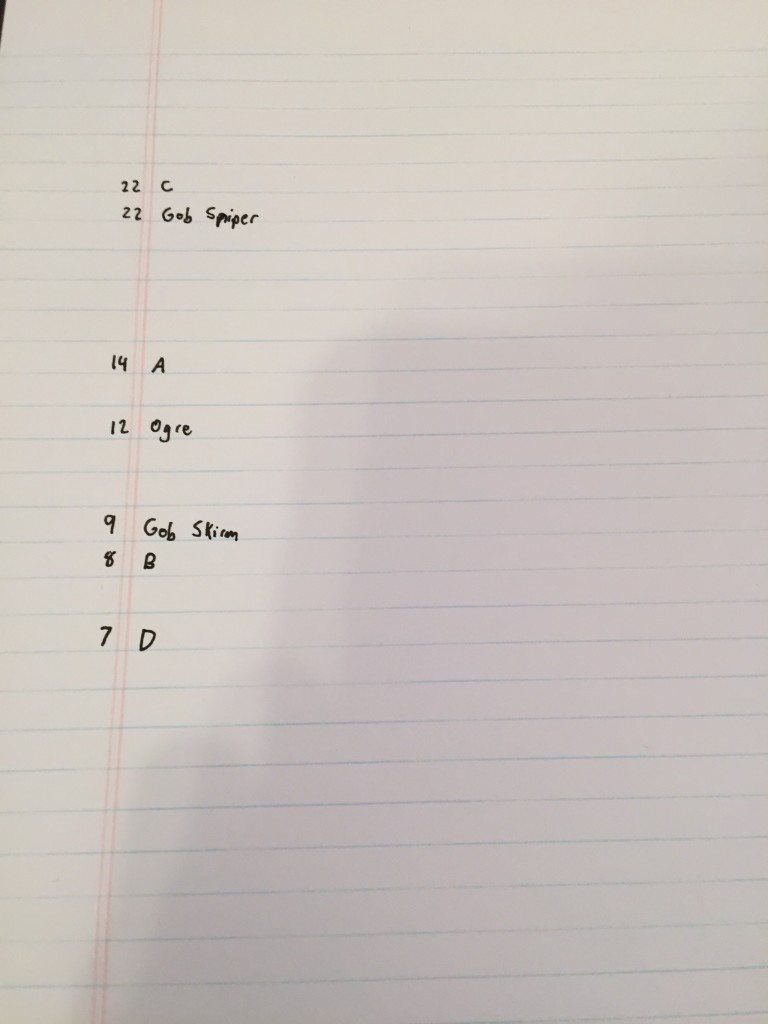 It's easy. And with practice, you can do it really quickly.
And THEN, you can add on the monster hit points. For example, my sniper has 16 HP. The ogre has 48 HP. And there are two skirmishers with 12 HP each. Now, I have their max HP right there.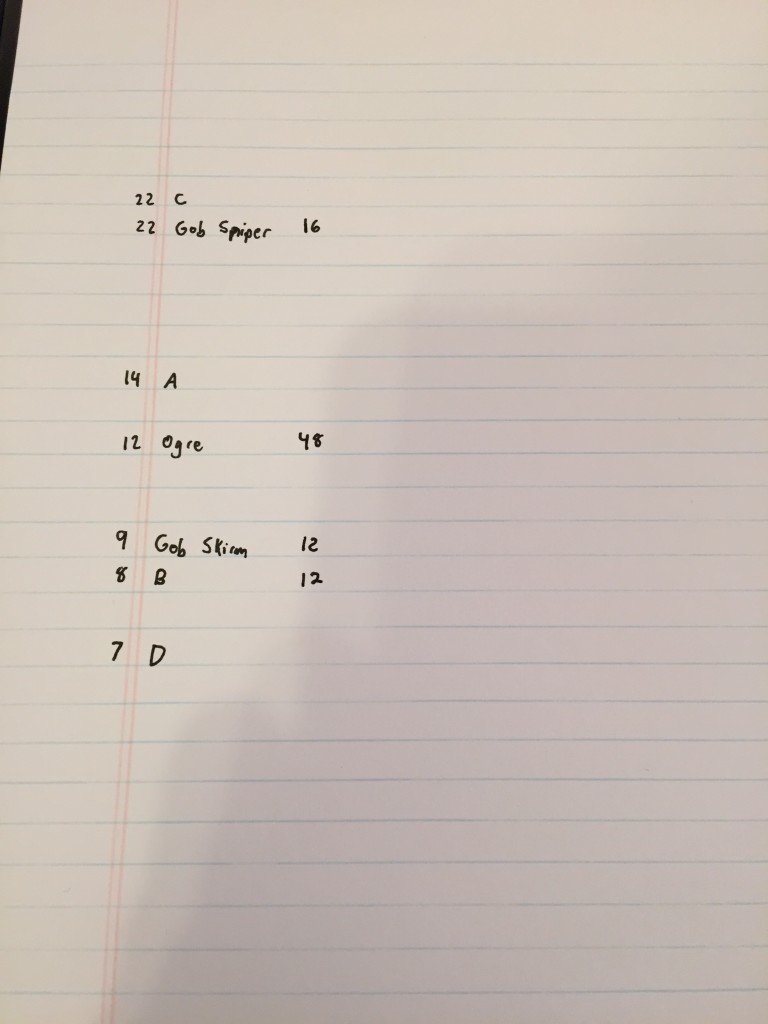 And THEN, I can track the monster HP RIGHT ON THE INITIATIVE SHEET. And, for that matter, you can add other notes too. Like, if someone is poisoned for three rounds, you can write a quick note next to them. You can scribble the hell all over this thing.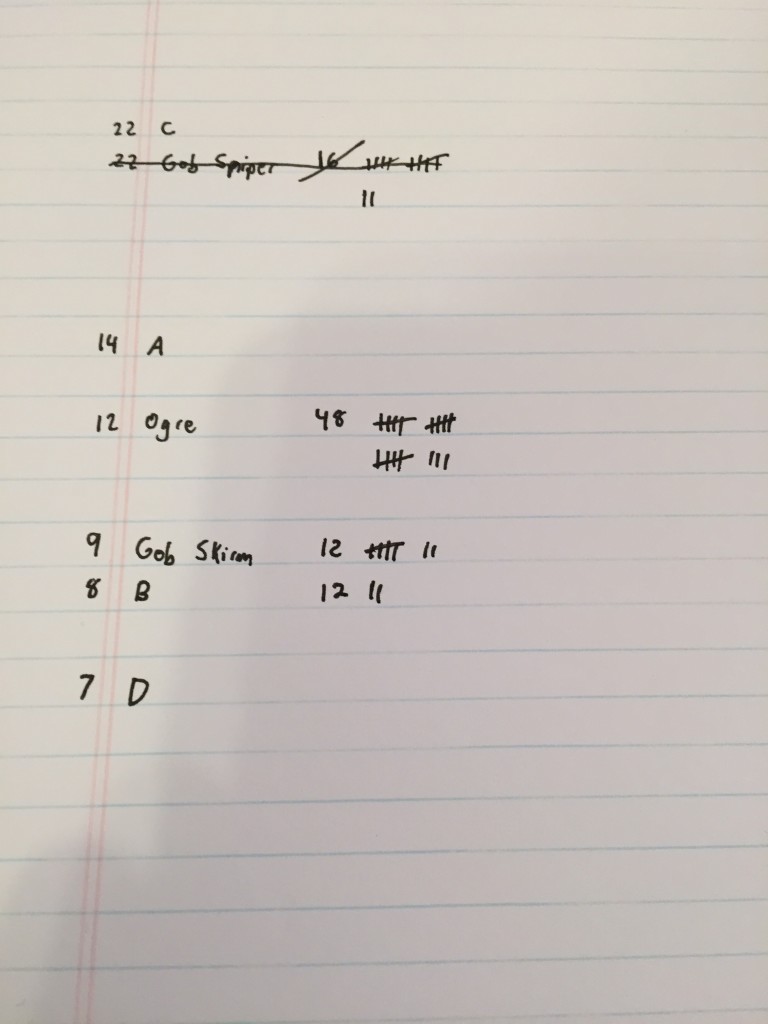 As for tracking HP, do it as quickly as possible. Tick marks work well at low levels when the damage is small. Or you can write and cross out numbers and count up. Whatever is the most comfortable. But remember: SPEED.
In THAT way, the Initiative Tracker isn't just an initiative tracker. It's the dashboard for the entire combat. It gives you all of the info you need to narrate and pace the combat. Who's up? How hurt is that ogre? How long until Alice's curse wears off? Whatever.
When the next fight breaks out, you draw a line and track the next fight on the same page.
And the next one after that. You can fit three or four fights across one sheet of scratch paper.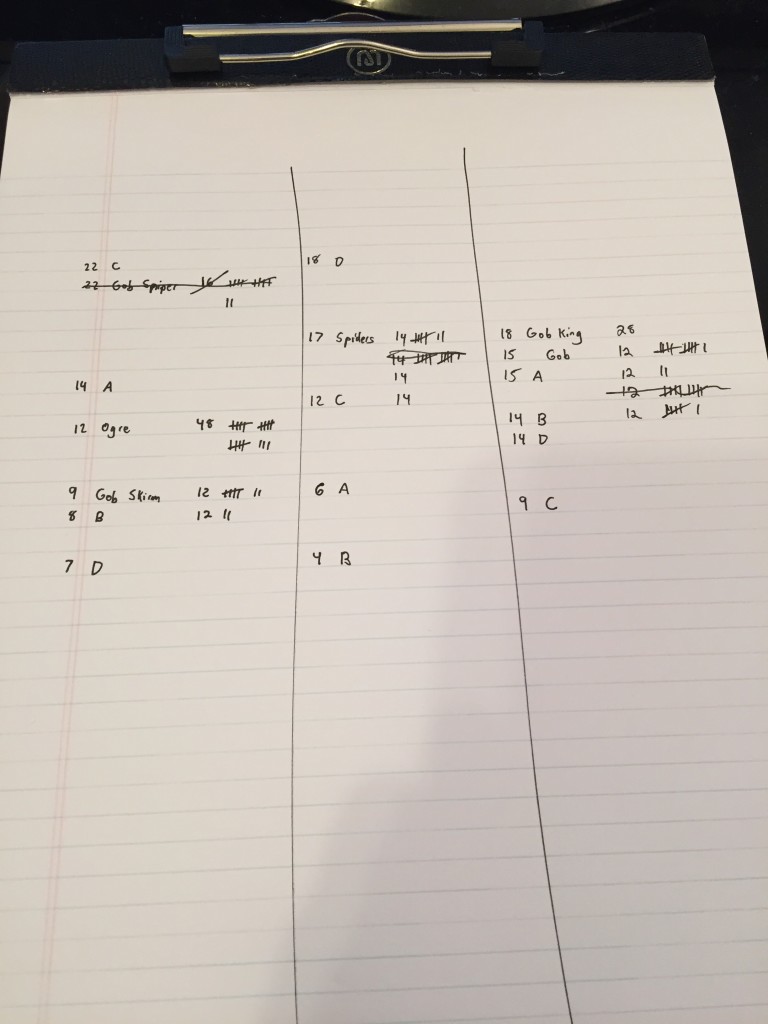 Now, this is pretty simple, right? And it does everything you need. Now do you see why I find utterly baffling that people make such a giant f%$&ing deal over how to track initiative? I've literally been doing it like this for over 25 years! I figured this out when I was f$&%ing TWELVE! And nothing – NOTHING – has ever paced a game better. Not index cards. Not table tents. Not the f$&%ing magnetic f$%&ing Pathfinder f$&%ing Initiative Tracker. Yeah, I really did buy one. You want it? Let me know. I'll mail it to you. Because it's basically just an expensive, magnetic, less versatile version of the piece of f$&%ing looseleaf I've been using forever.
But, fine, okay, so that's how to track initiative. And, like I said, that's central to pacing the combat. But how do you keep a combat moving once the idiot players get involved.
Urgency and Exigency: The Twin Terrors of Game Pacing
Let's talk about two words: urgency and exigency. These are the two things that create the pace and tension of combat. And these are also the things that keep the players moving forward.
Urgency refers to a situation that requires immediate attention. When there is a dire weevil chewing on your face, that is urgency. When the cleric is bleeding to death, that is urgency. When the goblins have surged past you and are threatening to stab the hell out of the wizard and the rogue, that is urgency. Urgency are things that have to be handled.
Exigency is similar but different. Exigency refers to an opportunity that will disappear if you don't take it immediately. I could use game examples, but the real world provides the best example. You know those "one day sales" or "this weekend only sales events" that stores always have? That is exigency. The idea is, if you don't take advantage of the sale, you're going to lose out.
A player's turn in combat needs to have both urgency (there's an emergency that needs to be dealt with) and exigency (if you don't take action right now, you will lose your opportunity). That's what makes combat scary and that's what keeps it running forward. And you, as a GM, need to create those two sensations.
Creating Urgency
As a GM, it's your job to bring the combat to life. To make it feel like an emergency, like a life or death situation. And it's actually really easy NOT TO. If you're using miniatures and a map, you tend to let those handle the description. And THAT – more than any other factor and I don't care what other dips$%&s say about game systems – THAT is what makes D&D feel like a chess game instead of a life-or-death struggle. And the trick to urgency is entirely in narration.
Now, again, you're going to get a lot of dips$&%s telling you how important it is to describe actions and use all sorts of prose to bring combat actions to life. None of that s$&% matters. Like I said above, what really matters is the scene-setting and the transitions.
At the start of each round of combat, you should be setting the scene. I don't mean you have to re-describe the entire battlefield. I just mean you need to recap what's currently going on. And it doesn't have to be lengthy. In fact, it can be short. It can be matter-of-fact. What it does is emphasize the problems all around the PCs.
"Alice is battling the massive ogre in melee, both are looking pretty hurt. One goblin sniper remains, and it's raining arrows on Bob who is stuck in battle with the goblin skirmisher. Another goblin is standing over Carol as she lays critically injured and dying. Dave, you're still hiding behind the tree."
That short statement about what's going on resets the scene and points out the emergencies.
Then, at the start of every player's turn, you need to point out where they are and what emergency is happening right now, either to them, or right near them. Try to guess what emergency the character would see as the most important. It actually doesn't matter if you guess wrong. That urgency is still enough to kickstart the player brain.
"Alice, you're up! The ogre is raising his massive maul, readying for another swing. He's hurt, but still going. What do you do?"

"Bob, you've got a goblin dancing around your attacks and that sniper won't leave you alone. What do you do?"

"Carol, you're dying. Roll your death save."

"Dave, you're behind the tree and safe. But Bob is taking shots from that archer and Carol is dying. What do you do?"
Those simple prompts alone keep the pace of the combat flowing and help kickstart the player's brain by getting them thinking about the situation in terms of urgency instead of mechanics. And you should never, ever NOT do that.
Also, this practice of creating urgency is what keeps the players focused. Some folks argue that letting the players see the initiative somehow helps them better prepare for their turn. But it doesn't, really. A sense of urgency keeping them focused on the battle does more for helping them stay ready than all your table tents and initiative cards ever will.
Creating Exigency
Exigency is hard for a GM who isn't me. Why? Because I'm naturally inclined to be an a$&hole and I don't care about the feelings of my players. Or, more specifically, I understand that, in a life-or-death battle, the proper feeling for a player is near-panic. Players should feel panicked and rushed in combat because the characters are panicked and rushed in combat. But most GMs don't go that route.
Most GMs are quite happy to let their players take all the time in the world to decide on things or to converse amongst themselves about the best course of action. That's all f$&%ing bulls%&$. And if you can't handle riding your players hard in combat, you can't be a good GM. I don't care what else you do well. If you can't maintain a narrative pace, you can't run a game.
And there's only one way to create exigency. When it is a player's' turn, they need to begin speaking immediately. And if not, you need to prompt them.
Now, I realize that, thanks to my tone, it may come across to some dips$&%s that I'm encouraging you to be a complete a$&hat. And I am not. If you want to, I will support you. I am totally fine with the drill sergeant approach to GMing. BUT, that is not what you have to do to create exigency.
But you do have to make it clear that players need to make quick decisions or lose something. In the past, if a player took too long to decide, I put them on delay. In D&D 5E, that option doesn't exist anymore. So I assume they take the Parry action. I actually call it "losing the turn to indecision."
"What do you do? You need to decide or you'll lose the turn to indecision."
But, here's the thing, it'll almost never come to that. Or else, it'll come to that ONCE. Precisely once. Because once the players realize you're not dicking around and you WILL take their turn if they don't, they won't ever let that happen. A lost turn is literally the worst thing that can happen to a player except for an actual dead PC.
How much time do you allow your players? Well, it depends on how experienced they are. I generally cut new players SOME slack, but my baseline is zero seconds. I allow my players zero seconds to start talking at the start of their turn. After I say "what do you do," I give them zero seconds to start talking to me. None. Not one second.
The players have been watching the battle go by for several turns before it comes back to them. If they've been attentive, they've been formulating and discarding plans the whole time. If they haven't been attentive, they're s$&% out of luck. Now, I've heard people argue that some players find combat boring and lose interest. But boredom is a luxury. You can only get bored if you have time to get bored. And if the combat is frantic and you're literally going to get your character killed if you're not attentive, you don't get bored. You get tense. If your players are bored with combats, you're letting them have that luxury. Don't.
Now, exigency and urgency work together. The scene setting thing at the start of every turn where you point out an emergency the PC could deal with right away, it jumpstarts the player's brain. That way, when you lay into the exigency, they have a starting point. The little bit of narration – that scene setting – is vital to prompting the player. And that's why just riding the players about not taking too long doesn't work. You need both. It creates the right pace and frame of mind and actually helps the player focus and reach a good decision quickly.
The Adjustment Period
If you haven't used urgency and exigency before in your game, it's going to be a rough adjustment for players. But the trick is to just start doing it and not let up. It'll only take them about one or two combats at most to catch on to the new world order. They will get better and better at handling it (just like you get better and better at running it). They will make decisions more quickly, they will be more attentive, and they will make better overall decisions. But it IS a gradual process. It takes one to three sessions for everyone to fall into that groove.
And it's also important that you follow the rest of the advice. You need to be like a frantic drill sergeant dolphin. You need to get into the zone. Set the scene, transition to the first player, set the scene, poll the player, resolve the action, apply and describe the results, transition away from the player to the next player, set the scene, poll the player, resolve the action, apply and describe the results, and so on and so on. But once you get it down, it'll make things go very smoothly. And it'll become second nature to you and your players.
Avoiding the Speedbumps
Now, the absolute worst thing that can happen to a panicked drill sergeant dolphin as it races through the ocean, soaring into the air with the majesty of a gray slimy eagle, and plunging into into the water like a bottle-nosed bullet, is that it hits a speedbump. Maybe it is swimming through a school zone or something. I don't know. The point is, a speedbump can literally kill a racing dolphin. So, to wrap up this article, let's talk about two speedbumps specific to D&D and Pathfinder so that they maybe won't kill the dolphin of your game.
Assume the Best of the Characters
One of the biggest slowdowns in D&D and Pathfinder is the act of counting squares. And, the thing is, it's totally f$&%ing unnecessary. I mean, D&D 5E did away with the worst of it. But it still happens. Here's what I mean.
When a character moves, the player (and the DM) often think that the actual path is important. That is to say, you have to show every square through which the PC moves. And there's a couple of mechanically good reasons to do it. First is to make sure that the character's movement doesn't exceed their speed. Fair enough. Second is to make sure the character doesn't blunder into an opportunity attack. Third is to make sure the character doesn't blunder into a trap.
But, hold on a second. Let's rethink this bulls$&%. After all, we have the game marked out in squares, right? So it should be pretty easy to eyeball how far a character can move unless the character takes a complicated path through difficult terrain or something. And that actually doesn't happen that often. Usually, PCs move pretty directly.
What really f$&%s things up is when GMs force a player to show the exact path in the hopes they can 'spring' something on the player. Like "oops, you went into the WRONG SQUARE and now I get to make opportunity attacks. Hahaha!" At which point, the player will take back the move and try to find a better path. That's how it ALWAYS plays out.
So, skip that s$&%. If there is a safe path between the starting space and the destination, assume the character takes it. Let the player declare "I want to move there," and if you – the GM – can perceive a safe path, it just happens. Simple as that.
Simply put, assume that a character is smart enough to take the most direct safe path available. And only in situations where it is literally impossible to take a safe, direct path in the speed allowed, do you need to start nitpicking over squares. And, in those situations, don't nitpick over squares. Provide simple choices.
"You can get there if you take an opportunity attack from the ogre OR you can avoid the ogre and get there with a double move."
SIMPLE. CHOICES.
And once your players KNOW you will do this s$&% and come to trust you, they will stop nitpicking over squares.
The same goes for lines of sight. Learn to eyeball them and make them easy. Done and done.
Only You Can Open a Rulebook And It's Your Call
The other major source of slowdown is looking up rules. It can be anything from how a spell works to a particular ability to the specific rules of jumping over a chasm. Every time you crack open a rulebook, you might as well just go out and shoot a dolphin in the head.
Here's the deal. Players don't look up rules. They should get to know the rules of their characters and spells and whatever or have whatever references they need on hand at the table. And if they don't know the rules, they should defer to the GM. The GM will either know the rules or make a judgment call or decide that it's worth looking up a rule. That's the GM's call. If I catch a player with their head buried in a rulebook instead of talking to me, I generally take the rulebook away.
Because, let's remember something: the rules are a tool by which the GAME MASTER determines the outcome of actions. Players don't use the rules. Players project themselves into the minds of their characters, visualize the situation, and make the decision they think their character would make. The rules belong to the GM. And if a player isn't clear on a rule, the player can ask the GM. And the GM will make a determination.
This, again, is one of those things that a lot of people argue with me about. Because they have decided their games should suck. And, that's fine. If you want your game to suck, by all means, make it suck. But If you get into the habit – as a GM – of taking sovereignty over the rules, knowing the rules well, and making fair rulings when you don't, you'll gain the trust of the players and your game will run smoothly.
Now, some people – some GMs – like to make allowances for spellcasters, because there are so many spells with so many complex rules. And, again, I can't stop you. But, in my view, if you want to a play spellcaster, you'd better know your stuff or you'd better be ready to trust me. Either way is fine. But those are the only two options. And if neither are to your liking, you can be a fighter.
Of course, I also went out and bought the 5E spell cards for precisely that reason. So, that's also an option.
But look, even if you're not willing to go the distance on the whole rulebook thing or if you are obsessed with square counting, fine. It's your game. But that other stuff – tracking initiative, transitioning, scene-setting, urgency, and exigency? You want a smooth, exciting, fast-paced combat experience? That's the way to do it. Try it. Try it for three sessions. And if you aren't fully satisfied – you probably f$&%ed up my instructions somehow. Because my instructions are perfect.