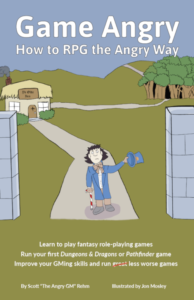 For ten years, The Angry GM has been dispensing the best damned gaming advice ever written and sharing it on this very website. But what if you're on an airplane and you're not allowed to have your phone turned on? What if you're stuck in a mountain lake cabin at a family reunion and there's no WiFi? What if your tablet is dead? What if your computer caught fire? What if a garbage truck knocked down the power pole outside your house and you have no electricity? What then?
Don't worry! The Angry GM has you covered. All of his best advice is available in book form. A real book. That he killed an actual tree to make. Just for you. Read it anywhere. Anytime. Even while pooping.
And it makes a great gift too. Is there someone in your life you want to introduce to the world of RPGs but don't want to actually run a game for? Do you want to convince one of your players to step up and take over so you can have a freaking break? Are you trying to find a subtle way of telling your GM that they suck? Well, buy them this book.
Get the Book!
Buy the physical or electronic book at the Angry Games official store
-OR-
Get the electronic version on DriveThruRPG
Download the Free Tie-In Module
The tie-in module is currently in development and will be available soon.