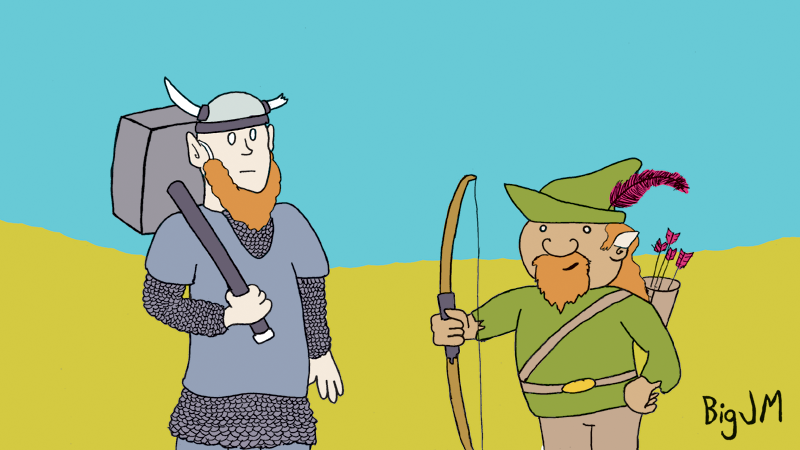 Let's talk about race.
Actually, let's talk about this article. Because this article is a pain in the a$&. It's one of those articles that starts with me having a very specific problem that probably doesn't bother anyone who isn't me, attempting to solve that problem, and then stumbling on a neat tool that opens up a lot of possibilities and wanting to share it. That is, I want to share it after I spend some time ranting about how the very specific problem only I care about is something everyone SHOULD care about because it really is an awful thing and it's a sign of terrible things in modern mainstream RPG design. Except, in the end, I already know I can't make anyone care. Because I've tried to make people care about it over various channels before and no one would. And, f$&%, I tried to force my players to care and they didn't. So no one is going to care. I'm like that guy with the broken glasses screaming that "there's something on the wing; it's a cookbook!"
The trouble is the problem is so easy to find a solution for if you're willing to spend a few minutes with a doctor, a rubber glove, and a flashlight. It's the sort of thing that can be easily hand waved away. "Well, that's just the way it is," any GM can say. And it changes nothing. Even though that sort of lazy-a$& bulls$&% makes me sick.
And honestly, the solution can turn into a lot of work. And while you can use it to make your game better, it's really the sort of thing that is probably too much work to justify just for your campaign unless you're doing something really specific. It's the sort of thing that would work much, much better if it were baked into the system. But it isn't and it probably never will be. Not until the Angry RPG is a reality, anyway.
On top of all that, ultimately, the solution is for Pathfinder. Because Pathfinder inadvertently gave me a tool that let me solve the problem I had in a way that was easy. Well, not easy. Because, as I said, it's more work than it's probably worth. But it gave me a tool to solve it nonetheless.
So, why am I posting this article? Because I want to talk about the problem, even if only one other person in the world is willing to put on a tinfoil hat and a sandwich board and scream on a street corner about it with me. But I feel really s$&%y ranting about a problem I've solved without also sharing the solution. That's it in a nutshell. I'm pissed off about a minor thing that could be easily ignored and I'm willing to do way too much work to fix it and now you have to read about it. Because we both know you're going to read this whole thing.
Anyway, let's talk about race.
Culture Wars
One of my D&D 5E players recently handed me a new PC. It was a high elf street urchin who eventually became a bard or rogue or something. The class wasn't important. What was important was that he was orphaned and lived on the streets of a human city. Culturally speaking, he had no connection to elves whatsoever. He was basically abandoned. I think, actually, he ended up in a human orphanage. Fine and dandy. There's nothing inherently wrong with that story. Except that the character took advantage of the weapon training that all high elves receive. Even though they weren't weapons granted by his class, he was a swordsman and a longbowman. I think it was actually just the longbow that was odd for his class. I don't recall exactly. It doesn't matter. The point is that D&D and Pathfinder, across all of the editions, does not differentiate between inborn racial traits that are a matter of being born a member of a particular species and learned traits that are a matter of being born in a particular culture.
See, there's a whole host of abilities across all editions of D&D that are very clearly a matter of cultural upbringing. Even if you don't agree with me that it's self evident that training with particular weapons or training to fight certain foes is a learned thing, most of the time these abilities are implicitly or explicitly described in the text as matters of training and education.
Now, some of them are more arguable than others. Looking at D&D 5E, for example, it's hard to argue that Dwarven Combat Training and Tool Proficiency aren't a matter of being raised as a dwarf. All dwarfs are taught to fight to protect the clan and every dwarf is taught the basics of a useful craft. If you read the textual description of dwarf society, you can see where those things are coming from. But then you look at Dwarven Stonecunning. Is that learned? Is that just because dwarves spend so much time underground that they develop a keen awareness of the underground world? Or is that because they are supernaturally tied to the rock? It's hard to say. In D&D 5E, Stonecunning grants knowledge and lore about stone constructions and grants a proficiency bonus. That implies it's learned. But in 1st Edition AD&D, they could just sort of detect how deep they were and how level the passage was. That could just be a biological sense.
Now you see what I'm saying right? It's a muddy argument and probably not getting too worked up about. And it really doesn't affect too much except the credibility of the world. And it really only comes into play when you have a PC whose origin is so far removed from the the kith and kin of their race as to call attention to it. Like the elf urchin raised in a human orphanage who doesn't even know his own people. And how often does that come up? Well, lately, a lot more often. And that's why I think this problem IS worth thinking about. Because there's a deeper issue behind it.
The World is Changed
D&D owes its origin to a lot of different fantasy and sci-fi worlds. But, when it comes to people of the world and their cultures and societies, it's hard to deny that that D&D was ripping off almost exclusively from J.R.R. Tolkien. And it's so obvious, they should have been sued. Oh, wait, they were. And that's why hobbits are called halflings in the D&D universe.
The thing is, in the Tolkienverse, at least, in the Lord of the Rings version of the Tolkienverse (because I can't speak for what happened in the Cinnabon or whatever that other book was called), the races were all very insular and isolated. They didn't deal with one another. Race and culture went hand in hand. If you were a wood elf, you were raised by wood elves and lived a thoroughly wood elf lifestyle until that whole One Ring issue made you hang out with humans and dwarves and halflings. That isolation was constantly thrust into the spotlight. Hell, it was a major issue in The Hobbit. It was even emphasized in those terrible Hobbit movies. It's too bad they couldn't get the guy who did the Lord of the Rings movies to do the Hobbit, huh? He would have done them great!
And that's where D&D started. In the early editions it was assumed that adventurers were rare and most members of the demi-humans had little or no contact with each other or with humans. If you were a dwarf, that didn't just say something about your birth, it also said something about your upbringing and society and personality. And there are actually really good, literary reasons for this. But maybe that belongs in a different article. Perhaps, say, next week's Angry Rant over at the Mad Adventurers Society which will probably piss off a lot of people.
I'll also briefly note that there was even a time when the demi-humans were so strongly archetyped that races were classes. You could be a fighter or a wizard or you could be an elf whose upbrigning and training included both magic and swordplay. I will also note that there were numerous mechanics in place designed to make demi-humans rare in the world. And that bit, that second bit, about rarity, is what ultimately drove the shift away from the race-as-culture-and-archetype thing.
Back in ye olden days, playing a demi-human was better than playing a human. Humans had nothing going for them. They were just whatever class they were. But demi-humans got a slew of special powers based on their archetypes. Mainly based on the things they did in Tolkien's books. And in some editions of D&D, only demihumans could have multiple classes. There was a lesser option for humans who wanted to advance in two different classes. But true multiclassing was restricted to races that lived long enough and aged slowly enough to spend years learning two or three skills and whose culture exemplified those skills.
So, in return for that, it was not easy to play a member of a demi-human race. First of all, you have to meet certain ability score prerequisites, and this was back when you rolled for your ability scores. So the dice would determine whether a demi-human race was even an option for you. On top of that, there were limits placed on demihumans. They could only be certain classes, they could only advance to certain levels, and so on. The function of these limits and prerequisites was to make demi-humans rare and unattractive.
But, over time, players began to balk over those limits. Lots of GMs did too. And it was kind of strange, right? You put these neat, attractive options in the game but you make them hard to unlock and punish the people who take them. In a game that is ostensibly inviting you to create YOUR character and tell a story of YOUR choosing, that seems sort of counterproductive. Sure, it was about building up a specific flavor for the world, but when you design a game, you can design any flavor you want. Why THAT flavor?
Anyway, lots of players and GMs started to relax the various restrictions, to dump rolling for ability scores, and to find various ways to just let people play whatever race they wanted. And the folks at TSR and then Wizards of the Coast saw the writing on the wall. And, in D&D 3rd Edition, everything changed.
Gone were the ability score requirements and level restrictions. Instead, racial ability bonuses and penalties became the norm, alongside a list of racial traits that were theoretically balanced against each other so no one race was better than any other. And humans were given some advantages of their own, generally tied to the fact that they were the most adaptable of all the races. This, actually, also served a really strong literary purpose and was good for the game. And it worked alongside the demi-humans who were still rather archetypical, even though they could now play any class. In short, what D&D 3E did more than any other edition was cement "choose a race, choose a class" as a the defining moment of character generation.
In addition, 3rd Edition also made the world a lot more cosmopolitan. The race chapter discussed racial lands and societies, sure, but it also spent more time on race relations and on discussing why members of the race might be encountered in other cultures. In the D&D 3E DMG's rules about generating towns and cities, most cities were described as having mixed populations.
Now, I could continue this little history here and discuss how this lead to humans becoming the vast minority in D&D and how many GMs and players fought back against that because, no matter how mixed it was, the world of D&D is still essentially a human world with other races sharing it. But that doesn't matter right now. Let's forget that.
Because here's what didn't make the change: racial features. See, the list of racial bonuses and traits and features and special powers? That hasn't changed much over the last 40 years. The races themselves are, mechanically, pretty much the same as they have always been. Now, for the most part, that makes sense. But in the modern world of D&D, that means there's some real oddities. Like, as I mentioned, things like specific bits of cultural training and education.
This really, really gets odd when we get to D&D 5E. In 5E, you choose a race and a class, but you also choose a background. And the background represents your formative education and socio-economic standing and all that other stuff that basically represents the environment in which you were raised. The racial abilities still haven't changed even though there is now a really good place for "cultural racial abilities" to live. So, here's where the oddity arises. An elf urchin will automatically be proficient with a longsword and longbow, two weapons that requires years of training to even become remotely talent with, but a human soldier does not get any automatic martial training. Obviously, in both cases, class will modify that. But in the life of your character, race happens first, then background, and only later on do you end up a member of a class. It's very quirky.
Back in the year 2,000, the role that race played in the game of D&D was completely rewritten. And the role that race played in the D&D world was completely rewritten. But the actual racial details stayed mostly the same.
Why Is This a Problem?
So, why is all of this a problem?
Frankly, it isn't. I can't lie. If someone else posted this screed, I'll call them a f$&%ing moron and accuse them of making a mountain out of a teapot. Because one of my things is mixed metaphors, see?
It drives me crazy because I am really into building detailed, consistent worlds where all the little details fit together and the mechanics reflect the fiction and vice versa. And even if that elf urchin never uses a longbow, it causes me a stabbing pain right behind the eyes everytime I look at the character sheet and I'm forced to acknowledge that he COULD use the longbow. Yes, I'm irrational. The website is called The Angry GM, not the Reasonable, Calm, Tolerant GM.
And it bothers me even more than 5E and Pathfinder and all of the other D&Ds-come-lately haven't fixed this issue because it's been obvious to me from 3rd Edition. And 5E especially had no excuse. Because they had the perfect way to fix it. And didn't. It bothers me on principle. Because it's lazy. And it shows a lack of innovation. I can't fault Pathfinder so much because it never apologized for being a photocopy of D&D 3.5. But it sort of bugs me that the, no matter what they do to the game, the classes and races get no thought. They rewrite the hell out of the mechanics, but the very fundamental questions about what is a class and what is a race and what role do they serve never seem to get asked.
And even that is kind of stupid and ranty and not worth getting worked up about.
How to Fix This Travesty
So, now that we admit that it is a stupid problem, easily ignored, and not worth fixing, how do we fix it? Well, if you're playing Pathfinder, there's actually a really easy way to do it. It only costs about 40.00 USD. And a few hours of your time.
The first step is to go out and buy The Advanced Race Guide. That's the part that costs the 40 bucks. The Advanced Race guide is actually one of my favorite Pathfinder/D&D tools for spending way too much time on obsessive and unnecessary world building. And the funny thing is I only use about 40 pages of it. While most of the book is filled with new races and lots of new options for customizing existing races including a neat new way to use the Favored Class mechanic, the last 20% of the book is the gold. That's basically a list of all the racial features you could possibly want. And a point cost for each one. And a set of rules for building a race by mixing and matching abilities and balancing the point costs. My last Pathfinder campaign consisted of completely redesigned core races because I love using this book.
But the book also presents the breakdown and point costs for the standard core races. And this is what let me see the neat possibility for a new way to handle race and culture in Pathfinder. Obviously the easy solution is to go in, pick out the "cultural" features for each race, pull them off the lists, check the points, make sure the races still all have about the same level of abilities, and be done with it. Right? Just have elves look like this from now on:
Elves
+2 Dex, +2 Int, -2 Con
Medium
Normal Speed
Low-Light Vision: Elves can see twice as far as humans in conditions of dim light.
Elven Immunities: Elves are immune to magic sleep effects and get a +2 racial saving throw bonus against enchantment spells and effects.
Keen Senses: Elves receive a +2 racial bonus on Perception skill checks.
See? I took off the Weapon Training and Basic Magical Education. Bam, that's a biological elf. Well…
Okay, look, I know that any of these traits are arguable. I know every GM will have opinion of what traits are biological and what are cultural. And that's fine. Because I'm simplifying right now. Let me explain what I really did.
I went through each core race in the Advanced Race Guide except gnomes because f$&% gnomes. Gnomes don't exist in the Angryverse. For each race, I did a pass and highlighted the features I considered biological and the ones I considered cultural. And then, I added up all the points for each race. And then I went back through and edited my changes to make them all have the same point value for all of the racial features.
Now, that does mean I had to make some tough decisions. But, with my first pass, every race had around 5 points worth of biological features and 5 points worth of cultural features. So it was already pretty close. Humans were weird because you argue that both their bonus feat and bonus skill were a matter of their biological predilection toward adaptability or their cosmopolitan cultural nature where humans are free to pursue anything. And in the end, I split the different and made the feat "biological" and the skill "cultural."
But, if I stopped there, that would be pretty boring. So I did an extra step. But let me show you where the races ended up first.
Dwarves
+2 Con, +2 Wis, -2 Cha
Medium
Slow and Steady: Dwarves have a base speed of 20 feet, but their speed is never modified by armor or encumbrance.
Darkvision: Dwarves can see in the dark up to 60 feet.
Hardy: Dwarves receive a +2 racial bonus on saving throws against poison, spells, and spell-like abilities.
Stability: Dwarves receive a +4 racial bonus to their Combat Maneuver Defense when resisting a bull rush or trip attempt while standing on the ground.

Elves
+2 Dex, +2 Int, -2 Con
Medium
Normal Speed
Low-Light Vision: Elves can see twice as far as humans in conditions of dim light.
Elven Immunities: Elves are immune to magic sleep effects and get a +2 racial saving throw bonus against enchantment spells and effects.
Keen Senses: Elves receive a +2 racial bonus on Perception skill checks.

Half-Elves
+2 to One Ability Score
Medium
Normal Speed
Low-Light Vision: Half-elves can see twice as far as humans in conditions of dim light.
Elf Blood: Half-elves count as both elves and humans for any effect related to race.
Elven Immunities: Half-elves are immune to magic sleep effects and get a +2 racial saving throw bonus against enchantment spells and effects.
Keen Senses: Half-elves receive a +2 racial bonus on Perception skill checks.

Half-Orcs
+2 to One Ability Score
Medium
Normal Speed
Darkvision: Half-orcs can see in the dark up to 60 feet.
Orc Ferocity: Once per day, when a half-orc is brought below 0 hit points but not killed, he can fight on for one more round as if disabled.
Orc Blood: Half-orcs count as both orcs and humans for any effect related to race.

Halflings
+2 Dex, +2 Cha, -2 Str
Small
Slow Speed
Fearless: Halflings receive a +2 racial bonus on all saving throws against fear. This bonus stacks with the bonus granted by halfling luck.
Halfling Luck: Halflings receive a +1 racial bonus on all saving throws.
Keen Senses: Halflings receive a +2 racial bonus on Perception skill checks.
Sure-Footed: Halflings receive a +1 racial bonus on Acrobatics and Climb skill checks.

Humans
+2 to One Ability Score
Medium
Normal Speed
Bonus Feat: Humans select one extra feat at 1st level.
Now, I had to make a few tough calls and I did have to adjust a few things for balance (like the halfling's Sure Footed). But I'm really not going to try to explain the logic of every choice I made. Because, yeah, some of them were a little arbitrary. Some of them came to me deciding "this is a supernatural thing that all members of this race are born with because of the gods" or "well, this is a matter of a heretofore unknown aspect of elvish culture" or whatever. And I'm not interested in debating the logic. You can buy the Advanced Race Guide and do your own.
But I didn't want to remove the rest of the stuff from the game entirely. I just needed it to live elsewhere. Ultimately, what I did was assume that you (that is, a PC) are a combination of a Race and a Culture. And if I could create Cultures that contain all of those removed racial traits and that were all balanced against each other, you could build the dwarf in the core rules by assuming you're a dwarf that was raised by dwarves in a dwarvish city. Like this:
Dwarven Mountain Clanhold
The mountain clanholds of the dwarvish kingdoms often come into conflict with giants, goblinoids, and orcs. On the wild frontier, both aboveground and underground, all those raised in such clanholds are trained to defend the hold and fight the clan's enemies. Stonework, craft, and business are also values instilled in every member of the hold.
Defensive Training: Clanholders get a +4 dodge bonus to AC against monsters of the giant subtype.
Greed: Clanholders receive a +2 racial bonus on Appraise skills to determine the price of nonmagical goods that contain precious metals and gemstones.
Hatred: Clanholders receive a +1 bonus on attack rolls against humanoid creatures of the orc and goblinoid subtypes due to special training against these hated foes.
Stonecunning: Clanholders receive a +2 bonus on Perception checks to potentially notice unusual stonework, such as traps and hidden doors located in stone walls or floors. They receive a check to notice such features whenever they pass within 10 feet of them, whether or not they are actively looking.
Weapon Familiarity: Dwarves are proficient with battleaxes, heavy picks, and warhammers, and treat any weapon with the word "dwarven" in its name as a martial weapon.
Notice that if you mix THAT with the dwarven race above, you get the dwarf from the core book. But notice that if you mix that with a human or a halfling or a half-orc, you can tell the strange story of one of those people that was actually adopted by and integrated into dwarven society.
Want to do an elf?
High Elven Enclave
The elven enclaves lie deep in hidden woods where the high elves live private, secluded lives steeped in the traditions of magic, art, and martial prowess have served their kin for ages uncounted. Enclavers are taught from a young age to defend themselves and all members of the enclave have a basic education in magic, even if they never show any talent for formal magical practice.
Elven Magic: Enclavers receive a +2 racial bonus on caster level checks made to overcome spell resistance. In addition, enclavers receive a +2 racial bonus on Spellcraft skill checks made to identify the properties of magic items.
Weapon Familiarity: Enclavers are proficient with longbows (including composite longbows), longswords, rapiers, and shortbows (including composite shortbows), and treat any weapon with the word "elven" in its name as a martial weapon.
There you go. What's really interesting about this is that a half-elf raised by high-elves is very, very similar to other elves. Kind of like how Elrond and his kin were basically high elves for all intents and purposes.
But once I started doing that, I started getting a bit more creative. For example, half-orcs presented a problem because they were lacking in cultural abilities compared to the other races. In fact, half-orcs are, by the points, weaker than the other races. At the same time, I wanted a space for wood elves and for human barbarian hordes. So, I started from the half-orc and then fudged a little.
Warrior Tribe
In these tribes that live on the frontier, survival is a constant struggle. Martial prowess is favored over all else, strength is honor, and honor is strength.
Intimidating: Tribekin receive a +2 racial bonus on Intimidate skill checks.
Survivalist: Tribekin receive a +2 racial bonus on Survival skill checks.
Weapon Familiarity: Tribekin are proficient with two weapons or one weapon and one racial weapon group that are traditional for the tribe or for the race that makes up the majority of the tribe's population.
Combine that with human or half-orc and pick the right weapons, and you have your warrior clan. But combine that with elf and pick the bow and the spear, for example, and you have a passable wood elf.
What about humans and human-raised half-elves? Well, again, I needed to do something a little different. I needed to fudge a little to pull it off. But how about this?
Cosmopolitan Metropolis
The bustling cities of the world are crossroads of trade. Citydwellers are a experienced, sometimes jaded lot and they tend to pick up a little of everything.
Multitalented: Citydwellers choose two favored classes at first level and gain +1 hit point or +1 skill point whenever they take a level in either one of those classes.
Skilled: Citydwellers gain an additional skill rank at first level and one additional rank whenever they gain a level.
Yes, the humans get a little extra boost from that multitalented thing, But they were a little low on the point scale anyway. So it works okay.
But then I started to get even more creative. After all, if you're going to have a Culture for a cosmopolitan city, shouldn't you have one for a farming village? So, I built one from whole cloth.
Farming Village
Every city and town in the world owes its very existence to a spiderweb of farms, mills, fisheries, herdkeepers, and markets that sprawl for miles around it. And the folk who feed the word gather frequently in small villages to trade goods and gossip. Villagers are used to long, hard days of work. They often have a reputation for being hard-headed, stubborn, and skeptical.
Hard Working: Villagers receive a +4 racial bonus on Constitution checks and Fortitude saves to avoid fatigue and exhaustion, as well as any other ill effects from running, forced marches, starvation, thirst, and hot or cold environments.
Stubborn: Villagers gain a +2 racial bonus on Will saving throws to resist spells and spell-like abilities of the enchantment (charm) and enchantment (compulsion) subschools. In addition, if a villager fails such a save, it receives another save 1 round later to prematurely end the effect (assuming the spell or spell-like ability has a duration greater than 1 round). This second save is made at the same DC as the first. If the villager has a similar ability from another source (such as a rogue's slippery mind class feature), it can only use one of these abilities per round, but can try the other on the second round if the first reroll ability fails.
Now you've got a place for those stubborn, hard-working halflings and human peasants to come from. And probably the occasional half-elf or dwarf.
But that got me thinking about a player of mine who basically took the flavor of the 4E halfling and changed them into gypsies. And it also reminded me of the low elves of my own Pathfinder campaign. So, I built something for that as well.
Wandering Caravanserai
There are those whose only community is their family. And their only home is the open road. These folks travel from place to place and have a talent for fitting in everywhere without every really belonging anywhere. They are a spirited and optimistic people.
Glib: Caravanserai gain a +1 racial bonus on Bluff and Diplomacy checks, and they learn one additional language every time they put a rank in the Linguistics skill.
Urban Survivalist: Caravanserai gain a +2 racial bonus on Appraise and Perception checks to find hidden objects (including traps and secret doors), determine whether food is spoiled, or identify a potion by taste.
Undaunted Spirits: Caravanserai gain a +2 racial bonus on saving throws against fear and despair effects. Also, once per day, after a natural roll of 1 on a d20 roll, caravanserai may reroll and use the second result.
And it was at about that point that I realized that, if I was willing to put in the work, I could build a really neat world out of "racial" Cultures. Just build a "race" with about five points worth of features I could justify as "cultural" and I could build pages of Cultures. Then, my players could mix and max. "My dwarf is from a clan in exile that wander the world dealing with others like Thorin's group in The Hobbit. So, I'm a Dwarf from a Wandering Caravansera." Neat, huh?
And "cultural" can be pretty broad in a world of magic and in a place of adaptation. If you're born on top of a mountain, you'll be more tolerant to altitude sickness. And if you live in a place of calm, tranquility, you'll pick up some of that.
Mountaintop Monastery
Those who eschew the bustle of the civilized world to seek enlightenment are often drawn to isolated locations, such as the tops of impossibly high mountains. Within these communities, monks can find tranquil serenity. Everyone, however, also learns a skill useful to the monastery.
Mountain Dweller: Monastics gain a +2 racial bonus on Acrobatics checks made to cross narrow ledges. They are also immune to altitude sickness and do not lose their Dexterity bonus to AC when making Climb checks or Acrobatics checks to cross narrow or slippery surfaces.
Serene Mind: Monastics gain a +2 bonus on all Will saving throws.
Useful Skills: Each monastic chooses one Craft or Profession skill. This skill is always considered a class skill for that monastic and the monastic receives a +2 racial bonus on skill checks with that skill.
And finally, just to show off how much flavor you can build into this, what if you are born into Pathfinder Athens, blessed by Pathena and raised to revere her?
God-Favored City-State
Some city-states enjoy the blessing of a particular god due to the presence of an important historical or religious site or a major temple. Just about every favored citydweller can recite the founding story of their city and the lowborn and highborn alike know their city survives due, in part, to the protection of the god. And should the worst befall and they end up in battle against the enemies of their god, they can rely on the protection of the god to see them through.
Blessed Health: Favored citydwellers gain a +2 racial bonus on saving throws against disease, ingested poisons, and becoming nauseated or sickened.
Favored Foe: Every favored city-state must specify either two subtypes of humanoirds or outsiders or one creature type other than humanoid or outsider. Favored city-dwellers gain a +1 racial bonus on attack rolls against creatures of these subtypes or this type.
Historied: Favored citydwellers gain a +2 racial bonus on Knowledge (Religion) skill checks.
Why not, right?