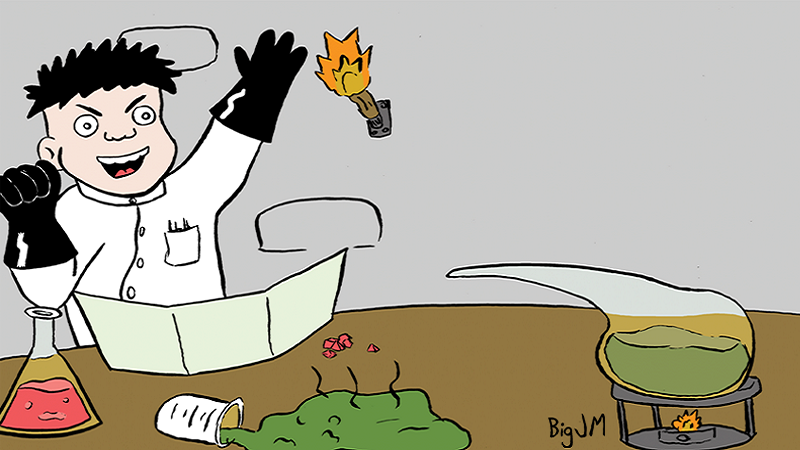 You might not realize this about me, but I love to tinker with rules and game mechanics. I know. Who would have thought? But it's true. When I'm running games regularly, I am constantly tweaking and fiddling and tinkering with shit. And occasionally, one of my tweaks or fiddles or tinkers will actually work. It'll actually make my game better. And that's when I get excited and vomit forth 5000 words about the tweak and how brilliant it is and how much of a genius I am and then I splatter that vomit on this website for all the world to admire. And once I've written the article and gotten a few weeks out of my idea, I tend to just toss it aside. Because, frankly, it's easier to just do things whatever crappy way the book tells you. And because, once I've tinkered enough to get something working, it just isn't fun to keep tweaking anymore. It's okay though. Soon enough, some new fiddle or tinker will appear in my game to take its place.
I have piles and piles of notes describing all sorts of brilliant game mechanics I've written, tested, tweaked, published on my site, and never used in my games again. But if I ever decide to make an RPG, I've got a lot of fodder for game mechanics.
But every so often, I do pull something back out of the pile and play with it again. Mainly because I've encountered a new problem in my game and I need a way to handle it and it's a lot easier to twist some mechanic you've already written into an abominable Frankenstein's monster of a system that can sort of handle the new thing, than it is to come up with an entirely new and fresh idea.
Look: I'm brilliant, but I'm lazy as hell. And I'm sorry if I'm shattering some illusions here.
Now that brings me around to this Time Pool/Tension Pool thing I invented a while ago and used for literally three adventures over the course of two months, wrote an article about, and then dumped into the pile of forgotten mechanics. I don't even remember when I first wrote about it. Or why. It was related to some other project I never finished. But, unlike all of my other brilliant mechanics that I can't be bothered to actually use, this one proved difficult to ignore. Because people keep using it and then telling me about it. Like I want to hear that. "Hey, this thing you invented? I'm using it at every game I run and it really made things a lot better! What sorts of things are you using it for, Angry? I'd love to hear more ideas for it." And I'm like, "I don't know, I can't really be bothered because it's so much more effort than just, you know, making up a bunch of crap as you go and making it seem like you have a brilliant plan. I really can't be bothered to do more work for a game than would fit on one cocktail napkin."
And if you're trying to reconcile that lazy-ass GM with the person who is constantly tweaking the game mechanics and writing thousands of words about it, good luck. I've been trying to reconcile those two people for years and they are both me.
Here's the point: people convinced me the Time/Tension Pool Mechanic was actually something worth a damn. So much so that I actually do take it out and dust it off every few months and try to see what else I can get it to do. And I've discovered that, while it had some rough edges, once it was filed down and simplified, it was actually a very versatile little tool. Especially considering that it was originally just a way of making my players get nervous about wasting time in dungeons lest they get eaten by a random monster they weren't going to get experience for. I've used it to track time in dungeons, to manage complex stealth scenes containing multiple encounters, to manage social interaction encounters, and all sorts of other things. And gradually, I've simplified the rules.
But one of the things I've always wanted it to do and one of the things it has always resisted doing was managing wilderness travel and wilderness adventures. And I found myself having to run just such an adventure recently. One in which the party was trying to travel safely from point A to point B. But that wasn't all that was going on. See, "get from here to there" is just not much of an adventure by itself. That's the sort of thing that happens between adventures. Or on the way to an adventure. If that's all you've got, you don't have a wilderness adventure. You have a traveling montage.
See, the party was being tracked by a mercenary army they'd pissed off. And they were escorting an NPC who was on the verge of having a nervous breakdown and running for the hills. And they'd been forced to take on this job without adequate preparation. So, they didn't have the supplies they needed to make the trek. That last part was just their own dumb planning. Who creates a brand-new character without outfitting them with basic travel gear like a blanket and food and water?
But I digress. This isn't about that adventure. I will write about that adventure once I know the players have finished with it because it illustrates the importance of thinking through failure states and macrostructures and I just wrote about that stuff. No. This article is about my ongoing, evolving mechanic called The Tension Pool and how I'm using it to help manage wilderness travel. And how it works equally well for wilderness travel that just represents "getting to the actual adventure" and for wilderness travel that IS the adventure.
So, let's talk about the Tension Pool. For, like, the seventh freaking time.
The Tension Pool, Ver. Whatever
Formerly called the Time Pool, the Tension Pool is a generic mechanical tool that the GM can use to add random complications and growing tension based on the players' actions. The original version involved a growing pool of dice that each represented ten minutes of wasted time. It was complicated and clunky because it used different sizes of dice and didn't automatically empty itself and it was just kind of a mess. Now, it's simpler and more streamlined despite the fact that people keep writing to me to tell me how they've overcomplicated it terribly and unnecessarily. I'm going to review the current, generic rules for the Tension Pool and then talk about how I used it as part of a wilderness adventure.
The idea behind the Tension Pool is that you have a visible, growing pool of dice that represent the growing chance that something terrible is going to happen. Depending on the scene or adventure you're using it in, the Tension Pool can represent different things. While exploring a dungeon where every minute that the players spend in the hostile environment comes with a growing chance that some monster will stumble on them, the Tension Pool represents the passage of time. During a difficult negotiation with a powerful villain, the Tension Pool might represent the NPC's growing impatience with the party, or his dwindling mood. If the Tension Pool is being used to track the passage of time, it's called the Time Pool. If it's being used to track the likelihood of an encounter suffering some disastrous setback, it's just called the Tension Pool. Either way, the mechanics basically work the same. And there's no real limit to what it can represent.
To use the Tension Pool in a scene or adventure, you'll need six six-sided dice. You'll also need a space in the middle of the table to pile up the dice so the players can see the mounting chance of bad stuff happening. The visibility is extremely important. See, when the characters are in a dangerous situation, like when they are wandering a dungeon, they feel a growing sense of dread for every minute that passes without something terrible happening. They know they are in dangerous territory. They can't ignore the press of darkness beyond their torchlight, the sound of distant creatures wandering about, and the sense that something terrible is about to happen. The players, comfortable in their chairs and knowing this all a game, need some help to get into the same mindset. The Tension Pool gives them a visible measure of dread. Whenever the players waste time on an action, they see the Tension mounting and they feel what their characters feel: dread. Trust me. It works. That's why people keep using it. In fact, that's the one piece of feedback I get more than any other. It keeps the players engaged.
Personally, I use a glass bowl so the players can see and hear the die dropping into the pool.
Now, the rules for the pool are pretty simple. The Tension Pool starts empty. Dice get added to the pool and occasionally the pool gets rolled. When the pool is rolled, if any die comes up a 1, a Complication occurs. Complications can be anything at all and the GM should consider preparing a list of possible Complications in advance. In a dungeon, Complications might represent random monster encounters or trap encounters, they might represent earthquakes or other sporadic hazards, or the magical effects of a haunting. If the party is playing cat-and-mouse with a ghoul in a labyrinth, a Complication might indicate an ambush by the ghoul. If the Tension Pool is part of a social encounter, a Complication might represent the NPC growing impatient and making some random demand of the party, or taking offense at something, or deciding enough is enough and ending the encounter. The only stipulation is that Complications must always make things worse. Or harder. Or more inconvenient. They are NEVER beneficial.
The pool can never have more than six dice in it. Once you add the sixth die to the pool, you always clear the pool. That means you pick up the pool, roll the pool, and then put it aside and start with an empty pool again. That makes it very handy for timekeeping. If each die represents 10 minutes of time, then an hour has always passed when you clear the pool.
If you ever have to roll the pool and it's empty, roll one die. You can't roll an empty pool and there's always a chance of something going wrong. Don't add that die to the pool. Just roll it as if it were in the pool.
Now, there are five actions you can take with the pool, including clearing the pool. When and why you take those actions depends on what you're using the pool for. So, I'll describe the actions and then explain why you might use them afterward.
Here's the five actions you can take with the Tension Pool:
Add a Die: Pick up a d6 and visibly drop it in the pool. If you just added the sixth die to the pool, immediately Clear the Pool.
Roll the Pool: Pick up all the dice currently in the pool and roll them. Take note if any of the dice show a 1. Then, put the dice back in the pool. If the pool is currently empty, roll one d6 by itself, note if it shows a 1, and then put that d6 aside. Don't add it to the pool.
Add a Die and Roll the Pool: Pick up a d6 and visibly drop it in the pool. If that's the sixth die, immediately Clear the Pool. Otherwise, after adding the d6, pick up all the dice currently in the pool and roll them. Take note if any dice show a 1. Then, put the dice back in the pool.
Roll a Full Pool: Ignore what's in the pool. Pick up 6d6 and roll them. Take note if any of the dice show a 1. Don't change the pool in any way.
Clear the Pool: If there are six dice in the pool, pick them all up and roll them. Take note if any of the dice show a 1. Regardless of the result, don't return the dice to the pool. The pool is now empty.
So, when do you add dice and when you do roll dice and why would you ever want to roll a full pool? Well, it depends on what you're tracking. If you're tracking time, you want to add a die to the pool whenever the party takes an action that would use up that amount of time. Roughly. For example, during dungeon exploration, each die represents about 10 minutes of activity. So, if one member of the party searches a chest for traps while another ransacks a cupboard for treasure and a third one is searching the bookshelf for secret doors, and a fourth casts detect magic as a ritual and looks around the room, you would add one die to the Time Pool to cover those activities. Remember, different members of the party can do activities simultaneously.
Whatever you're tracking, you always want to roll the pool whenever the party does something reckless or dangerous or risky. If the party decides to break down a door in a dungeon, that's loud and it might attract attention. If the party stands around at an intersection arguing about which way to go, that might also attract attention. Roll the pool.
Sometimes, the party does things that are both time consuming and reckless. If the party decides to take out their picks and prybars and dig through the rubble of a collapsed passage, that's going to take time AND it's going to attract attention. Add a die, then roll the pool.
When you're using the Tension Pool to keep track of tension during a scene or encounter, the general rule is that you want to add a die for any cautious action and roll the pool for any reckless action. So, if the party calmly pleads their case with the king, add a die to the pool. If the party decides to threaten the king or insult him, roll the pool.
And yes, that does mean that players who figure out how the pool works will tend to take reckless actions early on in the scene, grow more cautious in the middle of the scene, and then grow impatient and become reckless again as they try to end the scene before the pool fills. That's working as intended and mirrors the way most characters would approach most situations.
Rolling a full pool is most useful when you're using the pool to track time and the party does something that would eat up enough time to fill the whole pool. For example, when the party decides to take a short rest which, in Dungeons & Dragons 5E, takes an hour, just roll 6d6 as if they filled the pool to see if a Complication interrupts their rest and leave the current pool intact for when they start adventuring again.
Finally, if you want to use the Time Pool to help track the duration of spells during dungeon exploration, you can do that easily enough. Anything with a duration of fewer than 10 minutes expires when you add a die to the Time Pool. You can handle things with durations of one or more hours in a couple of ways. The way I usually handle it is to expire anything with a duration of one hour whenever I clear the Time Pool regardless of when it was cast. Eventually, the party learns to cast their long duration spells when the Time Pool is empty, which is when they should be doing it anyway. If that bugs you, an alternative is to take note of how many dice are in the Time Pool when the spell is cast. If there's more than three dice in the pool when an hour duration spell is cast, don't expire it when the Time Pool clears. Instead, wait for the next time the Time Pool clears. Yes, that technically means such a spell could last for one hour and thirty minutes and yes players could optimize that shit and if you're really really worried about that and can't figure out that the alternative is to expire it based on when the dice are added to the pool the next time around, I can't help you. Me? I can't be bothered to care that much about it.
Anyway, that's it. That's the basics of the Time/Tension Pool. And, as I said, I've used it for a lot of stuff. Apart from timekeeping, I use it as the structural element for social encounters. I've even used it during combats in hazardous situations. On the deck of a ship during a terrible thunderstorm. Every time a character – PC or NPC – took an action, I either added a die to the pool or rolled the pool depending on whether the character was being particularly reckless. So, the pool got rolled three or four times every two turns on different characters' turns. The Complication always meant something happened to the character whose turn it was. I remember the barbarian brandishing a polearm and climbing up onto the forecastle and flying into a rage… and getting struck by lightning. That was awesome.
Now, on to using the Time/Tension Pool for overland travel and wilderness adventures.
How to Get From Here to There
Using the Time/Tension Pool for overland travel and wilderness adventures evaded me for a while. There were two problems that I kept running into. First, the six-die limit didn't really align with anything in wilderness travel as neatly as it did with the passage of ten minutes and one hour. Second, most wilderness travel isn't resolved in terms of individual actions. It's resolved as a series of days. Moreover, I found that sometimes I had to switch temporal resolution – how's that for a game term?! – in the middle of a day. Like, the party might spend three days traveling at a normal pace and suddenly, partway through the fourth day, decide to take a shortcut through a dangerous swamp for a few hours, and then get back on the road. And the Time Pool only allows for two different segments of time. And all of my solutions involved adding clumsiness to the whole thing.
See, I like the Tension Pool mechanic as it is because it's a very simple, intuitive system. You've got the pool, you add a die for cautious or time-consuming actions, and you roll the pool for risky or dangerous actions. You watch for 1s whenever you roll the pool. And you roll and clear the pool whenever it hits six dice. You can keep all of those rules in your head very easily and make quick decisions about what to do with the pool. Hell, it's more complicated to spell it out than it is to actually use that. I didn't want to change the way it worked for just one situation. So, I had to change the way wilderness travel worked to fit the pool.
The basic idea is that rolling once each day for a Complication if the party is just traveling normally seems normal. So, the pool needs to be cleared once each day. The problem is, most of the time, you just resolve travel on a day-by-day basis. The decisions the party makes that affect how long they'll be traveling are made in the order of days. They pick their destination and their route, which determines roughly how long the trip will be. They navigate each day, which determines if they get lost and spend extra time in the wilderness. And they decide whether to travel at a normal, slow, or fast pace to set their own speed. During most days of travel, there aren't six decisions that get made to put six dice in the pool.
This is precisely why I added the Roll a Full Pool action to the list above. If the party spends a day traveling normally, you can just roll six dice because you know they will fill the pool. And then you can decide when during that day of travel the Complication occurs. Basically, you treat a normal day of travel like a short rest in a dungeon. You roll a full pool to see if the travel is interrupted.
However, there are times when you want to zoom in and resolve things on a shorter time scale. In the order of hours instead of days. For example, if the party is exploring a certain area of the map looking for a particular location. Or if the party is traveling through a particularly dangerous bit of terrain. Like, when they are tracking a group of goblins through the goblins' territory. Because one of the strengths of the Time/Tension Pool is that the party can take reckless actions that might help them accomplish their goals at the risk of further complications.
Hell, consider this: a normal travel day is – according to the PHB – about eight hours of travel. But, that also includes a number of breaks and rests and meals and stuff. And if the party travels through most of the daylight hours, it's more like ten to twelve hours. But what if the party decides to push that up a little? Not into forced march territory. Just try to squeeze a few extra hours during the evening. Well, that's a bit risky. Predators and monsters are at their most active during the dawn and dusk hours. And if the light is fading, the chance of blundering into a wilderness hazard is increased. And navigation becomes more complicated.
Most of the time, this crap doesn't matter. Which is why you can just Roll a Full Pool to cover a full day of normal travel. But if the adventure involves searching for a hidden location or spending some time wandering through particularly dangerous territory or, say, evading a mercenary army while escorting an NPC who is one step from a nervous breakdown, the party needs to be able to make these decisions and the Time Pool should be able to handle it.
So, here's what I did.
First, I broke the day down into six segments. After all, I have six dice to fill the Time Pool with. So, the day must have six segments. And because a day is 24 hours, each segment is four hours long.
Dawn: This is the period around sunrise and into the morning. About 4 AM to 8 AM.
Morning: This is the midmorning to noon period. About 8 AM to 12 PM.
Afternoon: This is the period after noon. About 12 PM to 4 PM.
Evening: From late afternoon to nightfall. About 4 PM to 8 PM.
Night: From nightfall to midnight. About 8 PM to 12 AM.
Predawn: From midnight to before or just around daybreak. About 12 AM to 4 AM.
Now, these periods are approximate and fuzzy. And that's fine. No one is wearing digital watches anyway. And I purposely decided to start the day at dawn, not midnight, because that's the more practical cutoff for wilderness travel.
In theory, if I were tracking time on an hour-by-hour basis during the day, I'd add one die to the Time Pool for each of those chunks of time. And after Predawn, I'd Clear the Pool. But that doesn't align with how the game actually plays out. I'm Rolling a Full Pool for each day of travel at the start of each day to determine if I should interrupt a day with a Complication. I don't need the Time Pool beyond that.
But what if, on one particular day, the party does something reckless at noon. Say, they decide to have a massive screaming fight about how to divide treasure on top of a ridge silhouetted against the sky. Or they decide to ignore the skulls-on-pikes marking this particular chunk of the evil forest as orc territory and blunder on through. I'd like to be able to Roll the Pool, right?
Well, I can. Because I know how many dice SHOULD be in the pool at any given point in the day, I can handle it as if I'd been tracking things hour by hour. Hypothetically, if it were noon on any normal day of travel, there'd be two dice in the Time Pool. One for Dawn and one for Morning. And when the party said, "let's just plow through the orc territory instead of taking the time to go around it," I'd normally Add a Die and Roll the Pool because traveling for four hours through orc territory is both time-consuming and reckless. So, I can just roll three dice right then and there and see if a complication arises.
And yes, I know that means traveling through orc territory is more dangerous the closer to nightfall it is. That seems kind of appropriate, don't you think? Working as intended. And yes, that does mean the party could decide to wait until morning to travel through dangerous territory to make things slightly safer. Yes, the party should be more cautious and more nervous the closer it is to nighttime. And they should decide to cut their travel day short rather than get caught in dangerous territory at night. That's the point.
I have to point out that I not only know this shit, but I'm counting on it, because people think I miss this stuff and that the party making intelligent decisions based on well-designed systems is always metagaming and therefore always bad. Truth is, if the system is designed so that the metagame decision leads to the decisions the characters would make if they were real, metagaming works FOR YOU instead of AGAINST YOU!
Beyond that, I can now build decision points around those smaller segments of time in an abstract way. For example, I could decide that orc territory is large enough that going through it takes two periods of travel whereas going around it takes three or four to get to the same place on the other side. And I can build specific Complications for specific areas of terrain. Like, orc territory has orc-related Complications. And if the party sleeps in dangerous territory, that's reckless too. If they travel partway into orc territory and then sleep there, they could end up with three increasingly risky die rolls.
It's a pretty simple system overall. Ask the players all the relevant details about their plans for the day of travel, Roll a Full Pool to determine if a Complication interrupts their travel, and then narrate the day away. If the party's day is interrupted with a decision point and they make a reckless decision, roll the pool that would exist if you were keeping track by the hours based on the time they hit the decision point.
Complicating Things
Once I had the basic idea ironed out – that a travel day is broken down into six periods which each could represent one die added to the Tension Pool and that you could preroll the Tension Pool once for each day of travel – I realized I could add some complexity to the travel day. Or rather, add some depth. As I mentioned, in this particular case, my players were in the position of having to keep a good pace but they were also in the rough position of having to occasionally slow down to forage. And the only real choice they had was the speed at which they traveled except when I put a decision in front of them.
So, I looked back at wilderness travel in the book and viewed it through the lens of travel in terms of four-hour chunks of time to see what additional levers I could add. And I started with the assumption that the party travels for eight hours out of each day. That strikes me as too little time, even allowing for breaks and meals. Assuming they sleep for eight hours and travel for eight hours, they spend eight hours out of each day doing nothing. I don't buy it. I mean, I understand this game is for modern sissies who think working more than 35 hours a week is just too damned much. But adventurers are cut from a different stock. You travel from sun-up to sun-down.
I assumed that all else being equal, a party could travel for three out of the six periods in a day. Twelve hours. That assumes they take a break in each period. But could the party travel for more? Of course. PHB 181 provides rules for a forced march. But it's based on an eight-hour day and it's based on counting hours. Well, I modified the rule. If the party keep traveling beyond the three normal travel periods, they could do so by making a Constitution saving throw (DC 10). Anyone who failed would suffer a level of exhaustion. If they traveled beyond four travel periods, they could make a Constitution saving throw (DC 15) or suffer a level of exhaustion. Beyond five travel periods, they needed another Constitution saving throw (DC 20). And it would keep going up like that until they took a long rest. If they traveled at a slow pace, they could gain advantage on those saves. If they traveled at a fast pace, they would suffer disadvantage.
Now, speaking of long rests, they were pretty easy to handle. PHB 186 explains that a long rest lasts for eight hours, but it also allows for the fact that during that period, everyone can take a watch rotation and do other light camp activities and still get enough sleep. So, the party has to devote two consecutive travel periods to a long rest. And assuming they do that, there's no problem. And, by the way, I don't even keep track of the watch rotation. That's such a pointless thing. Assume the party divides the night evenly between them and if there's an interruption, roll randomly to determine who is on watch when the interruption happens.
The only time I'd give more thought to the whole rest and watch thing is if the players tried to complicate the watch issue. Like, if someone didn't want to take a watch rotation and there were not enough PCs left to cover the night and still let each of them get six hours of sleep in aggregate. Or if they were traveling with fewer than four people, the minimum needed to cover four two-hour watch rotations in an eight-hour night. And the party would just have to push the long rest longer.
Since I was now keeping track of crap like this, the idea that a party covers 30 miles, 24 miles, or 18 miles a day depending on their pace, was no longer good enough. I needed to break things down to figure out how much distance they'd cover in a normal period. And to work that out, I used a magic trick I like to call SIMPLE MATH! If a party, traveling normally, would cover 24 miles in three travel periods (my assumption), they obviously covered 8 miles in any given travel period. Or 10 miles at a fast pace. Or 6 miles at a slow pace.
So, when my players decided to push themselves to the max to get a good lead and travel at a fast pace from dawn through the evening, I knew they could cover 40 miles in that period. Which was good, because the well-trained mercenaries behind them were doing the same thing. And if they did manage to exhaust themselves after one extra travel period, they'd still have time to complete a full long rest and get rid of it.
But I wasn't done adding complexity. Because the Time Pool is based on allowing the party to manage their risks by making various choices about how to travel, I had to establish some baselines about what was considered Safe behavior and what was considered Risky behavior. And I actually had some fun with this.
Traveling by day is considered Safe and sleeping by night with a watch rotation is considered Safe. And that forms the basis for normal travel. If the party travels during the daylight hours for no more than three travel periods and camps at night with a watch rotation set up, the party is traveling safely. And then I don't need to worry about anything other than Rolling a Full Pool once each day of travel to see if I need to interrupt their travel with a Complication. The party's pace will determine how much ground they cover and whether they have advantage and disadvantage on Survival rolls to navigate and Perception to get surprised by Complications and whether they can forage and stuff. That's normal travel and I don't have to think anything more about it. Just roll 6d6 for each day of travel, note any 1s, possibly throw a Complication at the party, and tell the party to mark off one person-day of food and water.
So, what's risky? Well, first of all, traveling or resting in Unsafe Territory is risky. And notice that, because of the nature of my system, Unsafe Territory should be limited in size. Like the hunting territory of a red dragon, for example. Or the lands claimed by a particular orc tribe. Unsafe Territory is often, but not always, recognizable. I use Survival checks to allow trained characters to recognize subtle signs of Unsafe Territory. For example, the orcs might mark their territory with orc marks and skulls on pikes and stuff. That's obvious. But the hunting ground in the deep forest of a green dragon? That might be more subtle. A survivalist might notice the lack of game, the subtle magical influence, the bark scratched off trees as the dragon passes, that kind of thing.
If the party gets stuck in Unsafe Territory and needs to rest, they can safely do so by looking for a hidden camp. This is a Survival check again. If it succeeds, the party finds a hidden camp and resting is safe. Otherwise, if they fail, they can try again. If they fail twice, they lose a travel period of four hours and camping is considered dangerous.
Obviously, these are just additions to the normal rules about safe behavior vs. reckless behavior and the Tension Pool. The thing to remember though is that you aren't really adding to the Tension Pool during travel because you have to switch from tracking time by days to tracking time by travel periods on the fly depending on what happens in the game. So, if the party does anything unsafe during any travel period, you roll a number of Tension Pool dice based on the time of day: 1d6 at Dawn, 2d6 in the Morning, 3d6 in the Afternoon, 4d6 in the Evening, 5d6 at Night, and 6d6 in the Predawn hours.
And note that if the party decides to camp in an unsafe place or decides to camp without a watch rotation, then you'll make two rolls of the Tension Pool – 5d6 and 6d6 – because the party is spending two travel periods being reckless.
Now, as complicated as all that seems, most of it is situational. You only have to use it when the party does something unusual because their situation demands it or when you drop a planned decision point in front of the party during the course of travel and they take a reckless course of action or if the party's travels take them to particularly dangerous territory like the environs around a dungeon. And the key thing is that it doesn't add any rules to the basic Tension Pool rules. Once you have the Tension Pool down, you can quickly assess what to do with it for wilderness travel.
And that is where I would have ended. And you can stop reading here. But I added one more layer to the whole puzzle that is totally optional and unnecessary but actually adds a little bit of verisimilitude to the whole thing that I particularly liked.
Seasonal Variation
So, the basic assumption is that you can divide the day into six travel periods and a normal travel day involves the party traveling for three periods, resting and sitting idle for one period, and then taking a long rest for two periods with a normal watch rotation. If the party does that, you Roll a Full Pool at the start of each day to determine if a Complication shows up sometime during that day. If the party changes it up, you still Roll the Full Pool at the start of each day, but the party's behavior might change how much ground they cover and might require further Tension Pool rolls for reckless behaviors.
But what if you want to take the day-night cycle into account. Well, I did just that. See, I figured there's three different kinds of periods. Daylight periods, Twilight periods, and Dark periods. It's safe to travel during Daylight and it's safe to rest during Twilight and Dark periods. If the party wants to travel during a Twilight period, it's risky. Roll the Time Pool. If the party wants to travel in Darkness, that's even more dangerous. Again, Roll the Time Pool, but also apply Disadvantage to all travel checks like Perception, Survival, and anything else just as if the party was traveling at a fast pace.
The baseline assumption is that there's three Daylight periods in a day, one Twilight period, and two Dark periods. If you don't want to think any harder, just use that assumption. But, maybe you want to make things more complicated because of seasons and latitudes. So, that baseline assumption is a good assumption for Spring and Fall in a temperate climate. In Summer, there's four Daylight periods, one Twilight period, and one period of full Darkness. And in Winter, there's only two Daylight periods, one Twilight period, and three periods of full Darkness. During the summer, the party can safely push themselves into four travel periods without risking any further Complications. They just risk a level of exhaustion that goes away if they get a good night sleep. During the winter, though, the party risks a Complication just to travel a full, twelve-hour day because they are traveling in twilight for part of the day.
You can also adjust this by latitude. In the tropics, every season follows summer. In the subtropics, two seasons follow the spring/fall pattern and two seasons follow the summer pattern. Beyond temperate climates, there's only winter or summer. And near the poles, you have a season of all darkness and twilight, a winter, a summer, and a season of all daylight and twilight.
Now, you may not need that level of complexity. No one really does. But I find it fun because I'm a tinkerer at heart.
Granted, I'll probably stop bothering with all of this in a few weeks when I find something new to tinker with.