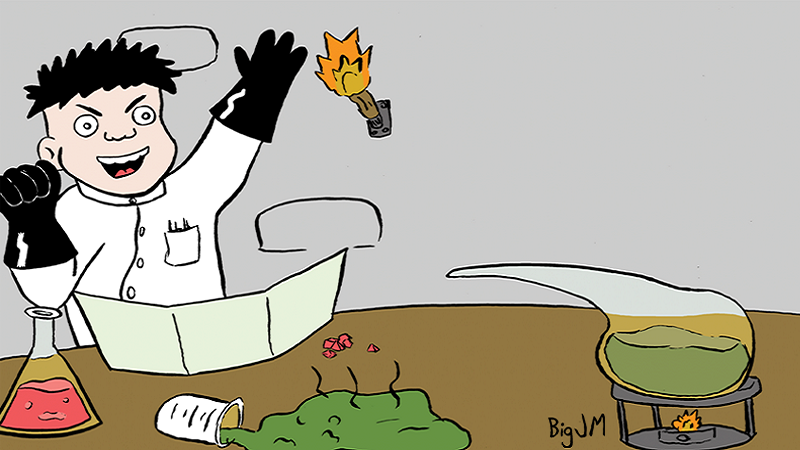 The problem with GMs – well, one of the many problems – is that they think they know so much better than absolutely everyone else. Well, that's one of the many problems with most GMs. Obviously, that's not a problem for me. I really do know better than everyone else. Which means there's nothing wrong with thinking that. But you? You don't.
Why am I saying that? Two reasons. First, I was reading through Goodman Games' Dungeon Crawl Classics rulebook. That's a game I had initially been interested in but dismissed when it first came out because of some decisions the designers made that I didn't take the time to understand and so assumed were just stupid decisions. Anyway, now that I'm reading it, I've discovered that the text is just full of remarks BEGGING GMs to try the game as written at least one time before they start changing absolutely everything because the game designers really did everything they did for a reason and if you're after exactly the experience that DCC promises and you're the type of fan who would buy it, you're going to get that experience if you just follow their rules. Even if it isn't immediately obvious. So, please, just try the game as it is before you screw with it.
That message would not be necessary if most GMs weren't a bunch of twits who think they know better than game designers and don't give anything a chance. Thank God I'm not like that. Could you imagine how useless my advice would be?
Second, I was discussing random encounters with a few people recently. And whenever the topic of random encounters come up amongst experienced GMs, all they do is smarm about how they don't use random encounters and how they are a waste of time and how absolutely everything that doesn't advance the plot should just be excised from the game. These same GMs then piss and moan that the game balance doesn't work when there's only one fight in a day and they don't understand why traveling is boring and they can't figure out how to create stakes during an adventure so that the players actually have to make decisions that count about how they explore and when they rest and all that crap.
The problem is that the elitist, know-it-all attitude of GMs leads GMs to make not one, but two stupid decisions. First, it leads them to refuse to try anything they don't see an immediate use for. Second, it leads them to simply rip things out of the game rather than experimenting with them. Imagine if you got a recipe for a cake. But you assumed you knew so much better than Betty Jemima or whatever. So, when you see a teaspoon salt, you think "salt, what the hell is salt doing in a cake? Cakes are sweet, not savory. It doesn't need salt. I'm not putting that in." And so, you leave the salt out. And then the cake is crap and you don't know why.
That's because what the salt is doing isn't obvious, but it's extremely important.
This article isn't about salt. And it's not about Dungeon Crawl Classics. It's actually about random encounters in games like Pathfinder and Dungeons & Dragons and why GMs are right about them: they pretty much suck. Which is something I can say categorically because I use them. And you should, too. You just have to fix them.
Raw Encounters
Random encounters have been part adventure RPGs since this whole stupid genre was invented. And they are such a ubiquitous part of tabletop RPGs that when video game designers wanted to bring the TTRPG experience to computers and consoles, they made sure that your character couldn't take two steps on the world map without being jumped by a Pokémon.
While they've gone through many incarnations and had many names, the basic principle behind random encounter or the wandering monster hasn't really changed. As the players wander around the world, there's a random chance that they will blunder into something that's also wandering around the world. And they will have to deal with that something. As the original name, wandering monster implies, it's usually a living thing. But that didn't mean it was something that had to be fought. In the very earliest days of D&D, the encounters were tense but not automatically hostile. The wandering creature would have an initial disposition based on the way the party presented itself and based on its own numbers and morale and whatever. And also based on whether either side had the drop on the other. Encounters could be evaded or ambushed if one side had the element of surprise. If the parties did meet, they could parley. Combat was deadly dangerous, after all, and no one wanted to blunder into any more of it then they had to. If a group of goblins was just passing through and their numbers and power were roughly equal to the PCs, both sides might be willing to let the other pass by. If one side had the leverage of superior power or numbers, they could exact a toll. Or information. And if the parties were more friendly, they might even trade. Sometimes, I would put magical treasure in the hands of wandering monsters. Things they couldn't use but which they might sell to a friendly party. Sometimes, the wandering encounters turned into swap meets. Wizards would get wizard scrolls from a wandering cleric who couldn't use them and they might trade a magic mace no one in the party wanted to use for it.
Blah blah blah, things were better way back when. Well, they were. Because things changed around about the 3rd Edition of Dungeons & Dragons. It's just hard to tell because the changes were with the wandering monster – or random encounter – tables.
See, here's the basic way random encounters work. After a certain time increment passes in the game, the GM rolls a die and compares it to the chance that a wandering monster will appear. If a wandering monster appears, the GM then rolls on a big table of encounters based on the location or terrain or whatever. Usually, there's anywhere between 12 and 20 entries on such a table. And the entries are just the names of monsters. And sometimes a random number to tell you how many such monsters travel in a pack. That didn't change.
What did change was all the other rules. The reaction tables, the pursuit and evasion rules – as sparse as they were – and all the other crap that sent a very strong signal that every encounter wasn't a fight. Also, the definition of "monster" and "encounter" changed. I shit you not. Monsters used to literally be defined in the rules as "any creature the party might come across of unknown intentions." Now, they don't really have a firm definition and there's a much bigger rift between "monster" – a foe – and NPCs – who might be friends or foes, and, if they are foes, are usually important villains and masterminds. And encounter now means "combat."
If it seems like I'm making a big thing about the semantics and pedantics I normally scream at people for making a big thing about, well, I am. But that's because, in this case, it's really important. Because it means that random encounters have shifted from "a chance meeting between two parties of unknown motives" to "list of random combats that jump out and attack the party." Now, as D&D has evolved, combat has become bigger and more complicated and more time-consuming. Used to be we could have a dozen fights in a session. Now, we can have three or four. And the game has become more focused on story. On role-playing. On decision making. And I am NOT complaining about that. But, the upshot is that you look at random encounters and say "oh, goody, I can waste hours of game time on pointless combats that drain the players' resources and add nothing to the story."
No wonder most GMs say, "why would I want salt in a cake; screw that, I'm leaving it out."
The problem, though, isn't wandering monsters or random encounters. They are doing useful things in the game, but those things are subtle. And they haven't evolved in the right direction. They've been simplified down to their essence and followed the video game model of a combat swoosh and then lining up the pieces and rolling initiative. But they've been simplified down to the wrong essence. And the designers have focused on the wrong stuff. And you'll never know it if your response to random encounters is "screw 'em."
The right response is to use them for a while, figure out what they are doing for the game, and figure out how to retain that stuff while cutting off the crap. And then, once you've distilled them down to their useful roles and cut out all the garbage, then build new roles on top that do the things you do want to. Like focus on decisions and role-playing.
The Case for Random Encounters
I'm going to start by defending random encounters. I'm going to pretend you – the reader – are one of those terrible GMs who sees absolutely no use in random encounters and has decided to just cut them out of the game. And I'm going to tell you why you are wrong and bad and you should feel bad. I'm going to do that partly because I like arguing and arguing is a lot easier when I get to play both sides. But I'm mostly going to do that so we can get down to the useful bits at the heart of random encounters.
Let's pretend you open by saying "I don't use random encounters." And then I say, "well, you should, they are useful." And then you say, "no, they aren't. They are just a bunch of disconnected combats that have nothing to do with the plot that show up at random. Why should I have a bunch of random fights that have nothing to do with the plot?"
There're two issues with the belief that everything in the game has to advance the plot. If we consider the plot to be a sequence of events that lead the players from the inciting incident that starts the adventure to the resolution at the end, well, sure, it seems like everything that happens in the game should move the players along that sequence. Except that's not how stories work. Plot points also include reversals and setbacks. In fact, most plot points actually do send the plot spinning in different directions. But the plot is also only one aspect of the story. Scenes and encounters can serve the story in lots of different ways. A scene that gives a player a chance to make an important decision can allow for character development even if the plot stays relatively still. Scenes and encounters also help manage the pace and tension of the game's story. Exciting or tense scenes help get the players' hearts pumping and blood racing to build excitement for important plot developments.
"Okay, fine," you say, "I grant you that. But I can plan scenes to do that and shuffle them around just as easily as I can roll for random encounters. And they'd serve the story better if they weren't random. Why is the randomness useful?"
Randomness is one of those weird things that GMs really misunderstand. There are some GMs who love randomness and some who hate it. Some GMs love rolling for random encounters and random treasures and all that crap. They love the unpredictable element that it adds to the game. Planning everything is a chore and a bore. It keeps the GM from being surprised. And they only have to think on their toes in the rare instances when the players do something truly unexpected and difficult to deal with. Other GMs hate randomness because it doesn't seem to serve any good end and it usually requires them to work twice as hard. And because randomness can screw everything up. A game in which the players are dragging themselves across the finish line can turn into a TPK with one tough random encounter at the wrong time. And the pacing of the game is as likely to get ruined by a random encounter as to be enhanced. And to provide the randomness, GMs have to prepare a bunch of extra encounters that'll never see the light of day. In your average dungeon that might take two sessions to complete, the players might have three or four random encounters. If the GM prepares a simple table of ten encounters, that means six or seven are wasted. And because the GM doesn't usually prepare random encounters to the same extent that they prepared fixed encounters, random encounters tend to be garbage.
But both of those GMs, the lovers, and the haters, are missing why the random part of random encounters is special.
See, the random nature of random encounters actually creates a visible distinction between planned and random encounters. Players know when the GM is rolling for random encounters. When the GM rolls a die every ten minutes of game time and then, after three such rolls, suddenly makes a face at one and starts setting up for combat, every player know exactly what happened. They are about to get jumped by a random encounter. This wasn't something the GM had planned. This is something that is going to screw up the carefully planned nature of the adventure. And maybe cost the players.
Players KNOW the game is planned and balanced and that the GM essentially wants them to win. But random encounters are different. Sure, the GM plans them too. But they can spring out at any time. And a bad run of luck can lead to too many encounters for the players to handle. The players have to handle them well. Because the game balance is against them every time a random encounter comes up. Random encounters are automatically more tense – and therefore more exciting – because they are random. And that means that the stakes are higher even if the encounter itself isn't terribly powerful.
But beyond that, players also KNOW what causes random encounters. Or at least, what causes random encounter rolls. Random encounter rolls are a ticking time bomb. They keep the time in the adventure. And if they players waste time, if they dilly-dally, they are going to have to deal with more random encounter rolls. And that's notwithstanding the GM making extra rolls if the party is noisy or if they set off an alarm or try to break down a door instead of picking the lock.
All of that adds up to the players knowing that their actions have consequences and how they handle every aspect of the adventure can add up to success or failure. And, in the day and age of very carefully planned and balanced encounters and adventures, players can get pretty skeptical that failure is really a possibility. A lot of GMs complain these days that players are fearless. They never retreat. They never surrender. They don't take threats seriously. They feel invincible. Well, what do you expect when the whole game is tilted heavily in their favor and there's nothing outside of the GM's or game designer's control that might put extra pressure on the players.
Basically, random encounters – if they are visibly random – tell the players that the world is dynamic and ever-changing and it's beyond the complete control of the GM. The players are going to have to cope with the unexpected.
"Those are excellent points," you respond. "You're very smart. I accept that random encounters can enhance the story without advancing the plot and that the random nature is important, but I've been running my game without them for a while. And the game works fine. I enhance the story in other ways. And I add dynamism and tension by creating smart consequences for player actions. I've gotten good at those things. No matter what you say about them, random encounters are still just piles of disjointed combats that take a lot of extra work to prepare and provide. So, I'm going to keep doing my thing."
I don't blame you. You're right. D&D and Pathfinder have crap random encounter systems. They are just disjointed piles of fights that necessitate making a lot of stupid lists and doing a bunch of extra work at the table. But what if we could keep just the good parts – the dynamism, the tension, the emphasis on agency, and their ability to enhance the story – and get rid of the extra work and the lists and the crap.
"It's still easier just to use planned encounters and run a good game in other ways."
Sure. But then, once we get rid of all the crap, we then polish them up real nice, so they can do those other things even better.
"That sounds like a lot of work. Why bother?"
Because…
"You do what you want. I hate randomness and I don't need dice to help me tell a story. I can run a good game without random encounters."
Yeah, but I can run a game that's just as good with them. And, people who aren't as great at creating dynamism and managing tension and all that other stuff as you CLAIM to be will get a useful tool that will let them do those things without having to be a BIG DAMN SUPER GENIUS like you OBVIOUSLY ARE.
"You're kind of being a jerk."
I'm the rubber; you're the glue. Whatever you say…
"I'm leaving."
The Essence of Random Encounters
Okay, now that I've got that out of my system, we've identified what's really important about random encounters. And it's actually that they are random and the players know they are random. And, more important, it's that the players know their actions actually change the chances of those random encounters. The players can see the causal relationship between their choices and the chance of an encounter happening. And that sets up interesting choices. Spending time carefully searching every inch of a room instead of a cursory once-over means they are more likely to get jumped. Searching every inch of the corridor for traps is safer, but it also means the means the party is spending a lot of time moving from place to place. Moving slowly during overland travel means the party can forage for food and they are more alert, but it also means they are spending more time wandering the dangerous, monster-filled wilderness. In fact, if you remove random encounters, you actually lose a lot of reasons not to do some of this stuff. Why DON'T PCs take 20 on every roll? Why DON'T they search for traps and secret doors in every square of the map? Why DON'T they always travel slow?
But you might have noticed that the important element is the chance of having a random encounter at all, not the random nature of what that encounter might be. Those tables of 20 potential random encounters actually aren't doing anything useful. Remember that.
Moreover, notice that the actual chance of having a random encounter is rarely known. The GM makes random encounter rolls behind the screen. The players know their actions affect the odds in a big way, but they don't know the actual odds or the actual effects. They just need to understand the causal relationship between their actions and the chance of something happening.
At the same time, notice that the stakes in random encounters are always higher precisely because they are random encounters. They don't need to be particularly dangerous to scare the party. But also notice that random encounters add a level of tension and uncertainty to the game. They make the game scarier and the make the party feel less sure of their success. That's precisely what they should do.
See, the increased risk of random encounters is almost always a tradeoff for a desirable action. A smart party wants to search every inch of the corridor for traps. A smart party wants to ransack every room. The reason they don't is that they increase their chance of having a random encounter. And then the party will have to handle that random encounter. If they handle it badly, it reduces their odds of successfully completing the adventure.
Doing Random Encounters Good
Okay, so we know what we want from our random encounters. They have to be visibly random and the odds of them happening have to be the direct result of the party wasting time or taking other actions that are likely to attract trouble. If the party is careless, they will likely end up in a random encounter. If the party is inefficient, they will likely end up in a random encounter. That creates interesting choices. Random encounters do not have to advance the plot, but they should enhance the story. They will automatically do that as a tension tool and as a direct embodiment of player agency, but they should also offer interesting decisions and opportunities to role-play. If handled well, random encounters should have a minimal impact on the players. Handled poorly, though, the players' success – and even their survival – should be at risk.
That said, like all mechanics, random encounters should be as simple to design and run as possible. They can't create a bunch of extra work for the GM. And any work or complexity they create needs to be justified by what they add to the game. That's a good design goal. Let's tackle it.
And we're going to tackle it in two parts. First, there's how to determine whether random encounters happen. Second, there's how to build the encounters themselves.
Setting the Odds and Putting the Complexity Where it Counts
The basic rule for determining whether a random encounter happens is already pretty simple. But, in my mind, it's not simple enough. And it's not visible enough. Basically, depending on the dangerousness of the situation, there's a small chance in a given time increment that an encounter will happen. So, after ten minutes pass, you roll a certain die and compare the result to a number based on how hostile or sparse the setting is. You can apply modifiers, depending on the system. You can also roll for a random encounter whenever the players do something that might attract an encounter. Like, stand around arguing or make a lot of noise or stumble into a nest of shriekers or set off a bunch of explosives.
And, of course, you do the rolling behind the screen.
Now, that technically works. It does everything you want the system to do. But it also does a bunch more unnecessary crap. Remember, the random nature is for the players. It's not for the GM. So, the "dangerousness" of the area and any modifiers you might apply? Those don't do any amount of good for the game. The players can't see the die rolls or the target numbers, so they don't know the actual odds. And even if they did, they rarely spend enough time in one location long enough to figure out the odds. Or care. All they know is "if we spend X amount of time, there's a die roll." And also "if we're really noisy and stupid, there's a die roll."
So, cut all of that crap. It's useless. All you need is a die roll that is clearly influenced by the players' choices. A single die roll. There is no more complexity needed than that.
"But what," you ask, "about modeling more dangerous areas and the increased chance for dangerous encounters and whatnot? What about the realism of the world? How do you reflect that?"
You don't. Because that shit is not important. What's important is that random encounters happen at a mostly manageable rate and don't take the focus from the main game and that the odds of a random encounter happening are directly, visibly connected to the players' actions. The dangerousness of the area is part of the background sim. The players will never see it. And so, it doesn't matter. And making it matter doesn't get you anything of the slightest use.
Unless it does. But that's a different story.
Me? I like to have the potential for no more than two one or two random encounters for every four to six planned ones. I find that fills a four- or five-hour session nicely since I can handle an encounter every thirty minutes and still need time for all the non-encounter crap. Now, the very, very broad, general, basic structure of my game – my gameplay loop – runs like this: players transition to a new area, have an encounter if there is one, and explore or interact with the new area once or twice. And about half to two-thirds of my areas have encounters.
Now, before I get a bunch of people screaming how formulaic that is and so on and how all I run is dungeon crawls and don't care about the story and all that crap, that is a VERY GENERAL PATTERN. I deviate from it a lot. But it's the baseline structure of my game. Moreover, it's the baseline structure of D&D. The players enter a room, deal with an encounter if there is one – be it a fight, a talking, a trap, or a whatevering – and then they poke and prod the room for a while.
So, roughly speaking, for every encounter, there's between two and three non-encounter actions. Moving between areas is one. Exploring the room playing with the clickables and searching for traps takes between one and two. Very roughly, then, that means there's thirty minutes for every room if we consider any non-encounter action to chew up ten minutes. And if half my rooms have encounters, that means 60 minutes per encounter.
So, if I want one random encounter, on average, for roughly every two to three planned encounters and I want to tie it directly to non-encounter actions, that's roughly one chance in six that an encounter will happen every ten minutes. So that, in one hour, there's about a 66% chance of having at least one encounter.
So, every ten minutes, I pick up a d6 roll it. If it's a one, there's a random encounter. And I can also pick up and roll the random encounter die if the party does something loud or reckless and I want them to know they are being loud or reckless. It's as simple as that.
Now, you've probably heard me talk about the system I call the Time or Tension Pool. I keep talking about it because it works really well. And I didn't even realize it. It took other people playing with it to convince me it was useful. And convince me it did. So, now I've started refining it. Under that system, every time the players spend 10 minutes outside of an encounter, I throw a d6 into a visible pool. They can literally see the time they are spending stacking up. I roll the pool once there are six dice in there. And I also use it to tell me when an hour has passed. And I also roll the whole pool whenever the players do anything reckless or likely to attract attention.
"But isn't THAT adding complexity? How is that simpler than just rolling a d6 every 10 minutes or for every stupid action?" Yes, it is adding complexity. And it isn't simpler. I never claimed it was. But it gets me a few things.
First, the visible pool more strongly connects the players' actions to the chance of a random encounter. They can literally see the time they are wasting pile up. And they learn how their actions chew up time. If they spend thirty minutes ransacking a room, I add three dice. If they smash open a door loudly, I pick up the dice and roll them. It gives them a sense of the passage of time and a growing sense of dread to echo what their characters are feeling. I've talked about this before.
Second, it keeps time, so I don't have to use tick marks. So, I can use it to track durations and stuff. I've also talked about that.
Third, narrative tension, blah blah blah, talked about that before.
But fourth, it also puts a cap on the rate of random encounters. If I roll for one random encounter every ten minutes, well, a few unlucky rolls can mean the party gets wrecked by hordes of wandering goblins over the course of a single hour. Which means I can also burn through random encounters pretty quickly. I don't want that. I want them to show up once or twice for every four to six encounters. That's normal. That's what the party should be able to handle. So, by default, I only roll once every hour. And no matter how many dice turn up ones, that only indicates one encounter. The only time the party has a chance of encountering more than one random encounter per hour is if they start barging around and being loud and dangerous. Or if something in the adventure triggers a roll. Something they could have prevented.
For example, if a goblin escapes from the fight and starts screaming his fool head off, I'm going to roll the pool of dice. And the players will eventually learn that fleeing enemies are dangerous for precisely that reason and change their tactics. Especially if they've been wandering around for a while with nothing bad happening. If they set off an alarm trap, I'm going to roll the pool of dice. So, it gives me a mechanic to hang consequences on. Consequences for player actions and screwups and failures.
But, honestly, you don't need to do all of that. You could easily roll a d4 for every hour of game time and have a random encounter on a one. That'd do it too. Or set a different rate altogether depending on the structure of your adventures. The key is to figure out what the normal, default playstyle is and how many random encounters on average the players should risk. Then, set the odds appropriately. After that, figure out how the players can trigger deviations from those odds and how you can make them apparent. Just like I did.
Because THAT is what random encounters actually do. And that's all they need to do. Connect the players' actions to the chance of bad shit going down and screwing up their adventure.
But how do you actually design the encounters themselves? How do you avoid having to design dozens of the things? And how do you make them more than just strings of surprise combats that aren't as well-designed as the rest of the combats? How do you use random encounters in adventures that aren't just dungeon delves filled with combat? How can you use them to enhance the story?
Well, now that we've laid out our design goals, we can do that. But not today. Come back in a few days for a follow-up. That's right: two articles this week. Because I rolled for a random encounter.