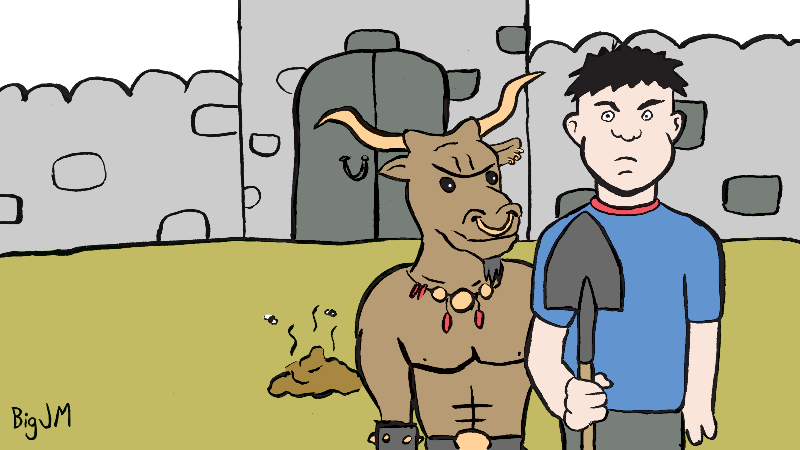 So, funny story. This article was written last week. It was supposed to get posted January 23rd. But… it didn't get posted. I done effed up. I wrote it. I just didn't actually post it. That's why it talks about that last crafting article as something that hasn't been posted yet and might never be posted. Anyway, sorry about that. I discovered the oversight when I was reviewing my posts on Patreon to make sure all four January articles had been properly posted and charged. It is being posted to Patreon on January 31st to make sure it gets into the January pile and going live here on The Angry GM site on Monday, February 4 so as not to stack too close to the crafting article and bury it on the recent posts. Enjoy.
My brain is a strange place, a fact that my therapist never misses a chance to tell me. I'll describe a recent dream I've hard or go off on some random thought that occurred to me about how if marshmallows grew on trees, they'd be sold in the produce section, and she'll make a few notes and then look up and say, "you know, Angry, your brain is a strange place." Yes, I ask her to call me Angry. And after I made that request was the first time she told me my brain was a strange place. For this, I pay $150 a session.
I don't think she's actually a very good therapist.
But I digress. My brain is a strange place. Sometimes, I'll be working on something and suddenly, this weird thought will pop up and start scurrying across my brainscape like a frightened gazelle. Now, maybe that happens to everyone. I don't know. But what I've discovered is that it's usually worthwhile – or at least interesting – to grab my mental shotgun and take off after that gazelle on my rocket skates. Yes. In my brain, I have rocket skates. I told my therapist about them. You can guess what she said.
See, the thing is, the frightened gazelles that leap out of the underbrush of my mental landscape will lead me on a merry chase. Sometimes, I'll manage to get close enough to fill it with psychic buckshot. Then I can skin the thing, make a nice jacket and some boots, cut myself some gazelle steaks and venison, and maybe even end up with a rack of antlers as a trophy to mount on the inside of my skull. Sometimes, though, I'll chase it around for hours before it disappears over some ridge and I'll be left in the middle of my brain savannah, out of rocket skate fuel, and with no idea where I am. And I'll have to find my way back. Which will usually lead me to discover a pond or something. I don't know. This metaphor is kind of falling apart. Which means it's time to wrap up the Long, Rambling Introduction™ and get to the point.
The point is, I don't ignore the stray, random, weird thoughts that pop up while I'm working on another project. The project will wait. Usually. Depends on the deadline. But the stray thought won't. It'll disappear if I don't chase it down. And while, sometimes, I won't get anything useful out of it, sometimes I'll bag myself something really good. And even when I don't, I usually end up somewhere interesting.
See, these days, I find myself thinking a lot about what I would do "if I were designing a role-playing game." And the reason for that is, well, I'm designing a role-playing game. That's no secret anymore. I wrote a book. It's done. Copies have been sent to all the people who funded it via Kickstarter. And the book itself will be on sale to everyone else very, very soon. Like, next week. And when I put the book out there, one of the things I admitted was that all the crap I always said I'd do "if I were designing a role-playing game?" Well, none of that was actually hypothetical. I've got a game in the works. It'll take a while before it's ready for prime time. But it does actually have a timetable and a plan and a design statement and a core mechanic and… well… it has a lot more than you might think. But it's still not coming out tomorrow. Or anytime this year. So, don't get too excited.
And THAT is why I spend a lot more time chasing idea gazelles across the cerebrum-geti than I used to. And that's why I'm happy that I allow myself one crazy, rambling, bullshit article a month.
Anyway, let's talk about dark secrets in the game.
The GM Needs Secrets Too
So, there have been two things on my plate this past week. The first is trying to get my Pathfinder game moving. The one I've been writing about starting. The second is stalling out the release of the next part of my series of articles about developing a crafting system. In the last part of that series, I promised I'd talk about crafting from a GM perspective and come up with the basic idea for the resources a crafting system would use. Well, I've been working on that and the conclusion I keep coming to is one I don't like. Not at all. And I know a lot of people won't like it either. So, I either need to rethink everything or just put on my big boy pants and put it out there anyway. You'll find out next week which choice I went with.
Meanwhile, in working through stuff for my game and in working on crafting stuff, the vague notion of secrets kept popping into my head. And it kept popping into my head in a "you know, if I were designing a role-playing game, I'd have to figure out how to handle secret stuff" sort of way. Which I'd ignore except I also remembered that I am designing a role-playing game. And so, I do have to figure out how to handle secret stuff. And I find myself suddenly having thoughts about it.
So, let's talk about secret stuff in games.
The thing is, whenever you talk about secrets in role-playing games, it's almost always from the perspective of player secrets. Character secrets. Backstory secrets. Secretly evil rogues in otherwise good parties. Secretly good paladins in otherwise evil parties. Secretly criminal characters whose past is going to catch up with them and land the party in hot water. Secretly female characters who are disguised as males because they ran away from arranged marriages and just wanted to be adventurers instead of princesses anyway. That kind of thing.
And I've gone on record as saying that it's okay for characters to have secrets from the other characters, but if it is the sort of thing that the player has to keep secret from the other players or else everything will be ruined, then it's a bad idea and should not be allowed.
Now, let me be clear on this: I am not saying the player can't keep the secret secret from the other players. It's fun to have some things be a surprise. But, I'm saying the GM should ask himself "if the other players found out this secret, would it make them mad or ruin the game?" And if the answer is "yes," it's a bad secret.
Case in point, the secret tomboy princess character posing as a male adventurer? That old trope? If the Alice and Carol and Dave found out that that was what Bob was doing, the game could still function. They could pretend their characters didn't know and go along with it. But, if Carol is secretly an evil rogue in a party of good-aligned paladins and clerics, it would be a lot harder for Alice and Bob and Dave to ignore that. And they'd probably be pretty pissed off that someone brought a traitor to a team game.
That's the point. If the secret's revelation adds to the fun of the game for everyone, it's a good secret. If the revelation detracts from the fun of the game or leads to any sort of PC-on-PC violence, it's a bad secret. It's as easy as that.
See, players like to have secrets. It makes them feel special. And surprises are fun. But players can also be short-sighted, selfish jerks. And, as a result, some of their secrets are based entirely around their own fun at the expense of everyone else's.
The only other time people discuss secrets is when it's GMs bitching and moaning about metagaming and/or cheating. And I've had a lot to say about all of that crap too. I've talked about hiding statistics from your players unnecessarily. I've talked about fudging die rolls. I've talked about the futility of whining about the fact that every modern RPG player knows that trolls are weak against fire. Mostly, I've talked about how the very concept of metagaming is bullshit and how worrying about it wasted energy by piss-poor GMs who don't realize that the real problem is that they suck at building and running good challenges.
And, the thing is, you can actually sum up almost everything I've said on those subjects too with the exact same rule of thumb: if the players knowing the secret would detract from the game, something is wrong. Case in point: fudging die rolls. Let's say you fudge die rolls and statistics. Doesn't matter why. Maybe you adjust the challenge on the fly. Maybe you adjust the pace of the combat. Maybe you just don't want to kill your PCs with throwaway fights that don't mean anything. How would your players feel if they found out what you were doing? Would you ever tell them? If you'd never tell them because you know they'd be pissed off, you're bad and wrong and you should feel bad. It's as simple as that. Same with the troll encounter. If your encounter becomes completely boring and terrible once any of the players actually know a troll's weaknesses – either because of prior knowledge or because they made a good Knowledge (Cliched Monsters) check – you designed a crappy challenge. Sorry. You can whine about metagaming all you want and how the characters "couldn't possibly know anything about any monster they've never encountered" – and you'd be wrong, that's a terrible argument I've debunked to death countless times – you can whine about metagaming all you want, but you still designed a game that was ruined by one piece of information in the wrong brain. That seems like bad design to me.
On the other hand, there are some things that no reasonable player would object to you keeping secret. Because the secret adds to the tension of the game. Few players, for example, want to see the map of the dungeon before they've explored it. Few want to know who murdered the king before they've investigated the mystery. Players don't like having stories spoiled. And most reasonable players understand that the mere existence of certain die rolls gives away information. Or that the natural roll on the die, absent any information about modifiers or the DC, gives away information. That's why GMs roll Perception and Stealth checks in secret. Sure, some players would RATHER have that information because they want to win at all costs, but the hypothetical reasonable player who understand things how things like tension and challenge add to the game still has to grudgingly admit that the game is improved when those die rolls are hidden from their view.
And that's the beginning and end of the discussion on secrets at the RPG table. But, a few things have happened lately that encouraged me to look at a different kind of secret. Let me tell you three anecdotes.
Three Anecdotes
Once upon a time, a group of game designers created the fourth, numbered, official edition of one of the most famous and popular role-playing games in the world. This made a lot of people unhappy and was widely regarded as a bad move. The sad thing was, though, that the designers of said edition weren't bad designers at all. They were very clever designers who had a lot of really neat ideas. And they were brave designers who were willing to experiment in lots of different ways. Some of their experiments worked, some didn't, but the sum total of everything they did just didn't quite work the way anyone had hoped. And even if the game had been kind of fun, it was also saddled with the name of one of the most famous and popular role-playing games in the world. So, it was going to be judged against a pretty harsh standard. And any differences between it and previous editions of the same game were going to be viewed with skepticism by the very engaged fans who had been playing previous editions for years and who were not happy about being told everything they owned was now obsolete and they'd have to shell out a hundred fifty bucks to keep playing the game the right way.
But one fan was able to look past all of that stuff and see some of the very clever things the designers did and to recognize all of the brilliant ideas that were lost when their managers threw out everything they'd done in an attempt to pretend that the fourth edition of the game had never existed and win their lapsed fans back.
One of the cool things he saw was an essay in a preview book by one designer that called attention to a very interesting decision the designers had made concerning one, particular god. That god, Tharizdun, God of Madness and Destruction, formerly known as the Elder Elemental Eye and the source of an evil attempt to destroy the world in some very famous modules of a bygone gaming era, that god was officially part of the core cosmology of the D&D universe. EXCEPT, players didn't know it. Because the designers had carefully avoided mentioning Tharizdun's name – or anything about him or the Elder Elemental Eye – in any book that players might read. He was not included in the list of gods in the Players Handbook, for instance. Nor mentioned in the Divine Power sourcebook for priestly characters. He wasn't even mentioned by name in the Monster Manual. He was only vaguely referred to in that book. The only place he was mentioned and described was in the Dungeon Masters' Guide. And in a campaign supplement later on.
The designer explained in his essay that this was done so that GMs had at least one evil god that was totally secret. The GM had one evil god to spring on their players that they didn't have to create themselves as the source of some convoluted evil plot. He wasn't even reserved for use in official materials. The designers focused their series' of modules on other villains. Orcus, for example. And Lolth. The designers built a secret into the game and kept it away from players as best they could just to reserve it for the GM who wanted a surprise villain that was part of the cosmology that had been secretly behind things all along. How fucking cool is that?
It's crap like this that makes me say that 4E may have had a lot of failings, but it had a lot more heart and soul than the nostalgia grab rehash that is 5E.
The end.
My second story…
Once upon a time, I was playing this side-scrolling, exploration-based platformer about a bug warrior exploring the ruins of an ancient bug kingdom. The game was gorgeous, well-designed, and a lot of fun. I highly recommend it.
Now, exploration-based games are my absolute jam. They are so much my jam and I am such a connoisseur of them that I refuse to call them Metroidvania games because I know the actual origin of that name and I don't consider the specific games that led to that phrases creation to be particularly good examples of exploration-based gameplay compared to the games they were being compared to by the facetious internet poster who made up the word. Yeah, try disentangling that.
Anyway, Hollow Knight is a very good example of an exploration-based platformer. And anyone who has played such games knows that, eventually, the main character will gain the ability to double-jump. You know, jump once and then jump a second time. And Hollow Knight was just screaming "you are going to get a double jump." It had a lot of gaps that were just slightly too wide for you to jump with your basic jump. And it had a lot of platforms placed in such a way that a simple long jump or high jump wouldn't cut it. You'd need a double arc. A double-jump. So, I knew I was getting a double jump.
Also, I love double-jumping. I also love pogo-jumping. I love that fun sort of aerial platforming traversal. Love it.
So, the first upgrade comes and goes. It was a ranged attack to supplement my melee attack. Fine. Whatever. Any minute now, I'm going to get my double jump. The next upgrade is a magical cloak. I had to duel this awesome wasp to get it. She was a fun fight. And I knew – KNEW – the magical cloak would be my double-jump.
Except it wasn't. It was this cool air dash power. Jump in the air, then zip through the air. What was awesome is that I could combine it with a pogo-jump move I had from the beginning. To pogo bounce off spikes and enemies, then zip through the air, then pogo again. Fun stuff. The next upgrade wasn't a double jump either. It was a wall cling. Now I could cling to walls, jump off walls, zip through the air, pogo bounce, zip, wall jump, and so on. And on the game went. Aerial traversal became a bigger and bigger focus of the game. But still, no double jump. Until I forgot about the double jump. Then, very late in the game, I got my double jump.
The game surprised me multiple times. It gave me powers I didn't expect and withheld the one power I did expect – being genre savvy – until I forgot about it. And man was that a fun ride.
The end.
My third story…
Once upon a time, I had this player who was trying to restore his martial family's lost honor while also becoming an exemplar of combat skill and prowess. He was playing a fighter. The game was Pathfinder. And I thought it would be cool to build a plot around him finding some retired combat veteran and learning some neat combat arts that no one else in the world had access to. Basically, instead of him finding magical items and treasure, he'd find character abilities. Combat feats would be perfect. Because fighters gain a lot of feats. He'd have plenty of slots. So, I picked out a feat progression from the rules. He earned the trust of his mentor, the party did a quest, and as a reward, the mentor agreed to train him. He was really excited. Until the training amounted to him just getting a feat he could have gotten anyway. A feat he was planning to take on his own anyway. He confessed he was disappointed. I figured he was upset because I filled one of his feat slots with a feat of my choosing instead of his. He said that wasn't the problem. He was a reasonable player. He understood that he'd have to use a feat slot to acquire the feat. The problem was the feat was just a feat from the rules that anyone could have chosen. One he was actually going to choose. He had thought he was going to get a unique feat, something he couldn't have gotten any other way. I asked him to give me a week.
I went home and poured over the various Pathfinder supplements. Official and unofficial. I knew the guy wasn't an intense gamer. Just a regular player who liked the game and showed up every week to have fun. So, all I had to do was find a feat progression from a sourcebook he hadn't read or seen and he'd be happy. I found one. Can't remember what book it was in. It wasn't anything super fancy, even. Next week, I said, "remember that feat your teacher taught you? Well, I was just kidding. That wasn't the feat he taught you. He taught you this one." And I handed him the index card I'd printed out the feat on. "And he explains that he can teach you more to help you unlock your full potential if you keep coming back to him." And he was happy.
P.S.: I did the same thing with a wizard whose backstory involved her wanted to discover the ancient magic of some lost dragon empire. I dug spells out of supplements and let her discover those as treasure in her explorations and add them to her spellbook. And I made sure no NPC – except those connected to the ancient dragon empire – ever used any of those spells. And she thought that was cool as hell too.
Discovery =/= Exploration
Do you think those anecdotes all have to do with secrets? Well, you're wrong. They have to do with Discovery. You know, the gameplay engagement type that people like me – and lots of table-top role-players – get off on. Most people equate discovery with exploration. That is, discovery is the pleasure that players get from poking around the world and finding things. But that's not entirely true. Discovery is the joy you get from adding to your knowledge of the game. And the game is bigger than the world of the game.
Tharizdun was hidden from players so that GMs in the know could spring his existence on players. And once the players knew Tharizdun existed, they could spot all the places in the world where he fit in. They could see – or the GM could show them – that Tharizdun was part of the official cosmology. Hell, he had created the Abyss and all demons and demon-princes owed their existence to his actions during the Dawn War. It's true. That was all part of the cosmology of the core 4E universe.
I got a lot of joy from Hollow Knight handing me powers I didn't expect and apparently withholding the ones I did expect. When I started playing the game, I figured I knew what most of the upgrades would be like. I was pleasantly surprised by some unexpected ones. That's discovery. It added to my enjoyment of the game. In fact, I got as much joy out of being surprised by unexpected abilities as I got from using the powers themselves. I loved the aerial traversal in that game, I loved the pile of movement abilities, but I also loved being surprised by the variety of movement abilities.
And even though the spells and feats I gave my players weren't any more powerful than any of their existing options and they still had to spend resources on them like pages in their spellbook or feat slots, they felt different specifically because they couldn't have just chosen them out of the Core Rulebook for themselves.
Discovery extends beyond the game world. That's the point. Anything related to the game can be a discovery. And it all scratches similar mental itches. As long as it's an actual, deliberate part of the game that you had no idea about until the moment you took some action or made some choice and, as a result, learned it was a thing. Gameplay options – like feats and spells and powers – can be discoveries just like anything else. And I can prove it. And I can prove that the game designers behind D&D know that. Why else would they put all the magical items in the Dungeon Masters Guide? Or the game masters' section of the core rulebook? Because magic items are more fun when the players don't know the complete list of all the items they might find in their travels.
And how do I know that GMs and players understand that? Because a hell of a lot of people were pissed off when the 4E game designers decided to put all the magic items in the Players Handbook for their ease of reference. After all, PCs were the ones who'd end up with magical items. They might even buy or sell them. And higher-level PCs would start play with magical items. Frankly, from a "user interface" standpoint, magical items BELONG in the PHB. That was the right place for them. But from a "discovery" standpoint, well, it was the equivalent of printing "Trinity kills Dumbledore with a sled called Rosebud and she's also really a man" inside the front cover of the book.
It's kind of funny. Because they were the same designers who did the brilliant Tharizdun thing.
Secret Options
Why am I thinking about all of this? Well, partly it's because I'm in a situation again where I have a player in a Pathfinder game whose story could definitely include a mentor who could teach some secret character options. The problem is this player is very knowledgeable about the game and knows a lot of what's in all the supplements. So, the same trick may not work. And I might be forced to completely invent some feats and/or spells specifically to give him the same feeling that I gave that fighter years ago. Partly, it has to do with thinking about crafting and seeing where I am currently at with this D&D crafting system nonsense. Well, not really that. Actually, it has to do with the whole "if I were designing an RPG thing." Because look, if I were designing an RPG, it'd have a good crafting system as part of the core rules. And, obviously, if I'm already designing a crafting system for one game, I might as well try to make it reasonable portable to the other game I'm going to have to design a crafting system for.
That's another trick I learned from the designers of 4E. Thank you Star Wars Saga Edition and Book of Nine Swords.
See, the thing is, for players to craft properly, they have to know the things they can craft. Just like for players to pick spells and feats properly, they have to know what spells and feats they can choose from. And that's all well and good. But spells and feats and crafting rewards also make really nice discoveries. It's nice for players to discover – through play – that they have another option. It's nice to have mentors who can teach rare combat techniques that can't just be chosen as character generation options. It's nice to have spells hidden around the world that aren't already listed in the Standard Book of Spells. And it's nice to have some magical items whose crafting formulae or even whose existence is unknown until unearthed. Or searched for.
Obviously, from a game balance standpoint, those things need to fit alongside all of the existing options. They can't be out of whack with everything else that exists. Otherwise, you force the GM to very carefully monitor the progression of everything, as GMs often have to do with magical items. A well-designed game should have an easy to maintain progression and power level that the GM can easily work within. Put another way, if the game expects PCs to have the equivalent of +2 magical items at 5th level, any magical items they craft, buy, or find at 5th level – even the secret ones that they don't know exist – need to be about the same power level. And that goes for any recipes they discover for unknown magical items too. And the same is true for spells. A level 9 spell must be a level 9 spell, even if it's a secret spell that no one knew the ancient dragon empire had developed until the heroes stumbled on it.
Basically, if I were designing a role-playing game, I'd strongly consider taking a page from the Tharizdun story. I'd consider taking the big list of options – spells, feats, magic items, crafting recipes, summoned creatures, pets, followers, divine entities, patrons, whatever – and putting them on a separate list in the equivalent of the GM Guide and saying: these can only be acquired during play. Unless you – the GM – specifically make them available otherwise, they are for you to use as rewards or discoveries or the results of crazy crafting experiments or the spells of ancient forgotten empires or whatever. Mostly, it'd just be little stuff. Just a few options no player would ever miss. Or a few slightly esoteric or specialized things. A little grab bag of goodies reserved for the GM to keep in their secret stash.
But it'd also have a few big things. A few game-changers that not every GM wants. For example, it'd be a great place for resurrection magic. Because that would be a great way to give the GM permission to decide how to handle death. "Sure, you can give the players the option to bring dead characters back to life. Here's a spell that will do it. But you have to decide to give them that option. Or make them earn it." I can think of a few abilities and spells like that. Abilities and options that I wish I had to offer instead of restricting. You know, opt in instead of opt out. Say yes instead of say no.
Now, I know that shit wouldn't stay secret forever. Through the course of play, players would discover the various options exist. And some GMs would open the floodgate and just let the players choose from those options. And players might read the secret GM books and ruin the surprise. And some GMs are also players and they'd know the options exist. Gradually, all of those options would seep out. And, thanks to the Internet, they'd spread. But, they wouldn't spread everywhere and they wouldn't spread completely. Hell, there's still D&D players who are surprised to discover particular magic items exist in the game, despite the fact that anyone can find out every item in the game at this point.
And even if the knowledge did spread, the options themselves would still be sectioned off. They'd still be under the warning, "not without your GMs permission can you have this." And they'd still have a note that says, "hey, GM, this stuff should be earned during play; don't just give it to any player who asks."
And best of all, they'd also be a way of telling every GM, "even though you're running your own game, you're still part of a fraternity of secret keepers and game creators and, as such, we've agreed that these little secret tidbits are entirely for you to use as you see fit. We won't spoil the surprise if you won't. Welcome to the Circle of Trust."
And that'd be awesome.
P.S.: I think we can safely consider this gazelle 'in the bag.'