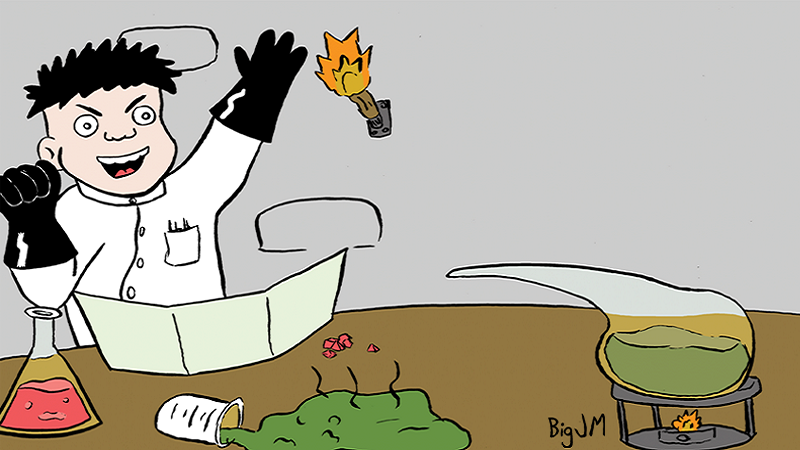 Crafting. Remember that? Remember how, a few months ago, I announced my bold plan to develop the conceptual framework for a crafting system that you could shove into D&D or Pathfinder? And how I said it would be difficult and complicated and take a long time? Well, it has been a long time. So, I guess it's time to get to work, huh?
Yeah, when I said it would take a long time, I meant it would take a long time for me to get back to the project. I've had a lot going on. Leave me alone. Look, I'll make it up to you by not doing a Long, Rambling Introduction™. Okay?
And, just a reminder, this article is for people who are interested in how to design rules systems and for people who want to add a crafting system to their game. If you're not one of those people – specifically if you hate crafting systems and don't want them – neat. Get lost. Go read one of my many other articles. No, don't bother leaving a comment. No one cares that "you will never understand why people like crafting" and that you think "all crafting systems are boring and grindy and repetitive." Least of all me. And what I don't care about, I delete. And then I get resentful. Because I hate moderating. So, I shut off all comments and start banning people.
Okay? Cool.
What Was Crafting Again? And Why Do We Want It?
I realize it's been a long time since we talked about crafting. So, I'm going to review some of the stuff I've said before. At some point, I'm pretty sure I ironed out what makes a crafting system desirable and therefore what things we want in a crafting system. I can't be bothered to go back and check, though. So, we're just going to run through it again quickly.
Crafting is a system whereby players can create and customize gear for themselves and their party. Simple, right? Well, not really. Because the ability to create and customize gear isn't enough. If you simply allow players to, for the most part, just create the same gear they can buy from the equipment lists in the Players Handbook – as the baseline crafting system in D&D 3.5, Pathfinder, and 5E allow – you're missing a big point. Yes, I know those systems also allow you to create magical items that you can't just buy. I'll come back to that half of the system in a second.
See, the key to the whole thing is customization. While different players engage with crafting systems for different reasons, there are basically three major motivations. First, creative expression. Some players want to outfit their characters a certain way to match a vision they have of their character. Second, supplemental advancement. Some players want to outfit their characters with a set of new abilities and bonuses to push their character's advancement in certain directions. That's basically the mechanical equivalent of creative expression, by the way. In fact, those two motivations can often get smooshed together for precisely that reason. Third, there's overcoming challenges and solving problems. Basically, players can use crafting to overcome specific obstacles in the game or make those obstacles easier to deal with. If the party is planning to fight a volcano dragon, for example, frosty arrows and potions of fire resistance can make the fight a lot easier.
Let's call those expression, advancement, and preparation. And, to be fair, those are all forms of empowerment. Even creative expression. That empowers the player to take an active hand in the story of their character. Crafting is empowering.
But it doesn't work for everyone, right? Because crafting implies a certain amount of work. And I don't mean work for the character. I mean work for the player. The player has to choose between the different crafting options and figure out how to spend whatever resources need to be spent. And even if it isn't a matter of spending resources, it's still similar to picking feats, spells, or character abilities. There's a choice to be made and you can't have everything. The problem is crafting is more complicated. Because there's so many different kinds of equipment and combinations and people can carry lots of bits of equipment even if they can't use it all at the same time. So, crafting has to be an opt-in kind of thing. It can't be required. It's too much work to demand of every player. Instead, if there are players – or groups – who want to engage with crafting because of one of the aforementioned motivations and find it worth the cost, they can play the crafting the game. The other players don't have to. And they can't have their time wasted by the craftsman at the table. At least not substantial amounts of time.
But now, let's talk about resources. Because crafting does provide rewards. It is both intrinsically and extrinsically rewarding. That is, crafting is fun because it is crafting and it is fun because of the items you craft. Because of that whole creative expression thing, some players will get a warm fuzzy just from the idea that they have outfitted themselves – and their party – entirely in stuff they have made themselves. That's the intrinsically rewarding part. Because there is a reward, there also has to be a cost. Crafting has to use up resources. But this is where things get interesting…
See, even though crafting has to be something players opt into on an individual level, the actual benefits are group-wide. If a group has a craftsman who can make magical potions or magical weapons or whatever, they can make stuff for everyone. Everyone in the group can benefit from the craftsman. And, most groups will take advantage of that. I can't imagine any group with an alchemical brewmeister refusing to be kept well-stocked with healing potions. That'd be crazy.
The point is, even though individual players have to opt into the busy work of actually crafting stuff. That is, deciding what to craft and how to spend resources and all that crap, the entire group has to be able to opt into spending resources because the entire group can benefit. And once the entire group does opt into that, you'll also see the group participating in some of the decisions about what to craft. And that's good. Because you want a system like this to drive group choices and group behavior.
Now, this is where D&D 3.5 screwed up. Because there were two costs associated with crafting. The first was money. That's fine. Because that can be divvied up as both a group resource and an individual resource easily. That is, the group can pool their resources to allow the crafter to create a stock of potions or the crafter can use his personal share of the treasure to make a personal item or any other player can give the crafter his personal share of treasure to make a specific item or the group can invest in a particular weapon that will make the next adventure easier even though it will be wielded by only one person. That's a perfect example of the type of group resources I mean.
But 3.5 also required the crafter to spend their own XP to craft any item except those on the PHB equipment list. And that was terrible. Seriously terrible. Not only was that a personal, not a group, resource, but it was also a personal resource that the crafter would have to spend on behalf of any member of the group. And it was an expensive and powerful resource to waste. In general – and I don't care what the Numanuma fans are going to shriek at me – spending XP is pretty much always terrible. Character advancement is pretty much THE most valuable thing you can earn in the game. So, having to trade off any amount of that advancement for anything else is pretty much always a terrible proposition.
Now, Pathfinder fixed that by making it entirely about money. No other resources were required. Now, this is actually a big mistake too. But I'm going to save talking about why until we talk about crafting resources. I'm just going to say this: if the only crafting resource is money, you aren't crafting. You're just buying equipment. And, more importantly, you're also detaching crafting from the game. Now, I promise, I will explain all of that in more detail when we finally get around to crafting resources. We're dealing with a different piece of the puzzle.
But here's the other issue with Pathfinder. It was a complex system that required a die roll, multipliers, and tracking partial progress over long periods of time. Basically, you figured out the cost of the item, spent a fraction of that on raw materials, rolled a skill check, and if the check was successful, you multiplied your result by the DC and compared it to a threshold. If you overcame the threshold, you made the item in a week. If not, you made progress and had to keep going to finish the item. That's a lot of steps. And, most importantly, it involves a GM. Because the minute a player is rolling a check, an action is being adjudicated. And that means the game is on. And that means the GM is overseeing it.
Yes, a GM could trust a player to make the appropriate rolls at home, but that's a hot issue that rustles a lot of panties and gets a lot of people's jimmies in a wad. And, frankly, I understand why. I mean, yes, at its core, it's a trust issue. Do you trust your players to make die rolls away from the table and report them honestly? Especially when failures will cost them resources? It's a tricky question and depends on a lot of factors outside of the game. Personal factors. And therefore, it's a question the game design should shy the hell away from.
So, you have two options. Either you have to confront the trust issue, or you have to use table time and GM time to resolve crafting. Which means that it no longer becomes a question of a single player or group opting into the system. The moment a player chooses to use the crafting system, they are demanding the rest of the group and the GM go along with them. And the more they use the crafting system, the more of the GM's and the table's time they are going to use.
And that is the problem I'm going to solve today. The issue of allowing one player to opt in without requiring the rest of the table to get dragged along for the ride. And isn't it convenient that our review of the needs of a crafting system ended pretty much right there?
Yeah, I know. I'm frigging amazing.
Does This Sound Like Anything Else?
So, we need a game system that allows players to create and customize equipment so that they can express themselves creatively, customize their character's powers and abilities, and prepare for upcoming challenges. It needs to be something that a single player can do on their own with no participation from the group. Or the GM. Does that sound like anything at all?
Why yes. It actually sounds like three different things. And I've already mentioned two of the three in this very article.
First, it sounds a lot like just buying equipment, doesn't it? Well, sure. And that makes perfect sense. Buying mundane equipment from the Players Handbook equipment list is the sort of things that GMs often let players do on their lonesome. The players have all the information they need. And the actual process is pretty simple. Mark off the gold – which has been divvied up from party loot – and add the piece of equipment you want based on its cost. Most GMs don't get too involved with equipment purchases. I know I personally let my players buy anything they want between sessions provided their characters ended the session somewhere where they can reasonably buy goods.
Now, this is where we are going to get very abstract. And it's important to get abstract here because, when you're designing new systems, you have to be able to look at them in very abstract terms. What we call buying equipment isn't really buying equipment at all. And this is why numbnuts who refer to anything that happens in the game as "an economy" need to get smacked in the head. Buying equipment isn't buying equipment. The player is literally creating equipment for their character by destroying money. It's not as if the money is going to an actual craftsman who is going to use the money partially to buy supplies to make more goods and partially to cover his living expenses. It's not as if there is anyone in the game world actually creating value out of their labor and entrepreneurship and being compensated. It's not as if there are limited resources being allocated in a free market. There's just a list of game mechanics you can add to your character and a resource cost.
Remember that distinction. Because it's going to be very important.
Second, this whole crafting thing also sounds a lot like leveling up your character. Now, obviously, leveling up your character varies a lot from system to system. But in the abstract, it comes down to the same thing. You've earned a certain amount of resources through gameplay. Once you have enough of them, you're entitled to add a specific mechanical element to your character. For example, when you hit level 4 in D&D, you get to increase an ability score. Every other level in Pathfinder, you get to add a feat. When a spellcaster gains a level, they gain new spells and extra spell slots. And so on.
Now, if we abstract this enough, we can make leveling up sound exactly like buying equipment. You gather a certain resource through play. And eventually, you can convert that resource into a specific mechanical element and add it to your character. Hopefully, you can see how close they are. But to really make them identical, we'd have to ignore a few things. Like the fact that XP, unlike GP, doesn't go away. You don't expend XP. It's just that, when you cross a threshold, you get a benefit. Does that matter? Well, no. But yes. The reason XP doesn't have to go away – the reason it doesn't have to be spent – is because the players don't really have any choices when it comes to XP and levels. When you gain a certain amount of XP, you gain a level. And when you gain a level, you gain a certain number of resources. You can't choose how to allocate your XP. And once you gain a level, it's gained. You can never ungain it. And you can never gain the same level twice. Effectively, XP can only be spent gaining levels, they have to be gained in a specific order, and it's all completely automatic. If that weren't the case, you would have to spend XP.
On top of that, gaining a level is a much more complicated affair. Actually, level doesn't mean anything by itself. Usually. I mean, in some sometimes, you add your level as a bonus to certain rolls or you roll a number of dice equal to your level or whatever. In those systems, level does mean things. But level in D&D doesn't mean a lot. But when you gain a level, you also gain other stuff too. You gain feats and ability score increases and class abilities and hit points and skill points and spells and numerical bonuses and whatever else you gain in your particular edition. Leveling up is a complicated process. You gain XP, the XP becomes a level, and then the level becomes a bunch of other choices. A bunch of other resources. A feat choice for example. Or a spell slot. And those benefits are prescribed by the level you've obtained and the class you're playing. Or the class you've multiclassed into.
So, buying equipment and leveling up both involve customizing your character by adding or customizing mechanical elements to your character by spending resources you've earned through play. Buying equipment is fairly straightforward and pretty open. There's lots of choices and you can spend your money lots of ways. But the effects are pretty minor and pretty limited. Even if you're buying a powerful suit of magical armor, the effects are pretty much limited to a defense bonus and maybe a single, unique ability. If you want something big, you have to save for it. If you want something small, you can spend for it pretty much whenever you want. And very rarely is any piece of equipment game changing.
Leveling up is complicated. You will make a lot of changes to your character. But those changes are dictated by the system. You'll have a list of specific options, usually constrained by choices you've already made, and you'll choose from amongst those options. In some cases, you'll simply be given mechanical benefits flat-out. And those will be based on choices you've already made. Choices like class and sub-class and build. And in some cases, and in some systems, if you want certain options to be available, you will have to plan for those and meet prerequisites at early levels. Leveling up has a much bigger effect on gameplay and it changes a lot. As a result, it happens infrequently, at specific intervals, and it involves a lot of constraints.
Now, the third similar thing is actually very closely related to leveling up. And that is character creation. Creating a character is basically the same as leveling up. It's just amped up to eleven. Basically, it's like gaining a foundational level. It's even more complicated and it requires the establishment of some mechanical stuff that's never going to change – like class and race and background and stuff – but it also only happens once ever. So, it can afford to be complicated. It's also less constrained than gaining a level. In fact, in a lot of ways, character creation actually sets many of the constraints that will be imposed on all future level gains.
So, what do these things have in common? Shopping for equipment, leveling up, and creating a character? Well, they are all things that can be done outside the game and away from the table. Without the GM's direct involvement? And while the players can collaborate and work as a group – deciding how to spend party funds, for example, or discussing what character who wants to play – they don't have to.
And I'd like to raise an interesting point here – well, at least I think it's interesting, and I'm right, so I'm raising it – it's interesting to note that as time has gone on and rules and editions have evolved, the amount of die rolling in character generation has been minimized. Now, D&D's creators have cited a number of reasons. Game balance. The downsides of bad rolls far outweighing the benefits of good rolls. The decreased focus on playing characters dictated by random chance over characters you've carefully designed for yourself. And so on. But one thing I haven't heard them mention is that as character generation has become a longer, more complex, more protracted, more involved process – you used to be able to have a complete character in ten frigging minutes when I started playing this stupid game thirty years ago – as character generation has become a more complex process and the amount of complexity varies from player to player, it's become increasingly important to allow players to create – or at least finish – their characters independently. I mean, as a GM, I will absolutely NOT sit through a character generation session unless I absolutely freaking have to. That crap is boring as hell. And it doesn't need me. Come up with concepts as a group, sure, if you want to. I do that. But the actual character generation? Go home and do it yourself. Come back and show me what you did.
The point is that, once again, there's the trust issue. And I think that one of the secret reasons for emphasizing non-die rolling – APART from the game balance thing – has been to avoid the trust issue altogether so that GMs don't feel the need to even wonder whether they should be overseeing character or not. And, again, I'm not weighing in on the trust issue. I think giving any absolute, universal answer to whether you should trust your players to roll dice on their own is just stupidly naïve. I've had players I could trust. I've had players I couldn't. And I've had players I wasn't sure about. The problem isn't the trust or lack thereof, it's having to decide. And having to say to some players, "I'm sorry, I don't trust you to generate ability scores on your own." That's a bad thing for the rules to make you say. Even if it's true.
What's It Look Like to Players?
So, what does all of this tell us about what our crafting system has to look like? Well, I don't know about YOU, but I know what it tells ME. It tells me that the crafting system needs to be an out-of-game, away-from-table system. Like buying equipment or gaining levels or making characters. And that means it can't involve die rolls or GM oversight. Which means, it basically comes down to exchanging resources. Which, when you get down to it is what crafting is. Turning ingredients into stuff, right?
But by looking at the differences between the three systems I cited, I can also determine a few other important facts about crafting. First, notice that each of the systems above uses its own resources. Well, character creation is a notable exception. But buying equipment uses money. And gaining levels uses experience points. But, though those two resources are different, they are gained in the same way: they are gained by playing the game. Crafting, likewise, should use its own resource. But those resources should be gained by playing the game. That second point is why time is a terrible resource for crafting. By definition, time is a resource that is gained by not playing the game. Using time as a resource means creating a tradeoff between crafting and adventuring. Unless you do something stupidly abstract like have players "earn" downtime by having adventures. That is, you hand out downtime as a reward. In whatever arbitrary amounts the system dictates.
Now, apart from the fact that that's just dumb and makes no sense in the fiction of the world because the characters can always spend extra time just by spending extra time and so the GM can only take time away – say by interrupting marathon crafting sessions by attacking the town – the problem with the GM handing out time for crafting as a reward for adventuring is that crafting is an opt-in system. Much like buying equipment, it isn't important for all characters and all players. And much like buying equipment, it's a system of customization, expression, and empowerment. So, you want the players – not the GM – to have as much control over the system as they can.
Put another way, the GM is encouraged by each system to dole out certain amounts of treasure based on the encounters the players face. But the GM is also empowered to hide more treasure in the world. Put it down optional paths, offer it as rewards for side quests, put extra treasure behind optional challenges, and so on. It's a reward for engaging in optional content. Moreover, the players can do things to earn extra money. They can gather equipment from their enemies and sell it. Push NPCs to pay them more. Steal from people. Earn money with their skills. And they can horde wealth. They can scrimp and save. The GM doesn't directly control the monetary rewards. It's tied more directly to the players' actions. In much the same way that non-terrible GMs actually use XP systems instead of being lazy and doling out levels whenever they damned well feel like it because why should the players have any sense of agency or connection between their actions and their rewards.
So, crafting must use resources gained during play – resources that can be found during the course of normal play or that can be purposely sought by players or dangled as rewards by a GM for optional content – and it must allow those resources to be converted into useful mechanical elements away from the table with no oversight. Which means no die rolls.
Now, crafting is also something that can happen frequently. Almost as frequently as buying equipment. Honestly, the same constraints exist in the fiction around crafting as exist around shopping. The heroes must be in a civilized location with shops or crafting tools available. It's an in-town thing. That's fine. But crafting shouldn't be as frequent or common as shopping for equipment. That means it should be a bit more complex and more constrained than buying equipment. It shouldn't be as easy to make a longsword as it is to just buy a longsword. And yes, I see the trap this is creating. Don't worry. We'll fix. And if you don't see it yet, it's something I will talk about before I fix. Later. Not in this article.
The complexity and constraint are also fitting because the system is optional. It's opt-in. Groups don't have to use crafting. Players don't have to use crafting. They will if they are willing to. It adds depth, but it's an esoteric sort of depth not everyone appreciates. Or needs. But the people who want the depth are willing to pay for it with a certain amount of complexity. So, again, it's more complex and constrained than buying equipment. But not too much more.
By the way, not to harp on failed systems – though I do like pissing and moaning – this is where Pathfinder failed to fix the D&D 3.5 crafting system. Not only does it require a die roll, but once you get past the die roll, it doesn't do anything different than shopping for equipment. That is, you trade money for gear. It's just the die roll determines how much of a discount you get. Even the constraint of needing certain spells cast during the creation process doesn't really matter because you can pay for the spellcasting. So, it's just another way to buy equipment. One with a very complicated bargaining system in front of it.
Anyhoo…
That's ultimately what our crafting system has to look like in the abstract. From the player side anyway. It's got to look like buying equipment. But different. More constrained, more complex, and with a completely different feeling. Using resources gained during play, which the players can also purposely seek, and which the GM can use as a way of rewarding different types of optional play as well.
But now we have to look at it from a different side. Two different sides. First, what does it look like from the GM side? And second, what does it look like to the players and GMs who don't want to use it? And answering those questions – which is what I'll do the next time I get around to writing about this – will lead us to determine what the spendable crafting resource will actually look like.
Teasey teasey teasey. Aren't I a tease?