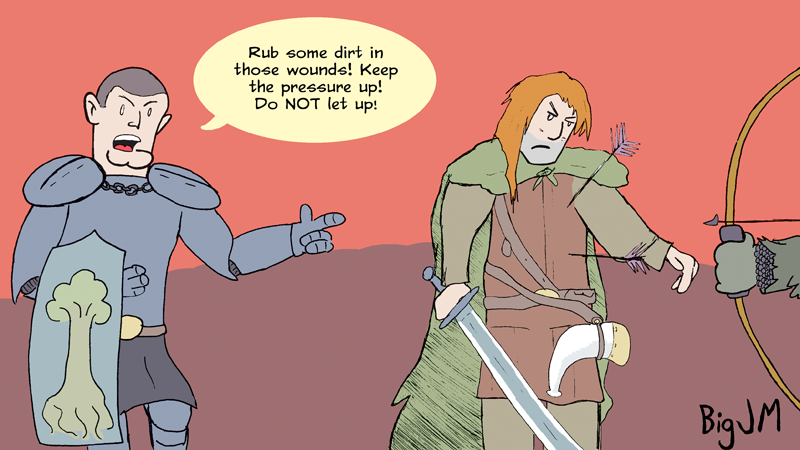 Why do players let their characters die? I mean, I know I've said that any time a character dies, it is the GM's fault. And that is technically true. I stand by that. But, unless the character is outright murdered by a GM fiat or a natural twenty at first level, character death usually doesn't come out of nowhere. Generally, characters die during combat. And during combat, characters are rarely brought down in one hit (except that critical hit at first level thing).
In fact, I did the math. And the math is really boring. So I'm not going to share the math. But, on average, it takes about three hits to take a character down assuming the party is facing a single creature of their level. Obviously, that can vary depending on the creature's level, the specific class of the hero, and how many monsters are on the battlefield. It's just a baseline. But it's also kind of conservative baseline. The characters who get hit the most during battle are the ones who can take more hits. Because smart heroes plan things that way. And lots of battles feature groups of lesser foes. Which means the number of actual hits a character can take increases. So, three is sort of a minimum.
That means the PCs rarely just drop dead. The have to creep up on death. They have to approach death, one inexorable step at a time. Every successful enemy attack or spell just pushes the PC closer to the end. An end they can see coming because – and this is a subtle and oft overlooked point – THEY HAVE AN ACTUAL MEASUREMENT OF EXACTLY HOW CLOSE THEY ARE TO DEATH RIGHT ON THEIR F$&%ING CHARACTER SHEET.
But players treat every battle as a race to death. Seriously. They don't care how much damage they take. All they care about is inflicting MORE damage on the enemy. If they can shove the enemy across the finish line before they cross it, they think they've won. And, you know what? In 4E D&D they were right! And in 3E D&D and Pathfinder, the party was loaded with so many healing options between spells and potions and wands and spontaneous-goddamned-casting and scrolls, they were right! Survive until the end of the battle and you win! No matter what!
And then there's f$&%ing "retreat and rest" paradox. Here's the deal. If the PCs overextend themselves, they will want to retreat and rest. They will want to sleep overnight and regain their hit points and their spells and all their healing. "Fine," you say, "but the clever GM will create reasons why they can't or shouldn't rest." And sure, the clever GM can do that. And what's the result. If it works – if the GM prevents the party from resting, all the GM forces the players to do is to kill themselves. Seriously. If the party is f$&%ing limping on death's door and the GM says "sorry, you have to continue, there's just NO WAY for you to heal," the GM is really saying "go to glory and grave, losers!"
It's kind of like in Demon Souls. In Demon Souls, if you got killed, the game resurrected you but it took away half your MAXIMUM health until you beat a powerful boss monster. Basically, it took away all your health and only let you have it back after you proved you didn't need it. Yes, that's fun in a controller-bitingly hard platform game filled with infinite resurrection and fun learn-as-you-go gameplay. But in a D&D game without the whole "infinite resurrection" and "have another try" things, it kind of sucks.
Now, we're on our seventh paragraph and all I've done so far is rant about a problem. So you might be worrying that this is one of those articles where I just piss and moan about a problem and then point out how it's a part of D&D you just have to accept or reveal in a surprise twist how it's not really a problem and you dumba$&es should just shut up. But no. This is not one of those articles. This is one of the articles where I have been driving absolutely f$&%ing bonkers by a problem and have been smashing my head repeatedly against a copy of Kobold's Guide to Game Design trying to find a solution. And that means, four thousand words from now, I'm going to give you a neat rule hack to change basically everything about hit points and death and players and defensive tactics. But that only comes after I analyze the utter hell out of the problem. If you want to skip the analysis, here, click this link and it will go to the part where I fix everything. But for the rest of you. Prepare for the drawn out analysis of why hit points get people killed.
If You're On the Door, You Might as Well Be in the Lobby
First of all, let's be clear as we talk about this. I'm not distinguishing between dying and death. See, it's become sort of de rigueur for RPG systems to dispense with the whole "you ran out of hit points, well f$&% you, go make a new character" system. Once upon a time, that's how it worked. There were no negative hit points or death saves or any of that other bulls$&%. You had a pile of hit points and if you didn't take care of them, you got to spend time in the Corner of Shame rolling 3d6 IN ORDER six times and hoping you got the class you wanted.
Now, that's actually kind of an unforgiving system. There's no safety net. Lose your last hit point, die, done. So, we decided to add another system UNDER the hit point system. In 3rd Edition D&D, we added the idea of negative hit points. Once you lost your last real hit point, you weren't dead. You were dying. You were bleeding out. You were critically injured. You were going toward the light. From that point forward, you had a cushion of negative hit points. But those would trickle away unless someone did something about it. There was a slight chance you might stabilize on your own. But if not, someone could heal you by touching you just the right way or by shoving a potion down your throat. Or they could, at the very least rub some dirt in your wounds to get them to clot and you'd wake up a couple hours later.
And at that point, we decided (at least in D&D and Pathfinder but also in a lot of OTHER games) that that was the best we were ever going to do. The problem was basically solved. Everything thereafter was quibbling over details. And so, we invented death saving throws, we played around with how many negative hit points would kill you, we dispensed with negative hit points, we invented three-strikes rules, and on and on and on.
But everything still worked basically the same. Fight until you hit zero hit points, and then fall unconscious and start bleeding. Then, watch as your friends race the clock because they know you can survive at least X rounds before you are really, really dead. Or come back into the fight when one of them grudgingly wastes a healing spell on you.
When you look at it, all this system really does is remove you from the game once you've done enough to your character to keep you from doing any more damage to yourself. Once you hit zero hit points, the game basically says "okay, I think you've had enough, you're cut off." It drops you to the ground, removes you from the game, and also removes you as a target. Unless the GM is a dick and kills you while you're down. Which some savage monsters would TOTALLY DO in a world where magical healing is a possibility in any fight. And also in a world where a predatory ghoul will totally be happy just dragging off one body to eat while his friends are fighting the rest of the heroes.
But the gods help you if ever use that coup-de-grace attack against a player. You will NEVER hear the end of it.
And honestly, after giving this a crap-ton of thought, I realized that the whole "dying" thing actually doesn't fix anything. And, in fact, it kind of makes things worse. And it may be the biggest reason why combats are MORE of a battle of attrition than ever before. And it highlights a general problem with the whole hit point system. And it might even feed into the whole two-fold problem of the healer. What two-fold problem? The two-fold problem wherein every group insists on bringing a healer. And wherein any character that can heal is expected to focus all of their resources first and foremost on healing. In 3rd Edition, for example, clerics never got to use any spell slots because any spell slot could be turned into a healing spell. Let's talk about this.
The Last Defensive Strategy You'll Ever Use in D&D
In D&D 3.5, there were actually a bunch of defensive options. It might seem like I'm changing the subject, but I'm not. The obligatory "spend your round defending yourself for a big defensive boost" was in there, of course. But there was also an option for fighting defensively. That is, you could take a penalty to attack in return for an AC boost. And there were feats that improved on that. In addition, there's always been the idea of just switching equipment. Drop your heavy weapon or switch to a one-handed grip, and bring out your shield. But most of these options have been forgotten. The shield/versatile weapon is a cool thing that has gotten a bit of the spotlight in 5E, I'll admit. But beyond that, as time has gone on, defensive options have fallen out of the game. And they were never very big to begin with anyway. Hell, some 4E classes were built around the fact that damage mitigation was as good as healing for a leader. And no one bought that crap. The 4E classes – the BASIC ONES in the original PHB and PHB2 – actually tried to do a lot of interesting things around the whole defender, striker, leader, controller role. But anything that didn't align with the traditional "tank, spank, and heal" triumvirate got ignored.
See, here's the deal. Defensive strategies always come at the expense of offense. The effort you take to defend yourself means the enemy can last that much longer. IN THEORY, there are situations wherein equation works out in your favor. For example, any defender that can exert any sort of zone of control – for example taunting, challenging, divine oaths, or whatever – is actually better off then dropping onto the defensive. While you pin down the enemy and take opportunity attacks when allowed, if you can press your defense high enough, you reduce the enemy damage output to zero while your party can slap it down with impunity. The fact that the enemy lasts longer is counterbalanced by the fact that any number of rounds multiplied by 0 damage still comes out to worthless. And in a situation where you are one hit from dying and need to wait for a cleric to get to you, but leaving your opponent provokes an opportunity attack AND allows the opponent to go cause problems somewhere else or gain another tactical advantage, one round of defense can make all the difference.
And if there were options and strategies and abilities built around these sorts of defensive tactics, it would open them up. Except that no one would use them. No one ever USED Combat Expertise in D&D 3.5. A lot of people took it. It was the start of some really cool feat progressions. But no one ever used it to boost their defense at the expense of their offense. In general, players never fight defensively. And the thing is, the key to an ordered retreat – that is, escaping a situation that has become an emergency – is a solid defensive strategy that lets you survive your retreat.
Instead, there's only one defensive strategy left in D&D. It's the strategy everyone uses and therefore everyone thinks has to be used. It's called healing. Undoing the damage. Tank the damage. Take it all. Deal as much damage as you can as possible. And if you go down, all the damage can be undone. Because when you go down, you have X number of rounds or chances to not die and plenty of ways to be saved at the party's leisure.
The dying before death mechanic means that the game will jump in and save your life. It removes you from the battle before the battle kills you and gives your friends the opportunity to save you. And then, after that, magical healing, hit dice, short rests, long rests, potions, songs of rest, and all that other crap will get you back up to some level of fighting fitness.
See, D&D should be a really tactically interesting game. Between the freeform nature of all RPGs and the complex synergies and options that could exist in the game's mechanics, combat should be WAY more interesting than it is in the most strategically interesting video game. And yet, if you look at it, most players don't take advantage of anything that isn't just cranking out as much damage as possible and hoping the enemies die before they do.
Every Fight is a Fight to the Death
Now, this isn't just about combat being less interesting because it mostly becomes a damage race. And because it gradually excises the game of tactical options that don't fit that standard. It's also about combat becoming a big game of chicken.
See, once you internalize the idea that every combat is a race to 0 HP with the winner being the loser, combat becomes a game of chicken. You literally can't swerve because that idea means that doing anything other than damage means you're going to come in second. And in a two horse race where the losing horse goes to the glue factory, coming in second isn't a great consolation prize.
It means that every fight MUST BE a fight to the death. So, even if there ARE defensive options and tactics other than "tank, spank, and heal," they won't get used. And hell, even "tank" is less useful than "spank, spank, spank, spank, spank, heal."
The end result is this weird paradox where the worse the fight goes, the more dedicate the party becomes to winning the fight. And where a person dropping isn't treated like an emergency, but rather a sign that the party needs to crank out more damage.
But that's not all.
Five Out of Five PCs Disagree on What an Emergency Is
Now, let's pretend you have one of those parties that actually does consider survival and defensive strategies and retreat. They ARE out there. Or, let's say that you're the sort of GM that is going to require that sort of behavior by occasionally forcing the players into confrontations they can't quite handle. Here's an interesting problem that those parties get into. And this is a hilarious one that I've watched happen.
Hilarious because it involves a lot of bungling and eventually someone dies.
When is it time to focus on defense? When is it time to put survival first? When is it time stretch out the fight and play to outlast the opponent instead of outkill the opponent? More importantly, when is it time to get the hell off the battlefield and try to retreat, regroup, and recover?
No one knows. I've watched parties who are totally willing to turtle up or adopt an ordered retreat all glancing around at each other waiting for someone to recognize things have gone tits up and call for retreat. And the call never comes. Because no one is sure that it's happening. And no one wants to be the one to call the emergency.
The problem is there isn't really a good sign that there's an emergency built into the system. It totally comes down to your judgment. And that relies on you knowing how much damage you're taking and how many hit points you've got and doing some probability math. For every other goddamned character on the battlefield as well as for yourself.
And the reason there isn't a good sign is because of a concept called "Total Existence Failure."
Total Existence Failure
There was a hilarious anecdote in one of the Hitchhiker's Guide to the Galaxy books about the Starship Titanic. The SS Titanic was built with a weird form of probability drive that guaranteed that it was infinitely improbable for anything to go wrong with the ship. But, the designers misunderstood probability mechanics and didn't realize that something that is infinitely improbable is likely to happen almost immediately. So, the moment the ship launched, absolutely everything went wrong all at once and the ship suffered total existence failure.
This got expanded into a pretty crappy book and a pretty fun point-and-click adventure game for the PC that, thanks to way Windows games used to work, is now impossible to get running on any modern PC.
But this ALSO became the name of a certain system of health tracking in video games. Basically, you have a set amount of hit points. And you can lose as many hit points as you like. And you suffer no ill effects from losing hit points. You don't break bones. You don't slow down. You don't weaken. You are totally fine. Until you lose your last hit point. When you lose your last hit point, you suffer total existence failure.
And this is actually the model that D&D has. Now, what's really interesting is that outside of D&D, in, say, video games, it has a different effect on players. Because that last hit point matters SO MUCH, players tend to get more nervous and cautious as their hit points get low. They also tend to become more desperate for checkpoints or healing. Which, actually, makes a lot of sense. Because, that's how people would actually behave. The closer to a fatal injury you are, the more cautious and frightened you become.
And if you look back at the olden days, you had all sorts of anecdotes about badly injured parties who were out of healing and desperately looking for the exit to Undermountain. And these parties would resort to any tactic to avoid a fight. But that's back when avoiding fights was as much or more a part of the game than winning fights.
Of course, in D&D, you generally don't get another chance if you die. And as the game became more character and story focused and character generation became more complicated, the safety net was added underneath death to prevent zero hit points from killing a character.
It's just that the weird combination of Total Existence Failure HP and the Dying Before Death Safety Net have combined very oddly to make 0 HP LESS scary than it would be in a true Total Existence Failure system. And the Dying Before Death system also requires plenty of ways to heal and recover. And that's why we have a situation where undoing damage is the only defensive strategy left.
But the Death Spiral
Now, some games utilize a different mechanic. One that is commonly referred to as the Death Spiral. Basically, as you become more injured, you become less effective. You're penalized for every hit point you lose. For example, in Savage Worlds, every wound you take gives a cumulative -1 penalty to every action you attempt. And on average, you're rolling a d6 or a d8 and trying to get a four. So that penalty gets pretty serious.
From a standpoint of realism or verisimilitude or just making f$&%ing sense, the idea of becoming less effective as you get more beat up works. It makes sense. It's logical. The problem is that, from a gameplay standpoint, it can REALLY suck. Why? Well, for the exact reason that it's called the death spiral. Say you get unlucky and take a bad hit. Because of your reduced effectiveness, not only are you closer to death, it's also harder for you to do anything to recover. It's harder for you to come back OR to beat the enemy. Every hit you take makes it harder for you to win. So once you start losing, you tend to keep losing. And you lose faster and faster. You basically spiral down to your death. Death spiral. See?
Now, there's all sorts of ways to mitigate that problem. But the death spiral mechanic works best in systems that focus on certain engagements. And, more importantly, systems in which the PCs aren't expected to take a lot of damage. D&D is NOT one of those systems. On average, the PCs will get hit by about two thirds of the attacks the monsters make against them. And each hit will deal anywhere from one fifth to one third of their hit points. Modern D&D characters take a lot of damage.
So Who Cares?!
Now, before I go on to fixing this problem, I'm going to go ahead and admit it doesn't HAVE TO be a problem. After all, D&D is generally pretty survivable. As is Pathfinder. There's nothing inherently wrong with Total Existence Failure Hit Points. And Dying Before Death means that going down doesn't take you out. It means you can recover from your f$&% ups. F$&% ups don't kill characters. And kill-or-be-killed is an exciting way to handle combats. And it fits the D&D mode of engagement.
So, honestly, you might not care about any of this. And that's fine. Congratulations. You've read about 3,700 words for nothing. Because it's a nonissue.
But I've reached a point now where all of these petty little annoyances – kill-or-be-killed, offense only, always bring a healer, ignore the downed character for two rounds, dropping characters every other fight at low- to mid-levels – all of those little niggling annoyances are starting to bug me. And I'm looking squarely at the HP system and saying "this is all your fault. Where the f$&% did you go wrong?" Because, to be honest, I HATE the HP system in D&D.
And I've dealt with several groups of players in the last few months that have gotten a little tired out by it. They are tired of the argument over who "has to" play the healer. They are tired of being down and up and down again. And waiting for healing. Or rolling to stabilize. And I'm tired of listening to players complain about that crap while I try to point out that there are OTHER strategies and options. But they don't fit the optimal strategy for kill-or-be-killed.
But all of that aside, there was one last aspect to all of this that really drove me nuts.
Down and Out of the Game
When a PC drops – when they are at 0 HP and dying – that player is out of the game. Now, I have NO PROBLEM with a player being temporarily not on camera. It happens. It's a group game. You're not always involved in everything. Being respectful and waiting your turn are par for team sports. What I do have a problem with is an inherently baffling contradiction in the game rules. Get ready for this one.
The game was designed with this state called dying. And the whole point is that the game recognizes when you are in an emergency situation. And it jumps in to rescue you. It removes you as a target by taking you out of the fight so you hopefully won't take any more damage. And it also takes away your ability to get yourself back into the fight and further endanger yourself until you're no longer in an emergency state. And those are two very good ideas. I support those very highly.
But it also makes you unconscious. It renders you unable to act. And that means, there's nothing YOU can personally do to get out of the emergency state. I agree with the idea of pulling you back from the fight and sending you to your corner, but I don't understand why it also has to break your legs so you can't get back to your corner.
Now, some of you are saying "well, that makes sense. It's realistic. You're dying. There's nothing you can do." And you can all eat a bag of d$&%s. Sense has nothing to do with it. If sense had anything to do with it, you'd have had a broken leg, a dislocated arm, and three busted ribs before you hit 0 HP.
That was a game design decision. And there's no reason we can't do better. And since we've now hit the 4,000-word mark, that's what we're going to do. So, here it is. The actual solution.
Down but Not Out: Fighting Spirit
Honestly, from a standpoint of just making sense of things, the solution for this system comes from one of the biggest dumba$& arguments surrounding the whole Total Existence Failure HP System. And that is "what do hit points represent?" How many of you are tired of THAT discussion? I know I sure am. The reason it has to BE a discussion is because, on the one hand, an RPG is about trying to create a fictional reality that actually seems like it could be real. And on the other hand, hit points are bats$&% insane and have nothing to do with how injuries work. After all, barring some exceptional circumstances and individuals, most people are critically injured if you stab them just one time with three feet of sharpened steel. Try it. Go up to someone and run them through with a longsword. They become pretty useless after that stabbing.
But D&D characters can get stabbed a hell of a lot. And, the more experienced they become, the more they can get stabbed. And that's really weird. I've done experiments with high school students, undergraduates, doctoral candidates, and tenured professionals and I've discovered there is NO correlation between level of experience and how many stabs it takes to render them useless.
And that is why D&D keeps trying to force this idea down our throat that HP are a combination of physical health, the ability defend oneself effectively, tenacity, pain tolerance, and probably f$&%ing magic too. And honestly, that doesn't make sense either. Because tenacity and a basic knowledge of parrying are no use when you fall into lava. And yet, the 20th level fighter can survive the fall into lava for longer than the 1st level fighter.
What if we DID separate those ideas. What if, on the one side, we have hit points. These represent physical, life threatening injuries. If you lose all of those, you die. Or you are dying. We're not getting rid of anything here. We're still keeping all the 0 HP, dying, death save, death stuff.
What we NEED is a safety net ABOVE 0 HP. We need a state wherein the game enforces an emergency state without taking the character's agency away. That is to say, we need something like dying-but-conscious. A state where offensive actions are limited, but the character can still take actions to remove himself from the emergency or recover.
But we don't want a death spiral. We want a binary state. We want Healthy > In Danger > Dying > Dead. And most of the character's life should be spent in the Healthy range.
And we want to do it without adding too many rules or f$&%ing with anything that exists. And we want it to make logical sense. And we don't want it to f$&% up game balance. Right?
So, here's the system. For D&D 5E. Because that's what I'm running. If you want to run a different system, you can pretty much see the pattern I've established and adapt it.
Hit Points Become Fighting Spirit
Here's the deal. Everything that is hit points now – FOR PCS ONLY – becomes a thing called Fighting Spirit. We're changing the name. That's all. Fighting Spirit represents all the bulls$&% parts of hit points. The narrative crap. The tenacity, defense, pain resistance, energy, drive, motivation, parrying ability, training, etc. That's Fighting Spirit. FS.
So far, so good. It's a simple change. Just a terminology deal.
At First Level, Each Character Also Gets Hit Points
Now, first level characters also get hit points. Those HP are equal to their HP which has become FS. So, a Fighter begins the game with 10 + Con modifier Fighting Spirit and 10 + Con modifier Hit Points.
Hit points represent actual life-threatening injuries. If you've taken hit points of damage, you are visibly injured. But they don't represent specific injuries. You're just beat up.
Now, it might look like I just double everybody's hit points. Don't worry. I didn't. I'm smarter than that.
Hit Dice are Spirit Dice
The other thing is that Hit Dice need to be renamed to Spirit Dice. They work exactly the same. But they recover Fighting Spirit only. That's important later.
Damage
Now, here's what happens when a character gets hurt. When a character gets hurt, if they have ANY Fighting Spirit at all, they take the damage to their Fighting Spirit. It's assumed they mostly defended themselves or dodged or turned it into minor injuries or ignored the pain or magic. They took a hit, but it wore them down more than it hurt them.
If a character has NO Fighting Spirit, the damage is applied to their Hit Points. They didn't defend themselves. They are too exhausted. They took a serious injury. Not serious enough to cause specific injuries. Just serious enough to be visible and endanger them.
All damage must be applied completely to Fighting Spirit OR Hit Points. If a character has 3 Fighting Spirit left and takes 7 damage, they now have 0 Fighting Spirit and the spillover damage is ignored. This is SUPER important. Trust me.
Healing
Except for spending hit dice, any form of magical or mundane healing can be applied to EITHER Fighting Spirit OR Hit Points. But not both. Pick one or the other. Hit Dice are now Spirit Dice. They only recover Fighting Spirit.
You might decide that specific effects apply to specific things. That's fine too. If I were designing an RPG from the ground up with this system, I'd certainly think about that. But we're trying to be as simple as possible and add as little complication as we can. So, in this system, healing can be applied to EITHER FS OR HP but never both. Except Spirit Dice.
Fighting Spirit AND Hit Points are fully recovered at a Long Rest. However, you MIGHT decide that Hit Points recover more slowly. It isn't strictly necessary for game balance purposes. But I think it might be more interesting if a Long Rest recovers only a certain number of HP.
When a Character is Out of Fighting Spirit
When a character has 0 Fighting Spirit, they suffer a condition called "Dispirited." Basically, pain, exhaustion, and lost morale is affecting them now. They can't fight effectively and they can't ignore the pain of the injuries they do have.
Dispirited
• A dispirited creature suffers disadvantage on attack rolls.
• Saving throws against the creature's spells, attacks, and abilities have advantage.
• The creature's exhaustion level increases by one for as long as they remain dispirited.
• A creature that has at least 1 Fighting Spirit is no longer dispirited.
And there you go. Simply put, the creature can't attack effectively. When the creature makes an attack, it's at a disadvantage. When the creature forces someone to make a saving throw, the target has advantage. And the dispirited creature is at an exhaustion level of at least one, meaning their ability checks have disadvantage. Of course, if they are already exhausted, their exhaustion level is increased. Incidentally, the reason for the wording is because you can't make the exhaustion level go away unless you also recover from being dispirited.
Offensively, the creature is now crippled. It is very hard for them to make attacks. And lots of other actions become much harder as well. Actions that don't require attack rolls, saving throws, or ability checks are unaffected. Such as healing spells. Or the Disengage or Dodge action. Other class abilities that allow for defense, buffing, or tactical cleverness are also unaffected. And, most importantly, unless the character was already exhausted, their defenses and saving throws are unaffected. Defensively, they can still protect themselves. Offensively, they are hurting.
This creates an emergency state that effectively falls between 0 HP and negative Max HP in which the character can do stuff defensively, but not offensively. Basically, a Dying but not Unconscious state.
Also notice that Hit Points don't recover at short rests because that Spirit Dice only recover Fighting Spirit. And Hit Point damage itself doesn't carry a penalty. Once you get your spirits up, you can fight through your injuries and be in tip-top shape.
At Higher Levels
At each level, characters gain Fighting Spirit according to the way they gain hit points under the normal rules. So, a Cleric gains 5 + Con modifier Fighting Spirit with every level.
At 4th, 8th, 12th, 16th, and 19th level, characters gain more Hit Points. They gain a Hit Point increase equal to their normal, level by level increase of Fighting Spirit. So, at 4th level, a Cleric gains 5 + Con modifier HP. And then again at 8th level, and so on.
Roughly speaking, once the PCs get beyond about third level, their Hit Points will be approximately one third of the Fighting Spirit. Why? Because I did some math. As I said above, the average PC can expect the average monster of their level to take one third of their HP in a single, successful hit. But that's a high estimate. Given the way the game works out, it's usually less than that. That means that, with HP equal to one third of your FS, once you've been dispirited, the WORST CASE SCENARIO is that the next hit will be deadly. But usually, you can survive two more hits.
And that's exactly what we want. We want that emergency scenario that demands defense, healing, retreat, or a change in tactics to be just enough that the PC can only ignore it once AT MOST.
The Impact
I'm not entirely convinced this will lessen the reliance on healing as THE defensive strategy to go to. I'm not sure ANYTHING can completely do that in D&D. But it does give the PCs more agency to deal with their own emergencies before forcing the medic to break off the fight and run to them. If all it does is allow the PC to break off and run TO THE MEDIC, I'll consider it a success. But I do foresee an upswing in the value of defensive abilities.
Yeah, I said foresee. See, this hasn't actually been tested yet. See, this is an experiment I'm ABOUT to implement in my game. As in, starting a few hours after I finish typing this sentence and about twelve hours before you will probably read this. But it seemed like such an interesting possibility that I figured I'd share it prematurely.
The thing is, though, I'm not really sure I foresee it breaking anything. The worst it is going to do is let people run around and be ineffective while they should be unconscious. That's why I added the Hit Points BELOW the Fighting Spirit rather than fractioning them off. So I feel safe in letting some other people try this out while I'm still experimenting. It can't make things any worse.