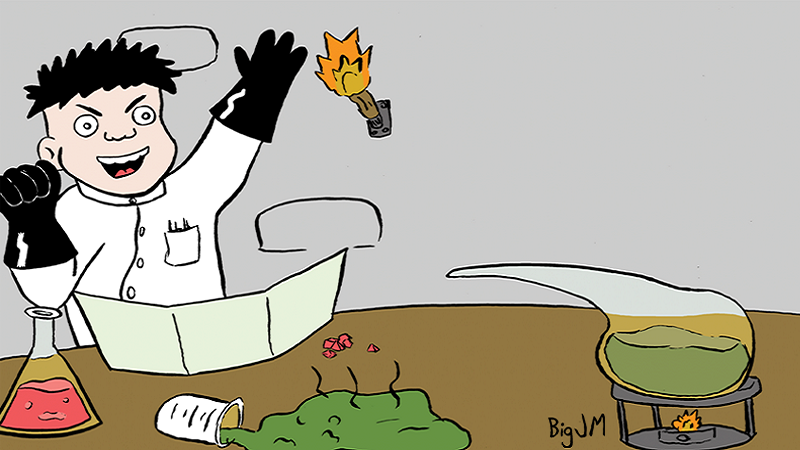 Abstraction can be a great thing. When you're trying to do something in a game, sometimes it helps to strip away all the fluffy bits that are supposed to represent a fantastic game world and focus purely on what, from a gameplay perspective, you're actually trying to do. That's how I reduced crafting and customizing equipment down to "trading resources for advancement and customization" and recognized that if "buying equipment" and "leveling your character" could somehow be personified into a male and a female and forced to make whoopie behind a game store, nine months later, one of them would squirt out a bouncing baby "crafting system." Or the personification thereof.
But you can be too abstract. Just ask the designers behind Dungeons & Dragons, 4th Edition. As much as I respect them for their willingness to push the game in all sorts of different directions, they really should have multiplied that game by its complex conjugate before they released it. If you know what I'm saying. See, the problem with too much abstraction is that, at the end of the day, the mechanics of an RPG – the G part – has to be representative of the narrative – the RP part – and vicey versey. Otherwise, you end up with a list of rules that exist solely because they are the rules. And the poor GM ends up making up a lot of excuses for things that shouldn't need excuses. Like "why can the fighter perform that particular maneuver with his sword only one time in every 24-hour period" and "why can you use your basic knowledge of first aid to help extinguish a friend who is on fire, but not extinguish yourself?"
See, abstraction can take you to some wonderfully strange and strangely wonderful places. But it's important to bring the wonderfully strange and strangely wonderful back to the real world. Because the real world is where it has to function. The real world of the imaginary world of the fiction of the game. If you follow me.
The point is, there's a time to abstract and there's a time to get real.
And this is one of those times.
And speaking of that, let's drag this Long, Rambling Introduction™ back to reality by saying I'm talking about crafting again. This is a follow-up to my previous discussion on a crafting system for D&D and Pathfinder. In the last article, I abstracted the hell out of a crafting system to ultimately decide what the system should broadly look like from the players' side of the screen. And that led to figuring out how crafting was going to work: it was going to be about trading resources earned in game for game assets. But now, I want to look at it from the GM's side of things. And that will help me figure out what those resources actually should look like.
And then I'm going to throw it all away because if I would just stop abstracting for two frigging minutes, I'd realize I already have the answer. Spoiler alert.
What a GM Wants
Last time, I made a lot of headway figuring out what a crafting system should look like – very, VERY broadly – by trying to figure out why a player would want a crafting system and what they'd get out of it and then looking for systems in the game that already provide those benefits. So, let's see what we can figure out by asking what the GM would want to get out of a crafting system and seeing if there is anything in the game that provides those benefits.
And that's where I hit my first big snag. GMs don't want a damned crafting system. And why should they? It doesn't do anything for them. That's why every time I talk about crafting systems, there's a lot of pissing and moaning about how they are useless and terrible and how I dislodge my head from my rectum as that is clearly where it's lodged if I think a crafting system is a good idea. And, honestly, I get it. To a point.
See, the thing is, GMs can be some of the laziest asses you can imagine. GMs are forever pissing and moaning about having to give out experience points, for example. Yes, GMs are so lazy that the idea of adding up a column of five to ten numbers, all divisible by five or ten, with a calculator, once per game session, and announcing that number to the players is just too damned onerous. Hell, most published adventures give totals for each encounter, so you're basically adding FOUR NUMBERS together.
And don't get me started on handing out treasure. That was a huge-ass complaint back in the 4E day. GMs whining, "you mean I actually have to pick out treasures and magical items and place them in my adventures according to a list?!" And, again, the actual work involved amounted to picking one generic treasure from a list of ten – e.g.: one magical weapon – and pairing it with an encounter. Yes, you had to pick the weapon. And yes, you had to do that about five times per game session. Holy crap.
Look, GMing can be hard work. I understand that. I've been doing it for 30 years and I almost never run anything I haven't written from scratch, so I know how much hard work it can be. But I also don't have a lot of sympathy for complaining about handing out experience points – a remarkably easy task that takes all of five minutes – or for stocking your home-made adventure with treasure – I mean, you made the whole rest of the adventure, and that's where you draw the line. As far as I'm concerned, that's just part of the GMs job. And it's an important part of the GMs job because XP and treasure are the rewards the players earn for doing a good job and winning. You know, the rewards the players earn for dealing with all the evil shit you threw in the adventure to torment them.
Isn't it funny how GMs get lazy when it comes time to reward the players, but they have all the time in the world to build custom monsters and encounters and NPCs and stories and crap to make the players work for their victories? Yeah. Lazy AND selfish is a delightful combination.
If it seems like I'm on a tangent, well, shut up. This is my website and I can rant about whatever I want. But, in this case, this rant has a point. I'm focusing on treasure and XP because, in the last article, I concluded that crafting and customization were basically going to work like buying equipment and leveling up characters. Trading resources for game assets. Specifically, the players trading treasure and XP that they were awarded by the GM for equipment and character abilities.
You see where this is going.
See, there's an issue with this whole crafting thing. From a player perspective, it's a completely optional system. No one has to engage with the crafting system. Players who want to engage with it can engage with it. But the GM doesn't have that luxury. If the crafting system is an option in the game – and sure, a GM can remove the option altogether, but let's pretend they don't – if the crafting system is an option in the game, it's only optional for the players. The minute a player chooses to engage with it, the GM has to engage with it too.
Now, it's all well and good to say that the system is something the players will do mostly away from the table – though I should note that doesn't mean it can't also be done AT THE TABLE, which is something my commenters seem to have failed to notice – it's nice to say crafting is something that will be done away from the table without oversight from the GM, but the GM is still going to be involved. Because the resources that the players use to craft stuff have to come from somewhere. Just like XP and treasure have to come from somewhere.
So, it's an apt comparison. Sort of. Because there's a distinction here that very few people make. But I'm going to.
Not All GMs are Game Designers
Once upon a time, a long time ago, I noted that every GM is technically a game designer. While running a game, a GM was going to be called upon to make judgment calls. And the GM would have to make the best call for the game. And the call couldn't just be about fairness or interpretation of the rules. The call had to take into account all sorts of things: fairness, consistency, balance, agency, engagement, and so on. Which is why a GM can't boil decisions down to a simple aphorism like "rule of cool" or whatever.
Thus, in that respect, every GM would eventually have to make a game design decision. A decision that would change the way their game worked based on what would provide the best game experience.
But now that I'm making a completely different point in a completely different article, I can say this: there's a difference between a GM and a game designer and not every GM is a game designer.
See, many GMs simply run published adventures. They do mostly what the adventure tells them, and they are perfectly happy to do that. And they don't struggle with handing out XP and treasure because the adventure tells them exactly what to hand out. They don't have to think twice about it.
But then, there's the GMs who write their own adventures and campaigns and stuff. They are designing games. Not in a semantical way that makes a point about how it's important for GMs to understand game design principles just to run games. They are designing games in the actual sense that they write the story and place the challenges and portion out the rewards and all of that crap.
Now, most RPG products don't think twice about that distinction. They talk to all GMs as if they're the same. And they don't design different tools for those two different GMs. Or at least design the same tools differently depending on the type of GM using them. If they did, none of the GMs running published modules would have to buy Monster Manuals and GM Guides. And if I were writing an RPG, I'd acknowledge both kinds of GMs as completely different types of consumers when I was designing my product lines. But that's just Crazy Uncle Angry talking crazy again. Ignore him.
Point is, there's two types of GMs. There's Game Runners and Game Builders. GRs and GBs. And the crazy thing is that you can be either or you can be both. You can just be a GR and run published games. You can be a GB and write adventures that you publish on the Internet for other people to run. And you can be a GR/GB. And maybe we should only call that last kind a GM.
The Problem with Hacks… That Isn't a Problem
Now, why is this distinction important? It's important because I'm making a hack. I'm adding a new system to an existing game. D&D doesn't have a crafting system. Not a useful one anyway. Not one people want to use. Now, my system is going to add a certain level of complexity to the game. I know that. And, I'm trying to add the least amount of complexity possible. I'm especially trying to spare the GM any complexity because the GM doesn't really get much benefit from the depth the system adds. Mostly, it's the players who benefit from the system. The GM just gets more work.
But the fact that this is a hack and the fact that there's two different types of GMs in the world screw up that whole equation. Why? Well, this is a very fine point, but it's an important one nonetheless.
Imagine that WotC had recognized my genius and hired me to design a crafting system for D&D before they released the game. Imagine I was able to integrate my system fully into the game. And I came up with a resource that GMs could dole out as part of their players' adventures that they could spend on crafting. What would happen? Well, every published adventure would include Crafting Points alongside the Experience Points and Treasure. And the DM's Guide would include a table of Crafting Points by level. Or the Monster Manual would spell out how much each monster was worth in Crafting Points.
That would mean that the GRs – the Game Runners – wouldn't have any more complexity than they already do. They would just hand out the CrPs with the XPs and the GPs. It'll all be spelled out in the modules. Only the GBs – the Game Builders – would care. And they'd have those tools in the DMG to tell them how much CrPs to include in their adventures just like they have to include XPs and GPs. The GBs would pay the full complexity cost.
The problem is, I'm not doing that. I'm hacking the game. Which means, if any GM – be they a GR or GB – wants to use my system, they have to eat the complexity cost. If some GR wants to add my crafting system to Tomb of Annihilation, they have to go through and retrofit the adventure with my system. And if my judge the complexity of my system based on that, well, there's no way to build a crafting system that is worth the complexity it adds.
BUT…
Now, normally, I'd say we'd have to find a way to balance the complexity cost so that everyone can enjoy the system I'm making. But, realistically, that's just stupid. It's probably impossible and it's also kind of pointless. Most GRs aren't inclined to add new rules and hacks into their games. They just want to run the module they paid for. The people inclined to add new rules are the people who already make the game their own by building their own content. And they are the ones who'd be eating the complexity of handing out a third resource alongside the GPs and XPs in their adventures. And calculating how much to hand out.
And so, we can narrow our focus. If we were writing this system as a core part of the game before it's release, we would be worrying about the complexity we'd be dumping on module writers and DIY GMs, but we'd be ignoring the published module GMs because it wouldn't really pass any complexity on to them. It'd just be one more number to read off to the players at the end of each play session to fill in a third blank in the sentence, "good job, everyone, you earned _________ XP, _________ GP, and _________ CrP."
And so, when I try to figure out what a GM wants, I'm really trying to figure out what a module writer – a GB – wants.
What a GB Wants
So, what does a GB want? Well, the GB probably wants to not have to worry about adding a third pile of reward resources into to the game. Because it's another bit of math they have to do and another table they have to consult. And XP and GP are already a pain. A MINOR pain; let's be real. But still a pain.
That said, if all a GB had to do was also hand out a certain amount of crafting resources – let's keep calling them CrP – if all a GB had to do was hand out some CrP at the end of each encounter or session or chapter or whatever, that wouldn't be that hard. It'd certainly be a trivial addition given they are already doing the XP and GP thing. So, if we just assume that's all CrP need to be, well, we're pretty much done. Just hand out a certain number of CrP per encounter and let players who want to spend them use them to craft or customize equipment.
Done and done. Right?
Well, we could just stop there. We'd just slap a price in CrP on each piece of equipment and every magic item and then bang out some spreadsheets to figure out how much CrP to hand out. And maybe we'd even come up with a conversion from GP to CrP so players who don't craft can turn the CrP into money. And we'd reduce the treasure per level by the same conversion factor so that the players couldn't craft more with CrP than any other group of PCs would be able to just buy using their treasure outright. That way, the balance wouldn't get broken. And man, that would be fun. I love spreadsheets and I love deconstructing progression.
But, here's the problem. That system would also suck. And I know it would suck because, to some extent, we've already seen it in action. In a lot of ways, it's basically the D&D 3.5 and Pathfinder system already. All they did was equate crafting with gold and then let you use gold to craft. Meanwhile, some organized play systems from 4E and 5E do something almost the same. But the resource they hand out is Downtime. You can use Downtime to craft OR you can use Downtime to earn money playing your mandolin or carousing or researching or whatever. And no one likes those systems.
Well, first, let's look at what a good GB – a Game Building GM – does with XP and treasure. While both XP and treasure are basically just advancement resources, most GBs – heck, most GMs – are smart enough to recognize they can do more. Lots of GMs use XP to reward different kinds of behavior. XP can be used to push the players toward story goals or sidequests. To reward various "good" behaviors. And to penalize partial failures and setbacks. For example, consider a quest in which you have to escort six NPCs to a particular location. The GB who wrote the game would probably vary the amount of XP earned based on the number of NPCs who die. Or live. Whatever.
Smart GMs who aren't too busy pissing and moaning about how much work it is to hand out treasure have many more creative options. GMs can use the treasure in an adventure to prepare the PCs for an upcoming challenge, for example. Or the treasure can be part of the story of an adventure. An idol to an evil god in a ruined shrine hints at the history of the place in addition to being a salable knickknack. Setbacks can cost the party treasure. The party can use their treasure to open new options, like paying bribes, for example. Treasure can create all sorts of decisions, from how the party should split group expenses to whether the party should save for an airship. From whether the party should hire mercenaries to fill missing roles to whether the party should pay to have a dead member revived.
Although both XP and treasure can be used in interesting ways, treasure is a far more interesting storytelling tool than XP. Why? Well, because treasure can be used in many different ways, but each use consumes it. So, every use of treasure is a tradeoff. Once you buy a potion of healing, you can't use the same treasure to revive your friend or buy an airship or bribe a guard. Once you spend more on food and water to get across the desert than you will find in the lost pyramid, you're better off staying at home. And so on. But treasure also exists in the game world. It's a tangible thing. Which means it is also part of the story. XP is not part of the story. It's just a consequence of the story.
It's those two facets that make treasure so interesting as a storytelling tool: the fact that it's a limited resource and the fact that it's a real, tangible part of the game world. That is what makes the decision about how to spend treasure a meaningful choice. And, when a game comes along like D&D 5E that doesn't have enough uses for treasure, that's why it suddenly feels like it's worth nothing. Because the meaningful choices are gone.
So, why not just equate CrP and GP? Well, because the CrP isn't doing anything new that the treasure isn't doing already. The CrP adds some extra work for the module writer, for the GB, so it adds complexity. But it isn't adding any new depth to the game that pays off that complexity. And no matter what sort of conversion you run it through, CrP and GP won't feel different if they are basically just two different denominations of the same currency.
That said, the CrP does have to be convertible to treasure. Otherwise, the players who aren't crafting have no use for it. And also, because, when we get around to balancing things, we're going to need to use the wealth tables and equipment prices to figure out what the game thinks should be available at various points.
But the CrP has to be fundamentally different from treasure. Somehow, in some way, it has to feel like you're not just spending it to buy something. It has to feel like you're using it to make stuff. It has to involve different choices than treasure involves. But it must involve choices and tradeoffs. And, it has to be something that is real. That exists in the world. That way, game builders and players can use it as a narrative tool. Players can go seeking a resource for a specific purpose. Or the GB can build an adventure or side quest around crafting a particular thing or obtaining the resources to do.
Get Real!
And this is where I come full circle. This is where I go back to where I started. Remember when I said there was a time to abstract and a time to get real and this was one of those times? Well, I meant it was time to get real. Because, see, the obvious answer as to what CrP should actually BE has nothing to do with all of the reasoning above. I mean, it does. It was all that crap above that led to the whole "getting real" thing. All that stuff about recognizing that the resource had to be something that had a tangible existence, that it had to involve tradeoffs and choices, that it had to be different from treasure, it was all of that that pointed me back to looking at the fictional world for an answer. And it's actually a really obvious answer. Hell, it's an answer that a lot of people and a lot of other games already hit on.
The right resource for crafting, the form that CrP should take? It's materials. It's ingredients. It's stuff. And I don't mean that in the abstract way of breaking down magical items into residuum powder and using that make to other items. That's just a simple conversion. It's basically just currency again. It can't be that simple because that doesn't get you anything interesting.
No, the stuff has to be real stuff. Iron ore. Butterfly wings. Dragon scales. Hydra blood. Elemental essences. Powdered skeleton bones. Monkshood. Wolfsbane. Juniper berries. Corundum ingots. Carbon. Sizzlefin trout. Hearty durians. Netherrack. Redstone. Thralls. Wild mountain flowers. All that sort of crap that you pick up in every video game that featured crafting ever. That stuff – ingredients, broadly speaking – is exactly what we're looking for.
Think about it. Ingredients are real. They are tangible. They exist in the world. They are the sorts of things the players can just stumble across just the way they stumble across treasure. They are consumed when they are used, so there are tradeoffs built in. The players can seek specific ingredients for specific items. And GBs can build stories, adventures, and sidequests around them. And, obviously, they are restricted by their nature. That is, certain ingredients can only be used for certain things. So, they are more tightly restricted than currency. Which makes them different. And the act of gathering and combining certain ingredients into specific items inherently feels exactly like crafting should feel.
…
Yes. I know that sucks. Calm down.
Trust Me
Look: I know half of you are losing your freaking minds right now because this is probably the least interesting, least revelatory conclusion I've ever reached from 4,000 words of analysis. And I know the other half of you are losing your minds because this sort of crap is exactly what GMs – especially GBs – don't need. Because I can't talk about tradeoffs of complexity vs. depth and claim to be restraining myself and then say, "what the game really needs is a list of 3,000 ingredients for GMs to plant around the game."
Before you leap down into the comment section to scream at me, let me say this: I know. I know this solution is both obvious and terrible. I know you're scared and disappointed. I know you're losing faith in Angry. And I don't blame you.
Here's the thing: "combine ingredients into stuff" is the most obvious, simplest, most straightforward, uncreative approach to crafting ever. No one is going to win The Nobel Prize for Original Uniqueness in Role-Playing Games with that crap. It is literally the first idea everyone has when they decide they are going to do crafting. And then they realize what a terrible idea it is. Because it leads to a bloated, overcomplicated mess of tables and charts that no GM wants to deal with and no player cares enough about.
And that's WHY I went through all this abstraction rigamarole. Because I didn't want to just jump at the "combine ingredients into stuff" plan. But… I kind of have to admit that there's a reason why it's obvious and why so many video games go with it. And, having gotten back to that conclusion from the other end, well, maybe it deserves more of a chance. Not because it's "realistic" and "makes sense in the world," but because it serves the needs of the game. That is, after looking at what the players and GMs need to get out of the system, it is a solid solution that fulfills all those needs.
BUT…
Such a system really can get out of hand. It can turn into pages and pages of charts and spreadsheets. It can turn into systems wherein the players are expected to grind out adamantium ore at resource nodes instead of having fun adventures. It can turn into complex treasure tables that ask the GM to load down treasure parcels with all sorts of crap ingredients.
Here's the thing, though. There are actually some hooks that already exist in D&D that would allow a "combine ingredients into stuff" system to hang off of pretty well. If it was implemented the right way. At least, that's what I think. And the implementation doesn't have to get out of hand. It doesn't have to be a hundred pages of charts. It doesn't have to look like a Skyrim Alchemy and Enchanting GameFAQ. There is a way to keep it simple and usable. It comes down to taking a systemic approach, to striking a balance between the abstract and the concrete, and to beating back any mechanical kudzu with a machete.
The point is, I am not any happier with this conclusion than any of you are. "Combine ingredients into stuff" is not what I wanted. But, it's where the design process has taken me. So, either I have to accept my thought process is completely wrong or I have to figure out how to make something good out of that crap.
Look at it this way: either you get a good crafting system OR you get to watch me crash and burn, refusing to admit all the way down that I was wrong. So, you win either way.