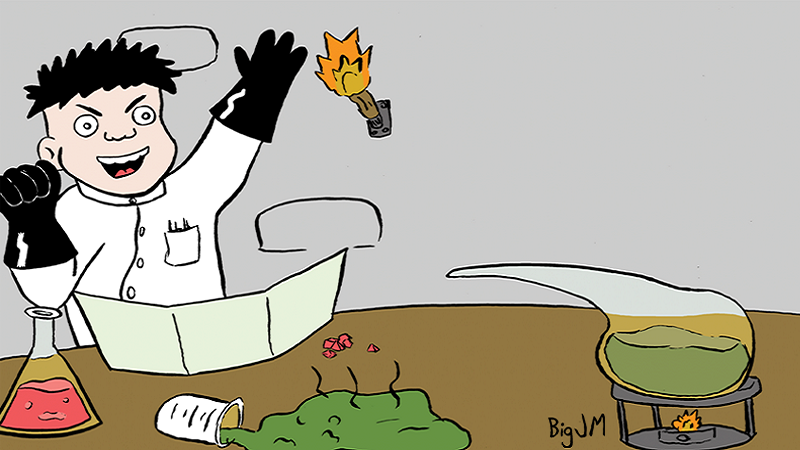 There's certain things you just can't talk about in gaming without people losing their freaking minds. For example, you can never, ever suggest to anyone that anything other than the way they've already decided to do things might improve their game. That's partly because no one likes to be wrong. And they don't like to be wrong so bad that they will stubbornly cling to being wrong, screaming and cursing all the while, rather than change their behavior. Because admitting you're wrong for a moment and then fixing it is obviously so much worse than just being wrong forever and lying to yourself about it. And it's especially bad when someone suggests that the easy or pleasant or fun way might be the wrong way. Because who wants to do things that are hard or unpleasant. Obviously, if something is easy or fun or pleasant, it must be right. Because that's what right means, right?
Which brings me around to experience points. Because I dared to mention experience points recently in an article I wrote about adventure goals. And I mentioned how experience points are actually a psychological trick designed to help players associate certain game events with victory in order to help them build mental inertia and that they play right into certain things that are hardwired into the reward structure of your brain. Which is another of the many reasons why you shouldn't stop using experience points. And why you should be very careful about what you give experience points for. Giving them out for crap like "roleplaying" or "good ideas" or "making everyone laugh" just screws that all up. And discarding experience points in favor of "you can have a level when I decide you deserve one dammit" is just a freaking disaster.
Every time I talk about experience points, I get inundated with messages and comments and e-mails on every channel telling me why I'm wrong. I get messages about how "I use milestone experience and my players are just fine with that" or "I'm a player and my GM stopped using experience points and I never looked back and I'm so much happier" or "I prefer to reward different things like role-playing and stuff and that's what experience points are all about; they are incentives for good play" or "yeah, but there's so much math and I hate keeping track of that crap."
And the only point that is worth a damn is that last one. The one where the person admits they are just too damned lazy to do something that is provably better for the gameplay experience. And yes, I said provably. There's plenty of research on this crap. The whole video game industry knows it and countless analyses have been done by people with actual credentials – not like me and definitely not like you – about how the human brain likes watching numbers tick up and how the dopamine pathway works and so on and so forth. And no, I'm not going to prove it. You came here because you trust me to give you good advice. If you need my advice proven, go do the damned research, or just dismiss it out of hand.
There's a reason why XP trackers and levels and achievements have been added to every damned video game that exists in every genre ever these days. And that reason is not "to get people addicted," you cynical jackass. Yeah, I hear that one along. "People only think they like that crap because it's designed to addict them." No. Addiction is – to SOME extent and without putting too fine a point on it – addiction is an exploitation of the reward mechanisms in the brain, but that doesn't mean that anything that triggers the reward mechanisms in the brain is automatically an attempt to addict. And if you believe otherwise, go sit in a dark box and do nothing because you're a joyless blob of inhuman goo who will never find any pleasure in life.
Point is experience points and the accumulation thereof, improve the gameplay experience for the vast majority of players for a variety of reasons which include some that are hardwired into the human brain. And that improvement is not something that any given person may be consciously aware of. And I've gone over most of this before. Countless times. And I'm done arguing it. If you disagree, that's fine. But go be wrong somewhere else and don't make me get involved. Stay out of my comments, don't e-mail me, don't message me, don't write a passive-aggressive, petty, petulant little blog response and send me a pingback, just get lost. Because I'm tired of this one. And my articles aren't meant for you. They are meant for people with functioning brains.
Clear? Good.
Now, for the rest of you…
I got a lot of feedback when I suggested recently that you should give out quest experience points. I always get feedback when I talk about how to hand out experience. Some of it is actually constructive. Mostly, I get a lot of questions. Because people notice that the things I tell them to do to create a good game experience are, at best, optional rules in most tabletop RPGs and, at worst, actually the opposite of what you're told to do in most tabletop RPGs.
I also always get a number of people who feel the need to remind me that you used to get XP for collecting treasure in D&D as if I don't know and I wasn't there. And those people then use that to try to prove some point and thereby usually prove they don't understand anything about why that was the case, why it worked at the time, why it changed, and what it means about XP systems. So, can we not have that discussion again either.
Anyway, the biggest question I often receive is "so, Angry, how SHOULD I handle XP? What would be the Angry way to dole out XP?" And I love that question. Because it's a nice, specific question that I can answer and that also shows an actual willingness to learn, even if, in the end, you're not going to adopt my practices.
And I've been itching to post something nice and practical and mechanical and I haven't had time to sit down and finish up that magic item thing, so it seems like it's a good time to spell out Angry's Guide to Experience. Here you go. If you're running D&D 5E, here's how you should handle XP. Some of it follows the rules of the game. Some of it is stuff I've made up to make the whole process easier, less math intensive, and to keep it from disrupting the flow of the game. I'm not going to bother pointing out where my general rules different from those in the book or what optional rules I'm using. I'm just going to tell you how I do the XP thing. Or how I would if I bothered following my own best practices.
But, I'm also a lazy hypocrite who can't be bothered. So… you know, do as I say, not as I do.
Remember that these ideas work on a more subtle level than other aspects of the game. It's hard to see the actual effect they're having. And some players and GMs actually find bits and pieces of them inconvenient. But sometimes, that's necessary to create a good experience. Some game mechanics are like medicine. They taste like crap, but they do keep the system running smooth.
So, all of that said: here's everything about how to handle experience in your D&D game.
End Every Session with XP…
The key to a good, satisfying game session is structure. No one thinks about the structure of their game sessions. You just kind of run the game until you run out of time and then reconvene next week. A good session, though, has a structure and a routine to it. And they end on a high note. A positive note. I end every session – except when I forget or don't feel like it, but don't be like me – I end every session by handing out XP. And when I hand out XP, I tell people why I'm handing out the XP. So, at the end of each session, you might hear something like this:
Okay, let's see. You defeated or drove off the Zhentarim mercenaries in the inn. That's 50 XP each. Then, you evaded the Zhent patrols in the streets of Baldur's Gate. 50 more XP each. And you brought you quarry, Stedd, safely to your camp on the edge of town. That's 25 XP each. Each of you gained 150 XP.
In fact, I think that's more or less exactly how I ended my last session of D&D. If I recall. It was a short session, so don't judge. Just two scenes.
That little speech does a couple of important things. First, it recounts the high points of the adventure. It serves as a little review which helps fix things in the players' minds. And also in my mind. It makes me remember – and think about – the important things that might change the way the game plays out. If the party had gotten caught by the Zhent patrols and had a fight, that might mean the Zhentarim are on their tail at the start of the next session. Second, it gives the players a nice list of their victories to make them feel good. It reminds them of the things they accomplished. Everyone likes to know they did well. Leaving the players with a list of victories is a great way to make them want to keep playing the game. Third, it connects victories in the game with XP gain and therefore with character progression. And that's what you want it to do. It's actually a psychological trick called bundling. Sort of. Basically, you take a couple of different motivations or goals or desires and stick them together to amplify their effects.
Characters growing in power feels good. Making progress with your character feels good. Making progress in the game feels good. Winning feels good. And connecting the extrinsic rewards with the intrinsic good feelings makes everything feel even better. But beyond that, it also ensures that different players – who are motivated by different things – all share in the same sense of accomplishment. Some players like to earn XP. That's what excites them. Others like to win. Others like to progress in the story. Different players respond to those things in different ways. But if all of those things get tied together in a package deal, everyone gets to be equally happy. Progressing in the story IS winning which IS unlocking new powers IS earning points and watching numbers tick up. Everyone gets something out of it. And therefore everyone can celebrate together even if their motives are different.
Yeah, this whole "dole out XP at the end of the session" thing is pretty loaded. That's why I do it. Usually. Unless I forget.
And that's part of the trouble. As a GM, handing out XP isn't nearly as rewarding. I mean, yes, it's nice to have that mental recap at the end of the session, but I don't REALLY need it. And I don't like doing too much math when I've just got done running game. But XP isn't FOR me. It's for the players' brains. It's for making the game feel good. And you'll see that I have modified the way I hand out XP specifically to make it easier for me to dole out without thinking too much. I recommend that too. But if you, as a GM, want to tell me it's too hard and you don't want to be bothered, you ain't going to impress me. Because you've got a job to do: run a good game. If you aren't going to do that, get out from the behind and let someone else run that game.
… But Levels Only Come Between "Adventures"
Gaining XP is rewarding by itself, but we all know that players don't really give a flying monkey turd about accumulating points. Well, they do give a small turd about it. They can't help it. There is strong evidence that human brains actually get some weird pleasure just from watching numbers tick up. Seriously. It's a thing. Human brains are weird.
What people really want is levels. And they want levels because they want new powers and bigger numbers and more resources. See, XP really just marks "progress toward a level." It's the level that feels really good for most players. Which is precisely why you don't want the players to get their levels.
See, anticipation and delayed gratification are also insanely valuable for providing a bit of momentum. The closer players get to a level, the more excited they are about gaining XP. On average. Those little victory speeches where you give players a score and tell them how good they did? The best ones are the ones that come just as the party is on the cusp of a level. Because the players' brains are licking their lips in anticipation. Even the ones who think they don't care about XP and levels. Because you've tied XP and levels to the things they DO care about – story progress or victory or accomplishment or whatever – just like B. F. Pavlov tied salivation to ringing a little bell.
For that reason, you don't want a level to come unless there's a major victory to go along with it. It comes down to structure and pacing again. Remember, you're trying to connect the narrative flow with the challenge and tension of the game and with progress on the character sheet. And that doesn't work if levels just happen any old time.
Then too is the fact that it's good for the players – even though they hate to hear this; trust me – it's good for the players to spend a few sessions at the same level. Especially in a game like D&D with characters getting substantial new abilities so frequently. Spellcasters, I'm looking at you. The thing is, it's actually good for players to spend three solid sessions without their characters changing substantially on them. The first session lets them test out new abilities, get to know them, and work them into their mental picture of what the character can do. The second session lets them experiment and push the boundaries with the new ability. And it lets all of the other players get to know what new things the new character can do. The third session is when the player can use those abilities with impunity and confidence and team strategies can form.
I know lots of players will balk at that. Trust me. I run games for them. I have one player in one of my groups who thinks spending more than one session at the same level or being forced to start a campaign below level three is a punishment. Well, he can think that all he wants. He's wrong.
The other issue is that it is a major pain in the ass if the characters gain levels in the middle of an adventure. I write my own content. And I'm one of those whackos who actually believes in balancing their content. I also like to know what the players are capable of. I like to have my own mental picture of what the characters can do and how their abilities work. Especially because players will conveniently misunderstand their own abilities a lot of the time. So that means that I need to keep the pace of leveling up even and I need time to learn all the new things the characters can do. Especially in D&D. Because the characters can just do too damned much and some abilities appear at weird levels with no rhyme, reason, or progression at all.
And while all of this is an excellent argument for just giving the players levels whenever I want to, that's still wrong and I thought we agreed we weren't having that fight anymore.
So, my rule is this: it takes a few days of downtime to actually gain a level. And you need a relatively safe environment in which to do it. And it can't be done in the middle of a session. You can only level your character – as a player – between sessions. And a character can only gain a level between major goals. Or if they are willing to retreat back to down and take the chance that the adventure won't get worse for them somehow if they leave it for a few days.
Even if the party gains enough XP to level, they can't turn that XP into a level until after they finish – or fail to finish – their current adventure.
Now, that said, players should advance every two to four sessions. Assuming you're running regular sessions every week. If you miss a lot of sessions or if you only run every other week, you might have to adjust that. But if you slow advancement too much, you push beyond the "I'm teaching you to be patient for your own damned good" realm into the realm of "I control the levels, not you, so shut up and suck it up."
If you've got a particularly long adventure or the PCs are close to hitting the next level, it's good to build a subgoal into your adventure that will allow the players to have a victory and earn enough downtime to level. And that's important. Never just say, "well, we've been at this too long, just take the level." The point is that levels should follow substantial victories. They need to happen close together for the same reason XP needs to be tied to victories.
Yes, that means that I do a lot of juggling. And it means I sometimes shuffle goals around to allow for a good climax to happen at the end of a session just so the PCs can level up between sessions and so that the session ends at a good point. That's part of the art of being a good GM.
XP is for Winners!
So, that's how and when I dole out XP and when the players can bank those points and turn them into sweet, sweet levels. But what do I actually award XP for? Well, my rules are pretty simple. Players get XP for overcoming obstacles or accomplishing goals. In other words, if the players overcome an encounter, they earn XP. And if they accomplish a goal – an adventure goal, a subgoal, or a side goal – they earn XP.
And that's it.
That said, there's a little more to it than that.
For instance, when I say "encounter," I actually mean a "fixed encounter." And that means two things. It means, first, that they have to deal with an actual encounter. A scene in which they resolve a conflict in order to accomplish a goal or make progress toward a goal and they take a risk to do so. Choosing which direction to go at a crossroads is not an encounter. There's no adversity to overcome. Talking some directions out of a person on the street is not an encounter. There's no risk. And probably no adversity either. That said, if they dissolve a hostage situation which could have cost the life of a key witness, that IS an encounter. And if they manage to sneak out of a town while guards with bloodhounds are searching for them, that IS an encounter. If they kill the goblins guarding the entrance to the cave, that's an encounter. And if they sneak past the goblins, that's an encounter. And if they talk past the goblins, that's an encounter.
In short, any scene that involves conflict and risk and represents progress toward a goal is an encounter. And any encounter is worth XP. There doesn't have to be a fight.
But it's even more complicated than that. As I said, the encounters need to be fixed encounters. I used to call them planned encounters, but that doesn't work because I like to improvise. And I can't even call them keyed encounters because my players like to improvise and sometimes they'll pursue a goal in a different way and force me to pull an encounter out of my ass. So, I use the term fixed encounter for any encounter that is a planned part of the progress of the adventure or would have been if I could have seen the future. It's not a great definition, but it works for me. I don't have to be definitive about this because I know what mean.
What I'm trying to distinguish these encounters from are random encounters or other complications that pop up because of random die rolls or because the party was dicking around making too much noise and I decided to teach them a lesson or because I had some system in place to create random problems in the adventure as a consequence for certain choices. You know? Wandering monsters and all the crap like that. In my game, those encounters are not worth XP because they don't represent a victory or progress. More importantly, those sorts of complications are supposed to suck. They are supposed to feel crappy. Like a drain on resources. So, they don't give rewards and rarely have substantial treasure. That emphasizes the fact that they are BAD THINGS. Bad for the characters and bad for the players. Just a drain.
And the reason I have bad things that suck for the players and the characters based on various random systems is that they are usually a consequence of the choices the players make. And I want them to make good choices. Don't waste time. Be careful. Think. Plan. And, above all, keep moving forward. That is what progress means.
So, fixed encounters earn XP. But only if they are dealt with permanently. If the party sneaks past the goblins on the way in, they will have to sneak past the goblins on the way out again. If the party bypasses an encounter such that they could end up in the same encounter again – however likely it is – they only get half the XP. I'll talk about how I calculate XP below. And they only get that the first time they bypass the encounter. If they later permanently finish the encounter, they get the other half of the XP.
The party also only gets half the XP if, in my opinion, they have only scraped by the encounter. That is, if it was barely a win and the party is really hurting, I will only give them half the XP. If half the party ended the encounter unconscious, for example. Or the party had to burn a lot of resources to get through. And I will let them know. At the end of the session, I'll say, "and you defeated the ogre. That would be worth 100 XP each, but you really took a beating and only won by luck and the skin of your teeth. So, it's 50 XP."
See, it's important if you're going to maintain the connection between victory and XP, that you don't award XP if there isn't a victory. You have to be firm on that or you wreck the psychological connection you're trying to establish. Remember, that's what this is all about. Which is why "you learn more from failure than success" is a stupid counterargument when it comes to XP. That is NOT what XP is. Moreover, if you give out XP whether the party wins, loses, or draws, you're telling them that their actions don't affect their advancement. They have no control over their own character growth. At that point, you might as well just tell them to level whenever you want them to level. And then you might as well quit running games.
And, obviously, if you're cutting the award in half if the victory is only a Pyrrhic victory, you can't give them anything if they fail an encounter. And, by the way, when you plan an encounter, you should know what the lose state looks like. That's a whole separate article, I think. If you don't plan for the party to lose, eventually they are going to lose anyway and you're not going to know how to handle it in any other way than just killing the party.
For example, the party I referenced above recently had to sneak out of a neighborhood of the city while soldiers and bloodhounds were tracking them down. And man, were they outnumbered. If they'd gotten caught by one of the patrols, they would have had about two rounds to disable the foes and get the hell away before they were going to have more guards and dogs than they knew what to do with. And they did succeed in escaping. It was very tense at the end. One of them had to bluff her way out of a tight spot. But they did get out. And I'm pretty sure they were assuming the whole time that if they failed, they'd have been dead. And, sure, that was a possibility. If they were dumb enough to try to fight an entire mercenary squad, they could have gotten themselves killed. But I sure as hell knew what would happen if the failed and weren't stupid enough to fail to the death. And they wouldn't have gotten any XP for that, let me tell you.
And, by the way, you should also tell the players when they missed an opportunity for XP during a session by being failures. For example, I once had to say, "well, you did kill the moldorm, but the little girl got strained through its' digestive tract so I can't call that a win. 0 XP."
Yes. I said moldorm. I like Zelda games.
So, fixed encounters are worth XP if the party wins. If the party barely wins, they get half the XP. If the party loses, they get no XP. But I did also say accomplishing goals was worth XP, right?
XP is for Closers!
Every adventure I run has a goal. A clear goal. Usually a "verb the noun" type goal. When the party accomplishes that goal, they earn XP. Hooray! Easy as that.
Most of my adventures also have one or more subgoals. And if you don't know what I'm talking about, go back and read my article on goal setting. Now, obviously, I use subgoals the way they are supposed to be used. They represent major plot-points or breadcrumbs on the trail or whatever. But I also use subgoals – and even insert subgoals on the fly – to tweak the structure of game sessions. I try to make sure that I have inserted a subgoal into every session of play. As best I can. It's not always possible or feasible and sometimes the players screw with the structure, but it works out more often than it doesn't. Point is, I try to make sure that every time I end a session, I am giving the party some XP solely for progress in the story of the adventure. And I try to make sure that subgoals come close to the end of the adventure.
And if I think an adventure will take more than three sessions – or if an adventure is bloating itself beyond three sessions – I will insert a subgoal that can work as a stopping point and let the players ding their level. As mentioned above.
The party earns XP for accomplishing any adventure goal, any subgoal, or any side goal. In addition, I do sometimes set goals that, if they aren't accomplished, reduce the XP from a goal. So, if the adventure is about escorting six monks to a temple and the party only makes it there with three monks intact, their goal XP is penalized by an appropriate amount.
And that's it. That's all I give XP for: fixed encounters and goals. Overcome a fixed encounter or complete a goal, you get XP. And I list it at the end of the session and tell you how awesome you did.
As to how I actually calculate the XP? Well, that's the last part of this puzzle.
How Not to Math
No one likes to do a lot of math. Not even me. And I'm a gamer accountant. And no one likes to keep long lists of things. Especially lists of numbers. So, the one place where I have actually streamlined this process is in how I actually compute the XP. See, I'm going to let you in on a secret: it doesn't actually matter how much XP you give out. As long as the players get it and as long as they connect it to victories and progress and as long as it provides a good, steady rate of advancement, the actual numbers don't matter much. Though, there is a reason why the numbers are on the scale of hundreds and thousands and not fives and tens. It has to do with people liking big numbers. It's another psychology trick.
And here's another thing that doesn't matter: if you're going to always evenly divide the XP between the party members – and there are ZERO good, rational reasons not to, even if some players miss some sessions or some characters miss some encounters – if you're going to divide the XP between the party members, then you can just dole out the XP on a per character basis.
Given those two facts, in any given adventure, there are only three different sizes of XP rewards. There's an award, a double award, and a half award. That's it. The only time I deviate from those three sizes of rewards is when I'm computing XP reductions due to the party screwing up conditions of the adventure goal. Like if I have to penalize them for not getting all the NPCs through the adventure alive.
An encounter is worth an award. Doesn't matter how hard or easy the encounter is or how many monsters were involved. One encounter equals one XP award. That's it. You don't have to do any more than that.
An encounter in which the party only wins a marginal victory – a Pyrrhic victory – is worth a half award. Same with an encounter that was only bypassed. At least, the first time. Bypassing the same encounter multiple times doesn't earn any additional XP. But, if the party later defeats an encounter they previously bypassed, they get another half award. Basically, they end up with a full award for defeating the encounter. Yes, that DOES mean they are better off dealing with their problems permanently, thank you very much. Working as intended. Feature not bug.
The adventure goal – the big one – that's worth a double award. Unless its penalized. Subgoals can be worth an award or a half award, depending on the size and importance of the subgoal. And side goals are always worth a half award.
Now, how do I actually calculate how big an award is? Well, I have a system for figuring it out in D&D 5E. Now, there's a few different ways to arrive at the number, depending on whether you want to use the Monster Manual or the Dungeon Master's Guide. And the number you get is actually slightly different depending on which system you use. To use the DMG, go to DMG 82 and find the average party level of the characters in the party on the XP Threshold by Character Level table. Read across to the Medium Difficulty column. The number you find is the amount of XP that a single character in the party should earn for each award. Obviously, double that for a double award. Or half it for a half award.
Alternatively, you can find any creature in the MM whose CR is equal to the average level of the party. Divide the XP award for that creature by four to get the amount that a single character in the party should earn for each award.
DO YOU GET WHAT I AM SAYING?
Just figure out how much XP the party would earn for a Medium difficulty encounter of their level. That's how much an XP award is. I do it on a per character basis. So, at first level, an XP award is 50 XP. A half award is 25 XP per character. And a double award is worth 100 XP. Go back to that example I started with of me handing out XP to my players. It was a first level adventure. They defeated two fixed encounters permanently and they got a minor subgoal. 50 XP for each encounter, 25 XP for the subgoal. Done and done.
It doesn't need to be any more complicated than that. It really doesn't. Which is why I don't want to hear any more pissing and moaning about XP math and how much work it is. Enough. You're a GM. Act like it. Use XP. Hand it out in the way that is best for the game. Not the best for your lazy ass. And not the best for your selfish players. But the best for the game experience.
Unless you forget or don't feel like it. That happens.