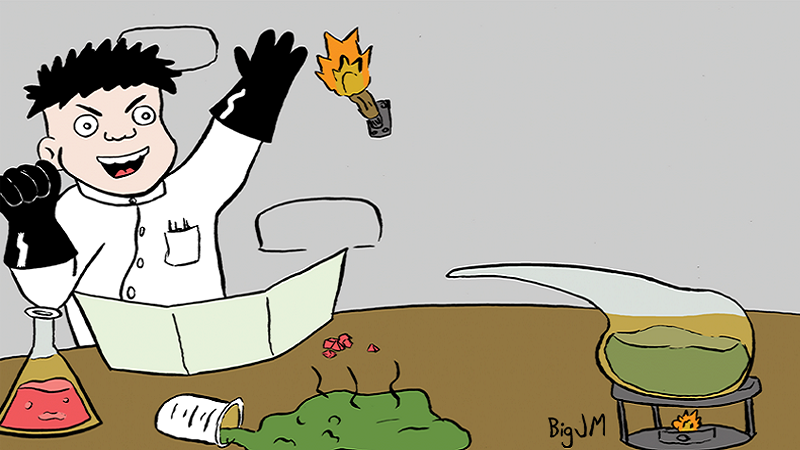 The story so far: I embarked on a stupid quest to develop a magic item crafting system for tabletop role-playing games like Dungeons & Dragons and Pathfinder. An actual good system people would want to use. And I decided to share the entire development process, one step at a time so that the entire Internet could express their opinions and ideas continuously. What can I say, I'm a frigging masochist.
And I summarized the project – at least the D&D 5E version of the project – thusly:
The players will acquire consumable raw materials incidentally during their adventures, in limited quantities outside of their adventures, or through the conversion of items or other raw materials. These raw materials can be converted into mundane or magical objects for use by the players. Such conversion normally takes place outside the game but can take place during the game in a limited fashion. Nothing in this system can distract from the core gameplay engagement of adventuring, though it can provide the occasional motivation for adventure. And this system cannot allow the players to unbalance the game by acquiring more magical items than they would be able to obtain under the core rules, nor to earn a profit.
In addition to that basic summary, I had decided that the raw materials would be classified in three ways. Each would have a rarity: Common, Uncommon, Rare, Very Rare, and Legendary. Those mirror the rarities of magic items established in the D&D 5E PHB and DMG for magical items. Each would also have a type: metal, precious metal, wood, herb, hide, bone, fluid, mineral, gem, and essence. Each would also possibly have an optional special trait pertaining to the specific type of magic it might possess fiery, for example, or lifegiving. Thus, any item could be defined in the form of [rarity] [trait] [type. As in common fiery gemstone or rare lifegiving herb. It is important to note that the lists of types and traits are entirely just a working list. The names and even the actual items on the list will change depending on any needs we discover. For example, we will likely combine mineral and gemstone at some point as a result of what we're going to do today. It doesn't matter.
I also briefly mentioned that I would be using GP as the basis for all conversions as it's an easy way to set the values of things in D&D 5E. And I explained the difference between GP as a measure of absolute value and gp as an actual count of the number of coins PCs might end up carrying. Basically, a raw material might be worth 50 GP in terms of balancing it against the value of magic items or treasure, but it might only sell for 30 gp in the same way that a longsword is worth 15 GP but can only be sold by the players for 7.5 gp to some merchant. That's important because of that last condition: the players cannot use the system to earn a profit.
Now we're caught up. And thanks to our summary, I can see what, exactly, I need to tackle to move this project along. There's basically just two major steps: acquiring raw materials and converting the raw materials into desired goods. There are a few other elements to the puzzle: like buying and selling raw materials and finished goods. But those can be worked out after the acquisition and the conversion steps are figured out.
But there's a key element that bridges the gap between acquisition and conversion. It's actually the thing that underlies the entire system. And it's why I talked about that GP thing. Because we have to stay within the constraints of D&D. We can't let the players use the crafting system to break the game. We have to stay within the expectations of the system. Within reason. That means two things. We have to understand what constraints already exist in the system. And we have to make room for our system, possibly by altering already existing systems. So, I'm going to spend a lot of time analyzing the rules that already exist to lay out the constraints on my system.
Looking for Limits in All the Wrong Places
Nobody is completely familiar with every rule in every system. Nobody even remembers everything in the three core rule books for a game like D&D. And D&D 5E is particularly garbled, poorly arranged, and lacking in transparency. And that can make things real freaking hard for you if you're trying to add a complex subsystem to the game. And this subsystem is particularly complex. So, how do you hunt down the information you need across the three books?
Obviously, we COULD start by looking at the already existing crafting rules in the game. And there are three major, published sets of crafting rules for D&D. One is in the PHB, one is in the DMG, and one is in Xanathar's Guide to Everything. Now, generally when hacking rules, I don't like to consider optional supplements too much because you never know what supplement a given table is using – or even owns – so using information outside of the core might create an obstacle. When you hack something for general use, you always want to assume the minimum necessary ruleset. In D&D 5E, I know that absolutely everyone MUST be using the core rules. That's the basic definition of the game. If they made their own modifications, fine and dandy, but they had to start with the core rules too. So, I want my systems to work within the core rules.
That said, looking at supplemental material as background research can help. So, let's look at what D&D 5E offers for crafting already.
Basically, on PHB 144, it says that players with the appropriate proficiency can craft any mundane object. They have to pay at least half the cost of the item in raw materials and they have to spend a number of days equal to the cost of the item divided by 5. Now, that's both interesting and uninteresting. See, the problem is the idea of downtime in D&D is almost meaningless. There's no rules or guidelines or rigor involved in handing it out. Any given GM can just allow the players to have as much downtime as they want. Downtime is discussed on DMG 127. And basically, there's no guidelines. Just give the players time to complete the projects they want.
So, for the cost of an appropriate proficiency and worthless downtime, players can covert GP to mundane items at a two to one conversion rate. And the reason for that rate is probably because that's what PHB 144 says they can sell items for. Thus, they can't sell items for profit.
What that really tells us is that the creators consider crafting any item in the PHB to be pretty trivial. Which makes sense. Most of the items in the PHB are cheap enough – except for armor – that the players should be able to acquire it after a few adventures if they can't buy it with starting gold. It doesn't matter. But what about magic items?
DMG 128-129 provides an optional magic item crafting system. Now, this is an optional system that the GM can allow if he wants to. But we have to assume it's not a system that will unbalance the game. So, this gives us a hint at what the creators think is "safe" to allow. The system works like this, basically: every item has a rarity. That rarity determines the cost of the item for crafting purposes. That rarity also determines the minimum character level required to create the item.
Here's the table: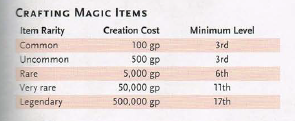 To craft an item, the player must be of the minimum level. They must have a formula to create the item. They must be a spellcaster with spell slots. And they must be able to cast any spells that the item can replicate. They must pay the creation cost in gp. The creation time in days is equal to the creation cost divided by 25. If the item replicates spells, the creator must expend a spell slot each day for the casting of the said spell. And if the spell consumes costly material components, those must be expended during the creation process. They are consumed once for items that can replicate a spell once or consumed every day for a spell-replicating item that has no such limit.
But let's break that down. What does all of that really mean? Mechanically, the formula is meaningless. Because, again, the GM is given no guidelines or instructions. The GM could hand out formulae in adventures, make adventures out of acquiring said formulae, allow the players to turn them up during research, or just freely fling them at players. It's a limit that means only as much as any individual GM wants to make it mean. Which means the creators didn't think it was important. They don't even caution GMs not to hand them out freely. If the formula thing were meant to be a limit that would prevent the breaking of the game, they'd have more to say about it. But it isn't.
The spellcaster restriction is the equivalent of a proficiency restriction. It allows for the differentiation of PCs into item crafters and non-item crafters and also puts a few limits around what they can and can't craft. A cleric can't make a necklace of fireballs because that's not a cleric spell and the item replicates spells. A wizard, similarly, can't make a wand of cure wounds. But there are many items that don't replicate spells. And those don't fall under those restrictions. So, again, it's more a flavorful restriction. It's not super important. But it does keep non-spellcasters from accessing the class abilities – e.g. the spells – of spellcasters.
The time requirement can get hefty for big items, but, again, the DMG doesn't care about how much downtime the PCs get. It even notes – again on DMG 127 – that as players gain levels, they should be given more and more downtime for bigger and bigger projects. So, it's a non-restriction.
The material component thing is there as a failsafe. Spells that actually consume costly material components are rare and powerful and you don't want a spellcaster to circumvent those costs. And, honestly, that's nice to know. In designing this system, I might have forgotten that some spells have costly material components. I will have to account for that.
The only really useful thing this table tells us is what the game designers think are good prices for magic items. And at what levels the items should be available. When you shave off all the other fluffy, non-specific, useless requirements, all you're left with is the idea that it's safe to allow the players to freely convert money into magical items at the rate of 100 gp per common item, 500 gp per uncommon item, 5,000 gp per rare item, 50,000 gp per very rare item, and 500,000 gp per legendary item. It also tells us that the players should be at least 3rd level to convert money to common and uncommon items, 6th level for rare items, 11th level for very rare items, and 17th level for very rare items.
Now, Xanathar's Guide to Everything – XGE hereafter – offers an alternate take that brings together both the mundane and magical item crafting system. You can find it on XGE 128 – 130 if you want. But I'm not going to break it down too much. Partly because it's supplement information and partly because it only offers a few bits of important new information. It changes the timeframe for downtime from days to workweeks and scales back the amount of time needed to do some of the heftier stuff. And it requires skill rolls and explains how to set the DC and offers complications, but we don't want any of that crap. We've identified that crap as a problem. Our system is an away-from-the-table system primarily.
However, here's two gems hidden in that system worth considering. First, it lifts the hard limits and instead imposes a limit based on ingredients. And it tells us what CRs of creatures should yield which ingredients by rarity. Common ingredients come at CR 1 to 3, Uncommon at 4 to 8, Rare at 9 to 12, Very Rare at 13 to 18, and Legendary to 19 or more. Now, if you're clever, you might read that as redefining the level limits. After all, if the PCs need ingredients from a CR 9 to 12 creature to get make a Rare item, they would probably need to be level 9 to 12 at a minimum to face said monsters, right? If you're more clever, you might notice that the table doesn't actually change much.
See, based on the CR and Encounter Balance rules, a party can generally face a single creature whose CR is one or two points higher than their level. Or even three. Especially at higher levels. So, a 6th level party that wanted to make a Rare magic item could go and confront a CR 9 monster for the ingredients. And you'll notice that the level minimums on DMG 129 are within two or three points of the CRs suggested on XGE 129. So, that doesn't change much.
Except that XGE DOES allow 1st level characters to easily craft Common items. It doesn't make them wait until 3rd level. That makes sense. It's weird that DMG 129 imposed that limit.
XGE also changes the creation cost of all the magic items. Common items are now 50 gp, Uncommon are 200 gp, Rare are 2,000 gp, Very Rare are 20,000 gp, and Legendary are 100,000 gp. It's interesting because those costs are actually half – or one fifth at the high end – of the costs offered in the DMG. XGE tells us that the creators thought their costs were off by a factor of 2 when they wrote the DMG. That is very good to know.
XGE also finally notes that consumable items are worth less than permanent items. Which should be obvious. You half the creation cost of consumable magical items. Even more interestingly, healing potions are a special case. They are even cheaper. They have their own special table of costs. The game wants them freely available.
What XGE actually does is revise the information the DMG gave us about the conversion rate between money and magical items. But let's not assume the DMG was completely wrong and XGE was correcting it. Let's assume instead that the prices were set based on different philosophies. Or different benchmarks. The DMG price was probably the worth of the most powerful items in that rarity. That is, when they wrote the DMG and decided to offer an optional crafting system, they went for a system based on a worst-case scenario. The XGE system – and if you read the text in XGE, especially the sidebars, this seems to be the case – was based on not being such a hardass. It was based more on the value of average items. Sure, the players MIGHT end up with a powerful item for its tier a little cheap, but that wouldn't cause a disaster. So, instead of being the price of the most powerful item in its tier, it was the price of the average or the midrange item in its tier. On top of that, XGE also acknowledges that the game benefits from some magical items being freely available. Healing potions, for instance. Parties that need extra healing potions should be able to easily get a hold of them. That is good for the game. So, such items should have the smallest price.
Thus, we have a good range of values for the magic items in each tier. The "healing potion" cost is the lowest cost any magic item should have. It's the cost of consumable items that should be freely available. Ubiquitous. Game improving items. The XGE price is the price for an average or baseline item in its tier. The DMG price is the price for a high-end item. Finally, consumable items should be priced below the XGE average, down to the XGE healing potion cost. Permanent items should be priced above the XGE average.
This actually gives us a solid idea of what the designers think magical items are worth. That is their GP value. IF a GM allows the players to buy or craft magical items – and that is totally optional – we have a safe set of values for all the items. At least, we have values the designers thought were safe.
And we might just run with that. We could certainly build a system around those values and CRs and levels and stuff and be done with it. But we're actually missing a huge chunk of information. The information we have is useful. But it's incomplete. To get the rest, we have to broaden our look at the rules. But first, let's slap together a quick little list of the ranges and levels we've gotten so far:

By the way, there IS another table like this on DMG 135. It's above an explanation about buying and selling magical items. And it's in very much the same ballpark as the numbers that I summarized on my table based on DMG 128 – 129 and XGE 128 – 130. The big difference is that the lowest range of prices is much lower than the cheapest magical item to craft at higher tiers. And I suspect that's a mistake. That would mean that, for the cheapest, least powerful items, it's cheaper to buy them than to craft them. That doesn't make a lot of sense. And it lends credence to the idea the DMG might have set the top level prices right, but beyond those cutoffs, it can't be trusted. So, we're ignoring that table.
Looking for Limits in the Right Places
Everything we looked at above is based on optional rules the designers offered up in case a GM wants to allow players to craft items. And by analyzing the system, we actually discovered it's just a system by which you convert gp to magic items with some level limits thrown on. But that's not the normal way that PCs acquire magical items. PCs actually find most of their magical items during their adventures. Specifically, either carried by their foes or in treasure hordes in their enemies' lairs.
And that's not all. That's also how PCs make their money. So, in addition to finding a certain number of magic items during play, the party also turns up some cashy money. And cashy money equivalents. For the purposes of this discussion, I'm going to refer to coins, art objects, and gems as cashy money. Or just treasure. Because it all gets converted to gp.
The thing is, that cashy money is the pool from which the players can draw to do that optional crap we analyzed above. That is, we know that the party can make a Rare magical item for somewhere between 1,000 and 5,000 gp. But, let's say an average party of four, 7th-level adventurers decided to pool all the money they had ever made adventuring and craft as many Rare magical items as they could. How many items could they craft? Do you have any idea how much money a 7th-level adventurer might have? I sure don't.
On top of that, how many Rare magical items – or any magical items – does such a party have from their adventures. What does the game expect?
Well, you might be tempted to say it doesn't expect anything. It doesn't care. The DMG and XGE both have numerous sections and sidebars about how the party doesn't need ANY magical items ever. The game's balance does not take into account magical items at all. That's the claim. Magical items always make the party more powerful. Fine and dandy.
But, it's also bullshit. I mean, I'm sure they didn't work magical item progressions into the math. I might even believe that was a design choice and not a matter of simply running out of time and not having worked out any system for magic items before the PHB and MM were sent to the printers. But I also know that magical items do have an impact on the game. And too many of them will make the game trivially easy. Now, there are all sorts of limits built into magical items themselves. Attunement is the big one. And so are the class restrictions that ride on the attunement system. And the rarity and consequently the level at which magical items should be available present another. So, yes, to some extent it is safe to allow the players to freely acquire however many magic items they want. The game does have failsafes built in. But there are breaking points.
And that's why I want to know what the designers expect in a normal game. That is, how many magical items do they expect the party to discover over the course of their adventures. And how much treasure might they have available to convert to magical items? Even if I'm going to allow my crafting system to push beyond those limits, I want some sense of the baseline. If nothing else, it'll help me sent constraints and values.
Consider this for example: raw materials are acquired during the course of an adventure. Either they can be extracted from foes or they will be found in adventure locations. During an adventure in the volcano lair of a red dragon, for example, the party might be able to extract red dragon hide and red dragon blood from the boss, some fire elemental essence from the dragons elemental guards, and they might find some magical metal ore in the volcano infused with fire magic and some magical heat resistant fungus that grows in the caves.
Well, at some point, to design this system, I have to decide how much of all that crap they should be able to find in an adventure. And how much of that crap is required to make a magical item? How many units of hide and fluid can the party extract from a dragon? How much ore and fungus are scattered around? And how many of those ingredients go into making one flaming longsword or suit of cold-resistant armor? I could set those values arbitrarily, but it'd be better to have some sort of logical starting point.
Beyond that, well, here's the thing: I can see the writing on the wall. I know where this stupid project is going. Ultimately. I'm going to have to come up with an alternate scheme for doling out treasure. If I want to minimize the impact of this system, I'm going to have "make room" for it. That is to say, I'm going to have to assume that the average party under this system will FIND fewer magical items in their adventurers and will CRAFT or COMMISSION or BUY items to make up for that. In other words, instead of finding 5 magical items in a dungeon, they might find 3 magical items and enough materials to make 2 more. Or something like that. I don't really want to change the total number of magical items any given party will have available through the course of the game. I just want them to have the option to pick some of them out themselves. Either by making them themselves or having them made or buying them with the money they make from selling the ingredients they find.
And that means I have to know what the system's baseline is. That way, I know how much room I have to work.
So, how do players get magical items and treasure and how does the GM know how much to give. Well, this is covered in the DMG starting on page 133. And it's entirely based on random tables. And there are two types of tables: individual treasures and treasure hordes. As the DMG explains, the individual treasure tables are used to decide how much treasure any single monster might be carrying. But it also notes that if the monster doesn't carry treasure – say, it's an animal – then it's the treasure that could be found on the monster's victims. Basically, its treasure lying around near the individual monster. Thus, it seems that the intent is for every monster to offer some amount of treasure.
On top of the treasure found on or around each individual monster, the party also finds a number of treasure hoards during their adventures. Hoards are big treasures amassed by groups of monsters or powerful creatures in their lairs. It might be a dragon hoard. It might be the contents of the cultist's vault. It might be in the goblin king's treasury. It's adventure-level treasure. Win a big adventure, find a hoard of treasure.
While the DMG does note that you can hand out as much or as little treasure as you want, over a typical campaign, a party will find seven hoards from levels 1 to 4, eighteen hoards from levels 5 to 10, twelve hoards from levels 11 to 16, and eight hoards from level 17 on. That's the expectation. And the interesting thing to note is that magical items are only contained in hoards.
Unfortunately, the number of magic items in a given hoard of a given level – and I'm paraphrasing all of DMG 133 – 139 here – unfortunately, the number and type and rarity of items is entirely generated at random. So, if I want to figure out the expected number of items of various rarities, I could come up with weighted averages of expected values and so on. Or I could just read XGE 135. Because they decided, suddenly, to be uncustomarily transparent about the rate of magical item acquisition there.
Basically, they spell out how many items of each rarity the average party is expected to find as a result of those treasure hoards at the different level tiers. Not only that, they reveal a hidden extra quality that magic items possess that isn't spelled out in the DMG. There are, it turns out, two types of magic items. Minor and Major. So, within each rarity, there are big, powerful items and less potent items. And that quality is hidden in the magic item tables. So, when the treasure table tells you to roll on Table C, for example, it's giving you a Rare Minor Magical Item, but if it tells you to roll on Table H, it's giving you a Rare Major Magical Item. And isn't THAT interesting.
XGE 135 is gold. It tells me everything I need to know about how many magical items a party would acquire during their adventures if the DM didn't allow them to buy, sell, or craft items using those optional rules systems. It's the baseline number of items parties will have at each level based on rarity and also based on that hidden Minor/Major split.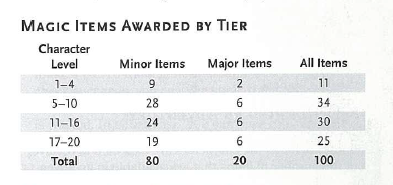 Great. But now, what if the GM DOES allow them to convert money to magical items? By using one of the crafting systems or by buying and selling? The GM can do that stuff. How much cashy money does the average party end up with over the course of their adventures?
Well, I am not going to run through a lot of math. The problem is, I couldn't turn up anything to tell me what the expectation was. I just had the tables themselves. And I had to work it out. I quickly did some ROUGH AND READY weighted averages of the expected GP value of all coins, art, and gems for the individual and hoard treasure tables. The reason I am emphasizing that "rough and ready" thing is because I slapped them together pretty quickly to get in the ballpark. I know I have people out there who will run very detailed calculations or program a computer to run 10,000 simulated rolls and every table and come up with very price numbers. And I don't give a crap. I like math and spreadsheets and even I have my limits. And this project doesn't need that level of precision.
Next, I had to know how many treasure table rolls the party would actually make. I had the number of hoard rolls, but I wanted to do a breakdown by level, so I divided the hoard rolls by level. That is, the party is expected to roll seven times on the CR 0 – 4 hoard table, which means they are expected to roll seven times from levels 1 to 4, which means they are rolling 1.75 times per level for the first four levels.
As for how many rolls on the individual monster table. Well, I had to smash that together based on some assumptions. First, I had to know how many encounters a party would have at a given level. And then I had to decide how many monsters, on average, would appear in those encounters. Obviously, the first number is based on XP gain. And it assumes the GM doesn't use any optional story awards or role-playing awards. All XP is gained from combat. The second number was based on the idea that a GM would generally design single-day adventures of six encounters per adventuring day with a normal structure of easy, moderate, and hard encounters with a varied number of monsters in each encounter. And based on my supposed adventure structure, I decided the average number of creatures in any given encounter in a normal adventure is 2.33.
Based on all of that, I was able to run out how many rolls on the individual monster treasure tables and hoard tables a party would get over 20 levels and multiply by the expected GP value of the cashy money and discover that, over the course of 20 levels, a party would make just about 2.5 million gold pieces. Here's the spreadsheet I made. Other people might have different answers based on more precise math and different assumptions, but I like mine. They are good enough.
EDIT: Some of you who read this early might THINK I said the number is about 4 million gold pieces. But it sure isn't. It's 2.5 million. You probably slipped into an alternate dimension where I didn't have a typo in my original spreadsheet so the XP to Level numbers were wrong because I had Excel subtracting the wrong numbers from each other. 2.5 million is correct. See? Here's the spreadsheet. There was never any other version. No matter what you remember.

So, now I know how much cash treasure and how many magical items the average party at a normal, core rules only D&D 5E campaign should have. The baseline assumption. And that establishes a very basic, rough sort of idea of what should also be possible under my magical item crafting system. Of course, players will be converting some – maybe even all – of their cashy money to magical items as well. But that won't be any different from what players could do if the GM allows any of the optional crafting, buying, and selling systems already spelled out. A party should have 100 magic items and up to 2,5 million gold pieces worth of other items. That's a framework I can work around.
Next time, we'll be using that framework to figure out some details about raw materials and mundane and magical item recipes. But, as a precursor to that, I'm going to throw up this other spreadsheet I made: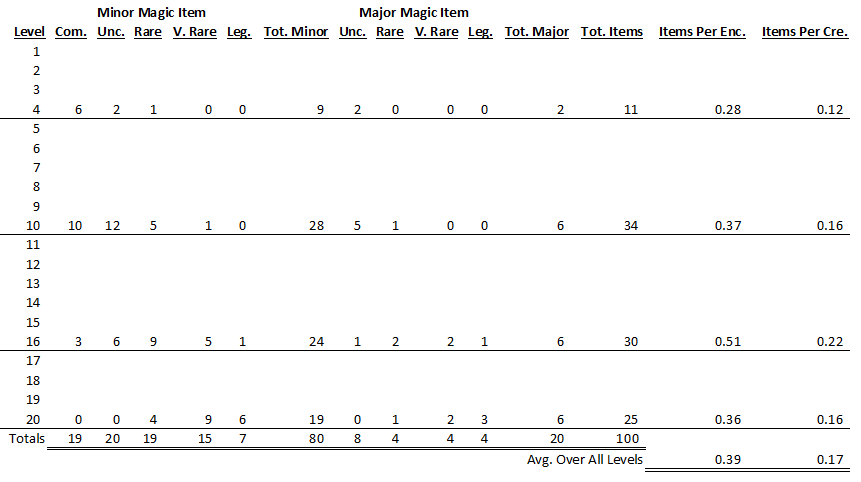 It summarizes the information from XGE about magical items by tier, rarity, and potency over the course of a 20-level campaign. And then it divides the number of items by the number of encounters for that tier and the number of creatures for that tier. So, the party finds 11 magical items over the course of the first four levels of play, which means that they found one-quarter of one magical item per encounter they won OR one-tenth of one magical item per monster they killed.
Now, why the hell would I ever want to figure that out?
EDIT: And, by the way, those numbers haven't changed either. If you remember them wrong, perhaps you're having memory problems.