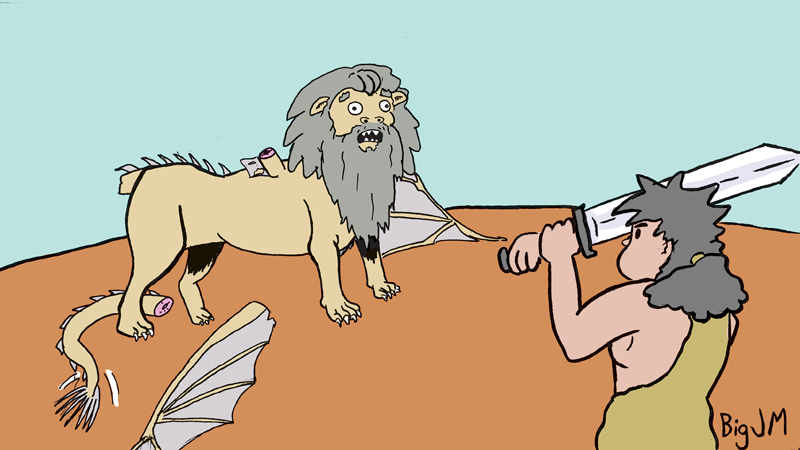 Let's talk about the hydra. Not the D&D hydra. Nope. We're talking the real hydra. I know what you're thinking "what is this bulls$&%? Another Word of the Week? Come on, I came for boss monsters!" Well, shut up! The hydra is a boss monster. Though we're not quite DOING the hydra yet today. And technically we're not even doing boss monsters. But we're… okay, look, if I try to explain today's little journey, it will take forever. Just come along for the ride. It'll be fun. And I'll give you a giant octosquid and a manticore your PCs can dismember for your trouble, all right? Good! Now s$&% the f$&% up and listen to Uncle Angry's mythology corner.
Let's talk about the hydra. Not the D&D hydra. Nope. We're talking the real hydra. Well, the mythical hydra. Not real. But the original.
Once upon a time, there was this horrible monster called the Lernaean Hydra. It was the child of Typhon and Echidna who were literally famous for being the father and mother of various monsters. The Hydra was a horrible, multiheaded beast with poisonous breath and blood. The big problem was that the Hydra could not be killed so long as it possessed at least one head. And every time you cut off one of its heads, two more grew back in its place. As you can imagine, when Heracles (who you might know by his Roman name, Hercules) was sent to kill the Hydra, he was not exactly hopeful. Armed with a sickle, he tried to cut off the heads quicker than they could grow back, but to no avail. He retreated to come up with a new plan. Well, two new plans. Because there's a theatrical release and a director's cut to this particular myth.
In the director's cut, Hercules visit's his nephew, Iolaus for help. Iolaus suggests using a firebrand – in this case, a burning piece of wood, not a magical sword – to cauterize the neck stumps before they can grow new heads. Hercules invests a feat in Dual Wielding, equips his sickle and a torch, and slashs and burns his way through hydra heads until the thing is dead.
In the theatrical release, because the myth was running too long and the character of Iolaus had to be cut, Hercules instead steeps his sickle in the acidic blood of the Hydra and uses that to cauterize the wounds. That allowed the fight with the hydra to fill just one scene and have much better pacing.
Whichever version you like, the Hydra is a pretty awesome monster. And it should be pretty awesome in D&D, right? Replace the invulnerability with regeneration and you've got a real pain in the a$&. The creature keeps healing itself as long as it has any heads. And every time you cut off a head, two more grow in its place. You can f$&% around a bit with those concepts if you want and build something cool inspired by the Lernaean Hydra, but the basic idea is bada$&. Especially the part with the nasty tradeoff of making the monster more powerful to kill it and finding ways to shut off its abilities.
Now, I could do a whole digression about mythological monsters and puzzle monsters and various weaknesses and why those flop in D&D and how I would do them better if I were writing an RPG. But I want to focus on a different problem. Dismemberment.
Players Just Don't Dismember Like They Used To
I don't want to get into an old-school vs. new-school discussion, but I'm going to have to. There are many things I like about the new-school approach to game design, but I feel like some pretty awesome things got lost in the old-school. And one of those things was creatively dealing with monsters. In one of the first D&D games I ever ran, back when I was eleven, my ONE player (Peter C.) ended up facing a carrion crawler with his two PCs. A carrion crawler has eight paralyzing face tentacles. And if you get hit with one of those, it's a death sentence. His fighter leapt onto the back of the centipede monster and wrangled it with a big, sooty blanket he'd looted. He rode it like a cowboy, keeping its face tentacles entangled in the blanket, so his buddy could stab it to death. Pretty f$&%ing cool. More recently, I remember Ryan M. pulling the same trick, jumping on the back of a gorgon and literally taking the bull monster by the horns to try and control where it's petrifying breath weapon went. And when I faced a nothic with a gaze attack as a player, I grappled the thing to the ground, keeping it face down so it couldn't use it's gaze. It cut me up pretty bad, but my party stabbed it to death all the same.
And this is why it kills me when people complain that "all old-school fighters could do was hit things." And why I lament the loss of hard save-or-die effects. There was a different dynamic in those days. It's just a shame that the game systems were such a f$&%ing kludgey mess.
Now, interestingly, a few months ago, it just so happened that I put two different groups up against hydrae. D&D hydrae. Well, D&D hydrae and Pathfinder hydrae. And both groups simply pounded on the thing to overwhelm its regeneration. Neither group even tried to cut off a head. Asking afterwards, I discovered that it had nothing to do with not wanting to face two heads or deal with the "slash and burn" strategy. It actually didn't occur to either group to try cutting heads off because you couldn't dismember any other monster. Sure enough, the beheading rules have to be written into the hydra itself.
Now, that got me thinking about dismemberment in general. There's a great scene in The Fellowship of the Ring, for example, when Frodo is seized by the tentacles of some lake monster outside Moria and someone cuts off the tentacles to save him. And there's a cool bit in Metroid Prime where Ridley the Space Dragon's wings burn and force him into a ground engagement. And then there was the giant octopus in Final Fantasy II on the SNES (because it was II when I played it, not IV, dammit!) which gradually loses tentacles as you fight it. Hell, Final Fantasy was rife with monsters that had several different body parts that you could target individually to remove abilities and strategies.
The problem with this sort of thing in D&D (and Pathfinder) is that it has to be written specially into specific monsters. There's no general "hit location" or "called shot" system. And that creates a weird problem where players will never think of it on their own. That means the GM has to either outright suggest it when it is possible or find a way to sneak that information into the adventure. And that is always a little clumsy. "Now, I know you normally can't just cut something's head off, but this one time, you can."
Hit Locations and Called Shots
The reason there are no hit location and called shot rules in D&D is that they are, technically speaking, a major pain in the a$&. In D&D, a monster is just a big ole sack of hit points. You whack at it until all of the hit points are gone and then it is dead. End of story. Of course, that makes sense anyway. After all, whether you are firing a gun or using a sword, fiddling with trying to target specific locations is a good way to get dead. That's why you aim for the trunk of the body. It's the biggest, easiest, meatiest target.
The moment you add hit locations and called shot rules, you need a whole host of other rules to work with them. How do you determine hit location? What are the penalties for attempting a called shot? How do you track armor coverage for specific parts of the body? What are the general effects of hitting a specific location of a specific creature? How do hit locations interact with critical hits? How do you balance effects for hitting a specific location against the penalties for called shots?
Now, you CAN build a system that handles all of that. Some systems do. Savage Worlds has a pretty simple called shot system. But there's always the question of what you gain for the complexity you add. Remember, complexity has to ADD something to the game in order to be worth having around. And the thing it adds has to be cool enough to offset the annoying extra complexity. The trouble is, called shots and hit locations are ALWAYS highly situational. Generally, called shots should be a suboptimal strategy. They shouldn't gain you enough to be worth the penalty. If you put a knockout effect on a called shot to the head, it will take a huge penalty to offset the potential gain of removing any combattant from a fight regardless of hit points. By the same token, if the penalty is is too great, no one will EVER use called shots. And then they get forgotten. As is the case with anything situational.
So, if you want more dismemberment in your game, you have a find a way to build in a called shot system that adds only a small amount of complexity, that is only situationally useful, and, for best effect, is easy to apply on the fly. After all, the called shot system is mostly only there to allow you to hang other game effects off of it.
The Angry GM's Basic Called Shot System
So, there's a really simple way in D&D 5E to throw a painful penalty on a thing: disadvantage. So many systems COULD hang off disdvantage, it's a wonder that it isn't used more often. You could gather lots of simple conditions and attack options into disadvantage. Basically, if you want to use an attack to have an effect OTHER THAN injury (tripping, disarming, stunning, whatever), just let the attacker make an attack roll with disadvantage. If successful, they forgo damage and do the stunt. Obviously, the GM will have to weigh the possibilities carefully and make some judgment calls, but it would make things a lot easier. But I digress.
Here's the deal. Whenever a creature makes a melee or ranged attack against a target or creature, the attacker can choose to target a specific part of the creature or target by taking disadvantage on the attack roll. If the attack succeeds, the target is struck in the specific location. In general, this has no extra effect. If it's a damaging attack, it does damage. If the attack inflicts a condition or has some other effect, the condition or effect affects the target normally. Hitting an orc in the head is no different than hitting the orc anywhere else. The damage roll will determine whether you grazed an ear or blew his head off. End of story.
Now, the attack roll can be a weapon or spell attack roll, but it must be an attack roll. Spells that use saving throws to resolve their effects don't count. And there's a few reasons for that. First, it discounts area effects. An area effect, by definition, can't target specific locations because the effect is spread out over a large area. Second, it discounts most non-damaging spell effects, which you probably wouldn't bother to target specific locations with anyway. Third, it keeps the rule simple by imposing disadvantage on the attack roll (rather than advantage on a saving throw or something else). Fourth, it makes a certain logical sense that only attacks that rely on an attacker's precision (as evidenced by an attack roll) can be so precisely targeted. If a spell doesn't require an attack roll, then it isn't really aimed. It is a bigger effect that just has to get close enough. Fifth, it discounts attacks that don't get attack rolls (like magic missile) which would circumvent the penalty.
Damage done to a specific location is damage done to a creature. That much is obvious. But with that basic rule in place, we can then start to extend it.
Detachable Members (Not a Reference to the 1992 King Missile Song)
Now, the thing is, that called shot mechanic isn't useful at all. After all, it does nothing. It's merely decorative. "You can take a penalty to shoot an orc in the head and gain the same effect as shooting the orc anywhere else." Woo hoo! The point was just to build a mechanic to hang other mechanics off of. Kind of like putting a hook on the wall. The hook isn't very interesting, but the picture you hang there can be very cool. And, in the end, while I will use the general form of the called shot mechanic in MY game, I'm not going to assume anyone else will. So, just like with all that Paragon Monster crap I've been doing for D&D, I ultimately want the called shot mechanic to be entirely contained within the monster stat block. But the called shot mechanic isn't worthy of an entry in a stat block unless it is doing something cool. So let's talk about some cool things it might do.
Humanoids and most normal beasts pretty much need all their parts. And they die pretty quickly once you cut off a part. That is, once you've done enough damage in a battlefield situation to get a leg off an orc, the orc is probably incapacitated from blood loss and shock. So we really don't need to worry about that sort of thing. But its easy to imagine some fantasy creatures that can have severely damaged or broken bits that keep on fighting. Like tentacled monsters that can lose tentacles. Or arthropods that can lose a claw here or a stinger there and still keep on going. Or any winged monstrosity whose wings are damaged enough to keep it from flying. And we can imagine things on the stat block that are keyed to certain parts of the body. For example, break something's wings and it loses it's fly speed. Cut the stinger from a giant scorpion or a wyvern, you can take away it's deadly poison attack. These strategies can be extremely useful.
So, imagine if you could assign hit points to certain body parts AND connect stats and abilities to certain body parts. The giant scorpion's tail has a specific number of hit points and, when it is "killed," it can't use it's sting attack anymore. Right? Each of the kraken's tentacles have a certain number of hit points, and it can attack with each tentacle every turn. If you "kill" a tentacle, you reduce it's attacks.
Now, in order for those strategies to be viable, they can't be too much of a tradeoff against simply killing the creature. Otherwise, most players won't bother. After all, you're already asking them to reduce their damage output by taking disadvantage. So, you have the body part hit points spill over. That is, when a body part takes damage, the creature also takes the same amount of damage. And when the creature heals, it can apply the same amount of healing to one of its body parts.
Let's look at a specific example to see how this all comes together.
In Final Fantasy II(IV), the heroes, at one point, pass through a network of flooded caves called The Watery Pass. At the end, they encounter a thing that called Octomamm. It was called that because monster names could only be eight characters long and it was supposed to be the octomammoth. It is NOT Octomom. The octomammoth was basically a huge, tentacled squid/octopus thing. As you fought it, it lost limbs. And eventually it died.
How might this play out in D&D? Imagine a giant cave octopus. The party comes to some narrow shore or ledge that forces them close to the water's edge. The octopus rears out and starts whacking at the party with tentacles, maybe even grabbing them and dragging them into the water. The tentacles have a long reach, so the body of the creature is in the water proper. But it also has a beak so it can constrict and crunch and drown anyone it gets into its tentacles. Each tentacle has its own pool of hit points. When you deal enough damage to the tentacle, it gets cut off. But every hit point of damage you do to a tentacle also hurts the creature itself. In this case, if you cut off all of its tentacles, it is going to die. A creature can't handle that sort of dismemberment.
Before we look at the monster's stat block, let's look at the general form for having multiple bodily parts:
Multipart Monstrosity. [[Creature]] has one or more body parts, each of which has its own pool of hit points, as shown in the hit points entry above. When a creature makes a melee or ranged attack against [[creature]], that creature may choose to target a specific body part by suffering disadvantage on the attack roll. When a body part suffers damage, [[creature]] suffers the same amount of damage. Conditions and effects inflicted on the body part apply to the whole creature unless the body part is immune to such conditions. When a body part is reduced to 0 hit points, that body part is destroyed. If [[creature]] receives any healing, it may choose to heal one of its body parts by the same amount provided that body part has not been destroyed.
The body part has all of the traits and statistics of [[creature]] except where noted.
Certain traits, statistics, and actions are keyed to certain body parts. If a body part is destroyed, [[creature]] no longer has access to those traits, statistics, or actions.
That pretty much encompasses all of the specific hit location rules we've discussed. Now, let me show you The octomammoth.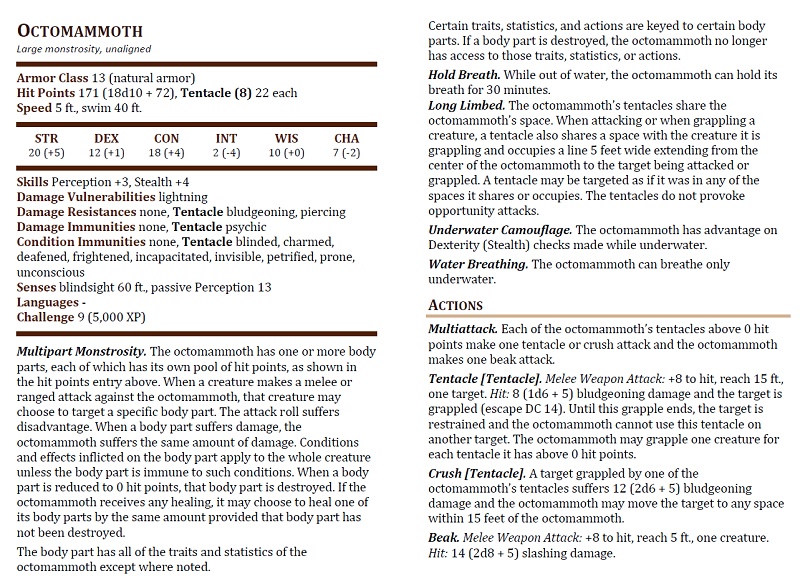 You can pretty much see how it works. The one thing you will note is that I elected NOT to have each tentacle have it's own space. I could have done so with a simple trait, but I didn't feel like that added much over just having it share spaces with The octomammoth and stretch between The octomammoth and any grappled targets.
For those of you who actually want to USE octomammoth, I'm going to actually give you a map because I drew one up for funsies. Basically, it's am underground cave ford. A deep water lake with a path of shallow water and small islands through the middle. You can assume there are passages under the water to allow octomammoth to get to either side of the ford and also passages into a deeper underwater cave network or something. Have fun.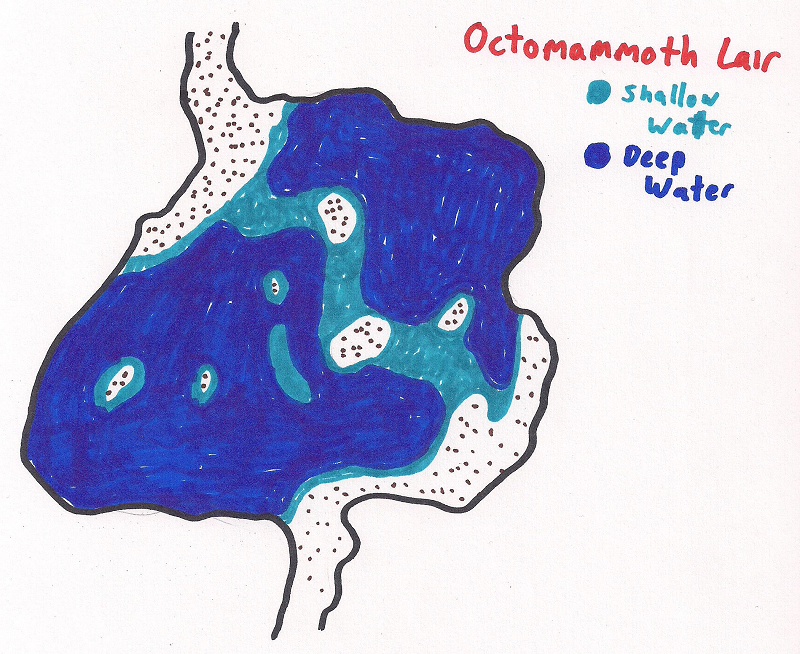 Also notice that The octomammoth is designed so that you can kill it by cutting off all of its limbs. As you'll see below, it doesn't ALWAYS have to be that way.
A Paragon of Dismemberment
Now, some of you might notice that The octomammoth is NOT a paragon monster. There's really nothing about the Multipart Monstrosity rules that requires hit point pools. I actually WAS going to make the multipart system a part of the Paragon system, but I didn't for two reasons. First of all, there is nothing about having detachable members that really messes with the difficulty or action economy. I mean, in theory, octomammoth's damage output does go down as you cut off limbs, but it's effective HP increases because each attack against octomammoth's limbs involves disadvantage AND multiple resistances. So, the two factors sort of balance out. But let's have some fun with a paragon multipart monstrosity, shall we?
A manticore is a pain in the a$& for low- to mid-level parties. If you haven't checked out the manticore yet, let me lay out it out for you. The manticore is not the half-lion, half-scorpion creature of myth anymore. Now, it's a winged lion with tail that launches a volley of spikes. The thing is a pain in the a$& for a low- to mid-level party because it can fly and it has a ranged attack, meaning it can easily stay out of reach in the right arena. And honestly, those are two tactics that a lot of parties would probably LOVE to take away. And since both of those abilities are tied to specific body parts (wings and a tail), it's a perfect candidate for dismemberment.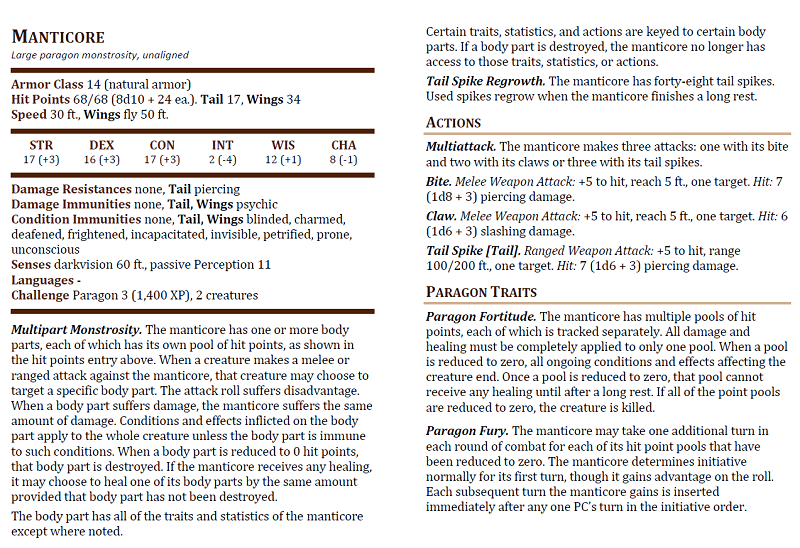 I probably don't need to discuss how I built the manticore. Honestly, I did it the quick and dirty way: I crammed two manticores (MM 213) into one body. Generally, I don't advise using the paragon rules just to "double" a monster. Paragon rules work best when there's a gimmick. But the dismemberment thing provides a good gimmick anyway. As a side note, this is one of the first dismemberable monsters I ever used in my home game. The PCs loved it. I'm going to share the arena too. Here.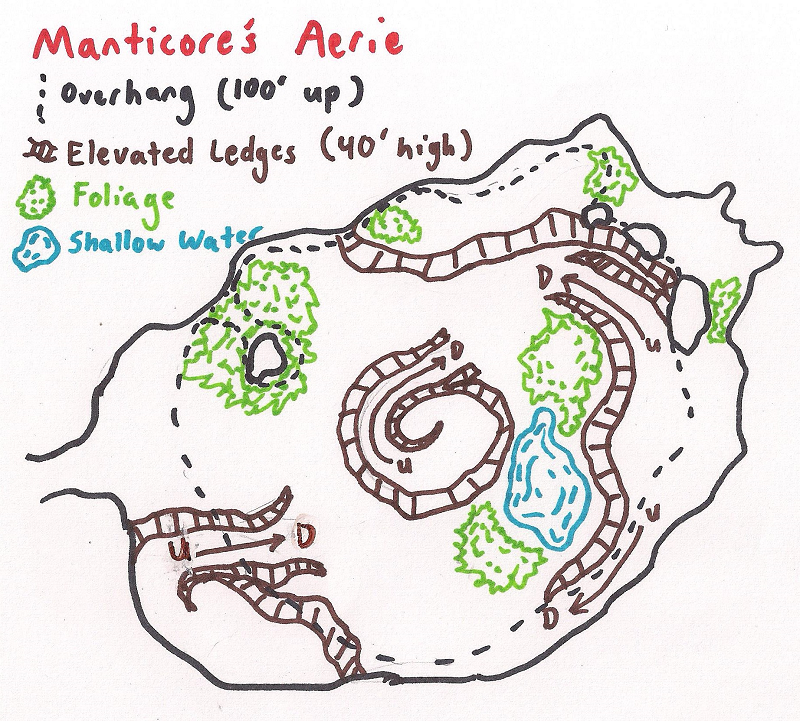 The party was trying to retrieve a manticore egg. So, they basically had to fight and kill the manticore. The aerie presented a tricky situation. The manticore could fly from elevation to elevation and launch spikes with impunity. Melee characters had to chase the manticore from ledge to ledge, which was especially difficult when it roosted on the northern ledge. Hence why taking away its wings and tail were such useful tactics.
Anyway, notice the Paragon rules and the Multipart Monstrosity rules don't get in each others' ways at all. If a body part gets damaged, apply the damage, then apply the same damage to the creature. If the damage is enough to "kill" a Paragon hit point pool, treat it like any other damage (remove conditions, ignore spillover to the next pool). It's as easy as that.
Member Hit Points
The octomammoth and the manticore show two different methods of dealing with hit point pools for members. The octomammoth is a creature that you can literally pull apart. If all the components die, the creature itself is dead. To accomplish that, I just divided the number of hit points by the number of components and rounded up. Easy peasy.
But, for the manticore, that approach doesn't make sense. You should be able to break its wings and destroy its tail and still leave the creature with a dangerous amount of fight in it. In those cases, I assume that large bodily parts have one quarter the hit points as the creature itself and small bodily parts have one eighth the hit points of the creature itself. If you break the manticore's wings, it's still got three quarters of a fight in it. If you remove it's tail, its still got seven eighths. Get rid of both and that's some sort of irregular fraction I'm not fit to calculate. Actually, it's five eighths. That's easy. And that rule works for me. It's especially good to keep in mind because…
Dismembering Things on the Fly
Here's the thing: once you teach your players that they can chop the wings off of flying things, remove stingers, and do other horrible things, they are going to want to do that sort of thing more often. It will become a viable tactic. And that's good. You want them to be creative. But that means you have to be ready to pull off ad hoc dismemberment. But it's actually pretty easy to do.
Suppose the party is fighting a winged devil. And someone suddenly decides to clip its wings. The basic rule is easy enough: apply disadvantage to the attack roll. And the effect is easy enough: it loses its fly speed. The only tricky thing is the hit points. And in that case, you can either use the "hit points divided by components" rule for something that is all body parts OR the "one quarter/one eighth" rule for something whose body parts can be broken off without killing it.
You can also rule resistances and immunities on the fly. You'll notice that tentacles (in my mind) need slashing weapons to dismember. Limbs are not subject to pyschic damage because limbs don't have psyches. And so on. In point of fact, if you use this system a lot, you really don't need to build it into the stat blocks at all. Manticore dismemberment becomes just one of those things you can just sort of do in your head. And then you only need to fill out the stat blocks for something extra special.
Want the octomammoth and manticore stat blocks in PDF format? Just click this link thing!