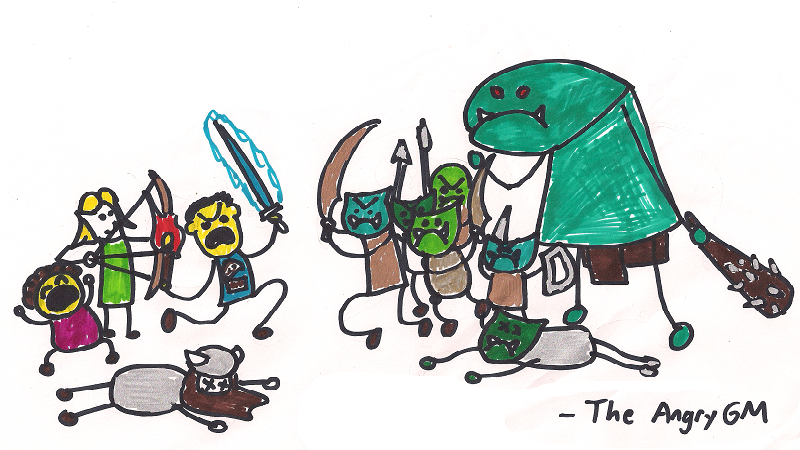 Quick Note: Big Jon Mosley, who does all the art for TheAngryGM.com (this site, you yutz) had a family emergency. Everyone will be all right, thankfully. And obviously, we here at TheAngryGM.com (me and Puddles, my stuffed Murloc) are wishing him and his family all the best. But he wasn't able to get me art for this week's article. Fortunately, I'm pretty handy with a Sharpie pen. So I did my own. I'm really sorry about that. He'll be back. I swear. 
You know what's absolutely awesome? Hacking through waves of minor baddies! Blowing up a group of skeletons with a single fireball! Defending a bunch of midgets and their jewlery from two dozen orcs in at the Battle of the Bridge of Khazad Moria Balrog whatever! Remember Dungeons & Dragons 4th Edition? 4E had those neat rules for minions, right? If you don't remember, minions were minor foes that weren't much of a threat individually. You dropped them into battles in gangs of four of five and every little gang was about the same level of threat as one monster. It was a neat idea. And I liked it a lot. And I think minions worked much better than Elite and Solo monsters did. But there were a couple of problems.
First of all, a minion only had 1 HP. Any hit killed them. And that made it easy for the GM to track the little blighters. I totally understand that. But there were rarely DOZENS of them on the battlefield. There were usually only a few. And the problem was they were so easy to mow down they were nothing more than speedbumps. If the party won initiative, they could get rid of most or all of the minions before they even had a chance to do anything. And while that's cool and all, you sort of wanted them to do SOMETHING before they all died.
On top of that, they f$&%ed with our old friend: action economy. Yes, that thing. That thing that says how many actions a thing should be able to take every round. Because that's an important thing. See, if you wanted to fill Helmgiliath with Uruks or whatever, you would use four or five groups of minions, twenty to twenty-five of the suckers. And that meant a lot of actions to take. A lot of moving pieces.
Does any of this sound familiar? Because it should sound like the crap we thought through when we decided we wanted cooler boss monsters. Only backwards. Hit points and action economy were all f$&%ed up. And ultimately, that lead us to the Two Headed, Two Tailed, Bifurcated Snake and the idea that a monster was made up of three elements: a pile of the right number of actions, a number of rounds of survival as determined by hit points, and the actual statistics and how effective it was. So, if you had two identical monsters with double the hit points and two turns, it didn't matter if they were really two monsters or just one. You could cram them into one space and be done with it.
So, the question is, can you go the other way? Can you take one monster and smear it out over four spaces? As long as it survives for the right number of rounds and as long as it has the right number of actions? What IS the difference between one snake and two snakes?
Press B to Skip
Okay, look, I know tend to go on for a long, LONG time when I start talking mechanics. Like, thousands of words long. But I'm not going to apologize. I mean, any a$&hole can s$%& out a new rule or system. That part's easy. But thinking through it and polishing it and making sure it makes logical sense? That's the tough stuff. And I'd be a pretty s$&%y "world's smartest GM" if I just put a new system up here and said "here's my new rule, use it." But SOME PEOPLE just want to steal my crap and throw it into their game. They don't care about the thought process.
Look, if you're one of those people who just wants to steal a good idea and shove your own characters onto it like Steve Jackson twisting out another Munchkin supplement, fine. I can't stop you. Feel free to click here to skip to the part where you get some stat blocks and explanations. But if you're one of the good, smart people who I don't hate, you can keep reading from here and I'll explain why this whole thing works and how it's needed.
Monster Flux Capacities
I'm going to reveal a secret. I loved encounter building in 4E. People complained it was very video-gamey, but that's what I loved about it. Good video combats are fun and exciting things. They are worth playing of their own accord. I know it's sort of de rigueur now to hate combat, to view it as the opposite of story, and to avoid it. But that's kind of stupid. Combat is not the opposite of story. And a well-designed combat (as every good combat should be) tells a story and includes tense, difficult decisions.
But 4E rubbed me the wrong way in a lot of ways. There were some fundamental problems that 4E and I just could not work through. It wasn't her, it was me. Well, it was me in that I didn't like all of her terrible, odious habits. Which is really my fault, right?
Anyway, after I did the boss monster thing for 4E way back when I was just a little bitty Angry Blogling, I thought about the minion issue. And while I was hanging a framed print of a red dragon, I slipped off the toilet and hit my head. When I came to, I wrote down the vision I had had. I saw a brilliant way to take any normal monster in the monster manual and to scale it up to a boss or even a bigger boss. Or to scale it down to a minion. The idea was simple. A battle started with a number of "slots" for monsters, right? So, you might have 3 level 5 skirmishers, a level 4 soldier, and a level 6 leader. Right? That's normal D&D 4E encounter building. But you didn't always have to put one monster in the slot. So, for example, you could put a level 5 whirling troll dervish into those 3 level 5 skirmisher slots. You just gave it three turns in the initiative order and tripled its hit points. Done and done. That way, you didn't need any special monsters in the monster manual. Just rules for scaling them to match the HP and action economy.
And it worked the other way too. That level 4 soldier could be four level 4 stubby goblin shieldlings. Each one got a quarter of the HP and they would have to share a turn between them. One could move and another could attack. Or they could both move half as much. If they had triggered actions, only one could do that each round. And so on. The idea was similar to those wargames where you go back and forth activating one unit at a time. You have have a number of "activations" and can activate any unit in your pool.
And it actually worked out pretty well, though it had a tendency to create monsters that fought ninja style (one runs up and attacks and then another one runs up and attacks). But as the PCs cut through them, they kept coming. It worked out really well.
But I quit 4E and then it died. So it never saw the light of day. Until now, when it doesn't matter anymore. You're welcome.
Why Even Minion?
So, why does 5E even need minions? 4E was very strict about how many monsters you could throw into a combat. You needed the minions because there was no good way to scale a combat to include many weak monsters. It just didn't work so well the way that system was designed. And, in theory, 5E can handle that much better, right? After all, 5E even tells you exactly how having 20 weak monsters changes the difficulty and XP calculations. On the surface, that seems pretty cool. But let's check those numbers.
Let's start with the weakest monster that is still a viable threat to anyone. Challenge 1/8, 25 XP. If you throw 20 of them at a party, what are you looking at? Well, 20 x 25 is 500. Then, we have to multiply by 4 because that's what you do when you have more than 15 creatures. So, even though that's 500 XP, it's worth 2,000 XP worth of difficulty. Which means that's a challenge for a 5th level party of 4 PCs. And while that's cool and all, there's a nasty little hidden problem. They are going to use the same resources in that fight that they would use against a single challenge 5 monster. But when they win against the challenge 5 monster, they earn 1,800 XP. When they they beat the army of 20 mooks, they earn only 500 XP. And that's assuming WotC's math actually works (on average) as advertised. And all signs point to the fact that it doesn't.
I'm honestly not really a fan of the phantom XP that gets lost as you move from one critter to more than one. Because, in my view, most combats are more interesting if there are multiple opponents. But the more you do that, the more phantom XP gets lost and the more it throws off the pace that comes from a nice, well-designed adventuring day. Again, I realize some people out there don't care, but those people shouldn't be playing D&D. Or, at least, they should shut up and let ME play it right.
And the problem gets worse and worse as the levels climb. 20 challenge 1 creatures is 4,000 XP worth of XP and 16,000 XP worth of challenge. That makes it a 14th level (hard to deadly) encounter, by the by, and leaves 12,000 XP on the table. Which means the party is missing out on a lot of XP given the resources they could potentially expend assuming the math is right.
On top of that, while the bounded accuracy system in D&D 5E helps keep week monsters more relevant in terms of being able to hit, damage output and hit points don't scale at the same rate. In point of fact, damage output is primarily where advancement gets recognized within the system. So I suspect if you actually put a squad of 20 challenge 1 mooks against the party, the damage is going to come up short before you even factor in the difference in accuracy.
Truth is? It's unpredictable. Maybe those two factors balance out. Who knows? Maybe it is so carefully balanced that the reduced damage and accuracy of such low level creatures makes up for all of the lost XP by ensuring the PCs will spend only the right number of resources for the XP they actually earn. I could sit and run the numbers, but I don't want to. Because I actually don't have a lot of faith in that level balance. And, politeness forbids me from saying why. And by politeness, I mean an NDA I had to sign one time.
Of Minions and Hit Points
Now, other games have come out with minion rules or mook rules. Whatever you want to call them. Fantasy Flight Game's introduced them in the forgotten Warhammer Fantasy Roleplaying Game they released and then, like everything else in WFRPG, rereleased them with Star Wars painted over them. Yeah, that's right. A good deal of the mechanics in the various FFG Star Wars products were tested in WFRPG. A game I really liked.
Under their minion rules, the minions act as a group and get bonuses for the number of minions still standing. And they sort of smoosh all of their hit points into a pool. So even though a minion might have 5 hit points, if you do 15 points of damage, you kill three minions. And they can get away with that s$&% because they are all abstract and narrative and stuff. And I've seen people try to carry that system over to D&D. But everything in D&D is a lot more precise. Even if you run the game gridless (which you can't really do, even though they say you can because all you're doing is imagining the grid), the mechanics are very focussed on individual creatures as individual targets and their own hit points. With a spot on the grid.
In point of fact, you could argue that even by f$&%ing with the action economy the way I have, I'm breaking D&D. Eh. Maybe. I feel like it's bending the system more than breaking it. And I feel the nebulous pool of interconnected hit points for multiple creatures is over the line. It's breaking it. I don't know why. I just do. And I'm right. So there.
The question of hit points though is a complicated one. Personally, I don't like the pool thing. I don't like the idea of an attack that shoots straight through one minion and kills another too, no matter what their relative positions happen to be. I have no problem with that level of abstraction, I just have a problem with it in a game that is otherwise very much based on precision.
But then, there's the 4E approach. If we're going to break a monster into some number of mooks, do we divvy up the hit points or just assume that any hit that deals damage is a kill shot. Honestly, the 1 HP minion isn't terrible. But it does have a few issues. First of all, as I noted, it does make the minions extremely delicate, especially in terms of spells and attacks that do damage even when the target saves successfully. Of course, those cost resources. But those resources can be worth it if they allow the party to eliminate multiple minions in one shot. For example, if you break a creature with 140 HP down into four minions, you're turning that creature into a 4 HP creature. A fireball spell against a 140 HP creature (a Challenge 5 creature, exactly the level fireball appears) deals a maximum of 28 damage or 14 on a successful save, 10% to 20% of the creature's hit points. If it hits even two of the four minions, it is guaranteed to remove 50% of the creature's hit points, regardless of the roll. And if it catches all four, it's an instant kill. Considering that breaking the creature into four minions SHOULD maintain the same level of overall output (or else, why are we even bothering), that means that the fireball is actually almost always worth it against any group of minions. Area spells become so much more effective against 1 HP minions that anyone who crunches the numbers will realize that expending the resources is a no-brainer.
But I do understand that many other spells end up being much less effective against minions. Anything that imposes a condition is one quarter as effective if a creature gets broken into four minions. So, perhaps that's a good trade off? After all, if our world includes both Paragon Monsters and Minion Monsters, suddenly the choice of effects against particular foes becomes more complicated. And there IS the bookkeeping issue, right? After all, if I break one monster into four, I've got four times as many hit points to track.
One of the solutions that came out during the 4E era was to create two-hit minions. Every minion could take two hits that caused damage. The second time you dealt damage to a minion, you always dropped it. Now, that's cool and all, but once again we get into this nebulous area of "not really fitting in with D&D." And that may seem like a strange argument to make over a game mechanic. But remember every new mechanic you introduce or invent has to work alongside all of the other mechanics in the game. And literally everything that causes injury interacts with the hit point system. So, when you create something that sweeps the hit point system aside, you run the risk of weird, unpredictable interactions with rules you didn't expect. A simple one might be "if you have a two hit minion and it gains resistance to fire, what happens when it gets hit by a firebolt?" Or "if the minion gains vulnerability to fire, what happens?"
On top of that, my general approach is to treat everything I do as if it's being published. I mean, technically it is. This f$&%ing blog IS a publication. And I intend for people to use this s$&%. Otherwise, why am I writing it all down? So, I have to think about how to make the rules as easy to insert into the game as possible. That's why almost all of my Paragon rules are contained in the stat block. The only oddity is the Challenge/XP bit and that's because I simply could not come up with a way to incorporate that into WotC's system any better.
So, people know how hit points work. The system assumes hit points. I don't have to write a whole bunch of new rules if we use hit points. So, hit points simply get divvied up between the members of the minion group.
But, I'll let you in on a secret. I ran the numbers (because WotC is really not great about sharing the secrets about their numbers sometimes). If you assume the players are as conservative as possible and use only regular, repeatable attacks, a lone monster in D&D should survive for 4 to 6 rounds. That means, if you want to avoid tracking hit points and simply assume 1 hit kills or 2 hit kills, my minion system will work just fine. Go ahead, ignore the hit points, and do it that way.
Ultimately, after looking at those numbers, I decided that a group of minions contains four creatures.
Actions, Attacks, and Multiattacks
As for the action economy, there really isn't much to say. Again, we're talking about breaking a creature into a smaller units, but they still share one pool of actions. And it should be pretty obvious how that works. When the group's turn comes up in combat (because it is one creature with one turn), it can "activate" any of its members. And when any of the members becomes eligible for a reaction or triggered action, it can take it, provided the group only gets one reaction between turns.
Yeah, it's a little abstract, but no worse than anything else I've done. But there are a few other things to consider. First of all, movement is an issue. I am not a fan of static fights. I don't like the idea of some number of creatures just gormlessly standing around. So I toyed with the idea of allowing all of the members of a group to move at the same time. But that allows a group of minions to dominate the battlefield a little too much. Ultimately, I realized I could just let the minions divvy up the speed them. If four minions have a speed of 30 feet, one could move 30 feet, or two could move 15 feet each, or three could move 10 feet each or all four could move 5 feet and then two more could move another five feet.
Second of all, although you want to ensure the damage output of the four minions is roughly equal to the damage of the single creature they are replacing, you also want to be able to crank out multiple attacks. Fortunately, D&D 5E has already solved this particular problem. If you look at many of the creatures in the Monster Manual, especially those who use weapons, their damage output for a single attack falls well short of the expected damage as listed on DMG 274. And the solution is to just give every f$&%ing creature multiattack. I s$&% you not. That's what they did.
Well, I'm not one to ignore it when someone else solves a problem for me. If it's good enough for every other monster in the book, it's good enough for my minions. Basically, if you give the minion group multiattack and ensure the damage output for the multiple attacks falls in the proper range, you can allow multiple minions to attack on a turn without wrecking the action economy. At very low levels, you can't quite manage enough to let four minions take a swing (as you'll see).
And finally, there's the issue of special actions and bonus actions. Some creatures get to do things as a bonus action. Look below and you'll see my goblin minions have exactly one of those abilities. And each time you see one of those, you've got to decide whether it is something the whole group should be able to do at once or not. In the case of the goblins, I decided it was. The main determining factor is that I want the minions to be able to work together. To move together and fight together. They CAN separate if they want to. But I want them to have the option to cooperate.
Naming Conventions and Multiple Many Monsters
The last thing I need to call attention to is a streamlining issue. See, I wanted to make it possible to build a fight with 15-20 monsters without breaking the system. And, as noted, the system can't handle it. Not the way it's designed. But if each monster is four monsters, then I'm technically building fights with four to five monsters, right? I can have my twenty zombie horde just by breaking five zombies into four minions each. Simple. Except…
Okay, so each group of minions consists of four members. And those four members share one set of actions. If there's five groups of minions, that's five turns in combat and five sets of actions each of which can be shared by one quarter of the twenty total monsters. So, on any given turn, one quarter of the monsters are eligible to activate. And, as a GM, you have to keep track of which.
Holy mother of f$&.
Or do you? Does it even really matter? If you build the fight with five groups of four, does it matter if goblin 3A activates when really, it was group C's turn? As long as the action economy works out the same and the stats are identical, mechanically, the game doesn't care.
So, even though, for statistic purposes, a group of minions is four minions, you can put several groups side by side and just activate any ones you want as long as you never exceed the total number of actions that you should have.
And that brings me around to the naming convention. In order to keep everything as clear as possible, I need a way to refer to the entire group of monsters, and individual monster members of the group, and those references need to be unique. So, if I have a bunch of goblin minions, I can't call them "goblins" because they might be in a fight next to a goblin that ISN'T a minion. Like a goblin warchief or just a normal goblin from the Monster Manual.
Thus, minion monsters as always named "[[Collective]] of [[Species]] [[Descriptive Noun]]." For example, a Gang of Goblin Minions. Or a Horde of Zombie Shamblers. Or a Squad of Hobgoblin Soldiers. Just to keep it clean.
How to Minion
Building a group of minions is easy. You can either take a monster right out of the Monster Manual and break it into minions or you can build a monster from scratch and break it into minions. Or, you can do what I did in these cases and start with a monster from the Monster Manual, make a few tweaks to make it work better as minions, and then break it into minions.
In point of fact, all you have to is make note that each member of the minion collective has one quarter of the monster's total hit points and then add the "Minion Trait."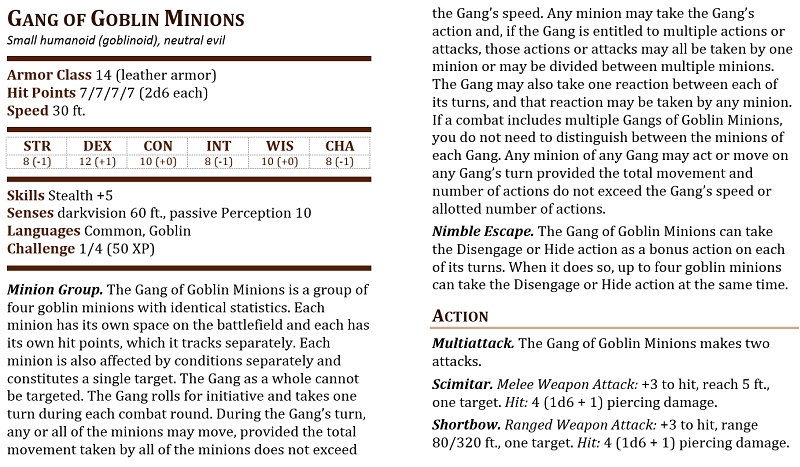 For hit points, I confess I recalculated things. I went to my trusty DMG 274 and figured out the hit points for the challenge I was targeting, divided it by four, and then turned that into a dice range. So, for the Gang of Goblin Minions, I was targeting a defensive challenge of 1/8, so their total hit points could run the range from 7-35. I chose 28, which meant I needed 7 hit points per minion. That's 2d6 (3.5 x 2) with no Con modifier. Which, incidentally, helped me set the Con modifier.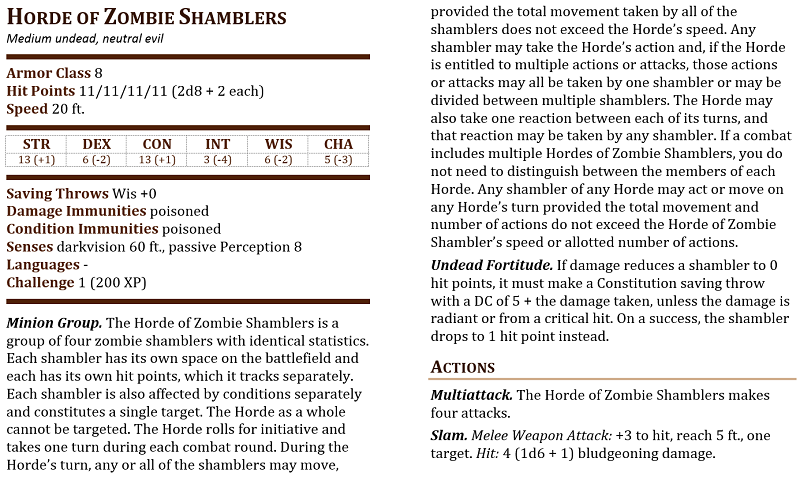 Given that the Horde of Zombies was going to have a high damage output (I wanted them to hit hard) and their AC was going to suck (they're zombies), I was able to push their hit points up to 44, which meant 11 each. Medium creatures use d8 for hit dice, so that's 2d8 + 2. Same calculation for the Hobgoblins.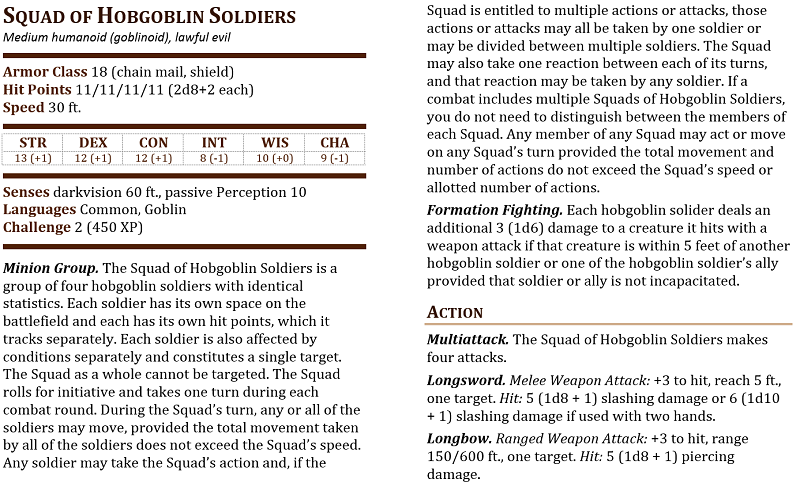 All three creatures, however, have multiattack. And the multiattack is based purely on dividing the right damage output per round among four attacks. In the case of the goblins, I wanted to keep their challenge low and I just couldn't squeeze four attacks worth of damage in there. But the Horde and the Gang both have four attacks per round and the damage output is still within the range of their challenge.
As for special abilities, two of them required special consideration. Hobgoblins, as a rule, have Martial Advantage (MM 186). I didn't want to take that away, but that "once per turn" limitation was a pain in the a$& when dealing with a creature that can attack four times per turn and that is also four different creatures. Ultimately, I scaled down the damage, removed that limitation, and assumed that they would ALWAYS have that bonus damage. I calculated the offensive CR accordingly. In addition, I also had to change the wording a little so there would be no argument about whether the hobgoblin soldiers can give each other bonus damage. Are they, in fact, their own allies considering they are one creature. This gave me flashbacks to many arguments in 4E.
The goblin bonus action power would have lost a lot of its bite if only one goblin minion could do it. After all, when the goblin is one creature, it can completely disengage or completely hide. There's no "well, it one-quarter disengages." So, in order to maintain that functionality, I had to let the group take the bonus action as a group. Likewise, that let's the group slowly sneak together. Notice, also, I specifically noted that up to four goblin minions could take the action. That's because, remember, I wanted it to be unnecessary to distinguish between members of different groups if you put multiple identical minion monsters together. Any four goblin minions on the battlefield can take the bonus action.
Finally, all I had to do to finish was add the trait I wrote. And I won't go into much detail about it, because it pretty much just encapsulates everything I've already said and translates it into rulebook leaglese. Here's the template for it. Notice my use of variables so you can easily copy/paste it for different monsters.
Minion Group. The [[creature group]] is a group of four [[members]] with identical statistics. Each [[member]] has its own space on the battlefield and each has its own hit points, which it tracks separately. Each [[member]] is also affected by conditions separately and constitutes a single target. The [[creature group]] as a whole cannot be targeted. The [[creature group]] rolls for initiative and takes one turn during each combat round. During the [[creature group's]] turn, any or all of the [[members]] may move, provided the total movement taken by all of the [[members]] does not exceed the [[creature group's]] speed. Any [[member]] may take the [[creature group's]] action and, if the [[creature group]] is entitled to multiple actions or attacks, those actions or attacks may all be taken by one [[member]] or may be divided between multiple [[members]]. The [[creature group]] may also take one reaction between each of its turns, and that reaction may be taken by any [[member]]. If a combat includes multiple [[creature groups]], you do not need to distinguish between the members of each [[creature group]]. Any member of any [[creature group]] may act or move on any [[creature group's]] turn provided the total movement and number of actions do not exceed the [[creature group's]] speed or allotted number of actions.
And that's it. Building minions is far easier than figuring out the system. You can pretty much turn anything in the game into a minion.
Telling Your Players
Oh… one last thing. There was this big, stupid argument in D&D 4E about whether you tell your players that monsters are minions or not. Even though 4E was really, REALLY explicit about giving your players all of the information they needed to make good decisions. And, if you've been reading my s$&% for a long time, you probably already know where I'm going to fall on this. But let me be clear.
Do you tell your players that the creatures they are facing are minions? Eh.
Yeah. Honestly, eh. I mean, in 4E it was a big deal because any hit was a kill and you didn't want them to waste a daily power on a single mook. But here, unless you decide to do the one or two hit minions, it probably doesn't matter so much. I mean, I'm ALWAYS descriptive about the monsters the PCs face. Because I don't suck at running games. So, I would point out that minions have minimal training or crappy equipment or whatever. But I don't think it's as big a deal now as it was then. Still, I do firmly support telling the players that you're using new rules and letting them know what those rules are. So, you should do that.
But, look, I promise I won't tell you what to do about this if you promise not to go down into my comment section and s$&% the word "metagaming" all over it, okay? I'm really, really tired of addressing that meaningless verbal game-mastering diarrhea. So, maybe, just this once, we can NOT bring it up? Cool?