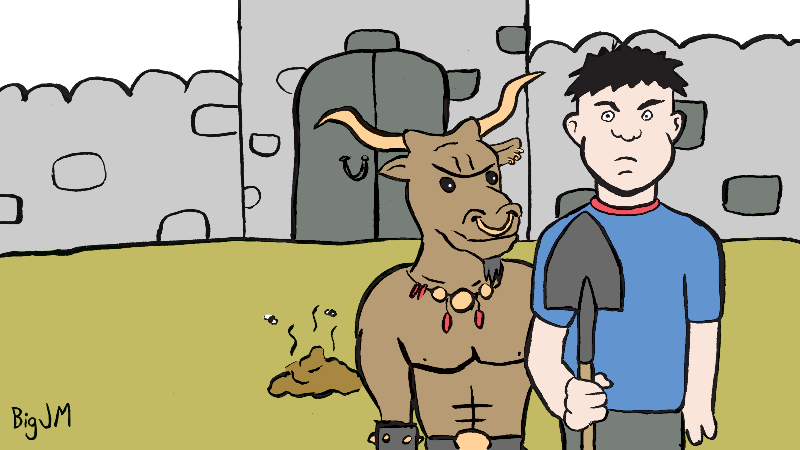 Last month, my ranty, pointless, rambling, pontificating BS article was about action adjudication in D&D and Pathfinder and how those games have this pretty good system for very easy action adjudication at their heart: the ability check, AKA the Core Mechanic, AKA the d20 System. But it was also about how that nice, elegant rule got buried in all sorts of crap so it's hard to see clearly and how many of the GMs I talk to have a sort of "skill check first" mentality when adjudicating actions which makes it harder for them to figure out how to handle anything not specifically defined in the books. Which is a problem because (a) handling things not spelled out in excruciating detail is precisely what RPGs have to do in order to open the open-ended, do-anything gameplay that makes them a better choice than a video game or board game, and (b) because the GMs and the books both therefore train the players to not think outside their skill lists. Remember that? If not, go back and check it out. It was very good. And it also really broke a few brains, based on the comments. Which just goes to show how serious the problem actually is. Hell, it took a lot of discussion before anyone recognized that the things I was saying weren't house rules, but part of the core approach of the game that was actually written in the rulebooks and then buried or overlooked. WHICH IS EXACTLY WHAT I FREAKING SAID!
ANYWAY…
At the end of that article, I admitted that the article I'd written wasn't the article I sat down to write. Originally, I wanted to rant and rave about ability scores in D&D. Because the other issue with the beautiful, elegant, universal core mechanic underlying the d20 System is that its' bogged down by a really crappy set of ability scores that no one seems to be able to think past. And that's a frustration I've been dealing with for a while. Well, thinking past.
Funny thing is that I was actually pretty happy that the article I'd originally intended to write – ranting about ability scores and how I'd do them better if I were writing an RPG – I was happy that article got swallowed up by something that provided what I thought was actually useful advice. So much so that I didn't even classify that article as a BS article. I made it part of my series about becoming a better GM. So, naturally, the consensus from the peanut gallery – that's all of you – was that you really wanted that article. You wanted to hear me talk about how screwed up ability scores are in modern D&D. And how I'd handle things differently if I were making a role-playing game.
Fine. I need an easy article I can crap out without half trying right now. I'll give you all what you want. Let's talk about ability scores in D&D and in everything else and why they need to evolve. And how they should. But first, let's talk about how they've evolved. And how they haven't.
Please Allow Me to Introduce Myself…
Let me start this rant off by being uncharacteristically charitable. The thing is, I ride D&D's design team pretty hard. And Pathfinder's design team. But that's a recent thing. I didn't always. In fact, I used to be pretty damned supportive of what they did. Most of what they did. For example, back in the late 1990s – after I had been playing and running AD&D 2nd Edition for more than a decade – lots of people were pretty nervous about the death of TSR, the acquisition by Wizards of the Coast, and, most importantly, by what they were seeing of this scary, new upcoming 3rd Edition of Dungeons & Dragons. Me? I was very optimistic. I liked what I was seeing. And when the game came out, it was revolutionary. Now, I didn't have the design chops that I have now – says the amateur, armchair game designer who has one minor credit and one dumb book to his name – I didn't understand design then as I understand it now. Now, I recognize just how brilliant, elegant, and revolutionary the D&D 3E was. And how it changed everything about how people play RPGs. It did. Make no mistake. The idea of systematic action adjudication – the idea of a universal set of rules that could be used to consistently and fairly determine the outcome of any action anyone could think of – that idea was BORN with the d20 system.
And keep that in mind. I'm coming back to it. I just want to make another point first.
I was excited about 3rd Edition. I embraced it as soon as it came out and I had a hell of a lot of fun. I ran it the eight years that it was the current edition. And in the context of the history of D&D, I recognize that it was – without a doubt – the strongest, most well-designed edition of D&D. And it remains so to this day. Then, in 2008, along came 4th Edition. Again, I embraced the hell out of it. I was excited about it. I followed every bit of preview material. I bought everything I could for it. And, if not for that excitement pushing me to join a podcast, get ousted from said podcast, and then start a blog out of spite, I would not be doing this today. The Angry GM is a product of D&D's 4th Edition. And not just because of the excitement. Also, because it's the first edition of D&D I really, really hacked the hell out of. And it's the first edition for which I ran numerous public events at game stores and conventions. It was where I really joined the quote-unquote modern gaming community. Which has been a mixed blessing. But I won't talk about that right now.
Now, my love affair with 4th Edition didn't last as long. It was also revolutionary. I think it was almost as revolutionary as 3rd Edition. Yes. I said "almost." As in "it wasn't as drastic a revolution as 3rd Edition." The thing is, though, some of it… just… didn't… work. That's the risk of innovating.
4th Edition was not a failure. I need to be clear on that. No matter how much revisionist history that WotC is trying to push today – and, by the way, that's in their best financial interest – 4E did not fail. It grew the community, it brought new players into the game, and – at conventions and in game stores – it was HUGELY popular. I know. I was running those games. And I saw the rooms 4E filled at gaming conventions. The evidence was everywhere.
But 4E did cause a bleed of experienced players. Unlike when 3E came out, 4E had competition. Oh sure, you could ALWAYS stick with the old edition and refuse the new, but the difference was that, because of the Open Gaming License that allowed anyone to perpetually publish new D&D 3E material and because of a major third-party D&D supporter going rogue and republishing 3E in a new skin, suddenly, sticking with the old edition wasn't just for stubborn grognards who hated change and who were afraid to try new things. And Paizo and Pathfinder took advantage of that to beat WotC at their own game. While WotC was creating a massive new and younger player base, their older player base was migrating to Pathfinder. And that must have made executives at WotC nervous. Because remember, the conventional wisdom is that the only way to gain a substantial new player base is to have experienced players – Older Cousins, as WotC nicknamed them – to teach them the ropes.
Now, I have to admit that I don't know everything that went on behind the scenes. Some of this is conjecture. Some of this is the result of research. Some of this is the result of some people in the know telling me things they probably shouldn't have. You can take it all with as big or small a grain of salt as you want. It doesn't matter to the point I'm making whether you believe me.
The point is that, given that lead-up, 5th Edition was never going to take any major risks. It was never going to push the envelope. It was going to play safe. And I don't think that was a choice the designers made. I'm sure that directive came from other parts of the WotC corporate hierarchy. And I'm also willing to bet that the open playtest thing that led to the design of 5E was also not a decision the designers would have made on their own. It was a marketing ploy. And I know that you will probably never hear a designer who worked on 5E admit any of this crap publicly. Or even admit they may not be happy with the final product. Privately though… well, I can't anything about what anybody might say privately. At least, not without betraying more than one person's trust.
What's my point?
My point is that I ride the design of 5E very hard – and I ride the designers very hard – but I also have to understand how and why 5E turned out the way it did. It's a throwback. It's a de-evolution of D&D back to an earlier age. Or, rather, a divergent evolution. It's like 3E but not quite as 3E as 3E. Maybe 3E simplified and made more approachable. Maybe 2.75E. Whatever. The point is, 5E is saddled with a lot of baggage. There are things it is stuck with. Things that are considered to be an indelible part of D&D. Sacred Cows. And it will be a long time before WotC is ever brave enough to start making hamburger of any sacred cows again. 3E changed a lot and it worked. But they remember 4E. It changed a lot and was ultimately judged a disaster. Rightly or wrongly.
After some really brilliant design innovations, D&D is now stuck firmly in its own past. And that's not the fault of the designers. Mike Mearls and Chris Perkins are very smart and capable designers and developers. As are folks like Robert Schwalb and Rodney Thompson and James Wyatt and Chris Sims. Many of whom no longer work for WotC.
Keep all of that in mind as I say what I'm about to say.
What Are Ability Scores; Where Did They Come From
Now, I didn't spell all of that out just to be nice to WotC's current and former design team. I also spelled that out because, in order to discuss the ability score system in D&D and why it's so freaking screwed up, you have to understand where it came from and what it actually is. So, I'm going to start with a personal anecdote that I'm going to use to illustrate exactly what I mean by "ability scores." Because, yeah, everyone can list the ability scores in D&D and define them. But that's not the same as defining the system itself. Remember, D&D invented this system of adjudicating action by ability score. And we're judging that system. Which is hard to do because gamers tend to assume that ability scores and ability score systems and the six ability scores of D&D are just there. They are real things that have always existed. That's just the way you make a role-playing game. Just like a story has a structure with a beginning, middle, ending, climax, and all that other crap, modern RPGs have ability score systems based on physical and mental capabilities and there's no other way.
So, The Tiny GM is a big fan of Pokeyman. And she was lamenting the fact that there is no tabletop Pokeyman RPG. Not counting the delightfully brilliant and subtly meta-subversive Pokethuhlu. But then, she discovered a fan-made Pokeyman RPG which is totally illegal and unlicensed and you should never, ever go looking for it.
Of course, out of curiosity, I checked it out. And discovered that this particular Pokeyman TTRPG was a d20 derivative and therefore used the standard array of ability scores: Strength, Dexterity, Constitution, Intelligence, Wisdom, and Charisma. And I was extremely disappointed. Because, well, that's an AWFUL decision. It's a stupid way to design a Pokeyman RPG. And I went on a bit of a rant about it for a while, but no one online wanted to listen to me. They couldn't see what the problem was. The trainers in the Pokeyman game are human beings. Human beings have Strength, Dexterity, Constitution, Intelligence, Wisdom, and Charisma. Apart from shuffling the categories a little, how else are you going to describe and define a human being?
And that, right there, is the problem. Well, it's two problems. But one matters and one is minor. The minor one is that people think those six specific words are somehow a complete and logical description of all of the physical and mental capabilities of a human being. That they are, like, the DNA of a character.
The problem that matters is that ability scores aren't descriptive anymore. And that point is why I had to establish all that context about the history of the game.
Once upon a time, a D&D character's ability scores didn't do much. They described the character – how strong, how smart, how healthy, and so on – and they gave a few bonuses to specific actions, but that was it. You never rolled a Strength check to open a door. If you wanted to open a stuck door, you rolled a d6. And if you had a certain Strength score, you got a bonus on that die roll. If you wanted to stab someone, you rolled an attack roll based on your THAC0 and the target's AC. If you had a certain Strength score, you got a bonus. And on and on and on. Mostly, what ability scores did was give you an XP boost if you the right mix of ability scores for your class. Smart wizards and nimble rogues advanced faster along the level track than dumb wizards and clumsy rogues.
Most of the time, the GM didn't even consider your ability scores when evaluating the outcomes of actions. It wasn't really until AD&D 2E that the concept of using the ability score as part of a roll showed up. That was part of the optional Non-Weapon Proficiency system. The problem was that the game had a set of predefined rules for resolving specific things: opening doors, coming back from the dead, saving against dragon breath, finding secret doors, and attacking monsters. But no two of those rules worked precisely the same. And anything that didn't have a specific rule was left up to the GM to just figure out. To rule on.
3E changed everything because it gave the GM a way to resolve anything: an ability check. One rule that could handle every action that the rules couldn't handle. And then, all the other rules were reframed to also use that rule. At that point, ability scores ceased to be descriptive. They didn't exist to describe the character, they existed to resolve character actions. And, frankly, that was the smartest thing ever to happen to RPGs.
The thing is, characters have all sorts of descriptive elements that don't have any general mechanical backing. You can decide, for example, how tall your character is or how heavy or what their sex is or what social class they were born too or what their hobbies are or how old they are or whatever. Most of those things have no mechanical game impact. Same with personality traits. A humorless character is something you just, sort of play. The idea that a character is more than the numbers on the character sheet, that's not new. The point of designing the mechanics of the game is to decide what aspects of the character have a mechanical impact on the game and what aspects don't. Or rarely do. Because, of course, the GM does exist to make the judgment calls that need to be made. It doesn't matter, in general, whether your character is right-handed or left-handed. But if you get your hand chopped off, well, that's going to have an impact. Your character's height and weight don't matter most of the time, but if someone is carrying your unconscious body around, well, they might. And the GM can make that call.
So, in the modern sense, the ability score system is a way of resolving the actions that character's take that is primarily based on some, specific quality of that character. And that is common to all characters. At least, all player characters. I mean, consider in D&D, for example, whether NPCs need to have Charisma scores. NPCs never roll social skill checks against PCs. Why the hell would they ever need a Charisma score? It's a waste of space in the stat block. And no one ever rolls a Constitution check for anything. There aren't even any skills governing it. It's just a bonus hit point stat. Why do monsters need that? Just add the bonus hit points and call it a day.
I'm being flippant, but hopefully, you see what I'm saying. Ability scores have gone from being descriptive aspects of the character that offer a minor benefit in some situations to being the methods by which the character interacts with the world. And honestly, most people don't even give a crap about the ability score itself anymore. They happily take the Strength modifier to attack rolls and damage rolls and whatever else, but they don't actually feel their character has to have any muscle mass to justify that. And lots of people argue – quite rightly, in my opinion – that it's time to dump the system of having BOTH an ability score and an ability modifier. That's an unconscious recognition of the fact that the score itself – the descriptive part – is vestigial. That ability scores are an action resolution tool.
Now, you might disagree. Or, you might sit in the middle. Like me. You might say there is value in the descriptive nature of ability scores; don't throw that away. And I agree. But what I'm pointing out is that it's the action resolution that should come first. Because that's how the game works. And any descriptive aspect of the character that isn't needed to resolve an action can be left as merely descriptive. It's hair and eye color. Or it can be represented in another, simpler way.
Let's just stick with that definition though: an ability score system is an action resolution system in which every character possesses some specific list of capabilities that are used as a core component of the system. Or, to put it in fewer weasel words, it's a system in which every character has a bunch of numerical traits that can be used to determine the outcome of anything they do.
Okay?
How Strong is Ash Ketchup Anyway?
Now, hopefully, you see what the problem with the Pokeyman RPG using the d20 list of six ability scores is. That list doesn't make sense for how Pokeyman trainers interact with the world. Pokeyman trainers interact with the world primarily THROUGH their Pokeyman. Whenever there's an obstacle – say a heavy rock – Ash Ketchup isn't going to shove it out of the way himself. Hell, Ash Ketchup is like ten freaking years old. Even if he did try, it's not like he'd be much stronger than any of his contemporaries. He probably has the same chance to move that rock as Broccoli or Jessie Mist or whoever. And even if there was enough of a difference to make a big deal about, it's such a rare situational thing that it's not worth making Strength a core measure of every single Pokeyman trainer's basic capabilities. Ninety-nine times out of ten, the answer to the question of "how strong is Ash Ketchup" is "who gives an actual crap?"
Instead, what Pokeyman trainers primarily need – what defines them in the world of Pokeyman – is how they interact with their Pokeyman. And the games and the cartoon shows generally seem to show three different traits. There's the Pokeyman trainers who LOVE their Pokeyman, the Pokeyman trainers who share a MUTUAL RESPECT with their Pokeyman, and there's the trainers who COMMAND their Pokeyman. So, ability scores for a Pokeyman RPG would all be social ability scores. Or, mostly social. And they'd show that trinity, say, Empathy, Spirit, and Command. The Empathy stat would govern emotional interactions, the Spirit stat would be all about inspiration and respect and bravery since it's really about gaining respect and leading by example, and the Command stat would be about dominating and willpower and all that crap. You could, of course, add a secondary stat for Physical and one for Mental for times when you needed to resolve rock pushing and resistance to injury and how much someone knows, but those could be pretty broad and general since they'd be rarer in general.
For another example, the Harry Potter universe has four basic descriptors of each of its characters: Courage, Ambition, Intellect, and Loyalty. Each of the four main characters, Harry, Ron, Hermione, and Neville, represent those. Harry is all courage, Ron – the poor one who wants to stand out – is ambitious, Neville is loyal to a fault – to the point where his major act of courage in the first book is to stand up to his friends so they don't get his house in trouble – and Hermione is, of course, all about intellect. Since everything else the characters do in the world is based on the spells they cast, that's all you'd need to cover just about everything. You could even associate different schools of magic with different stats.
But this isn't about developing ability score systems for other RPGs. I'm just using those as examples: ability scores are no longer about describing the character; they are about defining how the character interacts with the world. Anything that doesn't define how the EVERY CHARACTER interacts with the world can be relegated to a situational trait, a bonus, a feat, a skill, or just a line of description. Ash Ketchup and Harry Potter don't need strength scores. But Broccoli can have a Strong trait that gives him a bonus when he, himself tries to do something that normally only a Pokeyman would do.
Why Does SDCIWCh Suck for D&D?
Okay, fine, you might say. Great. Ability scores – in a system that is based on ability scores because remember, that's not the only way to build an RPG – ability scores are not descriptors of the characters, they define the ways in which the characters interact with the world. And they have to be able to somehow resolve all or most actions, allowing space – of course – for highly situational things or skill-based bonuses or whatever. What's wrong with Strength, Dexterity, Constitution, Intelligence, Wisdom, and Charisma? It works as well as any system, right?
Well, no. That's the thing. It worked well enough as a descriptive system. But if you were designing a system from scratch with the express intention of using it as the core of action adjudication, it'd be a bad system. D&D is stuck with it. I don't deny that. But, let's not pretend it does D&D any favors. And maybe it's time for designers to stop porting it to absolutely every other freaking system ever.
Here's the thing: to use an ability score system for action adjudication, you have to be able to take every action a character is reasonably likely to take – based on how all characters interact with the world of the game – and assign it to ONE and PRECISELY ONE ability score. That's how action adjudication works. And, right from the get-go, D&D has some weirdness in it.
Take, for example, the old "wisdom vs. intelligence" debate. No matter how flippantly you want to define each of those ability scores in terms of tomatoes and fruit salad or knowledge and common sense and whatever, the fact is, none of those lines are particularly good, solid lines. That is to say, there's no bright line between the two. A bright line, by the way, is a division between two things that is very easy to see. Why is the medicine/healing skill based on Wisdom? Last time I checked, treating injuries, illnesses, and diseases were based a lot on recognizing symptoms and remembering which plant or herb or treatment was the correct one for that condition. Aragorn didn't intuit which plant to use on Frodo. He knew that kingsfoil was the right plant for the right job. Medieval fantasy medicine especially is just memorizing a list of plants and treatments to go with specific parts of the body, conditions, and treatments. That's all intelligence. It's only Wisdom because the characters who do most of the healing are clerics and other Wisdom-based characters. And what even is intellect. You can make a lot of noise about the difference between book learning and common sense, but if intellect is also reason and cleverness and figuring things out, then how is that not common sense? Frankly, if you want to separate the two – memorization and common sense – make those the ability scores. Why is wisdom perception and awareness? How did that get in there? Why isn't that separate? And, while we're on the topic, the division between Wisdom and Charisma is sometimes pretty muddy. After all, Charisma is also confidence and willpower, right? I mean, sometimes it is. Other times, it's not.
The real problem though is that wisdom is accumulated knowledge. It's worldliness. That's what the word actually means. Wisdom is a consequence of experience. That's why old people are wiser than young people. And that isn't a basic capability. It's something you accumulated during your life. Why isn't wisdom wrapped up in experience and levels? It should be.
The rest of this discussion is basically the same discussion that I put forth in Being In-Flex-Able. It's about how some things can fit into multiple ability scores and how that weakens the game. I don't want to dwell on that. Because there's other issues.
Just as important as making sure every action can fit into ONE and PRECISELY ONE ability score, it's also important to make sure that none of the ability scores and none of the situations in the game are too specialized. Too specific. And no example of this is better than Charisma in D&D. Now, I am not going to get into the stupid collision between a skill system an and ability score whose basic definition is the social skills score. Instead, I want to highlight the participation problem.
Charisma is the one and only one score that governs all social interactions. And that means that only characters who have a good Charisma score will interact socially. And that's a problem. Because social interaction is one of the three pillars of the game. Or so I'm told. It's a core part of the experience. Something everyone should be able to participate in. By gating it behind one ability score that is also utterly useless in any other context, you're limiting it drastically and unnecessarily. Wizards can not have intellectual debates and Clerics cannot use their empathy and intuition in social situations if they don't have the Charisma score to back it up.
Take another pillar of the game, for example combat. Combat relies on pretty much every ability score. Strength and Dexterity govern melee and missile attacks; Intelligence, Wisdom, and Charisma govern all magical attacks; Dexterity also governs initiative and AC; Constitution governs hit points; and many or all of the ability scores affect saving throws and other defenses. There's no ONE ability score that governs participation in combat. Sure, different characters have to participate in different ways based on their ability scores and how they interact with their class abilities, but there's lots of options. It's very open.
Imagine if we took all of combat and rolled everything into one ability score: Fighting. Everyone has a Fighting score. And Fighting is the only score that is used in 90% of combats 90% of the time. See the issue? That's Charisma.
And no, the solution is NOT to have two or three different Charisma scores. You NEVER want to create a broad situation that everyone is expected to be a part of and put it under the auspices of only one or two scores. You want options for everyone. And that means, no, there is no social ability score. Instead, there's social skills and ways to use all of the other ability scores – or several of them, at least – in social situations. Intelligence and Wisdom and the occasional physical ability score can handle almost everything that Charisma already does.
Finally, if ability scores exist to help adjudicate actions, then you don't want any ability scores that aren't about taking actions. I'm looking at Constitution here. Constitution is a freaking appendix. It needs to be cut off the game. It isn't doing anything. Yeah, it informs hit points and some defenses. Well, so what? That doesn't justify its existence as an ability score. Hit Points are already affected by class and by level. And some feats and magic items boost them as well. Do we really need more than that? And as for fortitude or physical resistance? Well, hoody-freaking-hoo. Dexterity governs armor class AND evasion AND missile attacks AND initiative AND finesse weapon attacks AND. Let Strength govern fortitude AND melee attacks. Maybe people will start putting something into Strength instead of going to finesse weapons because they rightly realize Dexterity is the most overpowered combat ability score on the list.
I could make a similar argument about Intelligence being pretty passive as well. If you're not a spellcaster, there's no good reason to put anything into Intelligence. It doesn't govern any actions. And no, asking a question about what your character knows is NOT an action. It's a speedbump in the decision-making process. Intelligence as knowledge and raw memory? That part of intelligence is uselessly passive in D&D. It can go. Let people just choose an area of expertise. You can have knowledge skills without ability scores if you really think it's important to roll dice to find out what you know. Knowledge checks aren't actions so they don't have to live in the core mechanic anyway. That's fine.
The truth of the matter is, as it currently stands, every character of every class should have the highest possible Charisma and Dexterity after they've satisfied whatever core requirement of their class exists. Wizard? Intelligence, Charisma, Dexterity. Fighter? Strength, Dexterity, Charisma. Cleric? Wisdom, Dexterity, Charisma. You need Dexterity because it's overloaded with uses. You need Charisma so you're even allowed to participate in social interaction, a pillar of the game.
And that – that simple rule that is really hard to dispute – that's an indictment of the D&D ability score system. Of the six ability scores, only three are useful for any character. One is mandatory to participate in one pillar of the game. One governs seventy-five percent of a second pillar. And the third one is determined by your class.
Starting from Scratch
But, me, I'm not concerned with fixing D&D anymore. I mean, I still do a lot of that, but I'm more interested now in the question of what I could – and would – do if I weren't shackled to D&D's past. And I'm not. I have it easy. So, I can recognize that the real point of the ability scores is to classify all of the different ways that characters might interact with the world and to allow the GM to easily pick one class of actions – one score – for every action to resolve it. And then to make sure that the different ability scores are more or less broadly applicable to all of the core parts of gameplay. I wouldn't start with a pre-existing list like the d20 system. And I wouldn't even start with the illusion that I'm trying to come up with a system to describe the characters in the world. Or a way of differentiating characters. Tools to describe and differentiate characters can sit on top of the ability scores.
Instead, I would just figure out how the characters might interact with the world and figure out how to break those actions down along simple, bright lines. Maybe give the GM a list of simple questions to ask of each action that will lead him to the right ability score every time.
And, I probably wouldn't call them ability scores.
And I definitely wouldn't have constitution, charisma, or anything like knowledge and memorization. Fuck that garbage. Let D&D drown with those anchors around its neck.