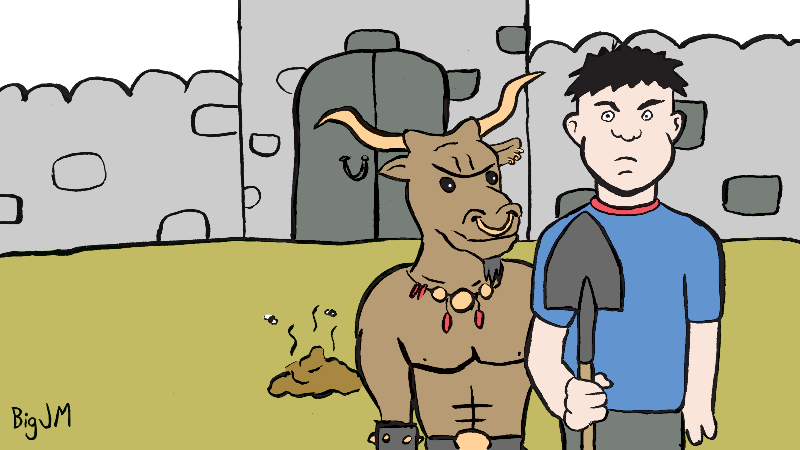 Buckle up for some bullshit.
Yeah, I know articles are a little behind. They are coming. I've got two articles following this one this week. One is a continuation of crafting and one is about planning the map for my Pathfinder campaign. This one is my one, monthly bullshit article. And it has to happen today. Because of reasons. Which will become important.
See, something came up the other day. Friday. And it has me thinking about something I've never really given much thought to before. Something I'm not even really sure how to think about. And something that, as far as I can tell, no one has thought about in a general sense before. But it's also something that I – and many others – have thought about the symptoms of. I'm calling it GM Agency.
I know, right? That doesn't sound like any sort of thing at all. Certainly, it doesn't sound like a problem that's worth blathering about for 3,000 words. Or however many I actually go on for. But, man, did it ever turn into an existential crisis. And not just for me. I almost took down another GM and indie game designer with it. I think he's still rocking back and forth, huddled in the bottom of the shower, muttering to himself.
As is typical for my once monthly bullshit article, I'm not starting this with any sort of answer. I don't think I'll hit one before the end. This is just me thinking out the problem. But, I'm not even sure what the problem actually is. Or how to talk about it. So, this could be a mess. What I am hoping – and I know how frigging stupid THIS is to say considering what usually happens when I say it – what I'm hoping is to start a discussion in my comment section and see if the rantings of the disordered hive mind that is the Internet gamosphere manages through sheer luck to say the one combination of words that inspire me to see everything clearly. Because I am not counting on anyone else to figure this out before I do. I mean, come on. It's me. And it's the Internet.
Now, let's go back in time to what touched this all off.
A Fun Game about Killing Giant Monsters
The story starts with my friend Jim McClure of Third Act Publishing. We get along because he's a cold-hearted businessman like me. And we're willing to admit that we're shamelessly using each other to advance our own goals. And, recently, I've also discovered he's got a pretty solid temper in him. Not like me. I'm one of those constant, seething volcanoes like Hawaii where I am in a permanent state of just boiling over. He's like Mount Saint Helens. He's a quiet, innocuous mountain, sitting pretty as part of the landscape, and then the postal service loses a bunch of books and KABOOM. He blows his frigging north face right off and wipes out several towns. I gotta respect that.
Now, you know his name because Third Act Publishing is the company that is actually selling and shipping and fulfilling the Angry book. You know, Game Angry: How to RPG the Angry Way. Get yours today. Anyway, thing is, his company has put out a number of games. Most of which he's designed himself. Well, he's got a new one coming. It's on Kickstarter right now. It's called Reach of Titan. It's about a group of hapless hunters living in world of gigantic monsters. And their job is to bring down these fifty-foot mythical abominations to protect their little villages. Basically, it's Monster Hunter meets Shadow of the Colossus. And it's in its last couple of days on Kickstarter. So, you should check it out if that sounds cool to you.
Now, you know me: I don't plug crap like this unless I've actually played it or unless it involves me in some way. And this is NOT part of a secret native advertising deal Third Act got in return for publishing my book. Angry don't do that crap. Nope. I'm talking about because Jim asked me if I'd be willing to build one of the giant monster bosses for it. As a stretch goal. And he also provided me a playtest copy of the game – which I later discovered didn't make me special because he's giving the playtest away for free to anyone who wants it on his site – and some extra design notes. Since there are still aspects of the design being ironed out and since I was going to be building something for the game, I decided to run a playtest session and try the thing out. Which I did. It was a fun game. At least, the part where the heroes take down a giant pig and then a giant… uh… giant, that was fun. The parts where the heroes have to hunt down their pray and the parts where they interact with and build their settlements? That wasn't part of the playtest.
Full disclosure: without seeing those parts, the best I can say for the game is it's a pretty fun combat engine for fighting giant bosses who are more platforming challenge and puzzle boss than stat block full of hit points. And I'd definitely run a titan fight as a pick-up game or at a convention once I have the full game. Which I am backing. But I don't know how it'll handle campaign play without that other stuff.
The problem arose when Jim and I sat down for a game of virtual golf and got to talking about the playtest session I'd run. We talked about what worked and what didn't. And then I dropped a bombshell. I told him I wasn't sure I'd had much fun running the game. At least, the combat portions.
See, the thing is that the titans have their stats and actions divided between different parts of their bodies. And every titan has unique defenses and weaknesses. And to kill a titan, the group kind of has to take them apart in the right way. And a lot of that comes down to tactical experimentation. To trying different things, observing patterns, recognizing the dangerous spots, taking out lesser targets to limit what the Titan can do, and then ultimately dealing a killing blow. It's like diffusing a very complicated bomb. Except the bomb is fifty-feet tall and you have to climb all over it while it tries to buck you off, kill you, breathe fire on you, or whatever.
Because of all of that, the titan's actions are very limited by what the players do. It can target players in certain places and doing certain things, but not players in other places. And because of its puzzle-boss nature, it will always respond to certain things in certain ways. And all of that is very important to the way the game works. The titan has to telegraph its actions and behave consistently so the players can try out different tactics and develop a plan.
Now, I'm very aware of that crap. I'm aware of the play experience the game is trying to create. Hell, I'm all over that play experience. So, I didn't want to go too far off script. I didn't want to get creative. Even when the players took down the thirty-foot piggy in one-and-a-half rounds of cleverly stacking their abilities, focused fire, and lucky die rolls. I also didn't want to go too far off script because you don't go off script when you're trying to learn a new system for the first time. As a GM, the first few times you run a game – especially one you're trying to learn because you want to design for it – you run it to the motherloving letter.
In the end, though, the experience was one of running a bunch of nested if-then statements as if I was executing a computer program. It was, for me, highly mechanical. And the experience wasn't helped by the fact that this is one of those games in which the GM doesn't throw any dice. WHICH I WILL NEVER UNDERSTAND!
But, the funny thing is, this experience made me understand WHY I don't like systems in which I don't throw any dice.
Jim listened very intently to my criticism. We discussed it for a while. He talked about how he, as a GM, went off script when he was running one of the same fights I had run and how other GMs hadn't encountered the same problem. But he also understood the issue. And he admitted he'd had other GMs with vague comments and criticisms that might stem from the problem and they just couldn't articulate because they aren't me.
That, by the way, is why I say I'm not sure I'd run a campaign of Reach of Titan. I'd eventually get bored running the titan fights as they are right now. If the settlement and hunting stuff are good enough and compelling enough to make me feel invested as a GM, I'd change my tine. But if all I'm doing is executing the titan program, that won't hold my interest forever. Unless, of course, I'm the one writing the titans. Which seem very fun to create.
And then we were off and talking…
Trapped by the System
Now, this isn't the first time I've felt bound up by the system. A lot of the issues I ran into with the 4th Edition of Dungeons & Dragons involved this vague feeling like I was fighting with the system a lot. Like, I felt like the rules were contradicting me a lot. Now, that's not a problem, right? I'm a GM. I'm allowed to override the rules. But there were a lot of instances when, as a GM, I'd have players pointing out the contradictions and I'd be in the ugly position of having to either back off or tell them no. And most of those contradictions turned on very nitpicky bits of mechanical semantical nonsense. Like whether or not you were your own ally or the fact that a specific power stating "when you shift," means that you can't use the power if you can't shift because it changes shifts and isn't an action in and of itself. Stuff like that.
And then there's Dungeon World. Another system that doesn't let the GM roll any dice, incidentally. See, Dungeon World – despite its reputation for being pretty loose and free and storygamey and shit – Dungeon World actually pretty heavily codifies the conversation at the heart of the game. You know, the one where the GM describes the world, the players describe their actions, the GM resolves their actions, and then describes how the world has changed as a result. With a strong reading of Dungeon World – A GAME I DO NOT HATE AND LET ME BE CLEAR ABOUT THAT – with a strong reading of DW, you discover the GM must always act in reaction to the players and the size of the actions the GM can take depend on the results of the players actions. That is, the GM makes "moves" against the players when the players present "little opportunities" and "big opportunities." There's more to it than that. And let me stress, I don't HATE DW. It's a fun game. It's one of my convention go-to games because it's so easy to pick up and play. But I have limited patience for it. Because if I run true to the game, my hands are tied somewhat by the system. And if break free of that, I'm wrecking what is, quite frankly, one of the game's strongest points. Because it is really well put together and accomplishes exactly the play experience it promises. It's good design.
It's just not for me.
There are other games too. But this is not meant to be a list of every game that's ever made me feel constrained as a GM. The reason I brought them up is that I know – I KNOW – that I can do anything I want as a GM. I can invent new rules and systems and stories. And as long as you understand the central core mechanic of any role-playing game, you can resolve anything. So, I know that my critters and NPCs and monsters can do anything I can imagine and I'll find a way to handle it. But, there's still a handful of systems I've run that have chaffed me. That I've felt leashed by. And I don't know quite why. Or what's different about those systems.
And, of course, there have also been particular rules and particular modules and subsystems and optional modules that have made me feel that way. It's not just rules systems themselves. Some folks have asked me to look at products they've designed and I've said: "wow, that looks neat but I'd never use it because it feels like it's limiting me too much." I don't want to give examples out of respect to the people who show me their work and because there are legal repercussions for sharing things about products in development sometimes.
The problem I was now in a position of having to give feedback on a playtest product. And the damned game designer was taking me seriously. Like, he was actually concerned about what I was saying. I mean, I was just one data point. But I was a data point he trusted. And as I kept spinning my wheels, trying to explain, he was starting to see vague shadows of what I was talking about. So, I owed it to him to figure out what the hell was actually causing this particular issue. What was it about the game and how it was presented that made me feel hemmed in? And to figure that out, I had to start looking back at other systems that had given me similar feelings of being anchored. The problem was I was getting nowhere explaining the issue.
But as I spun my wheels and we kept talking and talking, we realized that, at the heart of the issue, was something that we never, EVER talk about as gamers or as GMs or as game designers.
The problem was about Agency. GM Agency.
No. Stop laughing. Seriously. GM Agency. It's a Thing. I Swear.
We talk a lot about Player Agency. And we rightly should. In my book, Game Angry: How to RPG the Angry Way – which you can buy from Third Act Publishing who is also publishing Reach of Titan currently funding on Kickstarter – in my book, I identified Agency as one of the three hearts of every role-playing game. If you want to know what the other two are, you can buy my book.
Agency is the feeling that your showing up to the game and making choices actually matter. That what you do affects the outcome of the game. Players need a sense of agency so that they feel like they've earned their victories and their defeats. And they get a sense of agency from being able to make choices and then having to live with – or die from – the consequences of those choices. Agency is actually a huge draw for table-top role-playing games. Agency creates that sense of open-ended freedom that TTRPGs claim as their exclusive advantage over video games, board games, movies, books, and comics.
But agency is a player thing. We don't think about it from the GM side. And I think there's two reasons for that. First, the GM is not a player. They are part of the game. They provide the agency. They don't benefit from it. But second, the GM pretty much has all the agency anyway, right? The GM can do anything. The GM can't be constrained by the system because the GM can rewrite the system. The GM can throw the system away. The GM isn't a pawn of the system. The GM IS the system and the game is the GM's pawn. Right?
I mean, as soon as I said to Jim, "the problem is one of GM agency," my immediate reaction was to laugh that off. I backpedaled at once. I said it was silly. "GM agency, right? Ha. I was kidding. After all, I know I can do anything. I have all the agency. I have infinite agency. I'm Agent Smith and the game is my Matrix, bitch." Right? Agent Smith was the king of the Matrix, wasn't he?
But then, I stopped to think about it. And man, am I ever sorry I did.
So, I can do anything I want, can I? Really? How often do I really, seriously work outside the rules? I only work outside of them when there is a pressing need. For the most part, I follow the rules of the games. And when I do work outside of the rules of the game, I don't do so lightly. I consider all sorts of factors in every decision I make. The game has to remain balanced. But more than balanced, it has to be fair. And more than fair, it has to appear fair. To the players. That is if I make a decision that I know is fair because I know all the details of the current adventure but that looks unfair to the players, that could be a problem. I have to operate on the perception of fairness. And that decision has to be consistent with all of the other decisions I've made that might be related. Because consistency is important. Players make their decisions based on the patterns they see. If the world isn't a consistent world, they can't make good decisions. So, already, I have some constraints on what I can and can't do. And that's just me trying to maintain a consistent, fair game.
But I also have to be careful not to do anything that would screw over the players. If there is something that is going to seriously hamper their ability to win, especially if it is going to cost the players something pretty serious, I'd better make damned sure the players can see it coming. And, more importantly, that they feel like there is something they can do about it. Or, at least, after the fact, they feel like they could have done something about it if they'd recognized it, which they realize they should have. I can have the leader of the powerful and evil assassin clan send out fifty of his best ninjas to kill the PCs, but… well… that's unfair. They can only handle five ninjas. That'd just be screwing them.
You're starting to see what I mean, aren't you?
Remember Robocop 2? Remember when OCP fills Robocop's head with over three hundred directives because they want him to be seen as a positive role model and a good public relations face of the company and he can't function? It used to be he just had to "protect the innocent, serve the public trust, and uphold the law." Now he has directives like "avoid destructive behavior" and "participate in group activities" and "don't be overly sensitive to the hostility of others" and "don't express your own opinions before you give others a chance to express their own first?" And suddenly, he couldn't function. So, he finally electrocuted himself to erase all the directives in his brain?
Of course you don't remember that. No one remembers Robocop 2. Fortunately, this is nothing like that. This is just a GM imposing a lot of criteria on every decision they make that is outside the rules. But there's still a lot. At it comes down to a lot of don'ts. Don't be unfair. Don't be inconsistent. Don't be unbalanced. Don't screw the players. Don't take the spotlight off the PCs. Don't invalidate a core aspect of one of the players' characters. Don't rob the players of their victories or progress. Don't rewrite a rule you don't understand. Don't add complexity to the game unless you're getting something really good for it. And on and on and on. I'm not complaining, mind you. These are good rules. It's just that, every time you step outside of the rules, there's a field of landmines that you – as a GM – feel you have to navigate. Carefully. At least, if you're a good GM.
Ironically, it's good GMs who struggle the most with this crap. It's like that old joke. I think it was Garrison Keillor. He noted that smart people tend to have lots of problems. That's because intelligence isn't actually practically useful for solving problems, but it sure as hell helps you recognize your problems. Basically, intelligence is like four-wheel drive. All it does is let you get yourself stuck in more out-of-the-way places. Good GMs worry about all of this crap. And so, they are afraid of the landmines. Crappy GMs just start playing hopscotch off the edge of the rulebook and don't look back.
The moment GMs depart from the rules, they know they are in troubled waters. They are going to keep one hand firm on the tiller, one eye on the sky, and one eye on the shadows beneath the waves. And so, the ability to break the rules and override the system really doesn't amount to agency at all. Not in a fun way. It amounts to agency in a nervous, panicky, "I am the only thing preventing the collapse of my game" freedom.
Imagined Constraints and Perfect Solutions
On top of that – and this is freaking unreal – on top of that, I was in the middle of revising this article for posting when I got into a separate discussion in my Discord server about how GMs can feel trapped by the rules despite the fact that game systems explicitly give you permission to break the rules.
First, there's the fact that all human beings tend to see constraints where none exist. The classic example is the famous Nine Dot Puzzle, which you can see here. Basically, it asks you to draw four continuous lines through a set of nine dots arranged in a grid without removing your pencil from the paper. The only solutions involve going outside the boundaries of the nine dots. But most people struggle with the problem because they won't draw their lines outside the dots. People are predisposed to constrain themselves.
Second, there's the fact that we tend to pursue perfect solutions. And if the space of possible solutions is large enough, we'll assume it must contain the perfect solution. So, if you have a big, complex book filled with rules. Like, say, hypothetically, the rules to some table-top role-playing game. And a situation arises that you don't know how to handle, you'll start by assuming the answer must be in the rules somewhere. At least, you'll check there first. That's going to have the best solution. And because you can't memorize that entire book, you can't keep track of everything that ISN'T in it. You will only deviate from the rules in the book – the perfect solutions – once you become convinced the rule you need doesn't exist. And it takes a long time to search a complex ruleset for a rule that doesn't exist.
All of that is to explain how GMs – good, smart GMs – can have a hard time breaking out of the rules and when they do break out of the rules, how they can feel quite constrained. And what happens then?
Does it Even Matter if I'm Here?
GMs are constrained. There's no doubt about that. And most GMs prefer to work within the system whenever they can. It's easier and our natural psychology pushes us that way. And that's fine most of the time. Because RPG systems provide open-ended action-resolution mechanics that let any player or character or creature or monster or whatever do just about anything. In D&D, for example, if a goblin wants to swing from a chandelier and drop on a PC's head, I can resolve that with Dexterity checks and Acrobatics skills easily enough. Even though there's no specific rule for chandelier swinging and attacking from above, there's enough tools in the system to allow me – as the GM – to resolve that within the system.
But imagine if goblins didn't have ability scores or skills. Imagine if all the goblin had was an Armor Class, an attack modifier, a damage roll, and some saving throws. And maybe one little power. Like "Sneaky." And "Sneaky" allows it to, at the start of battle, jump out of hiding and make one attack with bonus damage. And that was all. As a GM, what would you tend to do with that goblin? Make one ambush attack and then just start slashing until it was dead. That's what I'd tend to do. And D&D 4E wasn't quite that, but it was close. Monsters did have ability scores and skills, but they were heavily downplayed. And the abilities the monsters had were like "Sneaky" as I described it above. It defined exactly what the power did. And every power had a single, specific procedure and a single, mechanical effect.
Now, the monsters were tactically very well-designed. Their abilities were interesting and synergized well. They have strategies and tactics built right in that were easy to see and execute. Maybe too easy. Because, frankly, it was pretty easy to see exactly what every monsters' correct move was at every point. There was no reason to think outside of the monster's stat block. And the decisions to be made were pretty simple efficiency calculations.
And one day, I realized that a computer could run these monsters just as well as I could. I wasn't making any really serious or interesting decisions. I was, at best, solving a logic puzzle. There was nothing unique about what I was doing. And after that, the only thing keeping me going was actually designing the adventures. For a while. I enjoyed planning adventures. Setting up interesting combats. Making new monsters. Designing new rules. But when it came to running the game, I was bored. At least, I was bored with the action parts. And this was freaking Dungeons & Dragons. If you find the action parts of D&D boring, you are playing the wrong game. Because action is the only thing ANY edition of D&D can really do. Everything else, it just kind of sucks at. Yes, I'm including 5E in that. 5E sucks if you run anything other than combat in it. Sorry.
And that is how I know this is a problem of agency. Because I felt like my presence at the game had no impact on how the game played out. If I handed my notes to any other GM, the game would go exactly the same. They would make the same dull decisions I made, respond to the players the same way I did, make the same tactical choices I did, and they would stay firmly planted inside the rules. Just like me.
And, honestly, Jim and I did pinpoint some of the specific things Reach of Titan was doing to make it feel the way it was. And we plan to talk some more about it. And, I want to stress this isn't a game breaking problem. There's more to RoT than just the fighting. And this is a very personal issue. I know that there are a lot of GMs out there who don't feel the agency issue as seriously as I do. I'm only making a big deal about this because I'd never thought about GMing Agency and how it's important to feel like you – as a GM – are having an impact on the game that is somehow unique to you.
So… What?
Okay, so here's the thing: I think there's more to this GM Agency thing than me picking a few nits with an indie game because I'm mad that it took my dice away. And yes, I mean both RoT and DW. Because I see, especially in the indie scene, a lot of attempts to reign in the GM's authority. To make sure the GM remains subservient to the game and the players. Okay, I realize that sounds like a crazy conspiracy theory. It's not that bad. But I do see a lot of games coming from a certain direction that work hard to limit what a GM can do. Mostly, it makes the game easier run and it ensures a certain type of play experience. Occasionally, it also seems designed to avoid the danger of power-mad GMs ruining the game. But I think that that last thing is an overstated fear and a load of bullshit.
And, you know, maybe it IS a bad sign when a game is designed so that only the players roll the dice. Because it tells you where the designer's head is at. And if you think there is an issue behind GM agency, you maybe don't want games designed from that particular rectum. I just don't know how to begin talking about it. Or thinking about it. Or whether it is an issue for anyone else.
So, I'm doing something unspeakably stupid now. I'm asking for comments. Specifically, I want to hear from GMs whose experiences echo my own. Who have encountered games, systems, and rules and have felt constrained. Who have felt like a computer. Who have felt hemmed in. Trapped. And why. Of course, all I'm going to get is a bunch of whiny indie gamers who want to tell me to abandon my evil believe in the traditional RPG hierarchy and get on the right side of history and start calling myself a game trustee or master of ceremonies.
And, for the rest of you, I'll be back in two days to talk about mapping the initial setting for a new Pathfinder Campaign based on zero plans. So, hopefully, you'll forgive this crap.