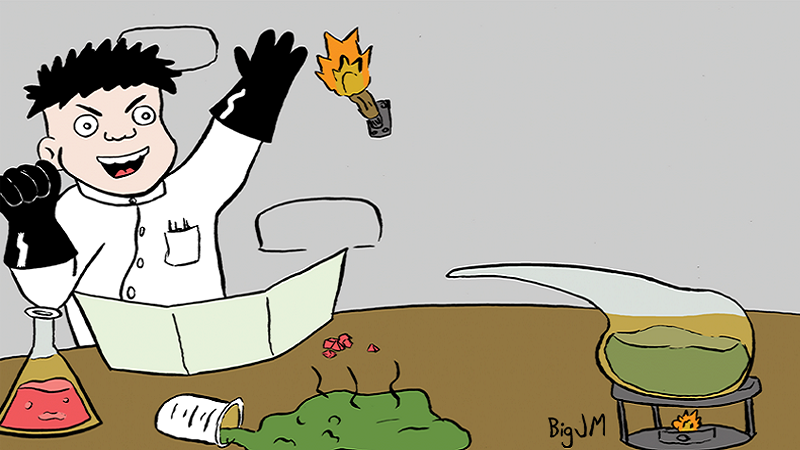 All right, it's time to bite the f$&%ing bullet and get started on this project I've been building up for some time: building rules modules that extend D&D to allow for different modes of play and improving the bits that already exist. We are going to hack the s$%& out of the game. We're going to change the way the players poke and prod the dungeons for secret doors, hidden treasure, and traps. We're going to crack the holy grail that is crafting. We're going to develop solid systems for social interaction. We're going to come up with rules for building complex scenes of different types. Awesome, right?
I figure I should get about a dozen f$&%ing articles out of this s$&%, which will alternate with my articles about building and running games.
What is a Rules Module?
Before I start building the first module, it's important to define what a rules module actually is. To me, a rules module is a set of rules and mechanics that extend the existing rules of D&D and allow for added mechanical depth of play. Extension is key. I don't want to change the rules of D&D. I just want to add mechanics over them. Of course, I will tweak or fix rules when I feel it's important. But I will try to keep those changes minimal.
Obviously, modules need to be modular. That means a rules module must be a self-contained chunk of related rules. It should be easy to say what the rules module does and when it should be used and what experiences it will add to the game. And the rules should all be related. No one wants rules for mass combat mixed in with rules for traps and rules for social interaction scenes. And no one wants the mass combat rules spread across three different modules.
That said – and this is f$&%ing important given the way I've outlined and planned this project – that said, modules can be grouped together and they can use other modules as prerequisites. In fact, that's going to be important today. Why?
The Master Module: Exploration the Angry Way
Why is it important to understand how modules can be grouped together? Because we're going to start by building an Angry Master Module – which is a name I just made up for the thing I'm doing today. As I mentioned before, before I can build anything useful or fun or modular, I need to build an underlying framework of slightly more advanced rules. And I've already done some of the work. Remember that bit about Tweaking the Core? That stuff about building the Time Pool? Those were the foundational work.
The problem is that there were some wonky bits in those two articles. Some of them, I found through testing and tweaking. Others were identified by readers, some of whom politely pointed them out and others of whom were massive bags of d$%&s about them.
And that brings me around to what I'm doing today. See, if I were to envision is as working toward something publishable – like a PDF or a book or whatever – I'd probably group a bunch of modules together. I'd have a master module that contained the big rules changes to various parts of the game and then I'd have all the other actual modules listed after them. You could use any of the modules you want, but all of them would require the master module.
In short, those rules tweaks and the time pool bulls$&% will – with some heavy revision – serve as the core rules from which other modules will be built. Which is why we have to fix them.
Exploration the Angry Way: The Exploration Master Module
The rules tweaks I've described above – some of which we will be fixing today – will form the core of what I might call the Exploration Modules. Those are the modules that pertain to the mode of play in D&D that we might call "exploration." And, look, I don't like that name exactly. But D&D references it. In fact, D&D references three specific modes of play: exploration, combat, and interaction. And that just goes to show how bats$%& insane the designers at WotC are. Because of those three modes of play, only one is an actual useful thing, and they gave that one a stupid name.
Broadly speaking, we can divide D&D into four different major modes of play. First, there's encounter play. In encounter play, the characters are making moment-by-moment decisions and taking very short actions, actions measured in seconds. They may or may not be following an initiative order. These include various sub-modes of play like combat, chase scenes, action scenes, and social-interactions. Second, there's travel. During travel, the characters are moving from place to play over an extended period. They choose actions that may cover hours or even days of game time and they generally keep to them until something happens. The third mode of play is exploration. That's the middle ground. Exploration lacks the tension of combat, though sudden surprises and setbacks can happen. And it generally covers shorter time intervals than travel. Players will generally spend a few minutes on an individual task. The players may be moving from scene to scene during exploration, as in exploring a dungeon complex, or they may be playing out an extended single scene, such as stealthily infiltrating an enemy stronghold. The fourth mode of play is down time. Down time can cover hours or even days of activity. The party is generally not engaged in immediate activities and tend to be focused on long-term tasks such as crafting, research, training, building reputations, or carousing.
And those four distinctions: encounter, exploration, travel, and down time are a perfect way to divide up our modules. And it helps us specify exactly when those modules should be in play. The exploration rules we're building now aren't for use in combat or during travel. The fact that they don't work for travel or combat or down time or whatever is utterly irrelevant.
Exploration has a completely different focus from those other modes of play. Encounter scenes, for example, focus on life-or-death situations, split-second decisions, and very short term resources. But exploration works at a slower pace. It is dangerous, but it's dangerous by way of attrition and through daily resource management. Things like hit points, hit dice, fatigue, non-immediate conditions, spell slots, character abilities, and magic item charges. Of course, longer-term resources might also get used up, like one-use magic items. Stuff that pertains to the longer term – like rations and water and climate and weather – those things don't really have a place in exploration. And stuff that pertains to the very short term, like conditions that end after a few seconds or cantrips or what have you? That belongs in the encounter sphere.
I'm not saying a character can't fall prone or cast a spell with an immediate duration during exploration. What I'm saying is that those things are incidental to exploration. They don't effect it. A short-duration spell is only important insofar as it affects a single task. We don't need to know any more than that. Falling prone is not a good consequence for failure during an exploration task because it has no actual impact. However, being poisoned for an hour certainly does have an impact. And because it takes an hour to recover hit points via hit dice – or it requires the expenditure of healing resources – hit point damage is definitely a part of exploration.
So, that tells us a bit about what exploration is and the sort of mechanics we're going to futz with when building rules for exploration. Now, let's look back at some of the rules tweaks I made, fix a few problems, and explain why I'm NOT fixing or removing some things that people wrongly THINK are problems.
Tweaking the Tweaks
Look, there's no reason to republish all of the rules tweaks I made to action resolution back in Tweaking the Core. The article is still there. You can go back and read it. But if I were, say, publishing a collection of Exploration Rules Modules with a master set of rules as the introduction, they would certainly be a part of that. And, who knows, maybe I could be convinced to throw just such a thing together.
So, let's discuss some of the corrections that need to be made and some of the things that are working JUST FINE AS INTENDED despite the apoplectic fits they created.
On Passive Perception and Passive Knowledge
Man did people freak the f$&% out when I suggested that just because something is based on a stat, it doesn't need a die roll. I'm not going to address all of the complaints or discussions here. At a certain point, I do just have to say "sorry, I'm right, you're wrong, and I don't care to argue any further." But there were some really good points raised that deserve being addressed. And it seems like a few people were confused about where the lines between passive and active should be drawn and how the GM should use the separation between passive and active when designing adventures.
First, regarding the line between passive and active. The way I see it, every skill has a passive component and an active component. But some skills ONLY get talked about in terms of their active component (like Athletics) and others ONLY get talked about in terms of their passive component (like Religion). And that's just f$&%ed up because it limits the skill system unnecessarily. Here's how I divvy it up. And how you should too. Because I'm right.
The active component of a skill involves choice and action. It involves a direct interaction with the world. The passive component involves no choice, no action, and is entirely internal. The easiest way to see the difference is to consider the difference between NOTICING something and SEARCHING for something.
When you walk into a room, there's a chance you might notice something. Or at least notice a sign of something. If someone is hiding behind a curtain, you might notice their bulk under the curtain. Or you might notice their toes peeking out from under the curtain. Or you might notice the curtain is disheveled and rumpled as if it's been moved recently. That's automatic. It's passive. It doesn't require an action. Your eyes and your other senses and your brain just handle that crap. You don't even have to think about it. Yes, there is the small and barely conscious act of looking around, but that's something that you're hard wired to do. You take in your surroundings as a matter of course.
However, if you suspect someone might actually be hiding in the room, you're going to search around for them. You'll look around, you'll prowl around, you'll peer under things. You might move things or bend down to examine the floor, looking for scuff marks. If you notice something that seems odd, you'll get closer and examine it in more detail. Doing so, you might notice muddy footprints leading to the curtain. Or the fact that the curtain has disturbed the dust on the floor. Or you might just find the hidden person by prodding the curtain or throwing it back. But that's active. It's a choice to take some action in the world and requires actual interaction with your environment.
Likewise, skills like Arcana and Religion and Nature SHOULD have active and passive components. Passive components are things like factual recall and recognition. You recognize a plant by sight, you recognize a religious icon and recall that god's scriptures, you know what an elemental is and recall useful information about it. Those are things that happen in your brain. If someone were watching you, they wouldn't realize it happened. Because you did nothing in the world. The action happened entirely in your brain. And there's no choice. You can't choose NOT to recall facts about something you recognize.
Arcana and Religion and Nature can also include active components. If you're researching elementals in the library, you'd be looking for specific books, skimming through appropriate passages, cross-referencing and verifying things, consulting texts by authors you know and trust, and so on. That's an active use of Arcana. You choose to do the research, you interact with the world, and it is based on your knowledge and training with arcane lore. Priests conduct religions rites like weddings or funerals or offer minor blessings or lead prayers and sacrifices. Those are choices and interactions that rely on the priest's religious expertise. Experimenting with a plant – even on a rudimentary level such as rubbing it to note the texture and thickness of its leaves or tasting a tiny portion of it or smelling it – is an active interaction with the world. It might reveal properties about the plant even if the specific plant can't be identified. The bitter taste of poison, for example. Or a minty smell that hints that it might useful in curing nausea, vomiting, or diarrhea.
The reason why the line is useful is because die rolls, by themselves, aren't actually fun. There's nothing inherently fun about rolling dice. There needs to be something that gives the die roll some weight. In RPGs, that weight comes from choice. That's why attack rolls are more emotional than saving throws. When you roll an attack roll, a success feels great and a failure feels bad. When you roll a saving throw, a failure feels like a screwjob and a success feels like you didn't get screwed. That's an important distinction. And passive rolls are the same way.
When you roll a check for information, you get information. But that information is rarely a reward in-and-of-itself. Usually, that information just provides a new option or allows you to make a better informed choice. Getting information isn't super exciting compared to breaking down a door or killing a monster. But when you fail that check for information, you lose out on something. And you don't even know what it is. And if you later suffer because of that lost information, it feels like you got screwed by a die roll you had no say in.
Emotionally speaking, an active roll feels either great or terrible, but you also feel responsible for the choice that led to it. A passive roll feels either okay or terrible, but you also feel like you had no control. And considering every die roll takes time from the game and requires the flow of the game to be broken to resolve the mechanics, that's a pretty s$&% tradeoff.
And that's why I created the rule to STOP ROLLING PASSIVE ROLLS.
Now, as a GM, if you have information you're going to gate behind a passive knowledge check or passive perception or whatever, you set a DC for the check just like you normally would. It doesn't require any change to the way you prepare. You still use the normal DC range 5, 10, 15, 20 depending on how complex or esoteric the knowledge is. It requires absolutely NO CHANGE to your prep. You don't have to take into consideration the scores that your players have (unless you want to). You don't have to add a bunch of information you wouldn't otherwise include. The only change is to the die roll. Don't roll the dice. Just quietly – without consulting with the player, ideally – compare the DC to the result they would have if they rolled a 10. Just keep a list of everyone's knowledge skills and passive perception scores. And when you dole out the information, you just say something like: "Alice, thanks to your religious studies, you recognize this as an icon of Shrub Niggurath, the eldrtich horror who takes the form of a non-euclidean geometric topiary." Done and done.
I could rant about this. I really f$&%ing could. I'm utterly baffled about the level of resistance GMs have put up over GIVING THE PLAYERS USEFUL INFORMATION! I don't understand why GMs would even want to create information and lore and world details that would help the players make better choices and bring the world to life and then NOT SHARE THEM because a f$&%ing random number generator said not to. I mean… you know what? Sorry. I'm not going to rant.
Thank the gods I didn't tell people the crazy thing I do. Do you want to know? Do you want to know what I do when it comes to knowledge skills? I'll tell you. I'll tell you how I handle this s$&%. Prepare to have a f$&%ing aneurism. IF THE CHARACTER HAS THE PROFICIENCY OR RANKS IN THE SKILL, THEY GET THE INFO. THAT'S RIGHT. THAT'S WHAT I DO. I DON'T EVEN COMPARE NUMBERS!!! I'VE BEEN DOING IT SINCE 3E!!! AND THE PLAYERS HAVE NEVER NOTICED!!! THEY THINK I'M ROLLING CHECKS!!! AND I DON'T!!! I'M CRAZY AND RUN TERRIBLE GAMES!!! BWAHAHAHAHAHAHA!!!
Now let the passive thing go already for f$&%'s sake.
The Proficiency Rule and the Tool Rule
Speaking of, here's just a quick rule I missed in my Tweaking the Core article. D&D 5E skirts around the issue of "training requirements." In general, it doesn't answer the question of whether you can even an action without a proficiency or tools or whatever. In the cases where it HAS TO address the question – such as with regards to thieves' tools, lock picking, and disabling traps – it hides those answers thoroughly and gives multiple, contradictory answers in different places. Well, I need an official ruling for some of the trap rules I'm going to be using later. So I'll just have to make my own. Consider this rule a part of the Exploration Master Module.
A task that requires specialized tools – such as a proficiency kit – generally also requires specialized knowledge and training. Thus, characters may only attempt tasks using tools if they also possess the proficiency with those tools. The GM may decide that specific tasks are an exception, as might adventure designers, but they should be explicit. For example, a GM might allow any character to disarm a trip wire with thieves' tools simply by cutting the trip wire.
The GM or adventure designer may also decide that a specific task requires training, tools, or both. Characters lacking in the required training or tools cannot attempt the action. The GM or adventure may allow improvised tools to work, but should impose disadvantage on ability checks for doing so.
Group Checks
I'm happy with my changes to the "helping each other" rule that changes the bonus to +2 for one assistant and +5 for multiple assistants. But the "one roll for group checks thing" wasn't quite working as intended. So, here's the new rule:
Group Checks. When several PCs are trying to accomplish something as a group, the GM can call for a group check. First, the GM determines whether the group will succeed if any member succeeds (such as with searching) or if the group will fail if any member fails (such as with stealth). In the first scenario, the group rolls a single check using the highest ability check modifier and proficiency bonus available to any single character. If any member of the group would have advantage on the check, the check is made with advantage. If any member of the group is benefiting from any bonuses that would apply to the check, the best single one of those bonuses is also applied to the check. In the second scenario, the group rolls a single check using the lowest ability check modifier and proficiency bonus available to any single character. If any member of the group would have disadvantage on the check, the check is made with disadvantage. If any member of the group is suffering from any penalties that would affect the check, the single worst one of those penalties is also applied to the check.
The group still makes a single check. In most situations, the group can avoid penalties by focusing all of their efforts on shoring up a single character, but if the group if swimming in penalties – like everyone wearing heavy armor during a group stealth check – they have to address all of the penalties to get rid of them. But it also prevents the group from getting overwhelmed with penalties. All right, now, with that out of the way, let's make our Exploration Rules.
The Reaction Rule
I'm happy with the reaction rule that I original presented. I think it works well. I'm just mentioning it here so you don't forget that it's a thing.
Now on to the Exploration Rules themselves. These rules entirely replace the Time Pool stuff I wrote. Consider that thing a first draft for the core of my Exploration Master Module. Okay? Here we go.
Exploration Tasks
During exploration, the party is generally engaged in tasks that will take several minutes at a time or they are moving between nearby locations, like rooms in a dungeon. Obviously, more immediate tasks are possible.
When a player declares an action, it is important to distinguish between an immediate action and one that will take a few minutes. Kicking open a door or jumping over a pit are immediate actions. Securing a rope and climbing down one side of a pit and up the other is a task that will take a few minutes. As is picking a lock. Any action that will take more than one minute but less than ten minutes should be considered an exploration task.
During exploration, the party is generally moving slowly and carefully. That means that tasks that would otherwise be quick and easy – like crossing a room, opening a door, moving down the hallway, and reaching the next room – tend to be a little slower. Think about it. The party must gather back up in their marching order, move quietly to the door, someone will peer through, everyone will stop to listen, they will move slowly down the hall, and stack up against the next door. And then decide what to do. Thus, moving from one room or scene to another should generally also be considered an exploration task.
Exploration tasks can also be quiet or noisy. A noisy task is one that can be heard or perceived at a reasonable distance. A quiet task is one that is no louder than quiet talking, one that would be difficult to hear from more than a few feet away. Kicking open a door is a loud task. Picking a lock is a quiet task. Movement between rooms is generally quiet as long as the party is making some kind of effort to go carefully.
In order to determine whether an action is immediate or not and whether it is loud or not, the GM should listen carefully to the players' description of their actions and ask questions as needed. But the default position is that a task is not-immediate and it is quiet. The party can rush or hustle if they so desire and if the GM allows it. A rushed task is almost always loud unless the GM determines otherwise. The effect of rushing will be described below.
Actions During Exploration
As is normal, once a player declares an action, the GM determines whether the action can succeed or fail and determines whether an ability check is required. The GM should also determine whether the action is immediate and also whether the action is quiet or noisy. If the description of the action doesn't make that obvious, the GM should ask questions of the player to determine those answers.
If the action is immediate, the action can be resolved immediately. If the action was loud, the GM Rolls for Complications (see below).
If the action is not immediate, however, the GM should let the other players know that the character is engaged in an action that will take a few minutes and ask what the other players are doing during this time. This should be done before the non-immediate action is resolved. If any players undertake immediate actions at this point or ask questions, they should be dealt with immediately. If any players declare actions that aren't immediate, those actions should be held. Once all the players are committed to non-immediate actions or to waiting for their allies to finish their tasks, the GM should resolve each non-immediate task in turn and then Advance Time (see below). If any of the actions were loud, the GM should Roll for Complications (see below).
Example: The party enters an ancient study. There is a book chained to a lectern in the middle of the room, an ancient desk, and a bookshelf filled with aging books. Unbeknownst to the party, there is also a strongbox sitting on the floor behind the desk. Any player in the vicinity of the desk will notice it immediately. Alice says, "I want to go check out that book on the lectern." The GM explains that it is a leather-bound book, aged, but intact. The cover has a padlock, locking it closed, and it is secured via a chain to the lectern. Alice wants to investigate the book further. The GM asks what she means. She says she suspects the book might be protected by a trap of some kind. She'd like to be sure it's safe before she tries to unlock it. The GM says "that will take several minutes, okay? While Alice is doing that, what do the rest of you do?" Bob says he'd like to go over an examine the desk. The GM says "as you approach the desk, you notice a metal strong-box on the floor beside it. It is closed with a padlock." Bob says "I want to try to pry open the padlock with my crowbar." The GM nods and says "that will also take a few minutes. You can do that while Alice is looking for traps." Carol says, "I'm just going to keep watch." Dave says, "I'll go look through the books on the bookshelf. I'll see if I can find anything valuable or unusual." Now that Alice, Bob, and Dave are committed to non-immediate actions and Carol is waiting for them to finish, the GM can resolve each action in turn. The GM determines that none of the actions are loud. The GM Advances Time and then resolves each of the actions in turn. And then asks the party what they want to do next.
Extended Tasks
In general, an exploration task should take no longer than ten minutes. However, some very complicated tasks can take an extended period of time. The GM can determine, for example, that an extremely complex, ancient lock might take longer to pick. During that time, the party might attract attention and complications may arise.
When designing an extended task, a GM should determine how much time the task requires in terms of actions. Each action Advances Time (see below) once and, if the action is noisy, may cause a Roll for Complications (see below). Obviously, during this time, other characters may engage in actions as described above or they can simply wait. If the action does not require a die roll, the GM merely Advances Time for each required action and, if necessary, Rolls for Complications. If the action does require a die roll, the GM Advances Time and Rolls for Complications for each action as normal, but if the die roll is a failure, the character makes no progress. Thus, they may have to attempt further actions in order to complete the task. Of course, if the action takes too long, the party may decide to give up. Particularly if complications arise.
Time and the Time Pool
As players spend time on exploration tasks, the passage of time will have an effect. Timed effects (like spells and conditions) will expire and timed resources will get used up (such as torches and lamp oil). There is also an increasing chance that the party will suffer some random event, setback, or complication. But, while it is important to keep track of time, it is not important to keep track of time precisely. Instead, the GM uses the Time Pool.
The Time Pool is a pile of tokens visible to all of the players and the GM. The GM can use coins, candy, or poker chips. The GM can also use dice of the appropriate type if the GM has enough of them.
Whenever the party is engaged in one or more non-instantaneous exploration tasks as described above, or whenever they move from location to location within the dungeon, or whenever they engage in an activity that takes between one and ten minutes (such as casting a spell as a ritual), the GM Advances Time. The GM may also Advance Time if the party is staying in one place debating their actions for more than a few minutes. This can prod a distracted party to action as the characters realize they are wasting time and possibly attracting attention.
When Time Advances, any effect with 10 minutes or less remaining of its duration expires. Other durations are not effected. The GM then adds a single token to the Time Pool. If multiple characters undertook simultaneous exploration tasks, the GM adds only a single token to the Time Pool. However, the GM does not add a token to the Time Pool if there are already six tokens in the Time Pool. Instead, the Time Pool is Cleared (see below). If the party was rushing at a task, the GM also does not add a token to the Time Pool. However, in those cases, the GM still Advances Time and all applicable duration expire.
After expiring durations and adding necessary tokens to the Time Pool, the GM should Roll for Complications if any of the attempted tasks were loud (whether they succeeded or not) or if any of the tasks were rushed (again, regardless of success).
Rolling for Complications
Whenever the party attempts a loud or rushed task, the GM Rolls for Complications. The GM will also Roll for Complications before Clearing the Time Pool (see below). In addition, whenever the party does something to attract attention (such as arguing loudly), the GM may Roll for Complications. If the party spends several minutes arguing loudly about where to go next, the GM may both Advance Time and Roll for Complications.
Elements of the adventure could also call for a Roll for Complications as determined by the GM or the adventure designer. For example, if the party sets off an alarm trap or if a goblin prisoner starts screaming for help, the adventure could call on the GM to Roll for Complications.
To Roll for Complications, the GM rolls a number of dice equal to the number of tokens currently in the Time Pool. That's why it can be helpful to simply use dice for the Time Pool if you have enough. In most normal situations, the GM will roll d6s. However, in less dangerous or more sparsely populated environments, the GM could use d8s. And in extremely dangerous environments, the GM could use d4s.
Various factors in the adventure could change the size of the dice used when Rolling for Complications. For example, if the party invades a kobold lair during the day – when most of the kobolds are sleeping – the Complication Dice might only be d8s. But if they come back at night, those dice become d6s. And if some kobolds manage to escape from a battle and raise the alarm, those dice might become d4s. Again, GMs and adventure designers are encouraged to use the Complication mechanic creatively to add different elements to their adventures.
Regardless of the number and size of the Complication Dice, if any die shows a 1, a Complication occurs. The GM should remove one token from the Time Pool and then resolve the Complication. Otherwise, nothing happens.
Complications
A Complication is a random event, setback, or encounter that befalls the party. They are prescribed by the adventure, but the GM can invent new ones on the fly. The most common Complications are random encounters with creatures wandering around the dungeon. In general, such an encounter should be an encounter of Easy difficulty for the party's level or even easier. Such encounters should be nuisances rather than serious threats. The party should not earn any XP for dealing with this encounter, nor should they earn significant XP for dealing with any Complication.
Wandering creatures do not have to be hostile, though outright friendly creatures should be exceedingly rare. Other random events can include geological events, minor traps and hazards that risk a few hit points of damage or impose a condition on an unlucky PC, or the like.
GMs or adventure designers are welcome to design whatever Complications serve the theme of the adventure. But Complications should not be terribly complex. A random encounter should include only one or two types of creatures with clear, simple motivations. Other random events should not be more complex than a single event that the party can react to. In general, for each adventuring day that the GM or designer expects the party to spend exploring the site (as defined on DMG 84), there should be at least four but no more than six possible Complications. They could be organized on a random table or the GM can simply choose an appropriate one.
Specific locations can also have specific Complications keyed to them. For example, in the cave of sulfurous geysers, a Complication can always result in a spray of noxious gases from one of the geysers. An adventure designer could also instruct a GM to Roll for Complications each time the party passes through the Sulfurous Geyser Cave. Complications and Rolls for Complications should be used in this way to create special effects that help bring a dungeon to life and all sorts of random events can key off of this system.
GMs and adventure designers are advised not too worry too greatly over the idea that the party being "loud" can somehow increase the odds of an earthquake or volcanic geyser eruption. This sort of abstraction is actually quite common in fiction and is seen all the times in movies. And since loudness and brash clumsiness go hand in hand, as does loudness and inattention, it is perfectly sensible to key sudden, unexpected surprises to the party's "loudness." And the fact that I even feel the need to include this paragraph makes me mad and angry. So, if you want to argue the point with me, I'd strongly advise you to reconsider.
If the GM is ever required to Roll for Complications when there are no tokens in the Time Pool, the GM should roll one Complication Die. If it shows a 1, a Complication arises. Otherwise, nothing happens.
Clearing the Time Pool
If there are already six tokens in the Time Pool when Time Advances, the GM does not add another token to the Time Pool. Instead, it means that one hour of game time has passed and it is time to Clear the Time Pool.
After all effects with 10 minutes or less remaining of their durations expires as normal for Advancing Time, any effect with an hour or less remaining of its duration expires. Any effect with a duration greater than one hour remaining has one hour subtracted from its remaining duration. Then, the GM Rolls for Complications regardless of whether any attempted actions were loud or rushed. The GM should only roll six dice and not add any for the final advancement of time that caused the Time Pool to clear. Whether a Complication occurs or not, the GM then removes all tokens from the Time Pool.
Thus, the Time Pool gradually counts up to one hour of game time. Because of the slight variation due to Complications removing token from the Time Pool and the possibility of characters rushing, the actual number of tasks accomplished in an hour may vary slightly. This accounts for the imprecise nature of time tracking.
Whenever the Time Pool is cleared, the GM can mark one hour of time on a log. This will help the GM determine how long the party has been adventuring. Moreover, in event-based adventures or adventures with specific time limits, the GM or adventure designer can key those events and time limits to one-hour intervals. Thus, the Time Pool provides a simple mechanic for keeping track of time.
Time Flies
Each token in the Time Pool represents the passage of approximately ten minutes of time. If the party engages in an activity that takes more than 10 minutes – for example, the party takes a short rest – during exploration, you may add one token to the Time Pool for each 10 minutes of time spent. Each token represents a normal Advancement of Time. Thus, if the party is being loud or drawing attention during these extended activities, the GM should Roll for Complications once or twice. If the Time Pool is filled as a result of adding these tokens, the GM should add only enough tokens to fill the Time Pool, Roll for Complications as normal, and clear the Time Pool, and then add any remaining tokens.
As a shortcut to this process, if the party takes a short rest, the GM can simply assume one hour passes. He can mark an hour on his log and expire or decrement effect durations as normal. After that, the GM can pick up six dice of the appropriate size and Roll for Complications. The actual Time Pool remains untouched. This removes the possibility of interrupting a short rest in the middle with a complication, but it greatly simplifies the process, avoids the need to deal with partial short rests, and does not prevent the players from benefitting from a short rest they desperately need. However, it still provides consequences for the choice to take a short rest. Thus, most GMs are advised to use this simpler method.
Exploration Mode Engage!
And with that, we have an excellent framework for extending the modes of play around exploration. It provides tools for GMs and adventure designers and also provides consequences for different choices the players might make. Consequences they can understand and can easily see. For example, bashing down a door is quick, but loud. Picking a lock is quiet, but slow. But, while the Exploration Master Module works fine on its own as an addition to the game, it will really shine when we start building other rules on top of it.