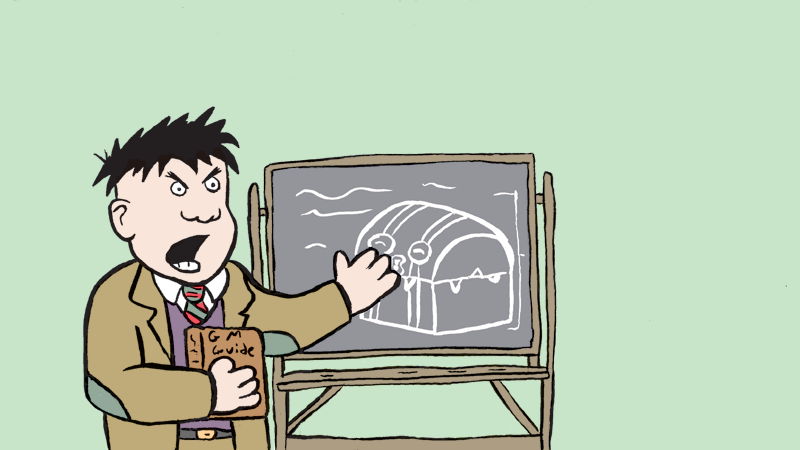 I'm really going to change this crap up today. First, there's no Long, Rambling Introduction™ today. Just a short little introduction. This introduction. Second, this article probably isn't for you. At least, it's not for you to read. Because it's not really for Game Masters at all. Not for them to read. It's for them to print out and hand to their players. See, my recent article about combat narration started with a conversation about how players weren't declaring actions properly during combat. And after I posted the article, I ended up in even more discussions about how players don't seem to understand how this game works and how it makes it really hard to run games for them. And, after running a few recent games for some new people and attending a convention, recently, I've observed some really troublesome behavior from players. So, in my infinite magnanimity – because I am pretty much the most magnanimous gamer in the entire freaking community – in my magnanimity, I've decided to provide a public service to all the GMs out there who are struggling with players who can't play worth a damn. Probably because someone taught them wrong. Or because they are just, well, stupid. They are players, after all. If they were so smart, they'd be GMs.
So, feel free to print this article out and hand it to any of your problem players so they can understand how to suck a little less at role-playing and declaring actions. You probably want to leave off that above paragraph though.
Introducing: The Angry GM
Hi there. My name is The Angry GM. You probably don't know me. But you probably do know my work. Have you noticed how your GM's games have gotten much better lately? That's because they started reading my website. Or maybe they even bought my book. And if they didn't buy my book yet, it'd make a perfect gift for them. Much better than the dice you're always buying them. Trust me, GMs have dice. We have plenty of dice. So, buy your GM a copy of my book.
Now, I know that name is pretty scary. The ANGRY GM. But don't worry. I'm actually a really nice guy. I'm not the sort of person who would call players stupid or suggest they are playing the game wrong or anything like that. I just want everyone to have a really fun time playing table-top RPGs any fun way they want. Except for wrong ways. But there aren't any wrong ways. That's what terrible, mean GMs would say. And I'm not that. No. I'm nice.
Look, I'm here because your GM asked me to talk to you. Sort of. I mean, I volunteered. Because your GM wouldn't actually ask me to talk to you. Your GM doesn't want to make you feel bad or imply you've been doing anything wrong. Your GM just wants you to have a good time. But, it turns out, you've been making your GM's life a little harder than it needs to be. Because, even though there's no wrong way to play RPGs, you've been doing some stuff that isn't… the… uh… best way to play. For everyone. Including your GM. Who also wants to have fun. Your GM doesn't want to leave every game and have to bang their head against a brick wall for an hour to erase the memory of the four hours of torture you put them through because you don't understand basic concepts like how… I mean… uh. Excuse me.
So, I just want to lay out some basic, fundamental ideas about how role-playing games are supposed to work and dispel some misunderstandings. So that everyone can have fun. Don't think of this as me correcting you. Think of this as me showing an even more fun way of playing than the perfectly not wrong way you've been playing so far. Okay? Good.
Playing a Role
Let's start by talking about what role-playing actually is. Which is not to imply there is one true, correct definition of that phrase and that words actually have meanings you can't just change to suit your own whims or whatever internet argument you're making at the time. Of course, words can mean anything you need them to mean and there are no fixed definitions for anything. That wouldn't completely ruin 50,000 years of human communication. But, just for fun, let's look at one specific definition of role-playing that is just as correct as all the others, but happens to be super useful in not driving your GM completely bonkers.
The idea behind role-playing is that you play a role. You adopt a persona. You pretend to be someone you're not in a fantasy world. And you pretend all of it is real. Like, it's an alternate reality or something. There really is a world where people can be elves or werewolves or part dragons. And no, not like Tumblr.
Now, the GM is going to present you with a situation. And your job is to imagine the situation they describe is actually real. And it's happening to your character. And then, you decide what your character would do if that situation were real and if you were your character. Now, that might seem a little remedial. But I feel like we have to start there because it lays a foundation for everything else you're totally screwing up. I mean every other better way I'm going to discuss below. And I – and your GM – feel like maybe you're missing some part of this idea.
Why? Well, for lots of reasons, which I'll discuss below. But for one reason in particular. And that's that some of you tend to do things that are a little gonzo. A little bonkers. A little strange. Especially if you're a little new to the game. Or if you've been reading the wrong gaming blogs. See, sometimes, you'll do some absolutely crazy stuff just to test the limits of what you can do or because crazy, bonkers stuff is more fun. And sometimes, it is. Some games are crazy and bonkers. And that's fine. But that's not what most GMs want to do. Most GMs want to create a satisfying story that is also a satisfying game. Like a good movie combined with a good video game. So, if the party is exploring an ancient ruin and everything is all tense and stuff and suddenly a young dragon flies down from hole in the ceiling and roars and confronts the party and it's about to be a really exciting boss fight, it kind of ruins things when you say you want to seduce the dragon.
See, when you tell the GM what you want to do – unless your GM is crazy and bonkers, and if they are, they didn't give you this article to read – when you tell the GM what you want to do, the first thing the GM is going to do is imagine the world as a real place, imagine your action in the world, and try to decide if it's possible or not. And stupid, crazy actions short circuit your GM's brain. Remember this part, by the way. I'm going to come back to this idea later.
The thing is, it just seems like some of you tend to choose your actions to finish a sentence that starts "wouldn't it be really funny if my character…" And yes. It would be funny. But funny isn't always fun. Funny is fun if you're watching a cartoon or telling a joke. But if you're watching a drama or telling a serious story, funny isn't fun. And if everyone at the table who isn't you is involved in the drama, funny makes everyone else stop having fun. It has to do with something called tone, but don't worry about that. It's something GMs worry about. A lot. Which is why your silliness – especially if you are the only silly person at the table – gives your GM an ulcer and makes them want to quit running games forever.
Remember, the sentence you should be completing is: "if this situation were real and I was my character, I would…" And likely, the correct way to finish that sentence very rarely involves seducing anything that isn't human. Or, at least, humanoid. Unless you're on Tumblr. And you're not.
The same basic logic applies to players who purposefully take stupid actions, useless actions, or actions that are likely to fail because they think it will make the story more interesting. In fact, let's talk about that "story" thing. After we talk about dice.
Brains Before Dice
Admittedly, most players get over being silly, ridiculous, or purposely seeking failure after a few games with the right GM. So, that may not be your problem. And, let's be honest, if your GM handed you this to read: you are causing a problem. But not in any way that should make you feel criticized. Remember, I'm nice. I would never judge you. I'm just showing you a different way to think about things.
For example, let's talk about dice. To you, the dice are very powerful things. They rule your fate. Or the fate of your character. Though, let's be honest, there's no real difference in the game between you and your character. You're thinking for them. You're acting for them. And if they die, you die. Ha ha ha. Just kidding. Very few GMs use that optional rule anymore.
The rules of the game say that every time you try to do something in the game, you roll some dice. And if you roll a good roll, whatever you wanted to happen happens. And if you roll a bad roll, whatever you wanted to happen doesn't happen. Makes sense, right? And it makes so much sense that you might even think that it's the dice rolls that are making thing happen. As long as some dice get rolled, things might or might not happen.
Now, this leads to some very bad behavior that drives GMs absolutely frigging bonkers. I mean, this leads to some perfectly fine behaviors that can nonetheless cause your GMs some stress for reasons you may not quite understand. For example, you might find your way in the game barred by a stern guardsman. And you might snatch up your die, roll it, and say, "I Persuade him. 20." And you might think that because you rolled a really good result on a Persuasion check skill, that's enough. But it isn't.
You can succeed without rolling a die. You can fail without rolling a die. You can go a whole game session without rolling a die. Not that I recommend that. It isn't fun. I know some GMs who actually brag that they ran an entire session without rolling dice. And I've told them why they are wrong in previous articles. But now, I have to explain why always rolling dice is also wrong.
Remember what I said above: when you say you want to do something, the first thing your GM does is to think about the action and think about the world and decide if your action can actually work. And then the GM has to decide if the action can actually fail. And only if the action can succeed and if it can fail does the GM actually need a die roll. Think about it, if you jumped off a cliff and flapped your arms, there is no way you'd actually start flying. You'd just end up dead. Or with a pair of broken legs and a ruptured spleen at the very least. There is no way in hell that flapping your arms – if you're a human and not a wizard with a flying spell – there is no way flapping your arms can make you fly. We don't need a die roll to determine that.
Likewise, if you try to open a completely normal door that isn't locked or stuck or anything, there's really no way you'd fail. I mean, sure, there's a chance your hand with slip off the doorknob and you'd end up bonking into the door because you started walking as you were opening the door, but that's a really slim chance. Too slim to worry about. There's no reason to roll a die to open a door.
The thing is, the dice and the rules are tools. The GM uses them to figure out the results of stuff that could go either way. But the action has to be possible first. The dice don't make everything possible.
Moreover, the dice don't have magical powers to change reality. They can resolve questions about whether something possible happens, but they can't make the impossible possible. Even if you rolled a 20. If you try to talk your way past a guard, you might be able to persuade the guard to look the other way and let you sneak in, but a 20 on the die roll won't make the guard fall madly in love with you and become a goo-goo eyed love slave.
Did you know, in most versions of Dungeons & Dragons, a roll of a natural 1 or a natural 20 on the die actually doesn't mean anything except on attack rolls? They mean "automatic miss" and "critical hit" respectfully when it comes to swinging a sword, but on all other die rolls, they don't actually mean anything. Not even automatic success.
My point is two-fold. First, don't roll dice until your GM asks you to roll dice. Your GM may not need a die roll. Your GM might already know if the action succeeds or fails because it can't go any other way. Not logically. Second, you should always start trying to decide what to do with the question of whether something is actually reasonably possible or not. Because no amount of die rolling will make the impossible possible.
But there ARE ways you can hedge your bet.
Dual Wielding Detail and Clarity
Let's go back to that guard situation. You and your friends are trying to get into the palace in the middle of the night. And there's a guard on the door. Which makes perfect sense. So, you decide you want to persuade the guard to let you in.
Let's just think about that a second. Think about it from the guard's perspective. You have one job: guard. Here come a bunch of armed adventurers and they want to get into the palace. Your job is not to let anyone into the palace. You're about to turn them away, but then they… what? What do they do? They are really friendly to you? They say please? They make creepy sexual advances at you? Is any of that really going to sway you? No.
And here's the problem, when all you – as a player – do is say "I persuade the guard," that leaves a lot of vagaries. If all you're doing is saying please, that's not going to work. And a good GM will say, "umm, no." But what if you are actually really trying to prevent a plot to assassinate the king. What if you have some evidence and you're in a hurry to stop the king from getting killed. And what if one of you is a lawful-good paladin of a known religious order. If that's the case you make, well, the guard might actually buy that. If the guard thinks the king is actually in danger, well, part of his job is protecting the king. He might let you in. He might even help.
And that's where the most important weapons you have as a player have to come out: detail and clarity. Don't be vague. Be clear. Be detailed. Give the GM as much information as you can about what you're trying to do and how you're trying to do it. Because that's what the GM is using to determine whether you even get to roll the dice, let alone what will happen based on that die roll. In fact, those two things are very specifically what every GM needs to hear to properly decide how to handle an action: WHAT is your character trying to accomplish; HOW are they trying to accomplish it. Your character is trying to talk his way past the guard by convincing the guard that the king is in danger and that the party is here to help.
And the best way to keep all of this in mind is not to think about the rules at all.
Don't Think About the Rules; The GM Sure Isn't
A well-trained GM doesn't think about the rules of the game – about die rolls and skills and stuff – until their brain has had a go at the situation first. They only use the rules when they absolutely need them. Brains before dice, right? Well, that's how you should think too. I mean, look, you know what your character is good at. You know what your character is bad at. You don't really need to think about the specific skills and attributes to know what they can and can't do.
How would a strong, athletic, intimidating fighter open a stuck door? How would they deal with a guard getting in their way? How would they deal with an open pit in their path? You KNOW the answers. You know the guard would break down the door, scare the guard or beat him up, and just get a good, running start and jump over the pit. You don't need to tell the GM that you want to make a Strength check to bash down the door, make an Intimidate check to scare the guard, or make an Athletics check to jump the pit. The GM knows all that stuff too. But the GM might also know the guard is a coward and won't actually stand his ground and so no die roll is needed. Or he might know the pit is an illusion. Or that the door is secretly made of titanium and painted to look wooden.
The worst example, the worst thing you players do, is lock yourselves out of options and lock your GM out of interpreting things the best way possible. For example, if I describe a strange symbol and you say "I'll use my Religion skill" to interpret the symbol, well, maybe it's not a religious symbol. You can roll the check, but it's going to fail. If, instead, you say "do I recognize the symbol," I might say, "no, but your friend the wizard might because it's a magic symbol, he should roll an Arcana check." If you just start telling me what skills to use and chucking dice, you're wasting my time.
And let me tell you something else: some of us GMs actually like to change things up and apply different skill modifiers to different ability checks to give the players an edge. Like, if your fighter is really strong and powerful and decides to start shoving someone around, we might make let you make an Intimidate check with Strength instead of Charisma. Why not? Makes sense. If you're actually physically assaulting someone to scare them, Strength beats Charisma.
We can't do that if you start telling us which rules to use and chucking dice at us.
And that's what we really want from you. We want you to think about the situation you find yourself in, think about your character, and tell us how your character responds to the situation. Clearly. And then, after we all understand what your character is doing in the situation, then we'll use the rules we need to work things out.
Which brings us around to the other thing I wanted to talk about: story.
No, It's Not a Storytelling Game
Now, I know some of you have heard that Dungeons and Dragons and other table-top role-playing games are storytelling games. Or worse, collaborative storytelling experiences. And, again, I'm not going to tell you anything is wrong because nothing is every wrong and anything can be anything to anyone, obviously, but I am going to tell you that there's another way to look at this that is less… more…
Look, it's wrong. I'm sorry. RPGs are not storytelling games or collaborative storytelling experiences. They are games. They are games in which you take on the role of a character in an imaginary world, decide what that character does, resolve those actions, and deal with the consequences. But because they are games about the choices people make and the consequences of those choices, well, good stories come out of them. Because that's what makes a good story: things happen, people make choices, and then everyone has to live with the results.
I don't want to throw a lot of jargon at you, but the story in a role-playing game is an emergent thing. It comes out of playing, but it's not part of playing. The stories that come out of RPGs are really cool things – I am not saying they are not – but they are cool because they emerge from people making choices in difficult situations. And unlike a book or movie or whatever, the story doesn't follow a single path that is determined by what the author thinks will make the "best" story. The story that emerges from an RPG is an organic story. It's a story that grows of the situations the GM – the author – creates and the choices the players – the protagonists – make. The stories are exciting because they are unexpected and unpredictable. They grow out of what happens at the game table. Now, the GM does do some stuff to make sure the story follows certain patterns, but I don't want to go into all of that. My point is that the minute you stop making organic decisions that the characters would make if they were real and the story was real, you're ruining what makes the stories that come out of RPGs so great. You're forcing them.
See, some players like to have their characters screw things up on purpose because they think it would make a "better story." Some players think failure is more exciting than success because the story gets complicated. Some players seek complication. And that's all artificial. Your job is not to mess up the life of your character, so it makes for an interesting story, your job isn't to craft a story at all, your job is to BE the character and EXPERIENCE the story that results from that character being who are they and dealing with what they deal with.
Honestly, thinking about the game as a story first is just as bad as thinking about it as rules first. Because it makes for a bad story. How? Look, stories are – first and foremost – about people and the choices people make. And the reasons they make them. And the consequences of their choices. That's the essence of all drama. Drama is about people in conflicts and the choices they make to resolve those conflicts. Conflicts with each other, with the world, with supernatural forces, or even with their own desires.
If your character doesn't behave like a person, if their actions don't make sense, the story sucks. It just sucks. It's gibberish. It's nonsense. It's crap. And the moment you start making decisions based on anything other than what the character would do, you're wrecking the story. You're wrecking it for yourself, for your friends, and for your poor GM. Especially your poor GM. Because your GM has to make sense of everything that happens at the game and keep it going. And if your GM can't figure out what you're going to do because you always behave in the most contrary way possible, your GM is going to have a nervous breakdown. Trust me. If you're reading this, there's a good chance your GM has literally had a nervous breakdown at me. That's why I'm here.
And that leads me to my last point when it comes to declaring actions.
You Can't Just Say How Your Characters Feel; That Makes Me Feel Angry
I don't know when this started, but it has to stop. Because it's wrong. Well, not wrong, but it's not the best way to play. Because it's the worst way to play. Because it's wrong. Stop telling everyone at the table what your character is thinking. Stop. Just stop.
I know you are very proud of your very creative character and their complex and detailed backstory and you want to share that information with everyone. But if you start every action by detailing your characters motives, feelings, and thoughts, you're actually wrecking the fun of discovering it. And you're ruining any sort of meaningful interaction you might be able to have. Let me explain:
Suppose your character is an otherwise brave, stalwart fighter. The battle is going badly, your allies have been disabled, the monster only needs one hit to kill them, everyone is cheering for you to take the attack. But, you say, "my character remembers the time, on the battlefield, when they ran forward to engage the enemy and left their best friend behind and their best friend died. So, I don't attack. Instead, I run over to my friend, the wizard, and pour a healing potion down their throat."
Now, that's pretty neat. And that's thinking like your character and considering the situation and the choice before considering the rules. All good. I'm one hundred percent on board. But you should have just taken the action. Just say "I run over the wizard and revive him with a healing potion, saying 'I won't let you die!'" And let everyone wonder why.
Here's the thing: we learn about people – even fictional characters – by observing their actions and by interacting with them. We can't read people's thoughts. So other people are a mystery to us. Sure, sometimes, in a book, we get to listen in to one character's particular thoughts, but our viewpoint is usually limited. So, we can't read everyone else's thoughts. And books in which everyone's thoughts are always spelled out… well… the reason you can't think of any is because they aren't very good.
Imagine if, in the first book of the Harry Potter series, at Harry's first potions class, we'd gotten the following:
"Ah yes," Snape said softly, "Harry Potter. Our new – celebrity." Looking down on the young wizard, Snape was struck immediately by Potter's eyes. So much like his mother, Lily's. And Snape felt a powerful mix of love and loss and regret at remembering her, the witch he had loved, who he would always love, though she rejected him. She chose him. James Potter. And suddenly, in Harry's face, all he could see was James Potter. James. Everyone's favorite. Beloved. Egomaniacal. Bully. This boy was so much like his father. Snape could already see it. Famous before he could speak, beloved by all, there was nothing of Lily in this little brat. But perhaps. Perhaps there was something. After all, the eyes. And perhaps Snape could help. If he could quash the boy's ego before it got any bigger, bring the boy down a peg, perhaps Lily could emerge. Yes. Snape would do that for her. Crush the James out of him and let the Lily emerge. Yes. That would be better than merely protecting the boy from the agents of the Dark Lord, as Dumbledore had asked him to do. Snape knew, as a double-agent, that Voldemort still had loyal followers and they believed – or knew, perhaps – that they could bring the Dark Lord back if they could just kill Harry Potter. And Snape had taken a secret oath to serve Dumbledore and protect Harry. But if he could keep Harry's ego in check, well, then the boy might be spared following in his bullying father's footsteps. Yes, that's just what Snape would do. He resolved then and there.
That would ruin a few books worth of surprises, wouldn't it? It would ruin everything that made Snape such a compelling character. It would ruin all the twists and turns. All the revelations. The character's every action would just be carrying out a plan. And all of those scenes later that revealed Snape's real motives would be robbed of their power.
If you're not a Harry Potter fan and none of that makes sense, just imagine in the first Star Wars movie – Episode IV – when Darth Vader captured Leia, if he had said, "now, listen young lady. I, Anakin Skywalker, am your father and you will tell me where the Rebel Base is right now. And then we'll go find that twin brother of yours; Luke."
Now, you might be thinking, "yes, that's true, but my character is the protagonist, the viewpoint character, people get to know what I'm thinking." Now, look around at the other five people at the table with you. See them? Notice how your character is only YOUR viewpoint character. The other players have their own viewpoint characters. And the GM doesn't necessarily have any idea. You are robbing them of the fun of discovering what an amazing character you made. Moreover, by telling them what you're thinking, you're also making any scene in which one of the players questions you about your past completely pointless. The wizard can't walk over to you later and ask, in a private moment, why you saved them instead of just finishing off the ogre. You can't have that touching scene. Or evade the question and leave them wondering. Because you broadcast your thoughts to the table.
And that's also why it's so important for you to make the decisions your character would make. Because every action you take, every choice you make, becomes a clue about your character's motives and backstory and personality. Just like the story emerges from all of the different things that happen in the game, for everyone else, your character emerges from their actions and choices. And that's a fun bit of discovery for everyone. The most interesting characters in any story are the ones we learn about little by little. The ones we have to understand gradually. One choice, one action at a time.
So, for the love of all that is good and holy, stop broadcasting your character's thoughts to the entire table. Use some frigging subtlety and let us gradually come to understand your character over time as you come to understand ours.
And learn to declare a proper action, stop putting the rules first, don't ascribe any magical powers to the dice, and learn what role-playing actually is dammit. Because your GM wants to strangle you and I'm the only thing holding them back right now.
In short: stop playing wrong stupid.