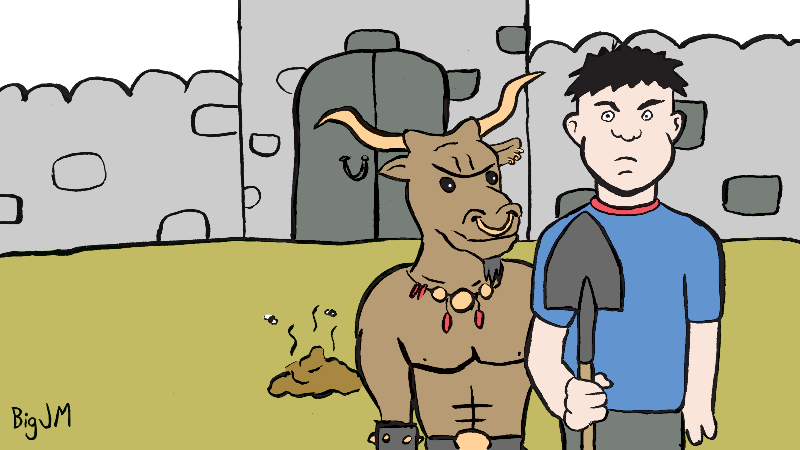 SNIP!
All right, I just cut like fifteen hundred words from this article. Most of it was introduction. And it was crap. And the reason it was crap was that I spent a lot of time qualifying and explaining hedging in an attempt to prevent arguments and to placate people. And I am sick of feeling I have to do that crap because the Internet is full of immature, irrational assholes. So, let me sum all the important points as quickly as possible.
This is my monthly BS article where I ramble about some game design topic that I'm interested in thinking through. It's probably crap. You've been warned.
This article references game designer Mark Rosewater, who some people consider a saint and some people consider an asshole. I don't care what you think of him as a person. Frankly, I'm not inviting him over for a barbecue anytime myself. But he has a lot of good, useful stuff to say about game design. And I am interested in ideas based on their merit and utility, not on whether they get spewed out of the same cakehole as a bunch of really crappy social and political crap. If you have an opinion on Mark Rosewater as a person, I don't care. Neither does anyone else. This article is about game design. Comments about anything but game design will be deleted. And comments about the quality of his designs will also be deleted. The only comments allowed are the ones that address specific ideas from the article itself. And if I have to moderate this crap too much, I am just going to close the comments.
Also, I am very clear that everything in the Rosewater article I'm going to reference is, in fact, his own OPINION. It is not a statement of objective fact. And I'd have to be an utter moron to think it was anything else. Subjectivity is implied. That doesn't need to be pointed out either. And pointing out that something is merely someone's opinion is NOT ACTUALLY A COUNTERARGUMENT. It's actually just petulantly screaming "I don't have a counterargument, so all I can do is vomit forth something abundantly obvious and make it sound like a counterargument because I just want to win the Internet." Keep that in mind when you comment too.
Are we clear? If so, then continue. If not, then close the browser and get your ass off my site. Because you're not wanted here.
So…
A couple of days ago, I wrote an article about laying out goals for adventures. You might even have just read it yesterday. That's because thanks to a month of utter chaos involving Kickstarter disasters, publishing disasters, health problems, and family issues, I'm trying to crank out a month of content the span of ten days. But, I want to be clear that just because you're reading these articles over the span of days, that doesn't mean I'm writing them over the span of days. The articles you've been reading this week have all been sitting around in various states of doneness ranging from "needs to be finish" to "needs to be cleaned up" to "needs to be rewritten because it's crap" to "just needs a Long, Rambling Introduction™" for a while now.
Anyway, while I was writing that article about adventure goals, I came across an interesting article by Mark Rosewater entitled Ten Things Every Game Needs. See, contrary to what you might think, I don't just talk out of my ass. Often, before I speak categorically and authoritatively about something, I do actually do a little bit of reading about the topic. Oh, sure, I don't cite my work. This isn't academia or Wikipedia; which is why I'm actually credible. But I do like to find out what other smart people have said on the topic I'm about to talk about. At the very least, it helps me find out what misconceptions I have to correct. Because, man, are most people wrong.
So, while looking up what other people had written about goals in games, I found this article. In it, Rosewater runs through ten design elements that every game needs to have to – in his opinion – count as a game. And he briefly describes each element and why it's important. It's interesting stuff. And useful. And I think Rosewater is qualified to make those pronouncements.
Who is Mark Rosewater? Well, since 2003, he's been the lead developer on Magic: the Gathering, WotC's Hearthstone clone. I kid. I kid. WotC has publicly said that Hearthstone and MtG are totally different things and not in competition at all.
Sorry. Enough shade.
MtG is one of the greatest game design success stories ever. To this day, it is still – based on sales figures – the most popular "board and/or card game" in the world. Which is how various industry publications and the companies who make games classify such things. And Rosewater has been stewarding the design for sixteen years. Yeah, it's having some problems now. And MtG may be on the decline. But still.
To be fair, though, Rosewater didn't invent the game. The game was actually invented by utter genius Richard Garfield, a mathematician and game designer who presented the idea to Wizards of the Coast back in the early nineties before anyone had ever heard of them and they couldn't afford to buy a set of D&D hardbacks, let alone buy the entire damned game from TSR. Which they did in 2000. With MtG money. And, as such, they prevented D&D from dying forever when TSR imploded. So, MtG quite literally saved D&D. Garfield actually based on MtG on an older game he'd designed back in the 80s called Five Magics. And he's got a lot of other games under his belt, including Netrunner and the awesome battlebot board game Robo Rally.
Now, I can't say how good a designer Rosewater actually is. But I can say he's really good at analyzing, writing, and talking about design. He spends a lot of time picking apart the mechanics that Garfield designed and obviously has a deep, abiding respect for Garfield. But none of that is what I'm talking about.
Here's the thing: I've said TTRPGs are not really games. They are game engines. They are systems that allow people to design and run games. And that's not really a controversial thing to say these days. But what interested me was "okay, so, if D&D isn't a complete game and a GM has to, sort of, finish designing it, which elements on Rosewater's list does the GM have to bring to the table because D&D doesn't?" Now, I'm interested in the question of the completeness of TTRPGs for other reasons too. But that's something I'll worry about on my own time. I think, though, that GMs would benefit from knowing what elements of game design they need to be responsible for.
So, that's what I'm going to do in the rest of this BS article. I'm going to assume Rosewater got it mostly right – except in one specific spot which I'll call out later – and run down his top ten list and ask myself whether that element is present in the system, whether the GM needs to bring it, and whether the system provides the GM tools to do so.
Two caveats. First, you really should read Rosewater's 2011 article first. I'm not going to reexplain everything he does. Just refer to it. Though, I'm probably wordy enough that you can get by with just my quick one sentence summaries. Second, remember that every game is different and different games will have these qualities in different amounts. And remember the whole is usually greater than the sum of its parts. So, yeah, you can find a game that has, say, minimal surprise or minimal strategy, but that doesn't make it "not a game" or make Rosewater wrong. The point is that Rosewater believes a game must have at least a drop of each of these elements to make it a satisfying game experience. Let's not get bogged down arguing that and lose sight of the more interesting activity.
Okay? Let's go.
1. A Goal or Goals
Now, I already discussed this at length in the very article that led me to discover Rosewater's article and therefore led to this article you're reading right now. It's kind of article-ception. Basically, Rosewater says that every game needs a goal and that goal has to be attractive enough to make it seem worth pursuing. The goal provides a reason to play the game as well as providing a context for all of the things the players will do while playing the game. Easy enough.
Apart from a pair of very broad, implied goals, TTRPG systems don't actually offer goals. The implied ones are "keep your character alive" and "grow your character." That first one, survival, is a pretty weak goal. It's basically "don't lose." And that doesn't really count. The second one comes in the form of XP systems and levels and acquiring skills, powers, and loot. It'd be foolish to ignore those things as goals. Clearly, they are something you gain by playing right. By playing well. But that second goal isn't particularly strong either. First, it doesn't really provide much context for the game actions. It does give the players a reason to keep getting through encounters, but it doesn't drive the action beyond that. And it's also not something that has an end-point. I mean, sure, there is a highest level in the game. But that's not what most players pursue. They don't set out to become 20th-level. That's not the goal. That's not how you win. Even though it is satisfying.
So, TTRPGs expect you – the players and the GM – to bring the goals. The GM presents adventure goals. And the players CAN choose personal goals for their characters, which the GM can then work into the game. And this is probably the most important thing any content-creating GM must bring to the table. They must bring a regular pile of achievable goals that are attractive to the players. Or they must facilitate the players choosing their own goals.
But I already wrote an entire article about this. Several, actual. So, I don't need to belabor this point. And I don't think there are too many GMs out there who don't realize this.
2. Rules
A game without rules is not a game. But Rosewater has an interesting take on the rules. Whereas in the past, I've talked about the rules as tools the GM uses to resolve actions and the rules as ways of defining the fantastic world in which the game takes place, Rosewater talks about the rules as constraints on the players. And his point bears discussing. If you have a goal and there are no restrictions on how you can act in pursuit of that goal, then there's really nothing in the way of you accomplishing the goal. There's no challenge. In fact, he has a really great line: "game design is unique in that the goal of the design is to actually make the thing hard to do."
And, honestly, that makes sense. Most of the rules in TTRPGs are about how to resolve the outcomes of actions. And that really is just putting an obstacle into every action the players take. So, a player wants to break down a door, but the rules say, "no, not unless you roll a die first." A player wants to kill a goblin, but the rules say, "well, make an attack and you can hurt the goblin by a certain amount." It's interesting to view the rules in that capacity. On top of that, Rosewater observes that it is restrictions that allow creativity to thrive. That is, if you can just throw whatever die roll you want and the odds are pretty much the same whatever you do, there's no reason to try anything creative. As a player. For example, if you can break down the door with one die roll and pick the lock with another die roll and any other method of getting through the door also involves a similar die roll, well, the only choice you have is which die roll you want to make. And that's going to be based on which die roll you're best at. I'm actually going to come back to that idea. Because it plays into another of Rosewater's points.
The biggest thing to recognize though is that this plays into something that I've said for years. Something people don't like hearing. The GM is a game mechanic. The GM is part of the rules of the game. He's part of the system. And thus, the idea of the GM using all of the rules to build challenges, establish conflicts, constrain the players, and confound their actions is just one game system calling others.
Here's the takeaway though, and it's a point I talked a bit about recently in terms of action resolution, the rules need to play against the players' freedom to do their job. To confound and constrain. And these days, it seems like that's a dirty thing to say. It is the GM's job to make life hard for the players and the rules are the GM's primary tool for doing just that. Letting players have too much of a free reign over the rules – for example, letting them argue that Dexterity (Acrobatics) should be used for a long jump instead of Strength (Athletics) – breeds the creativity right out of them. It leaves them playing a dice game instead of engaging in the world in a creative way to overcome constraints.
3. Interaction
Rosewater points out that the players' actions have to interconnect in some way to force them to interact with each other. That the players can react to each other. That they, in fact, have to interact with each other. And the rest of his spiel looks at interaction in competitive games. Which TTRPGs are most definitely not. Which doesn't mean they don't need interaction and reaction.
Any game that involves multiple players needs to have interaction between those players. Otherwise, why even have those other players there. Five people playing solitaire at the same table together is not the same as five people playing together. And yeah, I realize there's a big glaring problem with Rosewater's thesis in that sentence because the need for interplayer interaction means solitaire – and games you can play alone – are not games in his mind. On that point, I don't think Rosewater is wrong in saying games need interaction to be games, but I also think solitaire and solo games are games. And I can explain exactly how I can believe two such contradictory things by tweaking some of the stuff Rosewater says, but who gives a crap about solo games anyway? Only friendless losers, that's who.
Seriously, though, here's the really fascinating thing: TTRPGs seem to have interaction, right? They seem to be all about teamwork. The system seems to have that firmly in hand. But, if I really sit and think about it, I am not sure that TTRPG systems actually require or even encourage any interaction at all in gameplay.
The hallmark of interaction between players is the degree to which one player's actions changes another. That is, you have a plan or goal or strategy in mind and you're about to implement it but then some other player does something that invalidates or changes your plan. Or, alternatively, the hallmark of interaction between players is the degree to which swapping out the players would change the game you're playing.
I think TTRPGs like D&D have become very much about groups of players playing solitaire at the table together. And I would not have said that before Mark Rosewater made me sit and think about it. I mean, there ARE times during combat when one player's actions are confounded by the actions of another player. But they are mostly of the "if you do that, I can do this" or the "if you do that, it will prevent me from doing this" or "heal me please so I can keep fighting" or "give me a bonus so I can do this" variety. Which are minimal sorts of interaction when you really think about it. There's nothing that really requires the party to work as a team to do things together. Most of the non-combat challenges come down to one player stepping forward and doing a thing while the others watch. And in most combat challenges, players just take turns swiping at their foes beyond throwing the occasional buff or heal at each other. Players don't even have to know what the other characters are capable of. And, except in the case of the "your action screwed up my action," players don't even have to pay attention when its not their turn.
Most of the action in D&D these days is of the shifting spotlight variety. There's a spotlight that moves from character to character and each character gets a chance to be in the spotlight and do a thing all by themselves and get some applause and then its someone else's turn. To what degree does the system encourage – or require – the players to even notice or care what the other players are doing, let alone to form team strategies.
So, interaction falls to the GM to bring to the table. And the thing is, I have no advice here because I'm still kind of stunned to realize there's much less team interaction in TTRPGs than I thought and I have to think this crap through. Damn.
4. A Catch-Up Feature
Rosewater points out that all games need a way for players who have fallen behind to turn the tables and get back in the game. And that's definitely true. Otherwise, once a player realizes they are losing, they will become completely disengaged from the game. Why care what's going to happen if losing is inevitable. Now, this might also seem like a feature that's important in competitive games, but even in cooperative games, it has to be there.
Basically, a catch-up feature counteracts the possibility of a death spiral. That is, once the party starts to lose a battle, they usually keep losing until they are dead. Here's the thing: D&D has a lot of little catch-up features, but it also doesn't have any. It's all in how you grade it. See, you can point to lots of individual character mechanics and say, "well, see, when the character starts to lose, they can heal themselves or cast that spell or use that ability and turn things around," and you'd be right. But step beyond the individual characters for a moment. Because of the action economy, once a party member goes down, the party is at a pretty serious disadvantage. And if they can't get the party member back up quickly and it's still early in the fight, the loss of actions can pretty quickly destroy a party. Now, that doesn't actually come up very often because the action economy starts off stacked well in favor of the players. That is, the players often outnumber the monsters in D&D. It's rare that there's more monsters than players. The encounter building rules make it very difficult to build large encounters that are still actually balanced. So, it takes a lot of dropped PCs before the loss of actions becomes a disaster most of the time. And that's why no one ever noticed that, on the party scale, there's no catch-up mechanic really. Nothing to bring a party back from the brink.
But here's a more interesting one you, as a GM, should consider: when you design an adventure, how can the players recover if they start to lose the adventure. I'm not talking about individual encounters here. I mean the whole adventure. If the party has to stop the cult from completing the ritual before midnight and they waste too much time, what in your adventure allows them to reverse that? How can they catch up once it becomes clear that they are not going to make it before time runs out? This is an aspect of adventure design that, frankly, I don't think I've seen anyone address. But then, I don't think anyone really considers macroscopic adventure design. Everyone just thinks in terms of individual encounters.
5. Intertia
Now, I have to admit that I thought this was very interesting given the item above it on the list – A Catch-Up Mechanic – but I'm not sure I like Rosewater's take on what inertia means. Because he goes on a lot about the pace of the game and when it ends and how you always want the game to end before the players are done playing so that they end up wanting more. Thus, he says inertia is an inexorable push of the game toward completion. That is, if the players do nothing at all, the game is still moving toward ending.
And, while I can get behind that, and I will in a second, there's another aspect to inertia that's equally important. And it's the opposite of the catch-up. It's the idea that once you start winning, the game should carry you to keep winning. I don't think Rosewater and I are talking about different things, but we're thinking in different ways because we're thinking about different games.
Here's my point: successes need to build on each other and failures need to build on each other. If the party does well in one encounter, they should do well in the next one. Victories should compound each other. D&D does offer this: it's called leveling up. Every time you win, you get XP which lets you get more powerful and, in theory, makes it easier to keep winning. Granted, the challenges also keep ratcheting up, but that's a different issue. But, within an adventure, there's really a sense of inertia. Each encounter kind of happens in a bubble and the end result of each encounter is that you get to keep going. And that would be fine if there was something in the system to reward victory. And compound defeat. That's equally as important. As you lose, it is important that you feel the chance of ultimately winning slip away. D&D does offer a really good negative inertia system. It's an attrition-based game. You are constantly hemorrhaging resources: spells, hit points, ammo, whatever. And if you use too many in one encounter, you're kind of screwed in the next encounter.
The interesting thing is that, in most well-designed games, there's a constant fight between the systems that provide inertia and the systems that provide a catch-up possibility. And that interplay, that balance, creates a lot of engagement. As you start to win, you see winning becoming more and more likely, and so you feel excited and engaged. As you start to lose, you find yourself struggling, but you also have ways to turn the tables if you can just pull them off, so you feel excited and engaged. Either way, you end up trying harder and harder as you keep playing.
I don't see that the systems in D&D really provide a positive inertia system any more than they provide a good, large-scale catch-up mechanic.
Meanwhile, there's inertia in the other sense. That's the sense that the game is constantly pushing itself to completion and that the game should end while the players still want to play. Inertia in this sense comes more from managing the game, the pace, the tension, and the narrative. And this also comes entirely from the GM. The GM needs to constantly push the action forward so that, if the players don't do anything to succeed in their endeavors, they are going to fail. On the encounter level, the game system provides for that. If the PCs stop fighting, the monsters will kill them. But beyond that, on the adventure level, very few GMs design adventures that are constantly ticking toward failure unless the players succeed.
CUT!
Okay, we need to stop here because there's a big, big issue at the heart of all of this that has become clear in mind. And let me explain something about these BS article. I don't really plan BS articles the way I plan other articles. I don't come up with a list of topics to cover, draft the article, rewrite the thing, and then clean it and polish it. I mean, I do clean the thing up, but I try not to go through too many iterations or plan too much because these articles really are about me just thinking through things. Which means I can get 4,000 words into an article like this and suddenly recognize that something has gone very wrong and that I'm thinking about the wrong problem or the right problem in the wrong way. And that's what's happening right now. Except for a spitshine for readability – and except for going back after and adding a Long, Rambling Introduction™ which sometimes goes through a couple of edits – this is pretty much as close to my raw, unfiltered thoughts as possible.
So, two problems have cropped up. First, I've only discussed the first five elements that Mark Rosewater laid out and my word count is already going to end up around 4,500 words once I add an introduction. Which means this is as far as I can go. And I'm not sure I want to waste a feature article on the other five. Which is a shame, because there are some in there I know I'm going to have a field day with. I mean, he's got "fun" on his list. Effing fun. What the hell?!
Anyway, if you want me to complete this article and run through the other five because you've found this interesting, let me know. I will slap together a second part as a bonus article. I won't waste a monthly feature spot on it. I'll find time to do it between features. I owe you guys some bonus content anyway.
The second problem is more fundamental. And it has to do with the very premise of this article and analysis. Which I have sort of failed to live up to because the premise itself is flawed. But it's flawed in a very interesting and useful way. And since I have about 500 words left, let me see if I can spell it out.
I said D&D – and all TTRPGs – are incomplete games because they are game engines. They are systems for creating games. The actual games are the adventures themselves. And those are designed by game designers or GMs and run by GMs at the table separately from the system itself. Presumably, the system itself should provide SOME of the elements that make a game a game and the adventure designer has to fill in the rest.
Here's where things get interesting: the rules of the games are almost entirely about resolving actions and encounters. They allow the GM to build individual scenes, individual obstacles, and throw them at the players. Those obstacles are meant to be part of a bigger adventure, right? A string of problems the heroes have to overcome to accomplish a goal. And the GM is left to just string those encounters together into an adventure. Easy peasy, right?
Except an adventure ISN'T just a string of encounters. An adventure is a complete game experience. As such, it has to provide a goal, use rules to constrain the players, provide opportunities for interaction, give the players a chance to catch up if they start to lose, and provide inertia toward completion. And that's just half the list. But apart from some resource attrition mechanics that provide negative inertia, there's nothing in the D&D system that speaks to the larger game at all. There are no mechanics, no game elements, that deal with the game on a larger scale than that of individual encounters. D&D isn't really a game engine at all, it's an encounter building and resolution engine, a character-building system, and some rules for resource attrition.
D&D expects a hell of a lot from the people who are writing adventures, either publishers or individual GMs. And I've known a lot of individual GMs who write some really great adventures. And as I look back at the adventures I've written, I can see the ones that went really well were the ones in which I'd addressed these points. And my worst adventures are the ones that were player-driven romps through strings of encounters.
Now, that's not BAD per se. I'm not mad at D&D for this. I'm not sitting here suddenly realizing that I've been trapped in an abusive relationship for years and now the scales have fallen from my eyes. I always knew D&D expected a lot of its adventure designers and I always assumed it was the job of adventure designers to rise to the task. And that includes GMs like me who wanted to write their own adventures. Adventure design IS game design. Pure and simple. If you want to design good adventures, it's going to take hard work, practice, and a lot of thought.
But what I find myself seeing here are all the holes that a good game engine COULD fill in to help the adventure designer along. And there have been games that have done just that. 13th Age's escalation die immediately leaps to mind as a great example of both an inertia mechanic and a catch-up mechanic. Granted, it only exists on the encounter level, but it shows the possibilities. The chaos pool – I think that's what it was called – from Weis' Games Marvel Heroic RPG and my own tension pool are also good examples of inertia mechanics that exist outside of individual scenes and encounters.
I think the biggest thing that D&D – especially in its current iteration – does to hinder adventure-designing GMs though is just to imply – strongly – that there is no thinking through the game beyond the "string of encounters." The implication in the DMG is that you figure out the plot elements simply to provide context for the encounters, slap the encounters on a map, add a random encounter table because RPGs have random encounter tables, and then go. And even my own adventure building ideas are kind of lacking on that front.
In the end, I'm posting this article despite stopping in the middle to babble about something else because I think there's useful information in here for any GM who wants to write their own adventures and because it's actually going to lead to me spinning my adventure building article series in a slightly different direction. Fortunately, the next part in that series – about resolutions – is exactly where I need to work some of this crap in.
And I'll tell you this much: if I were designing a TTRPG, this would be giving me a lot of food for thought.
And I'd also be really relieved because, without realizing what I was doing, I've already worried about providing the GM tools to handle a lot of this crap. Whew. It's a good thing I'm really smart.