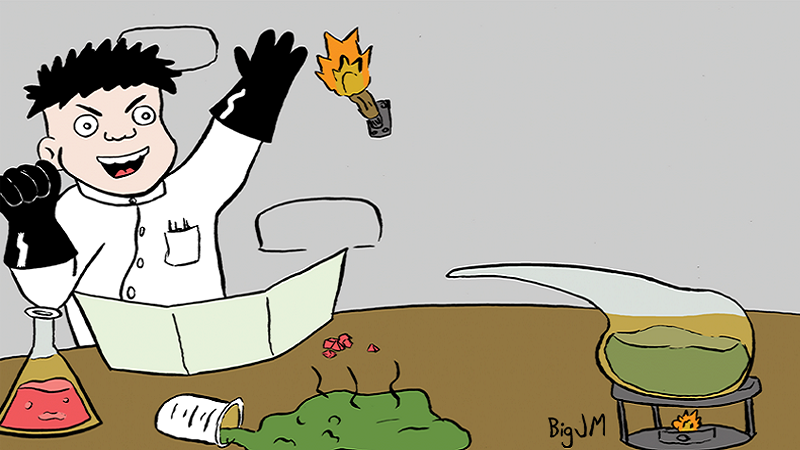 This damned crafting thing.
Honestly, the crafting thing isn't the hard part. Once I came to terms with the fact that I essentially just have to let players buy custom equipment with resources earned through play, I was pretty good. Because now it's just a matter of a systematic approach that can hang off of the existing systems in D&D and Pathfinder. Because now it's just coming up with the system and then doing a lot of math.
No, the problem is the feedback and the arguments and the discussions. You know, all the crap that comes from designing something publicly for the internet instead of just quietly toiling away and then one day announcing you have a system for everyone to rip apart without trying it once at the table. Now, to be clear, I don't mind discussion. I don't mind feedback. I thrive on argument. The problem is you can only have constructive discussion, feedback, and arguments if there's actually a commitment to being constructive and if you at least agree on the goal.
And on that front, we have a problem. See, I THOUGHT I spelled out my goals clearly. I THOUGHT that was kind of the point of the thousands of words that came before. But I GUESS I didn't. Because damn has the feedback and argument and discussion been exhausting. But, here's the thing, I'm not going to comment on any of it. I don't think that's constructive. The only thing I will say is that "yes, every solution is easy and obvious after someone meticulously spells out the entire problem and all of the constraints the solution must meet." If I get one more e-mail from people telling me how simple and obvious the system is, I'm going to start beating people unconscious with a copy A Thousand and One Craft Projects for a Rainy Day.
What I am going to do, though, is make really sure you understand exactly what the hell I'm trying to accomplish here before I go any further. Because, there's a lot of people who are not only not on the same page as me, but they are in a completely different library in a foreign country that speaks a different language.
The End Result of All of this Crap
When I say I want to design a crafting system for D&D, what do you think I mean? And let's just stick with D&D for the moment. I'll get back to Pathfinder later. Well, as I've already spelled out, I'm designing a system whereby players can spend resources they earn in the course of their adventures to customize their characters' equipment or to acquire new equipment that would otherwise be unavailable. That part is obvious. But that's also only the surface answer.
Let's look at treasure and equipment acquisition in D&D for an example of the deeper answer. What does that system look like? Well, first, it's got the resource itself. That's money. Cash. Coins. Dough. Moolah. Loot. Spondulicks. Lucre. Dinero. Second, it's got the stuff the players can buy. Weapons and armor and toolkits and animals and inn rooms and meals and spellcasting services and all that other crap. And it's got all of that organized on a convenient list. But is that all? No. If you duck into the DMG, you have treasure tables. Those tell the GM how much treasure to give out for each encounter or over the course of an adventure or whatever. Yeah, D&D's are kind of loose, but they are there. But even that's not all. You also have costs for items the PCs can't buy, but which some GMs might allow them to buy or sell at their discretion. That is to say, you've got suggested magic item costs. And that's also not all. Because you've also got alternate uses for money as well. You've got a bunch of big-ticket cost sinks that might serve as the focus of a campaign or side activity or whatever. Costs like building castles or running businesses or constructing airships. And on top of that, cost also serves as a soft limit on certain things. For example, there's spells that require costly components or costly focuses or whatever. Those are a balancing factor.
Even though I've criticized D&D 5E for not doing much with money and being all loosey-goosey about anything it does do with money, it still has a very complex system around money. And that system is designed around delivering a particular play experience. Obviously, first-level characters aren't supposed to have full plate armor and, a quick glance at the suggested treasure progression tells you that castles aren't low-tier purchases. And even though magical items aren't supposed to be bought and sold, they still might be. And because magical items are expected to have limited availability based on level – that is, no third-level character with a +3 flametongue greatsword – those costs tie into that. And those costs also tie into the treasure tables so that a GM – or adventure designer – who just follows the guidelines won't end up accidentally giving the party enough gold to arm themselves with a bunch of +3 flametongue greatswords if he DOES allow them to buy magical items.
Now, I am not going to argue about the quality of the balancing system and the guidelines in D&D. I'm just pointing out they are there. And they are there to give the GM some guidelines. As long as the GM sticks to what the DMG advises, the expected play experience probably won't get broken. At least, that's what D&D promises.
Why am I explaining this?
Well, because I'm not just designing a simple craft system I can use with my own discretion at my own table. That is NOT what I promised. I promised a system that any reasonably GM and group of players can use in their game without demanding too much extra work. Or too much effort. And the amount of discretion such a system is allowed to rely upon is pretty small. But then, a lot of people seem to have no idea of the difference between GM discretion and just asking the GM to make up half the damned system himself.
In D&D, for example, if a player suggests an unusual course of action, the GM can use their discretion to determine which ability score governs the action, whether a proficiency modifier for a particular tool or skill is appropriate, and whether to apply any bonuses or penalties to the roll. The GM can also decide whether the action is the sort of thing that can be done in a combat round. And the GM can decide if the action requires special training. And so on. That's GM discretion.
GM discretion involves providing a set of useful tools, instructions for how to use those tools, and guidelines for how far to bend those tools in unusual circumstances. D&D, for example, very strongly guides you to restrict bonuses and penalties to plus or minus two or use Advantage and Disadvantage. It tells you what range DCs should exist in. It defines the Ability Scores and the skills and the lines between them. The number of situations in which a GM has to invent anything out of whole cloth is vanishingly small. Which is good because – whatever you say about your own personal preference which I don't care to hear anyway – most GMs don't want to be asked to make up anything out of nothing. They want guidelines. They want tools. And most importantly, they want to know they won't break the expected play experience by using their discretion.
Yes yes, "not all GMs," shut up. The thing is when you're writing for the biggest possible group of GMs, you don't write for the exceptions. You write for the most.
So, it's not enough to just say "okay, here's are the ingredients and here are the recipes and here's what you have to do to turn one into the other." There's all sorts of things that already exist in D&D that a crafting system has to hang off of. And I – yes, I'm talking specifically about ME and the way I'M designing this crap – and I don't have the luxury of patching any holes with "well, the GM will figure it out." Basically, the crafting system I design has to be as rigorous as anything that already exists in D&D. And it has to be as integrated into D&D as everything else that exists. Insofar as that's possible.
If a GM is making an adventure for four, second-level PCs and includes an encounter in a volcanic cave with three magmin, exactly what crafting resources should that GM include in the adventure for the PCs to find? And when the players gather up those resources, exactly what can they make? And how many? And if the same adventure involves a non-combat encounter for which the party earns treasure, should the party also earn crafting resources? What resources? How many? And if the PCs sell those resources rather than use them, how much are they worth? And if the PCs come up short and what to buy some resources to finish a crafting project, how much do those resources cost? Are they even available? At what level are what resources available? Can the GM substitute resources for treasure when creating the adventure? What resources are appropriate?
You can't ask the GM to make up the answers. At the very least, you need to provide guidelines. Strong guidelines. But, honestly, most of those questions should have pretty precise answers. And absolutely none of the answers to any of those questions can disrupt the expected play experience promised in the core rules. Which is to say, you can't let players get a hold of items that the game wouldn't want them to have to begin with. No +3 flametongue greatswords at fifth level and no plate armor at first level. But that's not the only disruption. The disruption isn't just about balance. You also can't change what the game is about.
For example, the game can't become about grinding or farming resources any more than the game should ever be about slaughtering hundreds of boars just to earn XPs. An adventure can be about gathering resources for a particular item, sure. But gathering resources is not, in itself, an adventure. And if there is an adventure about gathering resources, it has to include appropriate encounters for which the resources are the reward. Just like if there's an adventure about finding treasure.
Moreover, the game cannot become about running a potion shop or magical item business. So, however you balance the costs of everything, you cannot let the PCs show any sort of substantial profit from making magical items. The items are valuable because they are useful to the PCs. They can't just buy resources and sell the items they make. This is not Recettear. Or Moonlighter. Which is basically just Recettear without the charm and humor.
Absolutely every design decision has to keep all of this crap in mind. You can't fall back on GM discretion except in small, manageable chunks that don't matter too much mechanically. You have to be precise. You have to integrate your system into the existing game. You can't change the intended play experience. Basically, the whole thing has to be a nearly effortless, plug-and-play system. A GM and group should be able to start using the system tomorrow and it should feat as seamlessly as is humanly possible into everything else without breaking anything and without putting any demands on the GM that the game doesn't already demand of them.
And that is why I've had so many arguments. But that is also why a small number of you who have commented, e-mailed, or cornered me in a dark alley have shown some real, keen understanding of everything and should be damned proud of yourselves. Anyway, with that clarified, let's talk about ingredients.
Having a System for Everything
Here's what we decided about our crafting system: heroes would find ingredients during their adventures and they would be able to turn those ingredients into custom equipment and upgrades. And they'd have to do that away from the table. With no die rolls.
In the past two articles on this subject, I've talked about both sides of the concept of abstraction. Abstraction is basically about stripping away everything except the basest, rawest concepts and ideas at the heart of something. It's like how George Carlin taught Keanu Reeves to see the world in code so that he could stop Skynet from sabotaging his history exam. And, the way we were doing it – because there's different ways to abstraction – we were stripping away everything except the game's mechanical systems to see what things already existed in the game that looked like crafting. And that helped us figure out what crafting had to do.
But abstraction also didn't give us a very good answer when we tried to look at the other side of the problem. Instead, the obvious solution only jumped out when we looked at the shared hallucination that is a role-playing game. When we looked past the rules and mechanics and realized that crafting really is about taking raw materials and turning them into a useful, finished product. And if our system doesn't feel like that's what's happening, it won't FEEL like crafting.
See, a role-playing game exists in an odd middle ground between the fictional and the mechanical. There have to be rules because it's a game, but those rules have to fit within a narrative framework, because it's also an exercise in imagining hypothetical situations and playing with the outcomes. It's okay if you just want to abbreviate that with "story." I won't yell at you.
Now, lots of board games have stories and lots of fictional, story universes have rules. But neither teeters on a knife's edge of balancing the two quite like a table-top role-playing game. Yes, games like Pandemic and Arkham Horror and whatever other games you kids play these days tell stories. But the rules are highly mechanical and if there's a rule that seems arbitrary and makes no sense in the universe, well, the game isn't going to get broken. And most stories can get away with violations of their own rules. Even something as exacting as Star Wars can survive if Captain Picard defeats the Daleks by using the gamma override on deck B even if online blueprints clearly state the gamma override is on deck C. Or whatever. Yes, there ARE breaking points, but there's a lot of bending before things break.
But we're talking about a role-playing game. And that means we have to anchor our story in the rules and our rules in the story. They all have to work together. And there's a lot of different brains that have to be synchronized in order for the game to remain consistent and engaging at the same time. That is to say, in order to make sense as a game and to be satisfying as a story. The players have to understand the world to visualize it and to make good choices and they have to see how the rules work in order to make good choices. And they can't be asked to resolve conflicts between the two because they won't know how to react. And the GM also has to understand all of that. But he also has to resolve conflicts between the two. So, does the adventure designer. He has to figure out how to use the mechanical systems to represent the story he's trying to tell without one tripping over the other. And he has to avoid leaving any conflicts between the two for the hapless GM to resolve. And at the top of all of this is the game designer. The game designer has to create a system of rules and a fictional world that mesh together with a minimum of conflicts and provide enough information that adventure designers and GMs can use the system to tell stories and run games and resolve conflicts as they arise and make things as easy for their players as possible.
And one of the ways to pull that crap off is for the game designer to use a systemic approach. A systemic approach is a way of seeing the game in an in-between state, somewhere between the illusion of the story and the mechanics. It's about coming up with ways to describe the fictional stuff in your world in a way that defines how it mechanically interacts. And then using those interactions to design the systems. In a sense, it's kind of like coming up with a series of metarules. The rules under the rules. And then building the rules in terms of those metarules.
For example, let's say you're designing a magic system. And you define this attack spell: fireblast. It does 10 damage to any target it hits. Of course, in the fiction of the game, it's a big, powerful blast of fire. But it still just does 10 damage. That's the rule. Everything else is just imagination and graphics and stuff. Easy peasy.
Now, later on, you have a frost dragon in the game. And you'd like clever players to be able to do bonus damage against the frost dragon if they are smart enough to throw fire at it. So, you add a little note to the frost dragon that says, "and if it gets hits by the fireblast spell, it takes 20 damage instead of 10." Still easy right?
Okay, look, we're modern gamers and I'm not going to pretend we don't see the problem we're careening toward with that sort of approach to design. Every time we want to add another ice creature, we need a special exception. And every time we want to add a fire creature who is immune to fireblast, we have to add a special exception to the creature. And every time we want to add a new fire spell, we have to add a note to every ice and fire creature that they are also vulnerable to THAT new spell.
Blah blah blah "fire" descriptor. Yeah. We all saw it coming.
But that's the origin of systemic design. And honestly, it's a direct consequence of role-playing games that systemic design is even a thing. Once upon a time, a fireball spell really did just do a certain amount of damage. Mechanically, that was the begin and the end of fireball. But there was also a GM and players. And they had brains. They KNOW what fire is. And how it works. And so, it was only a matter of time before someone at some table asked if they could set a pile of oily rags on fire with a fireball spell. Or if they could increase the damage by dousing a target in oil first. And so on.
Systemic design is really just about seeing that crap coming and being ready for it. At least, in table-top RPGs, it about seeing that crap coming in places where human brains can't be relied upon. Think about it. GMs know how fire and oily rags work. You can trust a GM to figure out how the two interact. But what about divine magical energy and devils from the lower planes.
See, systemic design is all about defining how things interact. When a thing that is fire hits a thing that is flammable, what happens? The difference between a table-top RPG and a computer system is that in a TTRPG, a human brain already knows how fire and flammable things interact and it can project that understanding onto the game. A computer doesn't know anything. It doesn't know what fire is. Or what flammable is. But it does know that anything flammable that touches fire becomes fire. As long as it's programmed to know that anyway.
The funny thing, though, is that RPG designers are very inconsistent about systemic design. Yeah, sure, when it's about damage types and vulnerabilities and stuff, they are all over that. And when it comes to weapon types and proficiencies and character abilities, there's usually some systemic stuff too. Because it's an easy way to group stuff together. But then you look at some places where good, general rules about how things work and interact would be really really nice, and lots of games are all "fuck if I know" about them. And D&D 5E – which we're looking at first for the whole crafting thing – goes that route a lot.
But there are actually a lot of hidden systemic designs in D&D. At least, there seem to be. Take, for example, weapons. A weapon can be ranged or melee. It can be simple or martial. It has a specific damage code. And it can have a number of properties. Now, that's not the systemic part. The systemic part is that there are actually patterns to how all of those things interact.
For example, simple weapons do 1d6 damage and martial weapons do 1d8 damage. If the weapon is a light or finesse weapon, it does a smaller die. If the weapon is a heavy or two-handed weapon, it does a larger die. Ranged weapons do a larger die worth of damage if they have the loading property. Most of the weapons are consistent with those patterns and if you look carefully, you can match up other patterns to the way the damage die is set. And, of course, there's a few weapons that break the patterns. But the patterns are there.
That's an example of systemic design. I think. I can't prove that the designers actually designed the keywords and damage stats first, then described weapons in terms of keywords, then figured out what the damage die should be. But I'm pretty sure that was part of the process. And that means a few things. It means the designers can add new weapons to the game easily just by defining its traits, damage die, and so on. And they can keep the weapons in balance by following the same patterns. And I, as a very clever GM, can set the stats for any new weapon I want to add simply by following the patterns already established.
And that's the key to designing ingredients for D&D crafting. First, come up with ways to define the ingredients that tell you everything you need to know mechanically about that ingredient. Then, use those descriptors to actually define the ingredients.
…Or Don't
At this point we can imagine a system in which an ingredient has some number of properties, right? For example, let's just throw some random words together for an ingredient: organic, quickening, dry, holy. I just threw out four words. Don't think too much about them. And we can look at those descriptors and decide that obviously describes an angel bone. Bones are organic. Angels are holy and life-giving. And bones are dry. Blood would be organic and wet. Doesn't matter.
And once we have a list of descriptors, a list of traits, there's no end to the ingredients we can create. Heck, I could have a different organic, quickening, dry, holy ingredient. Powdered Eden-tree root. And angels can yield up organic, quickening, wet, holy stuff too. That's angel blood. And this is where things rapidly get out of control.
One of the complaints with ingredient systems is that they have too many damned ingredients. Pages and pages and pages that read like:
blood, dragon, blue
blood, dragon, green
blood, dragon, red
blood, dragon, fairy
blood, dragon, turtle
blood, dragon, -ette
And the problem with assigning each one a bunch of arbitrary qualities is that every time the players find some red dragon blood, they have to record it as:
red dragon blood (organic, fire, wet, draconic)
That gets to be a giant pain in the ass. And every craftsperson's equipment list becomes unmanageably long and confusing. And we don't want to do that.
Now, we could always go the "let the GM make it up if they want to" route. Basically, that's the Grade X Art Object route. Mechanically, the players find a Grade 1 Art Object which is worth 50 g.p. because all grade 1 art objects are worth 50 g.p. They don't have to care what it is. Neither does the GM. But the GM can decide it's a jade harmonica or one of those hangy-ball desk sculptures or whatever.
But there are two POTENTIAL problems with that route. The first is that you make it so abstract that it stops feeling like crafting. Remember, abstraction ruins the connection between the rules and the fiction. And many crafting systems have failed for being too abstract to feel like crafting. The second is that that Grade X Art Object only works because there's only two things – Gems and Art Objects – and there's only a few grades of each. So, they can be lumped together easily. If everything can have between one and four keywords and there's, say, fifteen different keywords, there's 54,240 possible items in that system. The odds of finding two that are the same and just being able to increase a quantity are, literally, one in fifty thousand.
But Systemic!
On the other hand, with the right combination of descriptors, you can avoid those two potential pitfalls and you can use them as the basis to define a whole system. Because, after all, now all you're doing is defining interactions. And you can build on those interactions. For example, you can decide the recipe for a martial bladed weapon – a sword, say – is five metal ingots. To make a magical sword, you need to add one magical metal ingot. To make a magical flaming sword, you need one magical ingot and one fiery ingot. Or, in theory, one fiery magical ingot. I'm just giving an example. That isn't quite how it has to work. But notice how there's a logic to it. Even though you might have a list of recipes for swords, magical swords, and flaming magical swords, the recipes build off of each other. Scrolls might always require one unit of magical fluid as the basis for the ink. Magical qualities can be added via other ingredients, but only certain ones. Like, you can add bone to ink because it can be powdered and dissolved. But you can't add animal skin because it doesn't powder and dissolve properly.
There's a lot of advantage to that. It makes it easier for players to understand, remember, or guess at recipes for items they want to make. Or to understand how certain ingredients might upgrade certain items. And it makes it easier for the GM to invent new items. Or to adjudicate experiments or alternate formulas. But we're just going to keep that crap in the back of our head for now. Because we're not figuring out recipes yet. We just want to know what our ingredients look like? What are they?
What Do Ingredients Have to Do?
What we need to do is figure out how we're going to define ingredients in mechanical terms. In systemic terms. And to do that we need to figure out what qualities need to be defined for our ingredients.
First, if we want to avoid the level of abstraction ruining the feeling of crafting, we need a simple way to say exactly what the ingredient is in the fiction. An obvious way to say what the character is actually seeing when they look at the ingredient in question. Dry and organic doesn't say anything. So, our descriptor must unambiguously define the item in the fictional game world without being so specific that we need a thousand descriptors.
Second, the descriptors have to hook into the adventure design tools. That is to say, somehow, the descriptors have to say how the players might acquire the ingredient. Is it the sort of thing that might be found in the environment? Is it something that would be included in a treasure horde? Is it something that can be harvested from monsters? That's going to be important because we're going to have to tell GMs when and where to make these ingredients available. And if we're systematic about it now, that can save us a lot of work. Because we'll be able to use general rules.
Now, a lot of people have thus far assumed that all crafting ingredients should be harvested from monsters. But there is no reason to assume that. PCs come across lots of crap in their adventures. Not every treasure comes out of a monster's pocket. Some stuff should be harvestable from monsters. But others should be part of the adventuring environment like any other treasure. Breaking off an exposed magical mineral from a vein of ore is no different from finding a gem in a treasure chest. Of course, we will have to work out the specific details of how items can be recognized in the adventuring environment and how they might be harvested. But that'll come later. And we'll make sure we don't turn our PCs into miners and flower-pickers instead of adventurers.
Also, remember that it's not enough to say, "this thing comes from monsters and can be found in any adventure that includes that monster," or "that thing comes from veins and can only be found in natural caves," or whatever. We also have to say which heroes are allowed to find what ingredients. That is to say, if the adventure is meant for third-level heroes, we don't want any ingredients that can be used to make rings of wishes. And that brings us around to third…
Third, the descriptors have to tell us how the ingredient interacts with the other systems in the game. Specifically, we have to be able to decide how much the ingredient is worth. That way, we can balance it against other treasures, and we can allow players to buy and sell it.
Finally, the descriptors have to define limits and restrictions for their uses. Remember, that's important. If you can just use any ingredient for anything, first, you don't have a system, you have a blank piece of paper. Second, the system doesn't feel like crafting anymore. We've talked about that already. Specific ingredients must be used to produce specific things. And the descriptors must provide enough hooks that we can build good recipes for various items around them. If all the recipes look the same so that all magical weapons have the same recipes, that's kind of dull.
Drumroll Please…
So, how are we going to define ingredients in my system? At least in D&D? Because remember, we'll come back to Pathfinder. The specifics are just different enough that each needs its own system. As you'll see.
First of all, every ingredient can be described by a minimum of two and a maximum of three descriptors. Three is a good top number. But each of those descriptors does a specific job. This isn't just combinatorics here. None of that 50,000 combos horsecrap. Each one does a specific job.
The second descriptor is a very simple one. Yes, I'm skipping the first one for a reason. The second descriptor describes exactly what the ingredient is. Like, in the world. Basically, it classifies the ingredient. And that becomes a pretty loaded descriptor. Because it defines where the ingredient can be found and how it can be harvested and all the crap. And to keep things under control, we're going with two hands of them. Ten total classifications. As a general rule, it's always good to stick with a number of options that be counted out on one hand.
First, because we've got weapons and armor going, we need to cover that stuff. Metal, hide, wood, and bone. That's the stuff you make weapons out of. Next, we need stuff that comes from monsters. Bone and hide, obviously. But we can also have blood and flesh. Stuff that grows naturally includes wood, already, but we haven't covered herbs. Those are separate from wood. And then we can take minerals out of the ground. But, that list doesn't quite do it.
First, we want stuff to be recoverable from pretty much every monster. Even the ones that don't have bodies. Where are you going to get your good acid-based components if you can't harvest oozes? And what about all that good stuff that comes from purely magical or incorporeal creatures? Sparkly ghost dust or whatever. I don't know how you harvest it, but that's not my problem. So, what if we broaden blood to be any sort of fluid. It doesn't even have to be a vital fluid. And then we can add essence or ephemera or some crap like that to account for ectoplasmic residue or soul or fairy dust or whatever.
Second, both metals and minerals need some expanding. See, you don't make rings out of iron and you don't make swords out of gold. Admittedly, that's a flavor problem. But there is also a mechanical problem here. And that mechanical problem is the cost of the stuff. See, in the end, we only have three descriptors to somehow figure out a cost. And this descriptor, the actual type of the stuff, should be pretty central to figuring out the cost. Precious metals and base metals should have very different costs. So, it's necessary to break them down. Likewise, we could break down mineral and gemstone for the same reason.
But now we have just a few too many things. And I really want to stick to the "ten types" rule. So, if we have a way to handle blood, bone, and hide, do we need flesh? I mean, yes, I know it covers vital organs and vital organs are a really evocative crafting component, but fluid covers more work and hide and bone pretty much have to exist. Hide is necessary for any non-metal armor. Bone is necessary because some monsters are nothing but bones, various items can be made of bone, either whole or powdered, and because it also covers things like shells, horns, antlers, and all that other bony crap.
So, the list of types of items runs like this: metal, precious metal, wood, herb, hide, bone, fluid, mineral, gem, and essence.
Now for the first descriptor. That second descriptor, the item type, defines the item in terms of the world and also in terms of what recipes it can be used in and also helps set a base cost. But we're ignoring something pretty big. We're ignoring the "level" of the item. We have to be able to match up these items to specific experience levels, CRs of monsters, and to the power level of the magic items they can create. Fortunately, though, D&D has already provided us with a list of descriptors.
The DMG defines magic items as being common, uncommon, rare, very rare, and legendary. And better than that, it prescribes a specific cost range and a range of levels at which each of those items become available. And since we're going to hook our ingredient system into all of that crap, we can save ourselves a lot of work just by using that same descriptor.
And already we have a pretty decent system: common bone might be skeleton bones or deer antlers. It's any bone that comes from a CR 1 to CR 3 creature. After all, that's the range at which PCs encounter common items. Rare ephemera might come from a CR 5 fire elemental. The eyeball fluid from a beholder would be very rare fluid. And so on. And already we have a very easy way to go through the list of all the monsters and say what should come from what monsters. And it's already aligned with monster CRs.
So, what about that third descriptor. Well, so far, we just have a bunch of stuff. Basic ingredients with a rarity. And while it's easy enough to say that a +2 sword, as a rare magical bladed martial weapon, might require five ingots of rare metal – or however we finally work out the formulas – shouldn't most magical stuff require a little more than that? I mean, shouldn't a flaming sword need something that has some flash and sizzle?
Any ingredient might have a special quality. And those qualities are keyed to various magical effects. So, your magical flaming sword might be mostly just rare metal, it needs at least some fiery ingredient to bring it to life. So, your flaming +2 sword might be made of five ingots of rare metal and one unit of rare fiery fluid. Say the blood of a young red dragon. Obviously, again, we'll work out the details of the formulas as time goes on.
So, now, the party might stumble on common healing flowers, or harvest rare acidic fluid from an ooze, or discover some very rare icy gemstone in a vein of minerals in a frozen mine. As for the list of possible qualities?
Well, we don't want too long a list of traits. Otherwise, things will just balloon out of control. But we don't want to pin ourselves down too much right now. Because there's a lot of magical items we'll ultimately need to define. And other magical effects we might want to consider. After all, we should always keep one eye toward extending our system. We could hang a system off this like some kind of metamagical material components system wherein, if wizards expend the right components when casting the right spells, they can have enhanced effects.
For now, it's a good idea to keep a working list of possible qualities. And for mine, I'm using the damage types from D&D 5E along with healing, blessing, corrupting, and summoning. Those seem to be the basic sorts of magical "energies" at play in the world. Off the top of my head anyway. But that list won't be finalized until we figure out exactly what traits we need.
And that's it. That's ingredients. Three dimensions: rarity, which is hooked directly into the rarity, value, and CR guidelines already in place; type, which defines what the ingredient is and therefore explains where it should be placed in the game world; and special quality, which provides the differentiation needed so that items with different qualities require different ingredients.
And that's it. Simple. Right?