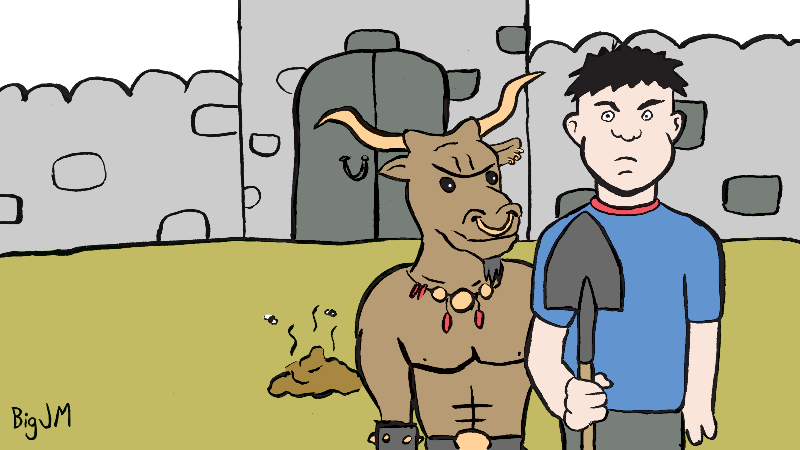 Every month, I let myself just go totally wild and write an article that amounts to just spewing a bunch of random thoughts about a particular topic into a Word document. Then, I let Grammarly make sure that it at least approaches a level of readability you'd associate with a 2nd-grade paper entitled What I Did on My Summer Vacation if said paper was written by a child whose parents dragged them to a gaming convention and they thought it was the best thing ever. And then I post it. Why? Because, no matter how much I try to elevate myself by writing actual mechanics and publishing books and even landing gigs as an "Additional Designer," whatever the hell that means, I'm still just a freaking blogger. Sorry to disappoint.
Now, things got backed up a little this week – and this month – due to multiple trips to clinics, a hospital, a medical lab. And backups like that almost always coincide with my releasing my BS article for the month. That's just a total coincidence, though. It has nothing to do with me trying to get something to print before the deadline. After all, my deadlines are completely imaginary, fluid, and self-imposed. That said, while I'm in the process of finishing up the final revision for an ACTUAL, GOOD article about trying to disentangle the money and magic item system in D&D for the purposes of not breaking the game when I come up with my own magic item crafting system – an article I will likely post as early as tomorrow at this point considering it's just about the end of the month and I did promise four articles a month – well, I found myself with a lot of stray thoughts swirling around in my head about games, GMs, and players.
See, except for the last few days, which have been a crazy runaround, this has been a month for conversation. I've ended up talking to a lot of gamers about a lot of things. It's kind of ironic because a lot of my actual gaming stuff has been on hold while I try to deal with the latest series of health problems and Kickstarter delivery issues and all that crap. And a lot of topics have come up. And while I've spent a lot of time sitting on hold waiting to start my next bout with the insurance company or the post office or the tax department or while I've spent hours in the car driving out of town to visit doctors and labs in distant, mysterious places like Sheboygan and Ashwaubenon – those are real Wisconsin places – or while I've just been sitting quietly in waiting rooms waiting, a lot has been swirling through my mind. And everything is starting to mush together.
Let me explain what I mean. The other night, I found myself having an odd conversation with a couple of friends about older editions of D&D and how they approached the topic of game balance. Which was kind of weird because last week, I ended up in two different arguments about game balance. And as I finished the draft of my article about money and magic items in D&D which started with trying to pinpoint a precise level of balance in the system and ended with the conclusion "eh, screw it. It isn't that important," I very nearly launched into a diatribe about game balance. It just keeps coming up. Game balance, I mean. And a very particular notion about game balance.
Meanwhile, I also posted an article last week about certain pesky player behaviors that I and other GMs ended up pissing and moaning several times this month. Which is funny because I later ended up in two different conversations about how modern character generation systems screw with player expectations and, consequently, to sabotage a very important element of role-playing games. And then I ended up whining to some other friends that I would love to take a bunch of kids that were raised on 5E and throw them into an old school game with old school character to show them precisely what it is that bothers me about character generation these days. Especially the players who argue with me that I'm wrong and that it's better the modern way. It just keeps coming up. The misplaced focus on the wrong aspects of role-playing due to changes in the way characters are generated. Yes, that's a very specific complaint.
The thing is that, if I really wanted to, I could draw a big circle around absolutely everything that's come up this month and point to a bigger, broader issue in gaming culture. And when I say that, please note I don't mean gaming culture the way shrieking morons on Twitter scream about gamer culture. You know, utterly useless, hyperbolic, and completely false bullshit like toxicity and inclusion and shit. The stuff I left Twitter to get away from and which, incidentally, will not take hold in my comment section so be warned. I mean gaming culture in terms of what people expect from role-playing games and how people engage with those games.
But, frankly, I'm not sure if I want to do that. At least not publicly. Not out loud. Not yet. But I do have to think about it. Even though the Kickstarter is still having a few last problems and isn't quite finished and I'm still working on the module that ties into it and I said I wasn't going to prioritize anything else until that crap was all really done, the fact is that I AM working on a role-playing game system of my own. One for which, as some of you know, I have pretty big, bold plans. And I'm actually working on it seriously enough now that I've already started hiring a few contractors to help me test some specific elements and have even gotten some non-disclosure agreements on file. So, I have to think about this crap. And, honestly, that's why I'm still a blogger at heart. Because, in the end, I find the best way to think is to talk. Or type. And part of why I spend so much time on this site explaining what I'm doing and why it's because I'm actually working it out while I do it. Or at least paying enough attention to working it out that I can remember what I worked out and explain it later.
So, that's why BS articles still happen. As for this particular article? Well, I don't want to get into that "bigger issue" yet. The one that ties things together. But I do want to clear my mental plate a bit and share some of the crap I've been working through, alone and with other people. So, I'm going to hit a couple of different topics below. And although there IS a connection between them, I am not going to draw that connection or talk about the bigger issue. In the past, whenever I've laid out issues like this, it's sparked some of the most interesting and spirited discussions in my comment section. And whenever I apologize for putting out crap like this, people reassure me that they find it interesting. So, here's a BS article made up of a couple of smaller BS articles that will probably lead to a bigger BS article down the line. And I'm not sorry. But if you hate it, well, we'll be doing more magic item stuff in a day or two.
Balance is an Overrated Joke
Let me start by throwing out a controversial truth: GMs overvalue game balance and they expect too much from it. Admittedly, my evidence for that is mostly anecdotal and observational. But there's a hell of a lot of it. See, when I say I have anecdotal and observational evidence for something, I don't say that lightly. It's not like I just talked to a few buddies down at the local game shop. I end up talking to a lot of people via a lot of different channels for a lot of different reasons. And they run the experience gamut from the completely new to the elderly grognard to the actual gaming professional. Yes, many of them are my readers, but I'm also quietly a part of a number of different communities. And when I say quietly, I mean I am not always The Angry GM in every venue I participate in. And I tend to lurk a lot in a lot of places. I CAN be subtle.
But, honestly, I don't have to prove anything to anyone but myself. This is just me thinking. And observing. I'm just letting you read it. So, if you want to dismiss what I'm saying as the scattered rantings of a diseased mind, well, that's your problem. Not mine.
Anyway, game balance. And here, I just want to focus specifically on the idea of balanced encounters. That is to say that the system provides a set of rules such that the GM can craft an appropriately beatable challenge for a group of any number of PCs of any level and be reasonably assured that the heroes will win the day unless they are complete idiots. And that comes down to all that crap you find in the DMG about how to build appropriate encounters for your party that are either easy or medium or hard or deadly and how many of those fit into an encounter day and so on and so forth.
Now, I know GMs overvalue game balance because I watch GMs every day arguing over the difference between this bonus and that bonus and whether an ability, they are designing is too powerful or too weak or whatever. Often, these arguments have a level of precision in them that is frankly ridiculous. For example, arguing over whether a +2 or +3 or +4 is the right bonus and which is too powerful or not powerful enough for a given ability. In an article I wrote recently about telegraphing what your monsters were about to do, I suggested a mechanic that would prevent a monster from using its most powerful abilities in the first round of the fight. The mechanic was to allow for something game designers put into literally every video game because it vastly improves the player experience across the board: telegraphing. And D&D does not allow for any telegraphing as written. Well, someone jumped into the comments to point out that I was wrecking the game balance because the CR of every monster was computed based on the idea that monsters would always use their most powerful abilities the moment they were available.
Now, that's incorrect. CRs are calculated, according to the DMG, based on an average output over three rounds. So, if the monster can use its most powerful ability only once every three rounds, it doesn't matter which of the three rounds it uses that ability in. Numerically. But it's also incorrect because it assumes the CR calculation is so precise and accurate that such a tiny thing as switching the order of attacks is going to affect the outcome of the fight so drastically? And that's pants-on-head retarded. Sorry.
Combat in a role-playing game is a very, very complex system with a huge, HUGE number of variables. There's a lot of randomness in combat and a lot of swing. Especially in D&D where the dice rolls are based on linear probability curves instead of normal distributions. But there's also a huge number of different combinations of classes, races, weapons, abilities, spells, feats, and so on, some of which work well together and others don't, and many of which are basically incomparable. There's just so no solid mathematical way to compare the ability to, say, push a monster three squares to the ability to grant a +2 bonus to attack to three adjacent allies. And that's not even considering how those abilities might combine with the other abilities and the other choices of other characters and monsters. On top of that, many of the incomparable options are situational. And they rely on the players or the GM to be clever enough to use them at the right time. And to position themselves the right way. And to predict what the other actors in combat are going to do so as to set up those situations in the first place. In short, there's a level of strategic and tactical skill involved in playing combats out in D&D. And when you've got four players and GM who may all have different skill levels, that's going to swing things.
Of course, no encounter happens in a vacuum. The encounters stack up in an adventuring day, right? And resources are expended throughout the day. So, all else being equal if the party faces two identical encounters, but one comes at the beginning of the day and one comes at the end, the party is going to have some very different experiences. But the game says those encounters are equal.
So, don't fool yourself: the encounter balance stuff? It's a guess. It's an educated guess, but it's not a precise guess by any stretch. And precisely because the game designers know it's just a loose guess, they were smart enough to err on the side of making things too easy. So, if the guess is off, it tends to be off in favor of the players. Which is fine and dandy. I'm not complaining about that. In fact, that's probably a good thing. Well, maybe it is. I'll come back to that.
Here's the problem: GMs assume that the game balance is both accurate and precise. That is, it will always give the right answer for every party and that any deviation from the answer it gives will lead to an utter disaster. And you can see this in all sorts of GM behavior. For example, I've seen lots of GMs complain that battles in their games are too easy or too hard for their players. And I always suggest starting with the same solution: adjust the difficulty. If the encounters are too easy, scale them up from normal to hard and from hard to deadly. That may not fix the problem every time, but it's a good first thing to try. And wow, does that ever scare the motherloving crap out of GMs. The idea of building encounters purposely too hard or too easy is just crazy to some people. And, of course, this also leads to the GMs who are baffled by the fact that the CRs in the D&D Monster Manual don't line up with what they should be if the monster was made and graded based on the DMG's rules. Well, that's because the ones in the Monster Manual were set – or at least tweaked – with playtesting. The stuff in the DMG about how to make custom monsters is actually a best guess at what a systematic approach WOULD look like if such a thing were possible. And no matter what Crawford and Perkins say now about secret master spreadsheets and how those monsters were designed, I can promise you they are AT LEAST half lying. I know. I was part of a playtest group that helped set those damned CRs.
But here's the larger thing: the monster building and encounter balancing crap? That's just a microcosm for the game as a whole. The balance between the classes just isn't that precise. Again, there's too many moving pieces and too many incomparables and the game is too damned open-ended. People speak of which ability scores are more powerful than others based on how many things they modify in the game and they speak with authority. Dexterity is more powerful than Strength. Constitution is the weakest of all. But the fact is, it ain't that cut and dry. It never is. And anyone who speaks authoritatively on it and claims to know, well, they think they know better than the game's designers. Because they – the designers – only speak of balance in the loosest sense. And ultimately, they resolve their balance issues with gut instinct, artistic flair, and testing. Lots of testing. It's a big, vague, wibbly, wobbly thing. And if you think you can think through game balance, you're wrong.
Besides, professional game designers know that game balance is actually not super important beyond getting everything into the proper ballpark. There's a value in having all the balance feel a little off. Because that's the place where players experiment and discover. That's where people get to talk about all the best builds and worst builds and optimum spells and stuff. And even if you don't like that crap, lots and lots of players do.
Moreover, that's where excitement happens. Where, after all, is the excitement players win a fight they were ninety percent likely to win? There isn't any. Players are bored by cakewalks. Danger is engaging. And if the outcome is predetermined, well, in what sense are the players even affecting the outcome? Yeah, noodle that paradox. Maybe it's good that balance is vague and wobbly. Well, not just maybe. It is definitely good that balance is vague and wobbly. Otherwise, there's no point in playing the game. And there's no value in experimenting and trying new things. And there's nothing that nudges the outcome. A game that can be played effectively by a random number generator doesn't need players. And that's what a game that is perfectly balanced amounts to.
The problem is that GMs don't lean into the imbalance.
What Would Unbalanced D&D Look Like?
So, let's say you do decide to just throw away all the balance crap. Or most of it. What if you don't sweat building balanced encounters? What if you don't worry about how many magic items or treasures the party finds? What if you just said, "to hell with it, I'm slapping a party of ghouls in this first level dungeon and the players will just have to cope with it?" Well, you'd have AD&D. Or AD&D 2E. Or Basic D&D. Or OD&D.
Okay, look, it wasn't completely unbalanced. But it was way less concerned about balance than it is today. I know for a fact that in AD&D 2E and Basic D&D both, there was a section called "Balancing Encounters" in the rules for the GM. And do you know what? It was labeled "Optional." You COULD balance an encounter based on hit dice and the levels of the party and the level of the dungeon the encounter was happening on. And there was a general sort of sorting principle about creatures only appearing on certain levels of the dungeon based on their Hit Dice. But it was more of a loose guideline. And we GMs often ignored it.
And what happened?
Well, the players didn't assume they could beat anything. They picked their fights. They didn't try to simply kill everything they encountered. They were willing to negotiate with some monsters, flee from others, and they snuck past others. And if they were hellbent on taking something out, they found a way to even the odds. They'd lure the monsters into an ambush, for example. Or set elaborate traps. Hell, I remember one party whose favorite tactic was to lure monsters from one area of the dungeon to fight monsters in other areas.
I often find myself reflecting on that when I have GMs complaining that the players just straight up murder everything. Or when they complain that the players always fight to the death. They never consider retreating. Well, what do you expect? They are playing a game which trains them to play as if they are meant to win every fight. And every fight yields experience points and treasure. So, of course, they are going to fight everything. And they pretty much win every time. It's really funny. Combat is now such a huge part of the game compared to what it used to be. Everything is based on fighting. But despite that, the game is far less deadly than it ever was. And the game USED TO be a wargame with a few extra rules layered on top.
I can't help but think back to the argument that raged over save-or-die effects in 5th Edition. This is when it was still called D&D Next and the playtest version of the beta game was still changing every other freaking week in drastic ways. Should there be save-or-die effects in the game? Well, obviously, the idea of being completely incapacitated by a single failed die roll isn't a whole lot of fun. But a lot of people were also missing the point.
When you up against a medusa or a gorgon or a cockatrice back in the day, you weren't really meant to just fight it outright. Perseus didn't just roll initiative and start hacking at the gorgon, by which I mean, Medusa. Not a gorgon. You know. All of the great myths and legends and stories of old that supply the pedigree for D&D are chocked full of heroes who had to find clever ways to deal with foes that normal mortals couldn't possibly deal with. The save-or-die wasn't about just making the player roll dice every round to not die. They were there to say, "okay, you can try to fight this thing toe-to-toe, but you won't win that way and it'll be your own damned fault."
Or maybe it was just me and the people I played with in junior and senior high school. Maybe we were special. I remember when my friend, Pete, decided the best way to deal with a gorgon – not a medusa, a D&D gorgon – was to jump on its back, grab it by the horns, and hack at it. Because the gorgon sure as hell couldn't breathe its breath weapon if you were breaking that bronco. It was a great scene. Until he lost his grip. And got trampled to death. Win some, lose some. And I remember one party actually turned a medusa invisible so that they couldn't see it. And then they shook out sacks of flour and fought it by watching it move through the flour. Of course, if I'd known then about flour mill explosions and the danger of open flames in particle clouds, well, the medusa would still be dead.
My gaming memories are full of stories like that. I'm not just cherry-picking examples to prove my point. That was just how things went. And, honestly, it still does go that way. Just not as often. Recently, I had a group of Pathfinder players facing skeletons. The party was, by some quirk of generation, entirely decked out with piercing weapons. And they were having a hard time. Finally, one dude threw down his weapon, wrestled with the skeleton, and used the grappling rules to deal natural attack damage to the skeleton. One piledriver later, the skeleton was done. Awesome.
By the way, that example goes back to my point above: the skeleton encounter was actually on the easy side of an average encounter for that party, but because of the quirk of their weapon choices – crossbows, bows, rapiers, twin short swords, etc. – the combat was actually much harder for them. And consequently, they had to resort to unconventional tactics to even the playing field.
Now, I'm not a gaming Luddite. I'm not suggesting a return to the old editions. They were a mechanical mess. But I am suggesting that an overreliance and overemphasis on balance actually does take something from the game. And since game balance is really only kind of a vague guess at best anyway, I can't help but feel that maybe the designers need to own that fact a little better and that GMs need to embrace it. The way the game presents it, balance is absolute, accurate, and gospel. And GMs have come to believe that. And players have come to assume that. Even if they don't do so consciously.
It's Not Who You Are, But What You That Defines You
Recently, I found myself in several conversations about my growing discontent with modern D&D and Pathfinder. And finally, I was asked by one person who is less willing to take my crap than most to explain myself. Now, maybe I'm just a glum, depressed grognard who's longing for the good old days, so take this for what it's worth, but the discussion that spun out of that was, well, I don't know what it was. But it gave me a lot to think about.
See, people love to tell me about their characters. I don't know why. I don't act remotely interested. Not even the slightest little bit. But a lot of what I hear these days about people's characters tends to focus on one of two things: either all of the various options chosen during character generation – race, class, build, feats, background – or else on the character's extensive backstory. And there seems to be a generational thing going on there. Actually, there's a few very interesting demographic patterns but I'm not prepared to open that can of worms yet, so we'll just stick with the generational thing. People who got started in 3E or Pathfinder tend to focus on the mechanical stuff. People who got started in 5E tend to focus on either that mechanical stuff or their backstory or both. And people who started earlier? They tend to focus more on war stories. Things that happened during the game. It was enough of a pattern that I asked other GMs I know about it. And they confirmed the general pattern, though we all admitted it's only a general pattern and not an absolute.
The reason I bring that up is that in talking about character generation and the sheer volume of crap on the character sheet today as opposed to the bygone era, there was another pattern that seems to correlate with it. One of the features of 3E and Pathfinder character generation is that players with any level of experience – as in, knowledge of the game, not as in character level – experienced players tended to plan out their characters. They knew what feat they would take at every level and which skills to put how many ranks in and so on. Usually, it was because they had an ultimate goal in mind. A specific feat that had a lot of complicated prerequisites. Or a prestige class with some hefty requirements. And I would argue the system wanted you to do that. It encouraged that with all of the prerequisites on all the different options, with the prestige classes and feat progressions. And I'm not faulting that.
The point was that you had to build the character you wanted to play and then figure out the progression to get there.
Of course, the characters became a lot more heavily defined by their class abilities. Especially their combat abilities. Because 3E also marked the beginning of the vast piles of character abilities for every class. Oh, sure, prior to that spellcasters had spells, clerics could turn undead, and rogues had a handful of special skills that only they could use like climbing walls and stealth and picking locks. And a few classes that were particularly hard to qualify for had more extensive abilities. Like paladins, for example. Or bards. There were some specialized classes.
But none of that compared to the sheer number of codified options that every member of every race and ever class received just for their choice of race, class, and so on. Mechanical character differentiation increased exponentially in 3E. Every race and class and every character had several unique abilities and talents that were defined by specific rules and stuck on their character sheet.
I'm not saying that's a bad thing either. Character differentiation is good. The choices you make during character generation should be meaningful.
Well, maybe.
I'll come back to that too. Maybe not today. But someday. I'm writing a note to myself. Point is, in 3E, you started defining your character much more heavily through character generation. And that led to this sort of crazy race to get more and more character options to market. New classes, new races, new feats, new spells, new subclasses, new prestige classes. From a marketing standpoint, that's great. But it did lead to a lot of bloat.
Now, in 5E, some of that got dialed back. But not by much. Characters in 5E are still far more complicated than they ever were in 2E or 1E or Basic. Even the simple characters are quite complex. But what did change from 3E and Pathfinder to 5E was the requirement for forward planning. Basically, now, you design the character you want to play and you're already playing it. The rest of the game is about that character just getting more powerful. Getting more options to do the same things they can already do. Only more. By 3rd level, every PC in D&D has made all of the major choices they are ever going to have to make to "define" their character. Hell, they've even defined their personality. It's written in on the character sheet and they get bonuses if they stick to that. And there's no allowance written into the system for personality changes.
In 3E, the character is defined by their goal and they just have to reach it. It's already a foregone conclusion that they will reach their goal. In 5E, the character is defined in character generation and basically, that's it. The character is static through the life of the game. It's just about getting more powerful.
Now, this wouldn't concern me so much if I didn't also see so many players treating their character sheet as everything they can do in the game. Remember when I wrote that article about declaring actions? That was one of the specific problems I addressed. Getting bogged down in the mechanics as if they are everything. And another problem I addressed was the whole telepathic player who tells you their whole backstory every time they declare an action.
In literature, there's a term for a character who doesn't change throughout the course of the story. It's "static." And it's a no-no. Static characters are dull. Once you know the character, they will never surprise you.
There's a lot of focus on defining your character. Come up with a concept and build that. Write a backstory. Identify some personality traits. Write those down. And I find it funny because the same people who don't see any problem with overly well-defined characters that never change are the ones who said "good riddance" to alignment because it was too much of a restrictive straitjacket. Maybe. But that least the old DMG had an entire section that discussed what to do when a character's alignment had changed.
More to the point, though, for a game that's supposedly about decisions and discovery and playing to find out what happens, players seem to be pretty heavily encouraged these days to define their characters at the start of play and then stick with it. And GMs are discouraged from taking actions that might get in the way of the players' long-term plans.
See, I actually started thinking about this when I was reading through Goodman Games' Dungeon Crawl Classics and Modiphius' Conan and Star Trek RPGs. Why? Because both games feature a lot of randomness in character creation. DCC follows a very old-school approach. You roll your ability scores and you play whatever you roll. You have options, sure, but those options are limited by the physical and mental capabilities the dice hand you. You might want to be a wizard, but if you're too stupid, you're never going to learn spell number one. The Modiphius games actually take a different tack. There are all these little background story elements you roll for that carry mechanical consequences. So, you roll up your background and the character you come out with is the product of a bunch of life events, it looks neat.
But what caught my eye is that DCC practically begs players to try their form of character generation before they decide to ignore it and make the character they want to make. "Just try playing a character you rolled just once. You might enjoy it. It's a fun and unique role-playing challenge to define a character through play instead of scripting the exact character you're going to be. Please. Just try it once." And I found it sad that it has to beg. The most memorable characters I have ever played were characters I rolled. And they were memorable because of the in-game events, not because of the clever backstory I came up with as an excuse for the character I rolled. After all, backstory is supposed to be boring. I mean, I know that one fool from WotC recently said you can't make a D&D PC without a tragic backstory on Twitter. I can't remember who. But I saw the Tweet. And it was dumb. One of my favorite characters was a fairly average fighter who ran away from home because he didn't want to be a farmer and decided to be a hero. Interestingly, he sort of became more of a villain than a hero because of everything that happened. It's a long story. In fact, it's the length of a D&D campaign. Which is what makes it cool.
Modiphius' games don't quite beg, but they do offer the option to ignore the rules with what feels like some reluctance in the text. Like the designers knew the game was better, was more fun, if you let the dice fall where they may. And they'd really rather you tried it their way. But, if you must ignore their rolls, well, you can. And I get it. Because there's certain players at my table that I know I could never, ever convince not even once to try playing a character that the dice handed them even though I know they'd do very well with it. They are very good at playing characters, very good at discovering them, but won't dare to challenge themselves with a character they didn't create for themselves 100% absolutely. And they are also the players who tend to always pick the "most unique" mechanical options. As if that crap matters.
See, by focusing so heavily on defining the character during character generation, I think the game has started to sell this idea that who you are by birth is more important than what you do with your life. And that's a trend in a lot of stories these days; there's a definite shift from everyman heroes to chosen one heroes. But I think that's the wrong way to go in a game that is literally defined by the open-endedness of the choices it offers players. It makes me sad that people seem to be voluntarily accepting straitjackets and locking their choices down at character generation. As long as they get to pick the color of the straitjacket.
As I said, this could all be just a grumpy old gamer yelling at clouds. And you're welcome to treat it that way. I'm just thinking things through and looking at trends and trying to figure out what's bugging me these days. Because I am bugged. I'm not happy with the way things seem to be playing out in the D&D games I'm running and the ones I'm paying attention that other people are running. Pathfinder too. And moreover, I'm bugged by what various players and GMs are complaining about these days. There's an itch of dissatisfaction in my brain. A weird something that feels off lately. And it's probably going to take more BS articles to pin it down.
But feel free to comment. I'm actually curious what kind of fights I start this time.