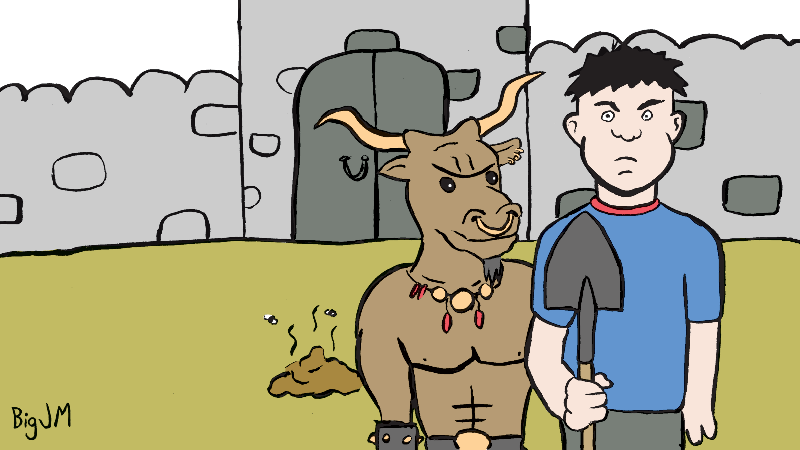 I have no idea how to classify this. That's why it's getting put into my Random Bulls$&% category. But it isn't random or bulls$&% at all. It's actually very important and the timing of this particular article at this particular time is particularly important. This article is about a concept called "tone." It is also about a bear disguised as a human and new players to D&D and terrible lessons for GMs and good lessons for GMs. It's about adventuring building and improvisation and it's also about how to write and run games. It pretty much crosses every goddamned thing I'm doing on this site right now. Except the megadungeon thing that just restarted in its second season after a short hiatus in which I figured out how the hell to continue a series I didn't plan out AT ALL.
Because I'm just making this s$&% up as I go along.
Ultimately, I decided this belongs in Random Bulls$&% not because it crosses so many topics, but because this is going to be one of those rambly, ranty lessons. It'll still be useful. I don't do anything that isn't useful to gaming in some way. Seriously, I'm so goddamned helpful to new GMs that I'm pretty sure I can't poop without someone getting some useful advice or ideas for their games. I don't want to be sacrilegious, but I'm basically becoming the god-king of GMs. I didn't ask for this, but I can't say I don't deserve it.
The reason for the rambly, ranty nature of this lesson is because it starts with a new player and a funny gif. But don't worry. We're going to get to meaty GM lessons shortly. Actually, several of them.
The Story of Sir Bearington
If you spend any amount of time living in the Internet, like I do, you know how gamers love to pass around funny gifs. Over and over and over. The same f$&%ing gifs. Like that one about tomatoes and ability scores. And, the thing is, they are usually pretty funny. I may be an a$&hole, but I've got a good sense of humor. I like funny things. And I firmly believe that you can totally make fun of something's little absurdities and flaws while still loving the thing. Unfortunately, several ex-significant others disagree. But I digress.
The point is, a lot of funny s$&% happens in gaming or around gaming or attached to gaming. And we love to share it. And sometimes, those stories get out.
So, I've started running games for a new group of people. And when I say new, I mean, NEW. Team Chloroform is completely new to role-playing games. And they are bright eyed and enthusiastic and having a great time and I can't wait until the first character dies or gets driven insane. It's so much fun to break new people.
But, in our secret Facebook group, Jeremy (one of the players) who does the fantastic webcomic Up and Out, brought up one of those funny little jokey things that has been circulating the internet. It's the story of Sir Bearington. He said "I've wanted to try D&D for a long time; ever since I read this." Of course, the version he posted wasn't the original. The problem with these jokes is that they get reposted and edited a little and the serial numbers get filed off. But I've reproduced the original, from Giant in the Playground forum user Dr. Gunsforhands.

It IS a funny story, isn't it?
And we all had a good laugh about it. And it became a running gag for a bit. So, when I handed out a basic list of the races available for play, Jeremy sent me a message noting that bears are not a playable race. The version of the story he posted, by the way, was not about a bear magically awakened by a druid spell, but rather a perfectly normal bear player-character. And by the strict rules, a normal bear could not pull that s$&% off because he does not have the requisite intelligence to gain skill points as he levels up according to the Monster Manual and Dungeon Masters Guide. But, whatever, it's funny.
But let's look at the story the way Jeremy saw it. And, more importantly, the way a newish GM might see it. Because, in the end, Jeremy COULD have ended up behind the screen. If he thought the story made D&D look fun and he decided to put in the effort to buy some beginner products and say "hey, friends, let's try this thing because of a funny story about a bear."
Because, after we laughed it off and had a good time, and we were chatting more seriously, I did tell Jeremy that the story actually isn't a great introduction to D&D. Because it teaches potential GMs a few bad lessons. It wasn't a situation of me crapping on a thing. Just to be clear. We're having a blast. It was idle, after-the-fact chatter. The Sir Bearington story is a funny thing for gamers to share, but it isn't a good example of a good game.
Angry Craps on Fun Again
Now, look, here's the thing. I don't want to give away the ending. But if you WANT the Sir Bearington story in your game, there's nothing INHERENTLY wrong with that. And this isn't just one of those "play the game any wrong way you want, dumba$&" things. I'm serious. Even though I'm going to use Sir Bearington (and a few other gags) to illustrate a few important points, which means I'm going to crap all over the joke, in the end, I AM going to tell you how it's also totally okay. In fact, the thing that MAKES IT "okay" or "not okay" is a really central concept to GMing. But this is going to be a journey, okay? I'm just saying that if you get your panties all twisted now about how "Angry doesn't think games should be fun," you're going to miss a lot of good stuff about how to make games fun. And how to make them the right kind of fun for you and yours.
So chill the f$&% out and listen. Read. Whatever.
The Magical Powers of 1's and 20's
Some of the funniest terrible gaming stories in the social medias are the "Crits and Fumbles" stories. The basic format runs like this:
Player was trying to do thing.
Player rolled a 1 or a 20.
GM decided that because 1 or 20 was rolled, the thing succeeded or failed in an utterly ludicrous, over the top way.
Hilarity ensues.
If you want some examples, there's a cute little thread on reddit about it. It's fun reading. But it's terrible gaming. TERRIBLE.
Weirdly, a lot of these stories have to do with seduction. It's just a strange quirk. A player tries to seduce someone or something (usually knowing it's a ridiculous idea). The roll comes up a 20. The someone or something than becomes a mindless love slave and does everything forever, but the encounter also gets hilariously awkward.
And this shows a fundamental misunderstanding of GMing. If I caught a GM pulling this s$&% at a table, I would leave the table. Because the GM doesn't understand how to actually run a game. The GM is f$&%ing THREE things up.
When you get down to it, fundamentally, these stories are the same as the Sir Bearington story. If the numbers align, the ridiculous becomes possible and that is what D&D is all about.
The Step the GM Skipped
Let's look again at the basic principle of action adjudication. I've talked about this before, but it's a good time for a quick refresher. Basically, here's how the game works.
Player declares action.
GM determines what the player wants to accomplish and how they are trying to accomplish it.
GM determines whether the player can get what they want by doing what they are doing.
GM uses the rules to determine whether player accomplishes their goal.
GM describes the outcome of the action and also applies any consequence of the choice the player made.
That's what happens inside every action in the game. The problem is, the rulebooks never spell out this s$&%. They just assume that the GM will get it. Because the rules don't actually tell you what is possible. Instead, they tell you how to determine the outcome of actions. The rules are relying on the GM to decide whether an action should even get into the rules or not.
What you find is that, because the rules don't explain this s$&%, a lot of GMs skip from "player declares action" to "GM uses rules to determine outcome." Some GMs will say no to obviously impossible bulls$&%, but for the most part, GMs tend to respond to all action attempts with "roll a *whatever* check." And that is how people end up seducing bugbears and oozes and turning people gay.
Let me focus on seduction for a second. Because it's probably the easiest one for me to highlight the utter absurdity in what the GMs are doing in these situations. First of all, I am bisexual. This is actual relevant. I don't point this out casually. Because it's not necessary to understand my sexuality to enjoy my gaming advice. But, in this case, it's important. I am also very charismatic and I have nice legs and a great ass. And once upon a time, I cared about actual human contact and finding a balm against the soul-crushing loneliness of my life. Long story short, I've spent some time in various public venues trying trying to pick-up a potential companion or partner.
And here's the things that gay guys and bisexual guys know (even if they have to learn it very painfully): you can't pick up a straight dude. That's what straight means. They just aren't interested. You can be charismatic and sexy and charming and seductive. But if the dude ain't interested in other dudes (or at least curious about other dudes), you ain't picking them up. I imagine lesbians know the same thing about straight girls. But I've never been a lesbian. But I DO know the same thing about being a dude and picking up a lesbian. If someone says "sorry, I'm straight" or "sorry, I'm a lesbian," the game is over.
That's just how human attraction works. It's the same thing with beauty standards. You can argue that people should dispense with conventional beauty standards all you want, but attraction is hard-wired into people. It's not just a choice, it's a chemical and biological thing. And arguing against anyone's standards for "attractive" is kind of like saying a gay guy should choose to be straight.
AND YES, there are factors that f$&% with all of this. Altered mental states – due to various emotional states or alcohol or drugs – can f$&% with all of this. But those are the exception, not the rule. I only bring them up so that some dips$&% in the comments doesn't point out that people who are depressed, who have self-confidence issues, or who are drunk, can be seduced by people they aren't attracted to.
The point is this. If Alice tries to seduce Zelda in my game (Zelda being an NPC with useful information), before I call for a damned die roll, I have to decide – DECIDE – whether Zelda CAN BE seduced by Alice. Will she immediately throw up her hand and say "sorry, I'm straight." Or will she have no interest in muscle chicks and be turned off by Alice's fighter physique? Now, any answer is okay. It's entirely possible that Alice has blundered into a guard who is a lesbian with a thing for body builders. But it's also possible that she didn't. It's cool either way.
My point here is that GMs skip this step and go right to the die rolls. A violent hobgoblin, attacking a camp for food, is probably NOT going to be seduced by a halfling, even if he rolls a 20. And that isn't even bringing sexuality into it. The GM need to decide if the action can even work BEFORE they let any dice hit the table.
And I'll even say this (because, again, comment dips$&%s): the GM can even roll a die. The GM could decide to roll a check to determine if Zelda is potentially interested in Alice. Leave it up to random chance. Assign a percentage chance. Say, 5%. Done and done. But hold on. Because I know where you're going with that. "If you say there's a 5% chance of Zelda being potentially interested in Alice, that's no different than her succeeding on a 20." And you'd be right, if you weren't completely wrong. That's stupid.
First of all, the 5% of Zelda being potentially interested is just accepting the POSSIBILITY of seduction. Technically, assuming Alice has a 65% chance of succeeding on a seduction roll, the combine chance of blundering into the one in twenty people that are actually seducible AND succeeding is .65 x .05 or .03 or 3%. You can argue its close enough to the 5% chance of rolling a 20. But I'd argue I wanted to show off math and that it's all irrelevant because of the forthcoming second of all.
Second of all, you're confusing the example for the rule. This is something people ALWAYS do. I'm using seduction as ONE example of the problem of "skipping the step." It's equally problematic in other situations that don't involve seduction. So, while the whole "natural 20" thing might TECHNICALLY align with the specific seduction example, the general rule isn't invalidated by finding a loophole in the specific example.
The point is: DECIDE WHAT IS POSSIBLE BEFORE YOU ROLL DICE!
How to Decide What's Possible
And now we come to the multimillion dollar question: how do you, as a GM, decide what's possible. It sounds silly, doesn't it? I mean, it should be easy right. For the most part, you KNOW what is possible. After all, the D&D world (or any RPG world) starts with the same basic foundation as our universe. Things like cause and effect and gravity and mortality and the passage of time. These things are so fundamental, you don't even realize you are taking them into account. Seriously. Cause and effect. We don't even think of that as a property of the universe. We just thing "well, that's how stuff works. A thing happens and it causes something else to happen." Well, just go sit next to a black hole or travel very near the speed of light or read about a quantum physics. Cause and effect is a specialized things and it can break down just like anything else can. You can find places without places without gravity, you can find places without cause and effect.
It's fine, though. I'm not arguing you SHOULD take any of these things out of D&D. They are important because they allow players to make decisions and assess the consequences of those decisions. And that's the core of the role-playing experience. Making choices, exploring the consequences. That's the core gameplay mechanic in all RPGs.
But if you want to see how easily the "what is possible" question can turn into screaming insanity, read a thread about whether female dragonborn have boobs or whether fireball spells work underwater. These threads basically break down into three factions. Faction one is the faction that tries to invoke real world analogues as to understand the situation. Faction two is the faction that argues "it's fantasy and magic so the real world has nothing to say." And the third faction watches the other two while laughing their a$& and occasionally leaving a trolling comment to keep the argument going whenever it seems like it's going to die (that third faction is me!).
The truth is, it doesn't matter HOW you answer the question. But what you have to understand is that how you decide what is possible has bigger ramifications than you think. Because every human being consumer of fantasy has a built in threshold for impossibility. We call it "willing suspension of disbelief." It's a part of our brain. And, just like sexuality and attraction, it's not really a willing choice. The problem is, it's arbitrary. And I mean that. It's arbitrary for everyone. See, when you say something is arbitrary, people say "yeah, it's totally arbitrary except for mine because mine makes sense" and then they can outline all the weird rules that govern their suspension of disbelief. And, OF COURSE yours make sense to you. You brain is wired up to make sense to itself. But the rules ARE arbitrary. They are something YOUR BRAIN invented due to its weird wiring.
As Albert Einstein once said, "there are no preferred frames of willing suspension of disbelief."
So, if you have a realist at your table who uses his understanding of the real world to figure out how the imaginary world works and he jumps into a lake when an evil wizard pulls out a necklace of fireballs, he's doing that because he figures "water + me = safe from fire." But if you're a fantasy wonk figure "magic trumps all," you're going to blast him just the same. And you're going to break his brain.
The point is, deciding what is possible isn't a simple thing. And everyone will have a different answer. And arguing about it is silly. The realists are ignoring fantasy. The fantastics are ignoring the need for consistency and verisimilitude. That's why the third faction is the best faction.
BUT…
Here's the dirty little secret. There's a whole other criterion for "what's possible." And it's where the Sir Bearington story breaks down. And, frankly, it's where a lot of the D&D jokes break down. Especially the silly Natural 1/Natural 20 stories.
Figuring out what is possible in terms of how the world "should" work for the purposes of verisimilitude, fantasy, cause and effect, and decision making; you can think of that as the simulation side of what's possible. It's based on the idea that D&D is trying to create a world that could exist so that players can make choices and explore the consequences and overcome challenges. It's the GAME side of what is possible.
But D&D is also about people enjoying a good story together. And that means, it's not just a GAME, it is also a NARRATIVE. And narratively, there is a hugely important concept that has a very strong say in what's possible.
It's called tone.
The Tone Argument
Here's the deal: every story has a certain feel. It has a certain emotional weight to it. It makes you feel certain ways. You don't watch a horror movie because you want a good laugh. You don't watch a comedy for catharsis. And you don't watch a sober drama to be frightened. This general mood, this general feel, is what we in the biz call "tone."
Tone is a vague, nebulous, fluffy, sort of bulls$&% concept. Because it has to do with feelings. And everyone knows feelings are useless fluffy bulls$&%. But that doesn't make it any less important.
The Sir Bearington story is funny. It's ridiculous. As the author notes, it sounds like something out of a cartoon. Specifically, the Chicken Boo shorts from Animaniacs. And honestly, that is WHY it's funny. Hell, most funny stories are funny because they are absurd. All those Natural 20/Natural 1 stories are funny because they are the sorts of things that shouldn't and don't happen. Remember, most humor comes from the subversion of expectations.
Of course, that should also be the first warning sign. Most humor derives from the subversion of expectations. RPGs are about making choices and exploring the consequences. Choice and consequence rely on an understanding of cause and effect. You can already see the friction, right?
Here's an example of tone at work. Remember The Hobbit: An Unexpectedly Awful Movie? There is a seen during the escape from Goblin Town wherein Bilbo Dent, Sexy Dwarf, and the Bearded Extras end up on a bridge that collapses. They ride the bridge, like a rubber raft, as it tumbles down into a chasm that is, scientifically speaking, approximately one bajillion miles deep. Seriously. That fall goes on for a LONG time. And when it finally hits bottom on solid rock, the bridge is fine. The characters are fine. It's fine.
Now, I've seen movies where characters can fall long, LONG distances and end up totally fine. They are called cartoons. And they derive their emotional weight from the absurdity of the action. They are funny things. But The Hobbit was purporting to be an action adventure. I was supposed to care about the characters and worry about their lives. Later on, I was supposed to be afraid for them when they were cornered on the cliff by all the orcs and the wolves. But all I could do was wonder why they didn't just jump off the cliff because Middle Earth has the most unforgiving gravity of any terrestrial planet ever.
The cartoony physics of that scene – played for laughs – didn't match the dramatic tone of the rest of the film.
And you thought I was going to bring up Radagast "Rabbit Sled" Brown, didn't you. Well, I could have. Because Radagast seemed like a Harry Potter character. Seriously, he could have replaced Hagrid as the Care of Magical Creatures teacher at any point in that series. Well, actually, not at any point. Because that's another good discussion of tone.
Harry Potter had a very weird tone. If you read the whole series, the tone changes. It starts as this charming, silly little story about a child wizard in a zany magic school. Sure, it's got drama and heart, but the world itself is also kind of silly. But that was fine. But the silliness dropped away. The story got dark and serious. It still had drama and heart, but the silliness started to drop away. And, for the most part, the transition worked well. Because the series matured as the audience and the characters matured. I have nothing but compliments for the way Harry Potter handled its tonal shift.
But there were still spots that got a little weird, right? Like, once we learned that the Ministry of Magic had constructed an entire secret infrastructure under muggle society and had political connections to the muggle government and that there were muggleborn wizards and wizards living in muggle society pretty freely, Arthur Weasley's comical obsession with and misunderstanding of everything muggle became sort of silly. It was downplayed, but it would still pop up occasionally. And it looked weird when it did. Especially because he WORKED for the ministry in a department specifically established to maintain the secrecy of the wizarding world by policing the use of muggle technology. The hidden world of wizards would not remain hidden very long if Arthur Weasley really represented the expertise with which they hid themselves.
Tone is weird. And like suspension of disbelief, we can accept tonal breaks in small doses. The silly bits of the Harry Potter universe didn't ruin the stories. You can argue whether the Hobbit was ruined by its tonal inconsistency or whether it was ruined by the visual effects or whether it was ruined by being actually really boring, but you can at least SEE the breaks. Tone is why people didn't like Indiana Jones and the Temple of Doom as much as Raiders of the Lost Ark and it's why people had problems with Indiana Jones surviving a nuclear explosion by hiding in a fridge.
But tone does vary. In fact it has to. Emotions get fatigued or desensitized. A movie can't just be a constant string of unbroken zaniness. Or it can't be all depressing all the time. The tone has to vary a little just to keep the audience from getting worn out. But wild swings in tone have to handled carefully. Pixar movies handle tone WONDERFULLY. That's why we call them emotional roller coasters. Because they handle tonal shifts well and because there's an underlying consistency in the differences in tone. The tone never swings too wildly. The ending of Star Wars Episode I: The Phantom Menace is the opposite. You have four simultaneous stories: the duel with Darth Maul, Anakin piloting the spaceship, the Gungal war, and Princess Leia infiltrating the palace and fighting racist caricatures. And each of those has a different tone. A different feel. And the movie flips back and forth between all four and it expects your emotions to keep up. And your emotions are like "da f$&% is happening, am I supposed to be laughing at clumsy robots fighting clumsy cartoon rabbits or am I supposed to actually be sad that Oskar Schindler is dead, forget it, I'm out!"
Tone Policing
And THAT brings us around to the job of the GM. As The Hobbit and Phantom Menace show us, f$&%ed up tone is the fastest way to get people to emotionally disengage with a story. If their emotions can't make sense of how things are supposed to be feel because the story is tonally all over the place, they are just going to check out. And THAT is really dangerous in an RPG. Because emotional engagement is a key part of good role-playing. For you to make decisions for your character, you have to be invested in your character. But you also have to be able to understand their emotional state.
But you've got a bunch of people at the table. And, just like suspension of disbelief, their tonal expectations are all kind of different. And their tolerance for tonal breaks varies. And that brings us around to another one of the GM's many, MANY jobs. Policing the tone. The GM has to maintain a consistent tone and manage tonal breaks.
Imagine that Sir Bearington story in the Lord of the Rings. Do those things fit together? No. Obviously not. If you're running Lord of the Rings, you can't also have Sir Bearington. Most people's tolerance for tonal breaks will slap you in the face if you try to do that. But, if Sir Bearington is in your adventuring party, you probably can't pull off the Razing of the Shire. You're running a cartoon show, you can't suddenly switch to Nazi orc genocide.
As a GM, you've got to be cognizant of the tone of your game. And it is YOUR JOB to protect it. It's okay to run a silly game or a serious game or an epic game or a dark comedy or a horror game or whatever. You can run any sort of game you want. Any sort of tone. But, until you learn to handle transitions artfully, and that's a skill not everyone develops (George Lucas, Peter Jackson), you want to stay pretty close to consistent. It helps keep your players emotionally invested in the game.
And that means, when you have to decide what is possible, you can't JUST consider what "should" be possible from a sort of "nature of the world" approach. You also have to decide what is possible from a "tone" approach. I mean, here's a simple example.
If you're running Crouching Tiger, Ninja Turtles and a player wants to jump basically to the top of a small building, that's probably possible. Because that's part of the whole flying ninja, wire-fu, wuxia bulls$&%. But if Aragorn pulled the same s$&%, you'd call foul.
The thing is, most GMs already sort of have a vague sense of tone and tone policing. But they don't know how to put it into words or they feel like they aren't supposed to do it. For example, did you ever have a player bring a character that just felt a little silly? Like the wacky gnomish inventor or the half-elf bard who casts all spells through the performance of mime and never speaks? Hell, have you ever had the player who made a perfectly serviceable character and then gave him a stupid name like Murry McMurrystine? Have you ever felt, in your gut, that you should just say no?
That's tone. Tone is kicking you in the teeth. Because you have a sense of the tone of your game, even if you can't articulate it, and you just can't take the mime or Murry seriously.
Guess what: it's your JOB to say no. As the GM, it is your job to safeguard the tone of your game for you and your players. It's your job to protect the tone that makes a game you want to run that is also a game that the players want to play. And if you've got someone breaking the tone for you and others, you've got to reign that s$&% in before the dumba$& nukes the fridge.
So What Actually IS Possible
Well, that's a good f$&%ing question. On the one hand, you have consistency and verisimilitude and cause and effect and all that other crap. On the other hand, you have tone. Sometimes those things align, sometimes they are at odds. And that's because basically one is driven by your brain and the other by your gut. One is logic, one is feels.
How do you decide what's possible? I can't tell you that. Because it is highly subjective. You've just got to sort of feel your way through. Consistency is important. Consistency of tone and consistency of reality. But sometimes, preserving one will break the other. And you'll have to compromise. But whatever compromise you go with is probably okay.
I'm serious. It's actually a lot easier to handle this than you think. If you're aware of these ideas, you'll tend to keep things mostly consistent. So, if occasionally, things swing too far one way or the other or the tone breaks a little or the suspension of disbelief breaks a little, your game will survive. As long as you aren't just ignoring the question, you'll probably do find. You really do have an intuitive grasp of tone. Most people do. And your brain has an inherent logic. Most people's do. If you sit and think for a moment and trust your instincts, you can make a pretty good decision.
And paradoxically, if you find yourself REALLY struggling on a decision – if you are going back and forth and feel like you're trapped right in between – it's probably because the decision can go either way and be fine. If that's the case, you can probably safely just flip a f$&%ing coin.
Sir Bearington is okay if your game is Animaniacs. But not if it's Lord of the Rings. The only thing that's NOT okay is not thinking about it. And THAT is why you never, EVER let someone roll a die until you already know what the possible outcomes are.