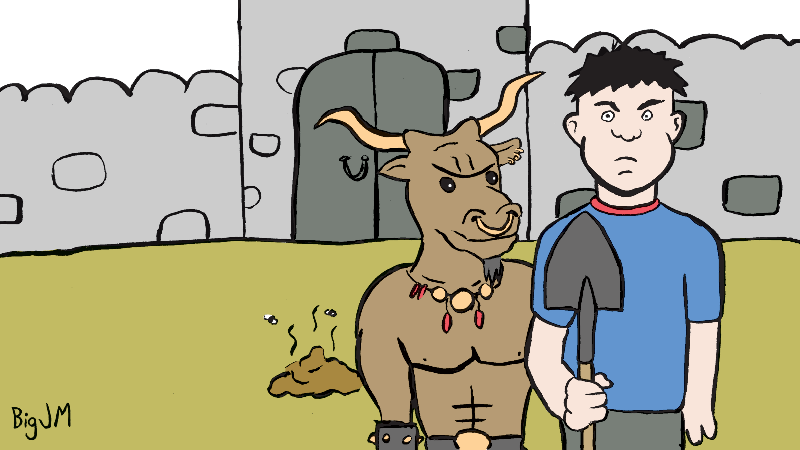 Hello, and welcome to my first ever Fan Selected Bulls$&%. You all know that about once a month, I dispense with the usual cool, useful stuff about how to run games and start campaigns and hack rules and all of that other crap and, instead, just do some sort of weird naval-gazing digression about whatever. That's why I invented the category of articles I've called "Random Bulls$&%." I actually really like doing that s$&%. Last month, I did the "30 Days of RPG a Day," for example. What you may not know is that when you become "Seriously Not Hated By Me" by supporting me at the appropriate level on Patreon, you get invited into the secret Angry Discord Channel where all sorts of cool discussions take place. And lots of really great topics come out of there.
So, I've decided to try an experiment with my monthly Bulls$&% column. I've decided to ask my Patreon supporters in Discord which of the various topics we've talked about they would like a full-blown rant about. That's right, once a month, I'm letting my Patrons choose a topic for my Bulls$&%. And this month, the choice was "how I learned to stop worrying and start hating ability scores in D&D." See, after several discussions about ability scores and action resolution in D&D with my Patreons, I came to realize that I actually HATE the D&D ability scores. They aren't merely flawed or inconvenient or incomplete. They don't work on a fundamental f$&%ing level. And they have been f$&%ed up for 17 years. And we should be really pissed off about them.
There's No Such Thing as a Skill Check
First, let me blow your f$&%ing mind: there are no skill checks in D&D 5E. This is the first thing you have to understand if you're going to understand why ability scores are worse than a bucket full of Adolf Hitler's urine in D&D. Read the rules very carefully and you will find that there are precisely FOUR kinds of die rolls explicitly called out in D&D 5E. I'm going to mention the last one first because it's totally irrelevant and we won't be discussing it again. The last type is the damage roll. The roll to see how much damage an attack does. It doesn't count. We're not talking about it.
The other three types are the Ability Check, the Saving Throw, and the Attack Roll. And this is not me making a semantic argument, either. It's very important for the rules that those three rolls are clearly defined. Notice, for example, that Barbarian Rage (PHB 48) specifically gives advantage on Strength checks and Strength saving throws, but not on attack rolls. Attack rolls are treated differently. Notice also that Strength checks include checks using the Athletics skill. PHB 174 clearly explains that such checks are ability checks using a specific skill. They are NOT skill checks. Everything in the game that applies a bonus to a d20 roll uses the same language. Bardic inspiration specifically says it's bonus can be applied to "one ability check, attack roll, or saving throw." (PHB 53) The Bless spell gives a bonus that applies to attack rolls and saving throws (PHB 219).
Now all of this crap is just a further evolution of the d20 mechanic that was invented for D&D 3rd Edition. And that mechanic was invented specifically to put all of the various die rolls in the game – the ones related to resolving actions, anyway – to put all of those die rolls under the same umbrella. It was a universal mechanic. An elegant mechanic. It meant that you only really needed to know one rule to start playing the game. To resolve an action, you would roll a d20, add an ability modifier, and then add some other stuff. That was a far cry from the previous editions of the game. Those editions had a whole bunch of die rolls for a whole bunch of things. Do you hit with an attack? Subtract the target's AC from your THAC0 and then try to roll that number on a d20. Do you find a secret door? Roll a d6: on a 1, you found it. Saving throw? Roll a d20 and compare the result to a fixed number for one of five categories based on your class. Does the NPC turn hostile? The GM will roll 2d6 and compare the result to a reaction table, applying a modifier from your Charisma. Can you break that door open? Roll a d20 and try to roll under a number based on your strength. Snap a chain? Roll percentile dice. And so on.
In the old days, basically, there was a specific die roll for everything. Or at least, for a lot of things. And they were arbitrary. And your ability scores simply gave you bonuses or penalties to those things. And if you tried something for which there wasn't a mechanic, the GM would either just guess at the result or try to fit the action into one of the many existing mechanics or invent their own mechanic on the fly. But that's a side note right now. Just remember that. We're going to come back to the role of ability scores then and now.
What does any of that have to do with the fact that skill checks don't exist? First, let's get back to the idea of ability check/attack roll/saving throw. If you look at those things in 5E purely on their mechanics, they all the work the same. They all involve rolling a d20, adding an ability modifier, and adding whatever else is situationally appropriate. So why differentiate them? Well, the smarter among you have already recognized why. Because it's there in those examples I used: barbarian rage and inspiration and bless and all the other things that give bonuses to action resolution. It's there to draw bright lines between different classifications of die rolls so as to determine how the rules interact.
Attack rolls – be they melee or ranged or weapon or spell – attack rolls are attempts to overcome a target's defenses and inflict harm on them. They go against Armor Class. They can hit or they can miss. They can crit. And they are followed by a damage roll. Oh, sure, they may have other effects as well. But they do damage. Because of those factors, it is very easy to look at something and decide whether or not it is an attack roll. Is there attempt to do harm? Must it overcome a target's AC? Will it do damage?
That's what I mean by a bright line. It is very easy to see what is and is not an attack roll. And what an attack roll should do.
Saving throws are a little bit weirder and the line around them isn't as bright. Saving throws are always reactive. They are made in response to an incoming effect and represent a character's ability to resist or avoid said effect in ways other than through normal combat defenses. But saving throws are generally exceptions-based. That is, the need for a saving throw as well as the effects of succeeding and failing, are described as part of the effect necessitating the saving throw. Honestly, saving throws are the least universal of the mechanics for that effect.
By drawing bright lines around specific types of checks, the game designers can decide how the rules interact. They have an easy language to say, "this thing affects all attacks" or "this thing doesn't affect saving throws" or whatever. They can build very general affects, but still put limits on them. And it is very clear when those affects should and shouldn't happen.
But the point of all of this is that there aren't skill checks in 5E. Because the currency of action resolution is the ability check. And that leads to one of the most important, core mechanics in D&D. That of the ability check. That's also why skills themselves are parenthetical. You don't make an Athletics check. You make a Strength (Athletics) check. That is, you make a Strength check and get a bonus if you're trained in Athletics.
The Power of the Ability Check
Essentially, whenever a player attempts any action that might succeed or fail – assuming it's not an attack roll or saving throw – the GM simply has to determine which ability score it falls under. No matter what it is, the GM just needs to say "Strength" or "Wisdom" or whatever. And then the action is resolvable. After that point, of course, the GM can decide a particular skill applies. But that means ANY action can be resolved in D&D without specialized rules. The only thing the GM needs to know to adjudicate ANY action is the definition of the six ability scores.
That is actually a powerful mechanic. And it's really underappreciated. I could say why it's underappreciated and why it's not always clear, but I'm tired of pointing out how badly written and presented D&D 5E is and what a mess the books actually are and why RPGs in general are terribly written and organized, but let's just stick with the mechanic itself.
The ability check was actually a huge revolution in D&D, even though you might not realize how important the difference was. As I mentioned above, in the old days, there was a pile of mechanics for resolving all sorts of specifics types of actions. And no two were precisely alike. Some of them were modified by certain ability scores, but those modifications were haphazard because the mechanics themselves were so varied. And so those modifications couldn't be universally applied. The "bend bars/lift gates" stat derived from Strength was a percentage. You could only use it on things that used that specific mechanic. The "reaction adjustment" from Charisma was a simple addition or subtraction that you could, in theory, apply to any sort of roll. But it worked best on the 2d6 roll. And the scaling was very different than on other rolls and modifiers.
That meant that when you had to resolve an action that wasn't specifically covered by the rules, you had to first find a mechanic that was close enough somewhere in the system. That's assuming you didn't just state the outcome. And because the bonuses and penalties derived from ability scores – some of which provided six different types of bonuses on different scales – were all keyed to specific mechanics, you rarely used them. And that greatly diminished the importance of ability scores outside of the very specific mechanics built around them. In other words, if you weren't using one of the three specific mechanics hard-wired into Charisma, your Charisma had no impact.
Now, I'll admit there's an argument to be had about whether ability scores SHOULD be so important. But the argument is an easy one to resolve because I'm always right and I say it's actually very good for the game. Every player now knows that, if their character is very strong, they are likely to succeed on things that strong people should be able to do. Every player knows that their intelligent character is likely to succeed on things smart people should be able to do. Players can rely on their ability scores to nudge the chance of success in their favor if they play to their strengths and avoid their weaknesses. That lets players make logical decisions. And that's the heart of role-playing.
I'm Tired of Fighting
Let's assume, for the moment, you're smart enough to agree with me so far. You recognize that the basic component of action resolution now, in 5E, is the ability check. And that means that the GM can adjudicate any action merely by knowing the definitions of the six ability scores and figuring out where things fit.
So, what's wrong with the ability scores in D&D?
F$&% me but this is going to get hard. I know it will because it ALWAYS f$&%ing does when you discuss ability scores. Because people have trouble seeing past the end of their own noses. And they look at the ability scores in D&D – the ability scores that have now formed the basis for every game since D&D – and say "well, that's a complete list; it covers everything and leaves nothing uncovered; and I understand the definitions; so, it's perfect."
And that's why things never get better.
What makes this even more difficult is the fact that there have been five different definitions for each of the six ability scores – one each for each of the different editions of D&D – and people assume they haven't changed. That's why I still have a bunch of f$%&wits telling me "Wisdom is common sense" even though no, NO IT ISN'T. Not in 5E. Not anymore. Nowhere is Wisdom "common sense."
Whenever I discuss the weaknesses of the ability score system in D&D in general, I always end up in these weird emotional fights with people who can't see any other possibility and are loaded with all sorts of baggage and interpretations and assumptions. That's bad enough when it's a simple fight like pointing out that the Charisma ability score actually ruins social interaction in D&D or pointing out that it's time we put the Intelligence vs. Wisdom debate to bed by just dropping Wisdom altogether as f$&%ing useless. But the point I'm about to make is even more subtle. Because it's much harder to point to overt problems caused by the thing I'm going to say. It's more like a wobbly wheel. It's not going to crash you into a wall, but it does make it harder to steer. And you've been steering with it like that for so long you just unconsciously adjust to it and don't even realize you're doing it.
That's why I didn't even want to have this discussion. But that's what happens when I let fans pick the f$&%ing topic.
Okay. Here we go. What's really wrong with the Ability Scores in D&D in this day and age?
Fuzzy Lines, Wobbly Definitions, and Nonfunctional Design
Simply put, the six ability scores in D&D were not designed to be used the way we're using them. They were not invented with the idea that they would be the first step in action resolution. Even though that is what they are now, they weren't designed to be that. And that has created a lot of wobbly weirdness that makes it just a little harder to run the game than it has to be. But you probably never noticed because there's a lot of little things that keep the wobble under control in your head.
Remember what I said about bright lines? A bright line is a division between two things that is very easy to see. For example, imagine if you had a game with just three ability scores: physical, mental, and social. And imagine, in that system, ability scores are used as the first step in action resolution like they are in D&D. That means that when a player comes up with an action, the GM simply has to fit the action into one of the three ability scores and then they can resolve it. Well, it's really easy to see the division between those three scores. There are bright lines between them.
Now, if you're designing a system from the ground up, and you know your action resolution system is going to start with "pick an attribute to govern the action," that's exactly how you want it. You want to make it very easy for the GM to determine which attribute to stick any action in. You want it to be as intuitive as possible. There was an old RPG named Everway that no one remembers nowadays that had four stats. They were based on the four elements. But you didn't actually have to remember which element governed which thing. You just had to answer two questions. First, you had to decide if the action was physical or mental. And then you had to decide whether it was directed outward or directed inward. And everything was laid out into a circle divided into quarters.
Now, Everway was a very different game from Dungeons & Dragons and I'm not recommending that those two questions are the best questions for D&D stats. I'm just pointing out that the game was designed around very clear bright lines for its action resolution statistics.
By contrast, D&D doesn't have nice bright lines. It does have the "physical vs. mental" line, because it has three physical ability scores and three mental ability scores, yes, but that's about it. Instead, it has six definitions that you have to remember. Whenever an action comes up, you have to run down the list of those definitions to see which one fits. Now, the definitions aren't complicated. It's not hard to do. Except, sometimes it can be.
The line between Intelligence and Wisdom has always been fuzzy. Hell, there used to be whole sidebars devoted to the difference because it wasn't an intuitive difference. The only reason it SEEMS intuitive now is because it spread to so many different games and because we're used to it. And it's still a source of arguments between people. Sure, people will sneer and rattle off – usually at least partly incorrect – definitions for each, but you can always find some action that will short circuit their definitions.
But no matter what you, personally, may think about the difference between the two, if these ability scores were designed for action resolution, they never would have ended up in the same system. Because there's no easy, intuitive bright line. Instead, you have to take the mental stuff and put some of it on one side and one on the other. Arbitrarily.
What actually DOES help a lot with the Wisdom vs. Intelligence thing is looking at the skills underneath them. By definition in 5E, Wisdom is your attunement to the world, your perception, and your intuition. If we want to be really technical, that's saying the same thing three times. But under that definition, there is very little that falls under Wisdom other than knowing what is going on around you. But when we look at the skills underneath Wisdom, we also see Survival and Medicine and Animal Handling. Now, certainly, those do have aspects of perception and intuition built in. But there's more going on there than just awareness. And none of that gets us to why Wisdom saving throws involve willpower, given that Charisma is the ability score that includes will and confidence.
The point is, the lines between ability scores aren't as bright as they could be. And, while that's not a disaster – it doesn't RUIN the system – it's just a result of the fact the system evolved by the ability scores didn't. But that's not all. It's interesting to note that there are some things that weren't really covered by the ability scores UNTIL they had to be.
For example, awareness and perception were folded into Wisdom in 3E. And that's because there wasn't an ability score that dealt with sensory perception, but that mechanic had to sit someplace. Fine motor skills and manipulation got folded into Dexterity when thief skills had to fit into the ability score system. Say whatever you like, but fine-motor skills are very different from agility and balance and reflexes. You can have a fat, non-athletic acrobatic clockmaker just as easily as you can have a nimble tumbler who's all thumbs. We don't notice those gaps because the skills filled them in. Picking pockets and opening locks became part of Dexterity which meant Dexterity governs fine motor skills and manipulation, even though that's not part of the definition. Sensory perception got rolled into Wisdom while lots of other stuff rolled out of Wisdom.
Again, we're used to it. We can work with it. It isn't impossible to handle. It's not even that hard. But it's still fuzzy and ugly and arbitrary and clunky. And every edition of D&D juggles a few things around just to keep us on our toes.
Hate is a Strong Word
Okay, fine. Ability scores weren't designed as the be-all and end-all of action resolution. They were square pegs that got hammered into a round hole. There are a few clumsy corner cases and some general arbitrary weirdness. But that doesn't make any of it unmanageable or unplayable with. It still works just fine. I'm not denying any of that. It's just a little wobbly.
And yet, one month ago, I realized I hate it. I f$&%ing hate it. I hate it more than I hate actually broken mechanics that ruin games. Even though it's just this slightly wobbly little bit of weirdness that makes things just slightly unapproachable, it makes me so f$&%ing angry.
Why?
First, because it's a f$&%ing cancer that has infected every game and every goddamned gamer's brain. Not too long ago, I came across the fan-made Pokemon Tabletop RPG. And it uses the same six ability scores for its Pokemon trainers. And I saw that and ranted to anyone who would listen about how retarded that was because those ability scores don't make sense for a Pokemon game. And no one would listen. Because those six scores cover everything and leave nothing else and why would you need anything else. And even when I invented a demonstrably, provably, objectively better ability score system that actually reflects the way Pokemon trainers interact with the world and their Pokemon, I was told to shut up because D&D got it right.
But that's not really D&D's fault. That's stupid people being stupid and not thinking. Not putting in any effort. Which brings me around to the second reason I hate it.
Second, I hate it because it represents a sacred cow. Basically, it's one of those things that is never going to change. The six ability scores are as iconic to D&D as fighters and wizards and hit points and saving throws. The fact of the matter is, no matter how vestigial Wisdom is and how anemic the list of things it covers actually becomes, we will never be rid of Wisdom in D&D. It is an evolution that is never going to happen. But the thing is, it's such a surface feature. It's such a shallow thing. The change between 2E and 3E to a universal die-rolling mechanic based on general action resolution rather than specific mechanics for specific things was a huge change. It changed everything about how the game was put together. There is a WORLD of difference between pre-2E and post-3E Dungeons & Dragons. And, for my money, it's a GOOD world of difference. A welcome world of difference. But, by comparison, rejiggering the ability scores to work better within the core system? That would be such a small thing. But no one would see it that way. Oh, sure, redo the entire core mechanic of the entire game. But, for the love of the gods, don't change the names of the ability scores.
Third, I hate it because it of the way I started this. Remember how I had to start by pointing out that D&D doesn't have skill checks? There's more than a few people out there who were actually surprised by that. I know. Because part of this article grew out of a discussion on my Discord Channel that started with me saying exactly that: there's no skill checks in 5E. See, lots of GMs – when confronted with an action – start by trying to fit it into one of the skills. By making it a skill check. Only when it doesn't fit into a skill do they go up to the level of ability scores. And that's backwards. It's supposed to be the other way around. Fit it into an ability score first, then apply a skill as a bonus if appropriate. But who cares? So, what? Well, apart from the fact that it's just a clumsier way to handle things, the big problem is that approach to GMing leads players to choose their actions from the skill list. That is to say, players treat their skill lists as lists of buttons they can press to make things happen. Players declare actions in terms of skills and they are less inclined to think outside the skill list. New players especially get trained very quickly to see the skill list as the list of options they have in the choose-your-own-adventure book of D&D. Which is actually far more limiting than it needs to be.
The irony is that, although we have this great universal mechanic at the core of D&D – wobbly though it might be – we're still sort of stuck in a pre-3E mindset of having a list of mechanics for prescribed actions to choose from. The freedom of the ability check is buried under the list of skills. And I've seen plenty of newer GMs think they were doing something wrong when they couldn't make an action fit into a skill.
I could say that part of the problem is the fact that this isn't very well explained. But it is. Everything I've said is actually IN the PHB. More or less. Ability checks and action resolution are explained before skills are even mentioned. But the problem is no one reads these books anymore. Players learn from their GMs. GMs learn from older GMs. And older GMs already know what they are doing so they just skim the books. And that means they miss these apparently small, meaningless changes. What WOULD make everyone read the goddamned book is if something BIG actually changed. I can almost guarantee that more people read the 4E core rulebooks than read the 5E core rulebooks. And I mean read all the words. Not just skimmed. Because there were lots of big changes in 4E. 5E just looks like a spit-polished 3E. It just needs a skim. Imagine if the ability scores changed. Imagine if you couldn't spot Wisdom or Dexterity or whatever. You'd read then.
But the bigger problem is in the fact that, like I said, we need the skill lists to supplement the definitions of the ability scores because those definitions aren't clear. There aren't bright lines between them. Not all of them. The skills lists are a major part of the definitions of the ability scores. So, we tend to rely on the skill lists to tell us where things fit. And that means, we look at the skill lists first. Then, only when that fails, do we look above to the ability scores. And thus, another group of gamers is stuck using their skill list like the list of choices on a multiple-choice exam.
The Solution
Let's say you're smart, like me, and you recognize that there's a subtle problem buried in the ability scores and you, like me, have grown to resent that problem. Not because it's ruining the entire game, but because it's this annoyance that you just can't stop seeing once you recognize it. It's like a toothache. It's not going to kill you, it's not life threatening, it doesn't stop you from functioning, but you CAN'T F$&%ING IGNORE IT. Fine. What's the solution?
There isn't one. And there's never going to be one. D&D will always have the six ability scores it has. Always. They will never go away. The definitions might change like they always have. But the names will be the same. We will never separate dexterity into Coordination and Agility. We will never replace Wisdom with Perception. We will never do away with Charisma. Not in D&D.
But, if I were making an RPG, I sure as hell wouldn't start with the D&D ability scores like everyone else. Or maybe I would. It would depend very heavily on what I wanted those ability scores to do. In some systems, ability scores aren't the starting point for action resolution. They are merely bonuses that get added in. It's a subtle distinction, but it's an important one. But in D&D 5E, every action MUST fit into one of the six ability scores in order for it to be resolved. And that means that it must be possible to easily and intuitively fit any possible action into an ability score and it should be very difficult to fit any action into more than one ability score.
But, until I make that RPG, I'm just going to have accept the wobbly little toothache that is D&D. After all, it works perfectly fine. It's just irritating as hell. And I can't unsee it.