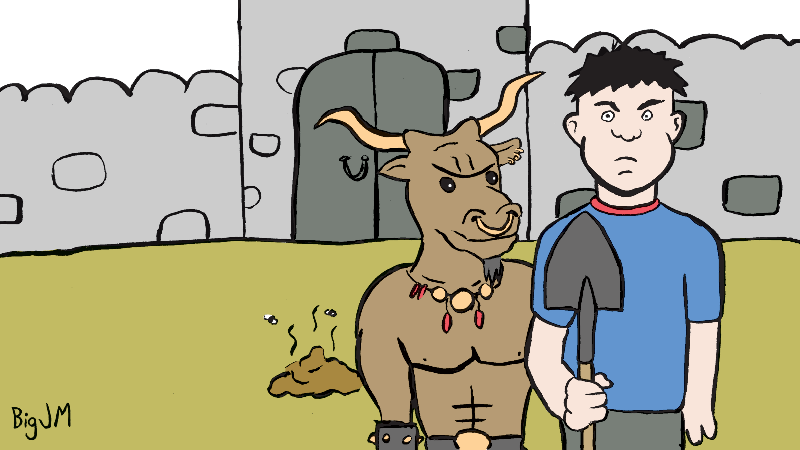 Since I am, like, a five year GenCon vet and since GenCon is, like, three weeks away, people have been asking me lots of questions about it. Like: "are you going?" "why aren't you going?" "you should Kickfund going?" "are you going next year?" and so on. Those questions don't make me feel any better about not going, people. Look, I'm trying to up and move my entire life to a new city 800 miles away LITERALLY during GenCon. So it ain't happening.
But then start all the other questions. Questions that start "it's my first time going to GenCon… " and end with "… HELP!" And I've noticed it's sort of the vogue for bloggers to waste a week writing a "Guide to Surviving GenCon" every f$&%ing year. I was going to do something actually useful about narration and running games and s$&%. But no, people are DEMANDING I write this crap instead. So you get this.
See, the thing is, all the GenCon advice out there doesn't really tell you everything you absolutely NEED to know. It's all these thousand word, top-ten-list style bits of bulls$&%. Me, I'm going to give it to you straight. I'm going to tell you about experiencing GenCon for the first time along with some awesome tips.
EDIT: Just a quick note here. Later on, I'm going to refer to "free events." I've learned that GenCon did away with Free Events this year. So everything costs at least $2. Disregard my mention of free events. I can't rewrite the whole damned article now over this, but I'm going to go put a note about how this changes things further down where it's relevant? Cool?
EDIT: Someone fed me some bad info. Seminars ARE still free. I should have verified the info before I posted. Disregard these notes. 
The Angry GM's Secret to the Most Successful GenCon Ever
If you want to have the most successful GenCon ever, I'm going to reveal the single most valuable thing you can do before you even start packing for your trip. After you found a successful podcast and get booted off by your co-creator over creative differences, whereafter he steals the show, erases you from its history, and runs it into the ground; spitefully start your own gaming blog and Twitter feed. Over the course of several years, build both up and become very successful. Network within the community, befriending other creators, doing guest appearances on podcasts and writing occasional pieces for other blogs. Maybe even do a little freelance work. Once you're done with that, go to GenCon. It will be awesome.
I did not write that to brag. Well, I sorta did. Because I brag. Humility is for people who aren't good at things. But I also wanted to illustrate a point. Every successful f$&%ing blogger and armchair game designer out there writes a blog post about GenCon filled with advice. And most of that advice is coming from someone who hasn't had to work hard at having an awesome GenCon experience in a long f$&%ing time. They are surrounded by pick-up games and their calendars are filled with hundreds of people who want to game.
But you know me, by now. I hope. I ain't gonna do that. I'm going to give you actual, human advice. And it's going to disagree with some of the stuff that other popular and successful bloggers have said. And that's because they are out of touch with their audience. So, trust me. Because I'm going to be brilliant and comprehensive.
Also, I don't write bullet-pointed top-ten lists. I dig into the meat. This isn't a list of tips. This is a goddamned essay. Settle in people. You don't come to me for brevity anyway.
What's the Point?
Okay, let's talk quickly about WHY you're going to GenCon. Because the biggest mistake I made the first year was not knowing why the hell I was going. And most people don't. They are going just to go.
Here's the deal. GenCon is big. You just won't believe how awesomely, hugely, mind-bogglingly big it is. You might think your local gaming convention in the basement of one hotel is big, but that's just peanuts to GenCon. Listen…
Every f$&%ing fandom imaginable is at GenCon, including weird crazy-a$& s$&% you've never heard of like SuperWhoLock. There's RPGs, card games, board games, video games, war games, and LARPs. There's video games, consoles, PC games, MMORPGS, MOBAS, MUCKs, indie games, all that s$&%. There's cosplay, the normal kind and the steampunk kind and the furry kind and all sorts of other kids. Comic books and movies and TV shows and books and art and graphic novels which are somehow different from comics. There are so many things that no one except the mysterious Skynet device that keeps the schedule straight knows what is going on there.
And for each and every one of those things, there's so many things to do. You can play games, you can watch games played by celebrities, you can watch games played by nobodies. You can go to workshops and seminars and learn to up your game. Or your screenwriting. Or your fan fiction writing. Or your SuperWhoLocking. There's panels where you can listen to creators gab about their work and whine about every imaginary problem that is wrong with every goddamned geeky industry every. There are announcements and previews. You can get things signed and meet celebrities. You can go to dances and raves and booze events. There are f$&%ing parades. There's a party where you can yiff people, whatever that is.
On top of all of that, there's also 50,000 other geeks there who also are into all of those things. And every single one of them is probably down for something. A pick-up game of Magic: The Pokemon. A pick-up game of D&D. Heading to a bar to piss and moan about how the latest Pathfinder supplement is totally breaking the game.
And some of those geeks are actual content creators: professional, indie, and amateur. And you might want to meet them to network. Or just meet them to meet them. And get them to sign things.
Now, look at all of that and realize you only have three or four days.
Yeah…
Going in with the idea of "just checking out what's there" is a mistake. A huge mistake. It's how I did my first year at GenCon because I was overwhelmed. And seriously, it was fun, but I also felt like I'd missed out on really doing anything.
So, why are you going. What do you want to focus your time on? You don't have to devote all your time to your focus, but it's a good fallback to have. When you don't have anything to do and you find yourself lost, you can fall back on "well, I meant to come here and play plenty of RPGs, let me check the schedule and see if there are any games coming up."
Why do I go? Well, I'm an RPG gamer through and through. I go for RPGs. And I love running games. And I am also actually a huge social butterfly, as it turns out, because I like people listening to me talk. So, my goals are generally "run RPGs and hang out with people." And that is what I spend most of my GenCon time doing. Last year, I also did this weird thing called "networking" which is basically "hanging out with people who are specifically useful to you in some way, generally for shorter periods of time, and letting them know you have 'plans.'"
How GenCon Works
In case you have never been to GenCon or any other large convention before, here's how GenCon actually works. Your badge gets you into the convention itself. That lets you walk around and enter the big public spaces. And that's about all it does. Anything else you want to do generally requires you to register and have a ticket.
There are whole bunches of official events scheduled. Everything from seminars to games to moving showings to dances to knitting classes. Every f$&%ing thing imaginable. Each event has a certain number of tickets available. If you buy a ticket to that event (which might be free or it might cost anywhere from $2 to $20), you can attend that event. At the event, your ticket will be collected and you will get to be in the event. IN THEORY.
See, there's a few things that f$&% with that system.
First, you've got generic tickets. Generic tickets are wildcards. They cost $2 apiece and you can use them in a couple of different ways. Many events that don't have a set number of seats ONLY ACCEPT GENERIC TICKETS as buy-in. If you want to play an official D&D game, for example, or play in one of the Magic: the Gathering tournaments, you need to bring generic tickets to cover the cost of the event. The MtG events will cost more if it's a draft event or something because you are actually buying cards. The D&D games cost one or two generics. Events that only accept generic tickets list that in the program guide. Make note of the cost and make sure you have generic tickets on hand to cover it.
But any event can accept generic tickets. So, if there's an Iron Kingdoms game that has $4 tickets, the person running the event can accept two generic tickets from you and let you participate in the event. But most such events have limited seating. That Iron Kingdoms game might only have had six tickets for sale because the person running the event only wants six players. If there's an open seat, you can use generics to buy in. But the official tickets have preference. So if all six tickets are sold and all six players show up, the organizer can turn you away with your generic tickets.
However – and this is the important bit – if all six players don't show up or all six tickets weren't sold or the event organizer is cool and can handle a seventh player, you can show up to the event with generic tickets even though you never registered and still get in. And that happens more often than you think.
Angry Tips 1 and 2 – Carry some generic tickets with you at all times and show up to events that are sold out because you might be able to get in with generics.
The second thing that f$&%s with the system is that some events, particularly seminars with free tickets (most of the seminars are free), don't actually bother collecting tickets or even checking them. So if an event has a large number of seats (50, 100, or more) and free tickets, show up even though it is sold out. Unless the room fills to exploding and literally there is not even standing room, you'll get to stay.
Edit: The seminars are apparently no longer free. Everything requires at least a $2 ticket. My bad. Sorry about that. And that changes things. Because GenCon collects the tickets and treats them like cash, that means they probably WILL collect tickets at the door to the seminars and they may even limit seating and stop letting people in. So there won't be anymore standing room stuff. I can't guarantee that, but I will say this: it's more important to carry Generic Tickets now so you can decide to attend a seminar on the fly. AND if there is seminar you really want to get into, register for it. 
Angry Tip 3 – Don't bother registering for free events with large numbers of seats, they don't check tickets. Just show up.
You can buy tickets at any time by going to the event registration area. As long as tickets are available for an event, you can buy them right up until the event start time. You can buy generics at any time. But always carry a few bucks worth of generic tickets to cover an event you want to get into. If you are into any of the CCG crap, you will probably ONLY deal with generics.
But, in addition to sanctioned events, there's lots and lots and lots of unofficial crap. Basically, people are always playing and running games. Every available table in every available public space is going to have a game on it. And those events don't cost anything. People like me – active on social media – often just advertise they are running such and such a game at such and such a time and ask if people are available. Or they plan them weeks in advance. Those games aren't sanctioned. There's no tickets. It's just people being people. Watch the GenCon hashtag on Twitter and keep an eye on social media to get into pickup games. And if you want to get into a game, jump on social media and say "anyone running a game in the next two hours at #GenCon? Any RPG!" Also, if you and three people are hanging around shooting the s$&%, someone might say "hey, let's break out Legendary Encounters" or "anyone want to play a D&D scenario? I can run it."
And let me tell you something, if you are that person who is ready to break out a board game or run an RPG, you will be popular. Just SPEAK UP! Don't be coy or shy or wait for someone else to suggest a game.
Angry Tip 4 – Keep an eye out for pick-up games, especially on social media.

Angry Tip 5 – Don't be shy. Speak up. Especially if you're willing to run a short game. People will LOVE you.
So, that's how GenCon works. At least for gaming.
Knowing Your Way Around
Now, let's talk about the lay of the land. The quest map, if you will.
GenCon ostensibly takes place in the heart of Indianapolis, inside the Indianapolis Convention Center (ICC). The ICC is huge, with several floors filled with rooms for all sorts of everything imaginable. In the front of the ICC is a big hallway filled with tables and stanchions. This is the registration area. Here, you can pick up tickets and badges, register for events, check in if you're a volunteer, and so on. The lines here get very long very quickly, but don't panic. The lines move really fast.
At the back of the ICC, several big interconnected halls together make up the Exhibitors' or Dealers' Hall. This is the giant mecca of gaming commerce. All of the various companies, big and small, have booths and areas set up. This is where you go to buy s$&%, browse the latest stuff, and see demos of new and interesting games. Be aware that many of the bigger companies booths' fill up fast, so they often let in only a few people at a time. If you're visiting Fantasy Flight or Paizo, for example, you're going to stand in line for a while before you get in.
Much of the rest of the first floor of the ICC consists of lettered halls: Hall D, Hall E, whatever. Those areas are usually reserved for long, long tables for board games. Now, there are often tables open, but be aware that this isn't a free-for-all. Most of the tables in the board game hall are reserved for particular companies and usually for specific events. But if you are into board games, it's a great place to wander and see people actually playing games. Somewhere in here is also the scary MtG corner where all the MtG people lurk 24/7.
The rest of the ICC consists of numbered rooms, 100s' on the first floor, 200's on the second floor, and so on. And now you know what it means when the program says an event takes place in ICC Hall D or ICC 304. Got it?
But the convention doesn't begin and end with the ICC. No. See, there's a number of hotels connected to the ICC via skybridge. All of those hotels have conference rooms and halls. And so all of them also play host to different events. Thus, an event might be listed as Westin Ballroom C or JW Marriot Hall 2. Finding those places can be a little trickier. But every goddamned hotel has an information desk specifically to direct GenCon people and the hotel staff can all get you where you are going. Just ask.
But the convention doesn't even stop there. Every f$&%ing public space in the ICC and every connected hotel is part of GenCon. Not officially. It's just that GenCon takes over everything. People are gaming everywhere. Hotel lobbies make great places to meet up. Many hotels open up unused conference rooms so you can find a table. But, if you want to run a pick-up game, leave some time for wandering around looking for a table. It can be hard to find a place.
Angry Tip 6 – Planning a pick-up? Expect to spend lots of minutes looking for an open table somewhere to play at.
In addition, GenCon also spills over into every restaurant, bar, cafe, and coffee shop within a three block radius of the event. Mostly. It's not unusual to see stormtroopers chowing down a table away from a fierce Pokemon game in the Steak N' Shake. Moreover, many restaurants and bars try to do the best they can to theme their restaurant for GenCon. And I'll come back to that in a second.
So, GenCon is everywhere. You are surrounded by nerd. And it is awesome.
General Etiquette
So, that's how GenCon works and the lay of the land. Let's talk about how to survive it and have the best time possible.
First and foremost, 50,000 geeks attend GenCon every year. It's huge. Huger than huge. And for the most part, it is very safe, and very friendly, and everyone is just there to have a good time. Despite the ways nerd behave at each other on the Internet, most nerds are pretty cool in person. Most.
But, here's the thing to remember. First of all, it's a public space. That means you're going to be coming into contact with lots of people with lots of different norms for social interaction. People are loud and rowdy and jokey. And people will chat with you. Usually in a friendly manner, those some people can be awkward. If you're one of those private, bubble around you, stay away from me types, you're going to be miserable and that's on you. You're in public now. Part of the price of being in public is giving up some control.
That said, remember you need to respect that different people have different comfort levels when it comes to social interaction. Don't touch anyone with permission. And be polite. Don't be lewd or off-color unless you know who you're dealing with and they are okay with it. And if a misunderstanding happens, apologize. And if someone apologizes to you, let it go. Most importantly, do not enter any social situation assuming malice where carelessness or accident are more likely explanations. If you enter GenCon looking for an argument, you will find one. But that's on you.
Now, even though it is safe and even though people are, for the most part, good people, something MIGHT happen to make you feel unsafe or uncomfortable. At that point, try to politely end the conversation. If that doesn't work, immediately move to a public space, such as a the Registration Area, Dealers Hall, or a Hotel Lobby and alert convention staff. They will advise you from there. Public space; alert staff; follow instructions.
That unpleasantness out of the way (because it rarely comes up, no matter how many horror stories people spread around you have to consider that against a population of 50,000), let's talk general etiquette. Yours and everyone else's.
You've got 50,000 geeks packed into one place in July. People are close, they jostle, and they bustle. Forget personal space. It's too crowded. You're going to be close to people. Can't handle that? GenCon ain't for you. Because that's reality.
But people sweat. Everyone does. And that means, there's a lot of odors at GenCon. And when people are in tight quarters, it's noticeable. Now, you can't do anything about anyone else, but you can keep yourself from adding to the problem. Keep yourself clean. Shower with soap. Use deodorant.
Personally, I carry with me a small hand towel, a small can of body spray, and breath mints. If I am starting to get ripe, I excuse myself to the bathroom, towel off my face, wash my face, and freshen myself with the body spray. After meals, I use the breath mints. Because you're going to be talking in close quarters with people.
Angry Tip 7 – Hand towel, body spray, and breath mints. Have them at all times, use them.
Now, the other thing to be aware of is that, when you play a game in a public space, people are going to watch. That's just one of the social rules of GenCon: if you're playing a game in public, people will be interested. They will stop to watch. Some will ask what you are playing because they are interested. If you can't handle that, find a private, out of the way place to game. Because you can't stop it and if you're rude, you're the dick. Oh, if you're smart: leave the box for the game on the table with the title prominently displayed.
If you want to watch someone else play a game, be unobtrusive. Don't interrupt. You get one question and that question is "what are you playing?" After that, you are being rude. Watch all you want, but let people play.
If someone is watching you and it's at all possible, you can invite them to play. I s$&% you not. I've made many new friends at cons just by saying "hey, why don't you play the next round, it's easy." Yes, me. The Angry GM. I made friends just by being welcoming.
Angry Tip 8 – Playing games in public? Expect to be watched. Watching games in public? Be unobtrusive. Someone watching you? Invite them to join in.
In all of the main thoroughfares and especially in the Dealer's Hall, the traffic MUST flow. Don't be the rock that parts the river. If you have to stop to look at something or stop to check your Twitter or adjust your oversized prop-buster sword, MOVE THE F$&% OUT OF THE WAY FIRST! Move aside. Just move.
Also, be cognizant of camera wakes. There's a lot of things and people to take pictures of and a lot of people do just that. If there is an open space around a cosplayer, there's cameras there. Don't walk through that. Just don't.
In general, PAY ATTENTION TO YOUR SURROUNDINGS. If you are in people traffic, put your f$&%ing phone away. Put your games away. Keep moving. Pay attention.
And for the love of f$&%, don't STOP just inside a DOORWAY! WHY DO PEOPLE DO THIS?!
Putting that crap aside, this is the big one: Indy loves GenCon. The businesses love GenCon. Partly because they bring a huge amount of money into the city and partly because Indy thinks geeks are really nice, harmless, friendly, happy people. It's true. Ask them. They all say the same thing. They love us. They love us more than the sports fans. Don't f$&% that up.
It's actually kind of nice that the whole city basically becomes Geek Valhalla for four days and you can run a Dungeon World game in a hotel bar for three hours and no one looks askance at you. It's neat that you can dress up like Slave Leia and still get served in a restaurant without anything thinking it is remotely weird. It is nice to have people genuinely think you're a good person because you're a geek.
And you know why that works? Because most of the people who go to GenCon are actually nice, friendly, happy people just having a good time. If you like that experience, deserve that experience. You be nice too. You're an ambassador for GenCon when you're at GenCon. It's part of the price of GenCon. Accept that.
Oh, side note: lots of business try to get into the spirit of GenCon by changing their menus or offering special geek-themed stuff like a burger called The Desolation of Smaug or a cocktail called The Winter Soldier. It's kind of cool. And some restaurants really go overboard.
But… they only do that for like five days out of the entire year and most of the staff aren't geeks. So a lot of those words are gibberish. I've seen geeks get annoyed with wait staff who have to confirm which burger the Eye of Sauron actually is. And that pisses me off. Don't do that. The servers are working their a$&es off to make you feel comfortable by trying to celebrate your subculture. Cut them some f$&%ing slack.
Angry Tip 9 – You're an ambassador for GenCon. Act like one.
Your GenCon Bag
Now, let's get into some real nitty gritty stuff. How to actually survive GenCon. Not just how to behave, but how to actually manage to have a great time.
First of all, get used to walking. You're going to be on your feet for twelve hours a day for four days straight. Maybe more. Start walking now. Walk every day. Especially if your hotel isn't close by. It takes way more effort than you think.
The trick is to travel light. I like to pack a little GenCon bag. No bigger than a messenger bag or laptop case, it contains the essentials for GenCon. In there, put a notebook, a half-dozen mechanical pencils, ONE set of dice, one or two very small portable games (like Love Letter or Zombie Dice or your favorite Pokemon deck), a hand towel, body spray or perfume, and breath mints.
Unless you are going to a specific event and you know you need more than that, that's ALL you need to carry with you. Anyone prepared to run a game and every sanctioned event will supply you with everything you need to participate. And if they won't, they will tell you exactly what to bring. You can add that into your GenCon bag for those specific events.
Some players insist on bringing a pound of dice to every f$&%ing event and the rulebook for the game so they can confront the GM on bad calls. That is unnecessary, often rude, and it just weighs you down. Go light.
Now, if you're in a Connected Hotel, that's awesome. Bring lots of cool s$&% because you can easily return to your hotel to swap stuff in and out. You can be prepared to run a dozen different games. If you have your car and it's in the Parking Garage, you can use your trunk like your WoW Bank Vault, dropping off, picking up, and swapping equipment. But the rest of us have to travel light. Very light.
In addition, in your GenCon bag, put two or three granola bars. Your favorite kind. But not the chewy kind and nothing with chocolate. Those melt. ALWAYS have a good snack on hand with a mix of complex carbs, simple sugars, protein, and a little fat. That is how you keep your energy up in a healthy way. I don't care what other health food whackos say. Also, get one of those neat squeezie water bottles with the filter built in. Trust me. The vending machines are expensive as hell and not worth it. Keep yourself fed and watered. It gets hot and you get tired.
Also, throw a little bottle of hand sanitizer in there. Before you eat, sanitize your hands. And if you are the sort of person who touches your face, especially your eyes, a lot? Break that habit. A lot of germs get passed around. I do not support hypochondriacal germophobia. But you don't want to spend the week after GenCon with some respiratory infection, stomach virus, or pink eye. And it ALWAYS happens. Just keep your damned hands cleans before they touch your orifices. That's all it takes.
A lot of people like to pick out one of their RPG books to collect autographs in. If that's your thing, bring that along and also get two or three metallic Sharpie markers. Those are GREAT for signing books.
If you run a blog or a podcast or anything like that and you don't already have business cards, go to Staples, pick up some laser-printer business cards, and print some up. Give them out at the cons to anyone you chat with.
Angry Tip 10 – Your GenCon bag includes: a notebook, several mechanical pencils, ONE set of dice, one or two very small very portable games, a hand towel, body spray or perfume, hand sanitizer, granola bars, filtered squeezie bottle of water, ONE RPG book for gathering autographs, two metallic Sharpie markers, and business cards for your awesome blog or podcast.
You can swap in other things to plan for specific events. But travel LIGHT!
Getting Around
Most of GenCon happens in walking distance of GenCon. Which is great. But if your hotel is too far to walk or you aren't comfortable walking or you are just tired, use the taxis. I know GenCon has some sort of bus/shuttle thing, but I frankly have never used it. In fact, I'm going to give you a couple of really good taxi tips.
The first day you are walking the streets, pay attention to the taxis. Pick one out, note the phone-number on the side, and add it to your phone. That way, you can call for a cab rather than having to flag one down. You'll usually wait about five to ten minutes for a cab you called. Cab fares anywhere in the downtown area are about $5 per ride, but if you have to go farther (like a distant hotel or the airport), they get higher. The highest is about $25, if I recall, to get from the airport to the downtown area. An extra dollar tip on a $5 ride is good. TIP THE CABBIES.
And here's where I can give you an expert pro-tip. If you fly in, you will need a taxi to take you to the city from the airport. And you want to do two things. One, tip that cabbie extremely well. Like $5 to $10 well. Two, get that cabbie's card. That cabbie is now yours. They will prioritize you. And, most importantly, they will prioritize your trip back to the airport on Sunday or Monday, provided you call about 30 minutes ahead. Keep tipping that cabbie a buck or two per trip, but if you don't have extra change and you skip a tip, that cabbie will be okay with it. Because that cabbie is yours. You bought them.
Angry Tip 11 and 12 – Put a taxi company phone number in your phone right away and call ahead for cabs about 10 minutes. Tip the cabbie that takes you from the airport VERY well and get his card. He's yours for the week.
Otherwise, as I said, get comfortable walking, travel light, and stay fed and hydrated.
Doing Stuff – Events and Games
You don't go to GenCon to be polite, stay safe, and tip cabbies. Let's talk about what to actually DO at GenCon. First of all, you've probably registered for a bunch of events already. If not, that's okay. Second of all, you've probably bought some generic tickets. If not, do that. Or do it as soon as you get to the Con.
How much time do you want to spend in sanctioned events? Well, a lot of the popular bloggers will tell you not to overschedule. But me, I say f$&% that. Those people are popular people surrounded by clouds of hangers-on who always have something to do. They ARE events.
If you're going to GenCon alone and you aren't sure of meeting any friends there, events are your best friends. Register up and carry plenty of generics. My first year at GenCon was kind of a sad one. I was alone, I hadn't become popular yet, and I didn't really understand event registration so I didn't register for anything. It was fun, sure, but I spent a lot of time wandering the dealer hall. I was also shy. That didn't help.
So, if you are going lone wolf, register up for events AND be willing to show up to sold out events trying to buy your way in with generics.
If you have friends going, it's a good idea to plan some time together (like meals), but expect to spend some time alone. Again, register up for events that seem cool, even if you aren't sure about the events themselves. This is where having a focus or goal really comes in handy.
My personal approach (before I became an EVENT) was I picked out one tent-pole thing to do each day. Thursday was this seminar, Friday was that official game, Saturday was this learn-to-play event, whatever. Those were the sure things. And then, I would pick out one to two other events each day that were maybes. I would register for them as well if they required it. But if I had something better to do, I'd skip them.
Tip 13 – Register for at least one event every day you really want to do. Register for at least one or two more events that you are interested in but might skip.
In general, any event is skippable. And if people know they can show up with generics and take your seat, that doesn't have to be a problem. But still, show a little bit of restraint. Don't sign up for things if there's only a slim chance you'll go. In that case, the proper thing is for you to show up with the generics and try to get an open seat. Just know that, just because you have a ticket for an event doesn't mean you are bound to that event.
If you find yourself with free time and nothing to do and no one is around to hang out with and social media isn't producing any good gaming opportunities, crack open your program to the time slot you're in and find something that looks interesting. Especially look for seminars and learn-to-play events. Those are cool and always take people who aren't officially registered. Have some generics in hand and try to get in.
Edit: Once again, GenCon has apparently done away with free events this year. Every event is ticketed. So, this advice may not be as useful. You will definitely want to have Generic Tickets and you may be turned away from seminars that are "full." Still, it is worth trying because it beats sitting around bored, but be prepared to shell out $2 for a seminar. And if there is something happening that you definitely want to get into, head to the Event Registration counter and get an official ticket. 
Edit: I'm also going to guess that the Event Registration is going to be a lot busier this year. Usually, people don't bother with it too much. But people MIGHT use it more to register. Plan accordingly. 
Too many people at GenCon who find themselves floating for a few hours end up defaulting to "I'll just go wander the Dealer's Hall." That actually sucks. That's the least interesting thing to do at GenCon. Go find an event and get in. Open your program, find something that looks neat, and take a chance on getting in with generics.
Angry Tip 14 – Bored? Crack open that schedule and try to get into an event that's starting soon with generic tickets. Or look for free events like seminars.
The Dealers' Hall
The Dealers' Hall is one of the trickiest things to manage. Everyone wants to be there. And gamers are commercial creatures. We can't help but spend money. But you've got to do the Dealers' Hall smart.
First of all, if there's anything specific you want to see in the Dealers' Hall – a particular booth, company, or product – figure out where it is BEFORE you try to go the Hall. All the booths are numbered and the numbers are displayed near the ceiling to help you navigate. But there's still a certain amount of wandering and hunting to zero in on the booth. Know what you are looking for.
Second of all, if you're hitting one of the big booths like Fantasy Flight or Paizo, expect to wait in line. That alone could eat up almost an hour.
Third of all, be smart and plan smart.
The Dealers' Hall opens around 10 AM on Thursday and it stays open until around 6 PM. These times may change this year. But the key things to note are, it doesn't open first thing in the morning on the first day. And it isn't open in the evening.
Now, on Thursday morning, when it first opens, it is PACKED! Don't go there. You won't get anywhere or see anything. People line up for a f$&%ing hour before it opens, which is pretty sick considering it's basically just a f$&%ing flea market and most of the stuff you can buy there you can also buy at home. But whatever.
Saturday is the absolute WORST for the Dealers' Hall, especially the afternoon, right after lunch. Holy f$&%nuggets is it bad.
Remember this: if you can't easily get to a drop location like your hotel room or car trunk, whatever you buy in the Hall, you will be carrying for the whole f$&%ing day. So plan accordingly.
Hell, I'll tell you what I do. Don't buy anything. Not right away. On your first visit to the Dealers' Hall, go browse. Explore. See what's what. Talk to people. Make it a casual trip.
Plan a return trip. Plan it specifically to buy s$&%. And plan it in such a way that you can go drop off your purchases. Purchase Trips are an event in themselves. Browsing is just browsing.
Angry Tip 15 – Make a specific trip to the Dealers' Hall to make your purchases. And make sure you can drop them off at your hotel or car right away.
The other reason to make a specific trip to buy as opposed to browsing is that it prevents you from making crazy impulse purchases. The delay between seeing a thing and buying it is enough to time to talk yourself down off the ledge of buying $300 worth of Dwarven Forge crap you're just going to sell on eBay in two years when it comes time to move to a new appartment.
By the way, on that trip to the Dealers' Hall to make purchases? Maybe leave off the bulky cosplay props and make it as easy to maneuver as possible. Also, maybe bring a big, reusable shopping bag specifically for the trip. Many booths don't have bags. And the booths that do usually don't have bags that are big enough.
Angry Tip 16 – When you go to the Hall to buy s$%&, travel light and bring your own shopping bag.

Angry Tip 17 – Don't buy anything you can buy at home. Seriously.
When you are in the Dealers' Hall, people will want to demo games at you. Which is cool. You get to play a little scenario or board game for a few minutes while you learn the coolest parts of the game. But, be aware that the staff's time is valuable. If you are just bored, sit back and watch someone else's demo. Don't waste demo time unless you are actually interested enough to consider buying the product.
Angry Tip 18 – Demos are for potential customers.
And now comes some stuff about money. Look, lots of geeks deal in plastic rather than cash. And most booths can take credit/debit cards. But you're best off using cash for several reasons.
First of all, like flea markets, convention dealer halls are notorious dens of identity theft. And it's easy to lose sight of your card as the staffer walks over to run the transaction through the dealie. I am not kidding about this one. It's becoming a HUGE problem.
Second of all, if you have a set amount of cash to spend, you won't overspend and then discover you can't afford a meal or a cab fare later.
Third of all, the dealers prefer cash for a variety of reasons. In fact, if you pay cash and have exact change (and often, they will round off prices to make that EASY), the dealers will usually cheer you on. Seriously, there is an Exact Change Cheer many dealers do. It's kind of neat.
In fact, in general, even if it is not your normal habit, you should deal in cash. Cash makes it easier for cabs, to split checks in restaurants, to leave tips, to use vending machines, and so on. Get in the habit of pulling cash out for the day's activities. If you budget well, you can actually leave your plastic safely in your hotel room safe.
Angry Tip 19 – Carry cash.
Biological Needs – Eat and Sleep
Okay, this is the final section. This is about how to eat and sleep at GenCon. And I might editorialize a bit. So forgive me.
Here's the thing. Three years ago, right before my third trip to GenCon, I ended up in the hospital. My blood pressure was ridiculously high and I had given myself type II diabetes. It was all lifestyle s$&%. I was very overweight, I was inactive, I was a smoker. And I almost missed GenCon to languish in the hospital.
In the span of a few days, I not only had to learn how to eat as a diabetic, but I also had to learn how to eat at GenCon as a diabetic. And here's the thing: when you get the Betus, you get a doctor – a trained professional – giving you REAL nutrition information. Not diet bulls$&%. Not gluten-free, paleo-nonsense. Real nutrition. With actual science and nutrients behind it. Because it will literally kill you to get it wrong. Or cost you a foot. Or make you go blind.
Anyhoo, I'm not going to go into a long health screed here. You make your choices. But here's what I will tell you. After I did make those changes and learn how to live with them, I discovered that, not only was I not sick, but I also had more energy and could do more in a day because my better habits. You genuinely feel better if you take good care of yourself.
Since GenCon is about cramming as much activity into four days as possible, anything that keeps you going longer is a good thing. But I'm not going to lecture you about nutrition and diets. I'm just going to tell you how to find food.
First of all, try to eat three meals a day and try to eat them at the same time every day. Fit them into your schedule. It will control your hunger while at GenCon and ensure you have more energy. Breakfast is the hardest meal to find at GenCon. Generally, you have to rely on whatever options your hotel offers.
Lunch and dinner are easier. There are numerous restaurants, bars, and cafes all around GenCon and in all the hotels. The thing is, though, the hotel options tend to be more expensive. And there's a general lack of simple, quick options. There's one or two Subway shops in the vicinity. But that's kind of it for truly fast food.
Angry Tip 20 – Eat three normal sized meals every day.
So, expect to pay $15 to $25 per meal and expect to sit down and waste an hour or more on each one. If you schedule yourself to eat at odd hours (lunch at 2 PM, dinner at 5 PM or 8:30 PM), you get seated faster. Don't try to eat between 6 PM and 7 PM, because the Dealer Hall disgorges its people and shuts down at 6 PM so everyone goes to dinner then.
In addition to the restaurants, there is also the Food Truck Plaza. Outside the eastern side of the ICC is a big open street where all the food trucks park. If you're concerned about healthy eating, the food truck food is actually not awful, mainly because the portions are controlled. You will generally spend $10 here on a normal meal, sometimes up to $15. But this is an extremely popular option and it tends to fill up.
Angry Tip 21 – Budget between $40 and $70 per day for food.
If you want to avoid the crowds and have the money to burn, go to the hotels and use their official restaurants. If you don't mind crowds and you want cheap food while you stand, the Food Truck Plaza is your place to be. In between those options are the dozens of other restaurants on the neighboring streets.
If you don't mind a walk and you want some less expensive options, the Circle Square Mall is about four blocks away and it has a food court. However, it doesn't stay open late.
Every GenCon veteran has their favorite places. For good food and beer, I like the Ram. They go all out for GenCon. If you LIKE my writing and wish I could be your server or bartender, go to Dick's Last Resort. Their gimmick is they are rude to you. It's more fun than it sounds. But don't go there if you can't have a hearty laugh at your own expense. Finally, check out Bee Coffee Roasters for the best damned coffee you can get anywhere.
Honestly, coffee is the biggest damned problem at the whole convention.
Stay away from the food courts and vending machines inside the ICC. They are expensive, slow, crowded, and they serve s$&% food.
Angry Tip 22 – Do not eat inside the Convention Center. Trust me.
As for sleep… you know much sleep you need. But don't skimp on it. Get between 4 and 6 hours per night. You'll feel better and you'll be able to do more and enjoy yourself more.
Angry Tip 23 – Sleep: get you some.