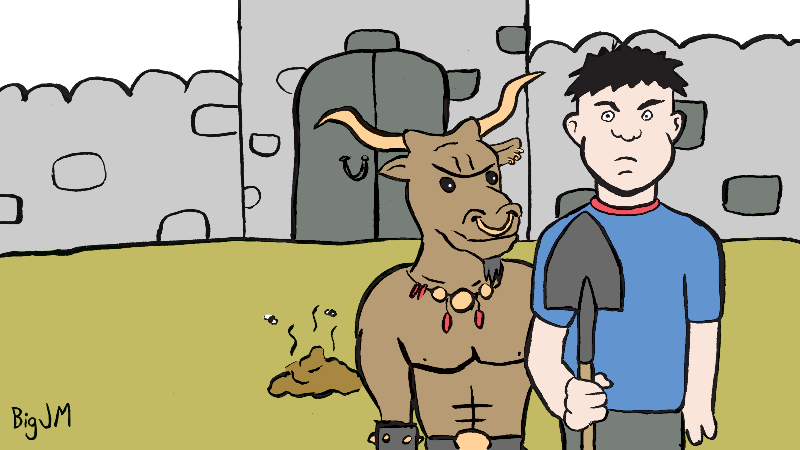 All right, it's rant time. Once a month, I do these BS articles to basically unload a crappy, rambling, blog post instead of a crappy, random semi-useful article. Most of the time, they're about problems I'm trying to think through. Like last month. That's when I talked about the problems with downtime and time in general in RPGs. Sometimes, though, these BS articles are rants brought on by reading the responses to previous articles – comments, e-mails, messages, discussions in Discord, and so on. Well, that's this month.
See, there's this toxic, cancerous idea that lurks in the brains of otherwise good GMs that I need to address before it spreads any further. It's about dealing with a thing I've decided just now to call the Player Pacing Paradox. Why? Because I like giving names to things and I like alliteration. The Player Pacing Paradox is a consequence of the way certain RPGs are designed. And a consequence of the way other RPGs aren't designed. It's related to the downtime issue I talked about last week. And, it IS a problem of design. Pure and simple.
And it's something GMs have to deal with. They just do. Sucks but true. The problem is that A LOT of GMs – in my long, undocumented, and unscientific experience – fall back on a solution that is utterly and completely toxic to their games and their players. So, consider this a rant. It might be a rant against you if you do the thing I'm ranting about. If you don't, though, it's not actually a rant against you. Keep that in mind.
Either way, if this rant makes you feel bad, just remember: I don't care. I'm not here to make you feel good. I'm here to make you good at running games.
The Obligatory Hypocrisy Head Off
And now we're going to see if my readers are astute enough to wrap their cortexes around a complicated, nuanced point or if they lack the lateral thinking power that God gave spam. I need to explain something before I launch into this ranty discussion because if you put this article next to last month's article, you're going to accuse me of hypocrisy and use that to dismiss my argument. Not that I care, mind you. Yes, I'm a hypocrite sometimes. Every person on Earth is a hypocrite. Even you. You just lack the self-awareness necessary to admit it. But, hypocrisy is not, in itself, an argument against anything.
For example, I smoked for many years. Cigarettes. As did my parents. They still do. In fact, there's a bunch of smokers in my family. And we all say the same thing to every kid in our family: don't ever smoke. It makes you cough and stink and die. It's awful. And we keep doing it anyway. Except me. I quit. I broke free because I almost died. At, like, 34. So, yeah. Now, are we all hypocrites? Yes. Does that mean "don't ever smoke" is bad advice. No. That's why we confront ideas, not the people espousing those ideas. Because smart people can have dumb ideas, dumb people can have smart ideas, and everyone can be smart and dumb at the same time. That's humanity.
But, I also don't care because, in this case, I'm not being a hypocrite. Let me explain.
Last month, I was trying to work out a game design problem. And I said that it was no fair pointing out that the problem could be solved by the GM at the table. Time is meaningless as written in D&D and Pathfinder and many other games. Though not all. GMs can fix that problem by imposing a meaning on time. But the games don't tell the GM they should or why it's important. So, you can't judge the design based on that.
This month, I'm talking about pretty much the same problem. But, now I'm telling GMs that, yes, it is their job to fix the problem. And they are fixing it wrong. How can I hold both views? Because the context is different. And no matter what screaming morons on the Internet claim, context actually is important. It's everything.
Last month, we were talking about how to design a game. How to fix the problem at the design level. Why? Who knows. Maybe to fix the game at the design level. Or to design a totally new game. We were talking about designing games, though.
This month, I'm talking about running an existing game that has a problem. And, while we should all agree – at least, you should agree with me because I'm right – while we should all agree the problem is a problem of design and should have been fixed sometime in the last forty years of edition after edition, the fact is it hasn't been fixed. It's still there. And it's still messing with our games. So, if we want to run good games, we have to fix the problem.
It's the difference between an ideal situation and a real situation. Ideally, we should never have to fix the problem in a game we've sunk hundreds of thousands of dollars into and the game designers really should know better. Practically, the problem is there and if we don't fix it, it's going to cause problems.
It's like: yes, cars are supposed to give you, a pedestrian, the right of way in a marked crossing. But you'd better pay attention, because if a car doesn't yield to you, you'll still be dead. The moral high ground won't bring you back to life. That isn't victim blaming. It's the real freaking world.
The Player Pacing Paradox
Let's talk about the nature of role-playing games. Basically, when you get down to it, an RPG is about you – the GM – presenting the players with a situation and the players making a choice about how to deal with that situation. That's what happens on the level of individual actions. That's what happens on the encounter level. And on the adventure level. And the campaign level. And that's the defining feature of a role-playing game. The open-ended choice that players have to deal with whatever situations they are presented. Now, some RPGs try to screw with that formula by asking the players to create the situations and they call that "engaging" and "narrative-driven." But that's bullshit. Those games suck.
As a GM, the only thing you can do is create situations. You create a village full of innocent people who are being tormented by a dragon and you put that situation in front of the players and hope the hell that they decide to fix the situation by killing the dragon. Or whatever. Now, as a GM, you also have to give the players a reason to deal with the situation. You have to push the players to care about the plight of the people. Or you have to give the dragon a glittering horde of dragon treasure. Whatever. That's because the one thing you can't do is force the players to do a specific thing. You can't rob the players of their agency without breaking the thing that makes an RPG an RPG.
Basically, that means all you really have to work with is incentives and consequences. Some at the character level, some at the player level. If you take on this adventure, you'll earn XP and your character will become more powerful. If you kill the dragon, you'll get a bunch of treasure. If you save the village, you'll be doing the right thing. If you ignore the adventure, a bunch of innocent characters will suffer and die. If you fight the dragon, you'll prove you're a bad-enough player to win against my awesome dragon challenge.
That's how it works.
Now, the players want lots of things. Different players want different things. They want to be true to their character. Or they want to make their character more powerful. Or they want to feel like a hero. Or they want to overcome a challenge. Or they want to hang out with their friends. Whatever. But the one thing the players can pretty much agree on is that they want their characters to survive and to win. If you have a player who doesn't want to survive and win, they are screwing with the fundamental fabric of the game. That's why GMs who say "try to help your players embrace losing and failing" are pants-on-head retarded.
Anyway…
How does this relate to pacing?
Well, the players pace the game. That is, they decide what actions to take and when and where to go and what to do. If they want to dilly-dally for three days before they go off to the dragon's lair or if they want to retreat from the dragon's lair and rest, that's their prerogative. You can't control that. And, frankly, it's important that you can't because the game – D&D here – has made that into part of the strategy of the game. Certain resources are contingent on the pacing of the game. Basically, every class has expendable abilities that get recovered when the party rests. Short rests or long rests. And hit points, the measure of when the players have died, are also restored at rests. Depending on the edition, it might take an hour or eight hours or weeks to get your hit points, but the actual time involved doesn't matter.
But you, as the GM, are encouraged to build a game based around a certain pace. That is, the players need to divide their daily resources between four to eight encounters, depending on level, edition, and all that other crap. Well, at least these days. Once upon a time, the number of challenges in an adventuring day was much less mechanically proscribed. But that's another discussion.
And, by the way, I'm just using the resting mechanic as ONE EXAMPLE of the game's pace. You can frame this problem, the Player Pacing Paradox, in a way that pertains to downtime. That's sort of what I did last month.
Pacing, by the way, isn't just a matter of game balance. It's also a matter of the narrative flow of the game. The game feels most satisfying if the challenges get more and more dangerous. That is, tension should rise over the course of an adventure or play session or whatever. The party should be pretty beaten up by the time they reach the boss. If there is a boss. Otherwise, it's not a climax. And you never want the climax to follow a rest.
So, on the one hand, for reasons of both a good GAME and a good STORY, the GM wants to pace the game a certain way. On the other hand, the GM doesn't set the pace of the game. He's entirely reactive. And there's nothing he can do if the players decide to change the pace. Not built into the system itself. And forcing the players to follow a certain pace will damage the game irrevocably by being both a theft of agency and a screw job.
THAT is the Player Pacing Paradox.
Beating the Players to Death with the Stick
"Aha," says the GM, confronted with the Player Pacing Paradox, "I cannot force a certain pace, but I can create consequences and then the players will have to accept the pace I set." And so, when the players say, "we want to rest in the Dungeon, for we have depleted our resources beyond our ability to continue," the GM says, "I shall let them rest in the dungeon. But their rest shall be interrupted by a host of terrible beasts. After all, the party cannot expect safety in the dungeon. And they will be forced to accept that they cannot rest and continue the adventure properly."
And so it goes. The players set up camp in the dungeon, they are jumped in the night, the combat interrupts their rest and further depletes their resources. But now, thinks the GM, they will be forced to continue. Assuming they survive the ambush while they were resting. Of course, the additional depletion of their resources may be enough to ensure they don't survive the adventure. They might not have been truly able to survive the adventure. Maybe they were right. Maybe they really needed a rest.
This is the dangerous attitude I mentioned that some GMs use as a solution to the Player Pacing Paradox. Hell, someone even pointed out that the execrable Xanathar's Guide to Everything has a system called "foils," that the GM can use to stop the players from spending too much time on downtime activity. Basically, they are rivals that the GM can keep in reserve and use to screw the players if the players spend "too much" time on downtime activities.
Is it a valid approach? Well, technically yes. That's what the GM does. Uses incentives and consequences to drive the players to act. Is it a good approach? It really, really isn't. It's a bad approach. It's a dangerous approach. And it isn't remotely interesting or compelling. It's kind of arbitrary and it leads to one-upmanship and it amounts to a well-intentioned screwjob. At its core, it is punishing players for not playing the game the way the GM intended.
Let's take that resting in the dungeon thing and really break it down. Let's ignore arguments about what's realistic for now because those are stupid arguments that I refuse to waste my time on. Yes, it is unrealistic to expect to be able to camp out unmolested in enemy territory. But it is equally unrealistic to say that there are no precautions that could be taken to allow you to hide out in enemy territory and recover without being discovered for a few hours. So, it's a wash. Shut up about realism.
Let's also ignore the problem of the fifteen-minute workday problem. That is, let's ignore parties that rest after every encounter to recover their resources and face every obstacle fresh as a daisy. We're going to call that an exploit. And, while it IS a problem and I HAVE had parties do it, it is not a constant problem and not every party plays that way.
We're going to talk only about a party playing in a good faith. They are pushing themselves as hard as they dare in an attempt to complete the adventure, but they aren't willing to die to complete the adventure. Which is fair enough.
The party decides, after getting through half the encounters the book says they should be able to get through, that they are spent and need a break. They need to recover. Spells are depleted, hit points are depleted, and so on. They look over their resources and decide that's enough. They aren't comfortable pushing forward.
Now, here's the thing: they don't know what's coming up. They could be right, they could be wrong. They might have the resources needed. Or it might be a really close call. Or they might lose someone on the way. Or they might all die. They are making their best guess. And part of that best guess is a modifier called risk aversion.
Every human being is risk averse. That is, all else being equal, we don't like to take risks. That's also called survival instinct, by the way. Because losses and injuries reduce our ability to survive. Even losses and injuries that don't kill us. But everyone has a different level of risk aversion. On average, people do tend to place a higher value on losses than gains, so that the rewards have to grow much faster than the risks do for someone to take the chance. But that's not important. What's important is that everyone does this little risk-reward calculation whenever they do anything.
So, the players say, "what is the risk of carrying on? Well, my character might die. Or we all might die. And lose the game." That sucks. And they weight that against their desire to carry on and complete the adventure in one go. Which, when you get down to it, that's kind of a sucky motivation. So, players tend to be very risk averse. Because there's no prize for winning without needing a rest.
Now, where it gets tricky is what happens on the GM side. Your motives are, well, weird. First, you know the fifteen-minute workday is a problem. And you don't want your players to get too liberal with their resting. Second, you know your adventure will feel more exciting if the players have to suffer attrition to get to the end. So, for those reasons, you don't want your players to rest. Fine and dandy.
If you just stop there though, you're going to jump your players in the night with some minor enemy. Not enough to kill them, but enough to keep them moving. To convince them they can't just rest.
But you can't stop there, can you. Because, let's suppose the party really does need a rest. Do you really want to force your players along a death march? I mean, on the one side is avoidance of the fifteen-minute workday and a good climax. On the other side is dead characters or maybe a dead party. Is that really a good trade? Do you want to be the GM who rides their players to death?
Realism aside, balance aside, how is that in keeping with your goal as a GM? Yes, loss and death should be possible consequences. But what you're doing is robbing the players of the chance to avoid them when you march them to death. They screwed up and overspent their resources. Whoops. Or they are misjudging future encounters. Whoops. But they see that mistake now. And they are trying to head it off BEFORE it kills them. Isn't that, also, the essence of an RPG?
And that's also assuming perfect judgement on your part. You ain't perfect. Sorry. Assuming you even take the time to figure out the resources expended by the players vis a vis the resources they should have spent to decide whether they are really over-resting, you could be wrong. And the next encounter could go really bad. You've effectively second-guessed the players on their own characters survival. And if you get it wrong and PCs die, that's your fault. You screwed your players. Good on you. And you can comfort yourself by saying, "I only created the consequences, they made the choice that killed them; it's just not safe to rest in a dungeon," but you're a still a dick. Because you could easily have said, "it's not safe to rest in the dungeon, but if you retreat, you can rest safely."
And this is the problem with saying, "well, I only use encounters to stop the players from resting when I think they are abusing the system." You're still beating your players into the ground with a stick.
Keeping Yourself Honest
So far, I've been talking about the GMs who spring encounters on their players when they feel the players need to be spurred on. To keep adventuring despite their own desire for a rest, to prevent abusing the rest system, or because they are spending too much time in town instead of playing the fun game. And, look, it's all with the best of intentions. It's all about making the game fun. And players will optimize the fun out of the game once they discover they can win that way. To be honest, one of the reasons many groups DON'T use the fifteen-minute workday exploit is because it's a weird thing to do. It just doesn't feel natural. So, players assume it's something they can't do. Then, one day, they have an emergency and pull out of the dungeon because they have no choice and they discover that there really isn't any reason why they can't do that after every encounter. The fifteen-minute workday is a FOOS, a first order, optimal strategy. It's an easy, optimal way to win any adventure that is merely a series of encounters. But it has to be discovered before it can be used. And it's alien to a lot of people's thinking. Until the day it isn't.
Not the point though. Because good intentions don't absolve you of responsibility for what you actually do. Sorry. If you spring encounters on players to drive them to play the right way, you're wrong.
But is it any different if you simply roll for random encounters? The short answer is "yes." The longer answer is "yes, it is completely different, as long as the random encounter system is actually fair."
What do I mean by fair? I mean that the players can tweak the odds and the GM can't. Weird, right? But hear me out.
The players should be able to tweak the odds of a random encounter by taking certain actions. For example, resting in the dungeon as opposed to in the wilderness outside. That should change the odds of the encounter. Or, if the players rest in an area of the dungeon the monsters don't visit, that should change the odds. Like a room that the monsters think is sealed up. Or a room that used to contain a dangerous wild creature like an ooze or slime that the denizens of the dungeon avoid. Like that one room in the goblin warren that the goblins avoid because of the ooze that lives there.
Second, the players should be able to mitigate the risks of the random encounter. For example, if they camp out in an area that has only entrance that can be sealed or barricaded or trapped or alarmed, they should at least be able to ready themselves to defend their camp against attack when the encounter does interrupt them. I mean, if the uninjured archer can hold the narrow cleft that provides the only entrance to the cave the party is sleeping in, the rest of the party should be able to sleep right through the encounter.
Third, as a GM, you can't tweak the odds just because you think the players are abusing the system. That is, you can't penalize the players for taking too many rests. That way, you prevent your own arbitrary judgement or misjudgment from interfering with your actual job. You create situations, incentives, and consequences, and the players decide how to deal with them.
It's a subtle point, but it's the difference between a transaction and coercion. It allows for a negotiation between the players and the GM. The players want a rest. They feel like they need one. The GM doesn't want them to take a rest for various reasons related to game balance, excitement, and fear of abuse. If the GM simply makes resting impossible, that's tyranny. And if the GM makes resting so dangerous that it's never a viable option unless the GM decides it's okay in a particular case, that's coercion. But if the GM says, "okay, you can rest, but here's the risk," the players can say, "okay, but can we take the time to mitigate the risk by doing this," the GM can say, "yes, but it will cost you this." And then a compromise is reached. The players accept the risk – or don't – and the game continues. And whatever happens, the players have earned the outcome.
Is that an argument for telling the players the odds? Do they have to know exactly what the chances of a random encounter are and how much their various efforts might change them? No. Certainly not. As long as they know the odds are fair and follow a pattern that they've been able to learn over the course of the game, and as long as they trust the GM, the odds don't have to be known exactly. Of course, that means that the random encounter system has to be systematic. It has to be something the players can see. Even if it only comes up when the players rest, for example, it has to come up every time they rest. That way, they can learn what to expect and make choices accordingly. And that's why it's not fair to change the odds when you feel like the players are abusing the system. Or why it's not fair to only make rolls when the players are abusing the system. Because they can't rely on what they've learned to make good decisions. That's bad Game Mastery.
And developing a good system is all about figuring out exactly what the ideal behavior is. For example, I might decide that players get one Long Rest a day. That's the ideal. And since most adventures should take three days – one day getting there, one day of adventure, one day getting home – the players shouldn't have to deal with an interrupted Long Rest more than once, on average. And really, they shouldn't have their rest interrupted at all unless they take more than three rests. So, the chances of a rest being interrupted are, on average, 1 in 4. Simple as that. If the players rest in the dungeon, it could drop to 1 in 2. If they take precautions in the wilderness, it could drop to 1 in 6. Heck, if I just want to use a d6, I could adjust everything to 3 in 6 in the dungeon, 2 in 6 in the wild, and 1 in 6 with drastic precautions. Of course, those drastic precautions have to have a cost. Maybe they can only find a well-protected camp with a good Survival check. And failing the Survival check costs them extra food and water as they wander around looking. Or there's a chance they get lost. Something like that. I don't know. I'm just thinking.
Am I saying you HAVE TO use random encounters to deal with the Player Pacing Paradox? Are encounters the only way? No. YOU are the one who decided to use encounters as your solution. I'm just telling you that there's a good, honest, fair way to use them in a sucky, dishonest way to use them to turn your adventure into the Trail of Player Tears. And, look, I use random encounters too. I like them. They're fun. And traditional.
But they aren't the only way.
Maybe Carrots?
When I started writing this, I was just going to rant about how beating your players down with encounters to keep them from playing wrong was a sucky thing for a GM to do. Even if done with the best of intentions, it's a dishonest, unfair screwjob. And I was going to say how systems and mechanics can sometimes keep you honest and ensure that you're inviting the players to compromise with your mechanics. Not quite in those words, mind you. I don't talk like a hippie. But the more I thought about the Player Pacing Paradox, the more solutions I started to see. Solutions that could be implemented pretty easily. And solutions that were based on carrots rather than sticks.
There's lots of ways to create incentives and consequences. We call them carrots and sticks. Or rewards and punishments. And we generally think carrots are better than sticks because, well, punishment sucks and people respond better to rewards.
Well, sort of. I mean, if you know operant conditioning, you know it's more complicated than that. You've got reinforcement vs. punishment and you've got positive vs. negative. But I don't feel like trying to explain the difference between positive punishment and negative reinforcement to a bunch of people who are going to call me a hypocrite for writing this article and then think they won the Internet for doing so.
Let's just say there's four ways to change behavior and the specific type of change you're trying to instill determines what works best. For example, we're not really trying to get players to stop taking rests. We're trying to get them to get to a certain point in the adventure – the climax – without stopping to rest. Framed in that way, we want to encourage them to press on more than we want to discourage them from stopping. And that means reinforcement is the best way to go. And we can reinforce good behavior by either giving reward or withholding a punishment. Basically, "if you get through this whole adventure without sleeping, I'll give you a carrot" or "if you get through this whole adventure without sleeping, I won't beat you with this stick."
See how this works? By the way, hitting someone for doing something wrong IS NOT negative reinforcement. Not hitting someone for doing something right is negative reinforcement.
Anyhoo…
I've talked a lot time and I've got a lot of thoughts about how to build pacing into the game. But I'm going to mention one interesting idea. Imagine if every adventure includes an XP Award for completing the adventure. They really should, after all. But D&D and Pathfinder only go so far as to recommend that that is something you could optionally do if you wanted maybe. Because RPGs these days are written by pussies who are afraid to design good games because it's too constraining to the special snowflakes.
Now, there's a pool of bonus XP for completing the adventure too. Or a multiplier. I don't know. Something. It represents the fact that people learn and grow the most when they push themselves to their limits. Each time they take a long rest during the adventure, the bonus is reduced by a certain factor. The PCs are going easy on themselves, not challenging themselves. At the end of the adventure, if they succeed, they get the XP Award plus whatever bonus is left in the pile.
Or, what if all the XP you earn during an adventure goes into a pile. You don't get it until the adventure is successfully completed. Each time you rest, it depletes some of the XP from the adventure pool. Maybe by a percentage and the percentage grows each time you rest.
This addresses the problem that there really isn't an incentive to push yourself to complete an adventure in one day. At least, the players don't have any incentive. That's why it's so easy to decide to rest.
You could build similar systems for each instance of a Player Pacing Paradox. I'm just thinking out loud. It's not like the speed at which the PCs gain XP matters anyway. GMs usually ensure that each adventure is appropriate to the players' levels. The only time it'd get tricky is during long, multipart adventures. I have other solutions too, but I need to massage them before they are ready for primetime.
And this isn't really about solving the problem anyway. It's about stopping you from solving it wrong. Which I've hopefully done. But, I might have done you a terrible disservice by stopping you from solving the problem wrong without solving it right for you. Or have I?
GMs Overvalue Stuff Too
To be totally honest, GMs really overvalue this crap. Crap like pacing and attrition and climaxes and stuff. And I admit I'm one of them. Yes, climaxes feel best when they come after a slog. And yes, the game works best if the heroes deal with six encounters a day. But what if they don't? What if the players pull back just before the dragon fight, rest, and face the dragon totally fresh? Well, then the fight will be easy, and the players will pat themselves on the back for being smart enough to rest and recover. Sure, if they start doing it every time, you might have to push the difficulty of your climaxes up, but so what? If the party then decides one time NOT to retreat and rest, well, that's their problem. They trained you to expect that. Whoops.
Not to be flippant, but the Player Pacing Paradox can be annoying, but it's not a disaster except in extreme situations. And extreme situations are best addressed by sitting everyone down, identifying the problem, and putting forward a solution that works for everyone. So, let me tell you how I really handle rests in my game.
When the party decides to retreat from the dungeon and rest, I just freaking let them!