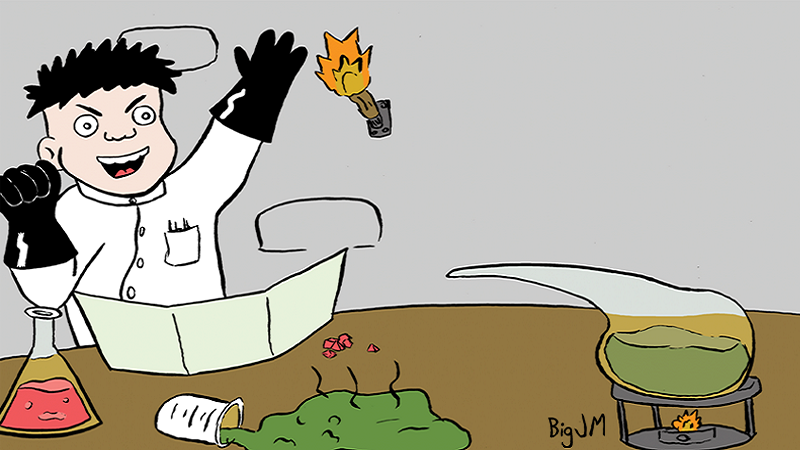 Let me tell you what's wrong with GMing advice online: there's too many f$&%ing parrots. There's too many people who just repeat the same s$&% as everyone else. It's as memetic and viral as everything else on the goddamned internet. So, you have some idiot who attends one amateur level improvisation class and decides that the twin rules of never negating and always opening up the scene that combine into the "always say 'yes, and…'" is the greatest thing ever for gamemastering. That idiot posts an article on their blog. Someone else reads it and repeats it. And then other people read and repeat it. And it spreads like a f$&%ing STD. And the advice that catches on the most is the advice that is novel, catchy, snappy, and easy to repeat like "yes, and…" and "fail forward" and "challenge the characters, not the players" and "make interesting choices" and "make failure fun."
Now, there's a couple of problems here. First of all, "catchy" and "memetic" are often terrible criteria and "novelty" is a crap-shoot at best. Second of all, advice bloggers tend to repeat this s$&% RIGHT AWAY. In their rush to share, they don't think about what they are saying and they certainly don't try it out in game. They just get so f$&%ing excited about the shiny, new, catchy idea that they just have to show off for everyone. Third of all, most GMs are absolutely terrible at knowing how to make games better for players.
Yeah, I said it. And then you have me. My advice isn't catchy or novel or memetic. It's messy, complicated, and sometimes contradictory. That's how you know it's at least REAL advice. Because running games is messy, complicated, and sometimes contradictory. And I rarely repeat s$&% other bloggers have said because I'm too busy ripping it apart in my nasty, critical, dismissive, egotistical brain. And, unlike most GMs, I am actually GOOD at knowing how to make games better for players.
In short, your average GM online is like a kid on the playground who just learned a new swearword. The day that kid learns the word "f$&%," everything – as long as there are no adults around – is f$&% this and f$&% that and f$&% f$&% f$&%. I'm not like that at all.
That same sort of thoughtlessness manifests itself in other ways, though. And that's what I'm talking about today. I'm talking about the Game Mastering Perspective, Randomness, and Incomplete Information. If it seems like I threw that in kind of abruptly, it's because I didn't think through how to transition out of my Long, Rambling Introduction™. I basically just wanted to make a joke about kids cursing at each other on the playground and compare online GMing advice to sexually transmitted diseases. Mission f$&%ing accomplished.
What the Hell Am I Talking About?
So, Perspective, Randomness, and Incompleteness. How the motherloving f$&% did I decide I need to write about that crap? What the hell am I even talking about? And how is any of it useful? And do I overuse rhetorical questions as transitions?
To answer the last question first: no. Rhetorical questions are awesome.
Anyway, two weeks ago, I posted an article about tweaking the core rules of D&D a little bit to build a toolkit for adding some extra rules. And one of the things I said exploded more than usual. Some people were just confused. Others were downright argumentative. And after TRYING to explain myself repeatedly in the comments and on Twitter, I realized that the confusion and argumentation were the result of a deeper problem. It's about GMs overvaluing randomness and overvaluing incomplete information. And part of the reason has to do with the fact that the GMs can't see the game from the other side of the screen.
Now, I'm going to admit I kind of f$&%ed up that Tweaking the Core article. There's some messy bits that NEED to be fixed. I'm going to revisit the topic soon. BUT, I want to address the knowledge thing right now. Because, as a GM, you NEED to understand how randomness and incomplete information help – AND HURT – your game. And you NEED to understand why your perspective is totally f$&%ed up – BY THE VERY NATURE OF THE GAME ITSELF.
But before we dive in, I want to look at exactly what it was that caused so many problems. Because that will give us an excellent framework for discussing these big topics.
The Knowledge Thing
Here's what happened. I pointed out that certain skills are essentially passive, automatic things. They are functions of a human brain and human awareness. When you walk into a room, you notice the things you can perceive (Perception). You recognize those things and your brain starts recalling facts and making connections about them (Knowledge skills). As you interact with things, your brain is also racing to make connections and evaluate things (Knowledge skills, Intuition). Barring those weird circumstances where you are trying to remember something – which almost never works, because your brain will either remember a thing or won't – your brain does that s$&% automatically. There is no action, no choice, and nothing you can do to affect the outcome. You can't try NOT to remember something. You can't rub your head while your brain is remembering something to make it REMEMBER BETTER. It's totally passive. No conscious effort required.
Now, in the game, those passive skills generally serve two purposes. The first purpose is exposition. That is, they give the players information they can use to deal with situations. Basically, the GM uses those skills to deliver information about the world and the things in it to the players. The second purpose is clues and warnings. Things like Peception and Intuition clue the players in that things may not be what seem or that there is something they need to investigate deeper. They might notice signs of a trap, for example, or that the NPC they are talking with is behaving a little cagey. Those little clues aren't exactly passing off information. Instead, IF USED PROPERLY, they give the players a hook to tell them that there is more information to be had if they go ACTIVELY LOOKING.
In either case, the point is, those passive skills SET UP action. In the first case, they provide information that the players can use to make better decisions about their actions. In the second case, they provide incentive for the players to dig for more information.
Now, the same skills can be used actively. That is, the players can make a choice to do something, describe an action, and sway the outcome through their choices via those skills. A player might search for traps, right? That's an active thing. The character has to actively interact with the world. They have to go over the area, poke at things, prod things, feel around, get down on hands and knees, sweep dust aside, brush cobwebs away, bring the light close, knock on a surface, clear mortar from between tiles to look for a seam, and on and on and on. That's ACTIVE use of Perception. A player can ask leading questions and try to make a character nervous to see if the character breaks. That's ACTIVE Intuition. A character can conduct a religious ritual to lay the dead to rest or consecrate an altar. That's ACTIVE Religion. And so on and so on and so on.
The point is there is a distinction between things that happen automatically without effort (Passive) and things that happen only following conscious effort (Active). And those things should be treated DIFFERENTLY in the rules. Specifically, I said Passive rolls should be streamlined. They aren't worthy of die rolls. Instead, I said, Game Masters can either go with a binary check for Proficiency (if you're proficient with Nature, you recognize this as a dire weasel and know this information) or use the skill modifier to gate the information (if you have a +5 in Nature, you know this much; if you have a +10, you know this much more, etc.).
Well, HO-LEE MOTHER OF F$&%, you would think I shot an orphaned bunny. Now, to be fair, except for a few (now deleted) comments that were excessively rude and stupid, most of the people kept their cool. They disagreed, sure, but they were at least polite and rational about it. A few people on some other platforms weren't so nice and polite. And, to be clear, I don't care if you disagree with me. Disagree all you want and run your game any stupid way you want. What bothers me is when you (a) treat me like an idiot because you think I overlooked something, (b) get angry when I tell you that I didn't overlook something, I purposely decided it wasn't as important as my other criteria, (c) get mad at me for being "closed minded" when I refuse to change my mind and admit your "obviously superior" point is more correct, and/or (d) refuse to use your f$&%ing brain and even think through what I said.
I also hate when people don't actually read everything I say before they argue. But that's neither here nor there.
Anyway, there's two reasons why I proposed the different treatment. I'll just quickly mention the one unrelated to the rest of this article because it seems – from the comments – a few people missed this. The first reason is because it makes it easier to write and run games. See, in general, the GM is never surprised by a Passive use of a skill. The GM knows, for example, that whenever the players walk into a room, Passive Perception is going to come up. Whenever the players encounter a monster or unusual circumstance, the players are going to fall back on their Knowledge skills for more information. And so on. These checks almost never come out of left field. And the result of all those checks is narration and exposition. The GM feeds the players information. Thus, from a perspective of both planning and game flow, the GM should be able to plan those things ahead of time, quickly work out the result, and weave the information into the narration. That prevents the description of the situation (the narration) from flipping back and forth between exposition and resolution without the players interacting in any way. You just don't want a situation where the GM says "the room is big and filled with crates and dust. Roll Perception. [Roll] [Ask for result] It looks like there's a depression in the floor in the middle of the room. Like a section of the floor is sagging. And there's also a furry shape. Roll Nature. [Roll] [Ask for result] It's a dire weasel. They are furious, ill-tempered beasts that fly into a frenzy when injured, but they are afraid of fire." Those rolls are speedbumps in the narration. And they drag out the most boring part of the scene, the part where the players aren't doing anything, the exposition.
Now, some folks in various comments asked about things like calculating Passive DCs on the fly and about how the GM is supposed to know when the players will actively do something vs. passively doing it and so on. In light of that explanation, you can see those questions don't make sense. Passive checks, by their nature, can be preplanned. Hell, they could be part of the lore in the Monster Manual or part of the room descriptions in adventure modules. Wouldn't THAT be useful?! They are simply cues for the GM to provide more information. And the GM decides when information is available and takes care of all the resolution behind the scenes and then just doles out the information.
Because Passive rolls are preplanned and only used when there is information handy, the GM or game designer can use any scale they want to determine how rare that information should be. There's no reason to assume it should be calculated like any other DC in the game. In fact, I would say the threshold should be based entirely on the total skill modifier instead of on some average roll. It doesn't matter.
The only time a GM needs to calculate a DC is when the players are actively doing something. And that's when the normal DC scale can be used. You know, Easy is 5, Medium is 10, Hard is 15, and so on. And that is based on the difficulty of the task. See, that's another weird thing about Passive knowledge skills. In those cases, a DC isn't really a DC at all because there's no task and therefore no sense of difficulty. Instead, the DC is more a number that reflects the "rarity" of the information. DC becomes a much more abstract term.
Anyhoo, that's the easy objection dealt with. But let's get to the other objection.
If It Isn't Random, It Isn't a Game
Now, to be honest, D&D has grappled with the same problem I'm dealing with here. Specifically, it dealt with Perception. Here's the idea. When the players walk into a room, they should have a chance to notice anything hidden in the room based on their Perception score, right? And there should be a mechanical way to determine that. BUT, resolving it with Perception die rolls leads to a host of problems. First of all, it bogs down the game. Every time the party walks into a room, there's five die rolls and five evaluations before the GM can give out information. Second of all, if the players can see the rolls and they see they all got low rolls, they will immediately mistrust the results. And that leads to panicked requests to "look around again" or to "search the room." After a player rolls a low Perception roll, it is almost impossible to convince them there really isn't anything to find. Third of all, if you force the GM to make the rolls secretly, the GM has to record all of the Perception rolls, roll them all, do the math, and then deliver the information. However you slice it up, it bogs everything down. And, again, remember this is the most boring part of the game. The effect is like putting a big-ole loading screen in front of every room. It's awful for the flow of the game.
So, the designers invented the idea of Passive Perception. It's a static number written on everyone's character sheet and one that, presumably, every GM could record on their own list. Thus, they could quickly glance at the highest Passive Perception, look at the list of things the players could "notice," and decide what information to dole out. And people freaked out.
The general argument runs something like this: without a die roll, the players will ALWAYS notice things below their threshold and NEVER notice things above their threshold. There's no chance for them to ever notice more or less. They will never miss a hidden trap below their threshold. They will never spot a trap above their threshold. Moreover, there's no chance that the alert character will miss something while the unaware character will luckily spot something. And there's no point in having two really alert people, since the one won't be able to roll well in the case that another rolls poorly. And that's terrible.
We're going to leave aside the fact that all we're talking about is the initial chance to NOTICE something. When it comes down to actively searching for something, there IS randomness.
Now, I got the same objections to my proposal about knowledge skills. It isn't random. It will ALWAYS work out the same way for a given party in a given situation. And that's terrible.
Now, before I go on, I want you to seriously think about that for a moment. Especially if you're nodding and saying "yes, it IS terrible." Right now, before you read any further, squeeze those brain grapes a little. WHY is it terrible? WHAT is getting ruined in the game? And I don't want you to just think. I want you to say it out loud. I want you to write it down. I want you to put it into goddamned words. DO IT.
Some of you may be a bit surprised to discover you're having trouble putting it into good words or explaining why. And that, right there, is a BIG F$&%ING CLUE that something is askew between your earholes. I'm not saying your brain is broken or that you're stupid. What I'm saying is that you should probably be wondering if you don't have an incorrect assumption somewhere in there. Because, guess what? You do.
Now, those of you who actually DO have an answer, hold onto it. Because I can ALMOST guarantee that your answer is based on something that is actually bad for your game. And that's what I'm about to explain. It comes down to two things: Incomplete Information and the GMing Perspective. And those two things lead GMs to overvalue randomness.
So, let's rip into those poor assumptions and fix your brain so it can run games better. Because that's what I do.
The Perfect Chess Game
Imagine, for a moment, that you are like me. Imagine you are a super-genius. You're brilliant. And you are so brilliant that you can play chess perfectly. That is to say, you can look at a chess board in any configuration, you can see every possible move you might make, and you can hold them all in your head. So, you can look at the board and say "if I move my pawn there, the board will look like this; if I move my rook there, the board will look like this; etc." And you can see every possible move at every possible movement. And you can perfectly assess the consequences of every move. You are a perfect strategist.
Now, imagine I am also like me. A super-genius perfect chess player. I can also see every possible move and predict every possible outcome. I never miss a move and I can also assess the outcome of every move.
If we sit down to play chess together, do we even need to play? The answer is, no, we don't. Because we are both perfect strategists who can predict an arbitrary number of chess moves into the future, we can both predict in our heads how the entire game will play out and will both always use the best strategies. I can literally write down how that entire game happen. I don't even need you at the table. And you don't need me.
Do you want a simpler example? Well, there's a board-game called Candy Land. In Candy Land, players move along a track by drawing cards and moving to the indicated space. The first person to reach the end of the path wins. There are no alternate paths and no decisions to make. Just draw the card and move. Imagine if we played Candy Land, but we laid out all the cards face up, in order. Just by looking at the cards, we can figure out how the whole game will work.
Another example? Tic-Tac-Toe. Once you hit, like, ten-years-old, you realize that Tic-Tac-Toe always plays out the same way. There's only nine choices for the first player, eight for the second, then seven for the first again, then six, and so on. And once the first player makes the first choice, of which there is really only one optimal choice, every other choice is basically set in stone if the players are trying their best to win and aren't stupid. That's how Matthew Broderick finally beat Skynet in the The Matrix.
The thing that all of these scenarios have in common is that the players have all of the information they need to determine the entire course of the game. There are no surprises. Tic-Tac-Toe will always play out the same way. Candy Land is only surprising because you flip over one card at a time. Chess is interesting because players aren't perfect. That is to say, they overlook moves and can't perfectly assess every strategy and hold every possible board configuration in their heads. That means one player can't accurately predict what another player will do.
One of the things that makes games (and movies and everything else we do for fun) fun is the element of surprise. We don't KNOW precisely what is going to happen. Humans LIKE to be surprised. Surprise – or TENSION as we call it in games and fiction – emotionally engages us. We want a specific outcome, but we don't know if we are going to get it. We want to see the cartoon fish reunited with her family. We want to find the baby Metroid and defeat Ridley. We want to win the race to the Candy Castle. But we don't know if those things will happen. And even if we're pretty sure they will (like knowing that the movie with the cartoon fish will probably have a happy ending), we don't know how it will play out and what the outcome will cost the fish.
Tension creates emotional engagement and tension comes from surprise and surprise is only possible if we don't know everything that is going to happen. The term for this in game design (and also economics) is "Incomplete Information." In a game like Tic-Tac-Toe, players have "Perfect" or "Complete" information. Most of the time, players know exactly what the result of every move will be right through to the end of the game. In chess, players have "Incomplete Information." They can't predict their opponent's actions and the human brain simply cannot run out every possible move and consequence for both sides through the entire game. In Candy Land, the players also have "Incomplete Information." They can't see the cards, so they don't know how the game will play out.
Incomplete information is vital for adding emotional engagement. But it's also vital for another reason. Most games would become almost completely unplayable if you had complete information.
Imagine if you could predict every move that your opponent could make in chess. How long would it take you to make a turn. Hours, right? You'd have to evaluate every move, predict the opponent's move, evaluate your next move, predict the next move, and so on. And you'd have to do that, through the end of the game, for every possible move you could make. Now, unless you're also a perfect strategist – which is impossible – that means that you've got to make a strategic decision every turn based on running out thousands and thousands of possibilities in your head and figure out the perfect one. You're going to get a little overwhelmed if you try to pull that s$&%. The human brain can't handle that. Even the best chess players only try to predict a few moves in advance and they rely on broad strategies and heuristics to provide mental shortcuts. And they also generally have a limited time.
Strategy and Sense
The other side of the coin – and this is IMPORTANT – is that people also hate being surprised in games. In most games, that's because players need to feel like their decisions matter. They need to feel like they are in control of the outcome. And this is especially true in role-playing games. Players make choices and deal with the consequences of those choices. When I play chess, I know my choices affect the outcome. Moving this piece instead of that piece, taking this space instead of that space, at every turn, I'm making choices. And those choices change the outcome. If I win, I know that, to some extent, I won because of my choices. If I lose, I know that, to some extent, I lost because of my mistakes. If the outcome is completely beyond my control, the game doesn't feel fair. There isn't much point in playing.
Now, in order to make good choices, you NEED information. You need to be able to evaluate the situation and to predict the likely outcomes. And, moreover, you need to be able to connect the consequences of your choices with the choices themselves. That way, you can learn from your choices and get better at the game. THAT is all wrapped up in the strategic component of any game.
But, in role-playing games, surprise causes even more problems. A role-playing game has to be satisfying as both a game AND a story. And stories, to be satisfying, have to make sense. We demand a lot of sense from our fiction. The end of the story has to follow from the beginning, story details can't just appear out of nowhere, motivations need to make sense, and so on. And Incomplete Information plays against that.
All in all, we have a love-hate relationship with surprise and incomplete information. We need it, we want it, and we hate it and despise it. In the end, a good game requires an extremely careful balance in terms of how much the players know and can predict at any given moment.
Hiding Stuff vs. Rolling Dice
The GM Perspective
GMs KNOW that there is a value on incomplete information. They know that players draw excitement from not knowing what is going to happen. They know players feel challenged by not knowing what is going to happen. Mature GMs eventually UNDERSTAND that the players also derive satisfaction from a sense of control, from a sense that their choices shape the course of the game. Hopefully, they do, anyway. I mean, if you're reading my website, I'm sure YOU do. But hopefully every GM eventually gets there.
Now, GMs KNOW about that whole excitement thing because most GMs also draw excitement from not knowing what is going to happen. Many GMs enjoy being surprised just as much as they know their players do. But this is where things get f$&%ed up. To a GM, there is NO hidden information.
Take, for example, the 4E approach to Passive Perception. As a GM, if I'm running that adventure and I see a trap that requires a Passive Perception of 15 to spot, I know the outcome. I can just check the player's character sheets and find out if any of the players will spot it. No surprise there. The same with a Passive Knowledge score – if you use my approach. I can tell you exactly who will know what information before we even sit down to play. Hidden information is never hidden from the GM.
Now, here's the thing where some mental gymnastics take place. See? The game is filled with all sorts of hidden information. The map of the dungeon, which monsters will show up when, who the villain is, and so on. Most of the game is about discovering the hidden information. As GMs, we accept that part of the game because the whole point of the game is to gradually discover the hidden information. That part is fine. But that Passive Perception crap? That's different. Because there's nothing a player can do to discover that if the numbers aren't there. So, as a GM, looking at that, it FEELS like a screwjob. And surely, the players will recognize that. Right? Surely, if they know their Passive Scores are determining what information they get, they will feel like they are not in control.
So, what's the solution? The solution is obviously to roll dice. Dice return a sense of control to what is otherwise a binary numerical comparison. The players won't feel screwed if they know there was a chance to discover the trap by rolling dice.
Except, as I noted above, hidden information – even when there is no control over the discovery – still FEELS like it could be discovered. Randomness – unless there is a sense of control built into the game – FEELS like a screw job. Now, yes, it is an illusion. But what's really amazing is that even if you know the illusion is happening, when you're inside the illusion, it actually still feels okay. Especially if it's played off right.
For example, if you say to the player "because you're proficient in whatever, you know this" or "your keen senses alert you to the presence of trip wire" or whatever, you're helping support the illusion. Why? Because you're emphasizing the CHOICE that brought about the consequence. You're basically saying "because you were smart enough to select this skill from among all of the other choices, you get this piece of information everyone else would have missed and probably died because of."
See, the problem with Knowledge checks is that they don't involve any choices in the moment. They are the payoff – or LACK of payoff – from a choice made during character generation. That might be days or weeks or months ago. So, the success or failure of the check hinges on the die roll. Meanwhile, with ACTIVE skill checks, the choice that created the die roll is happening in the very moment. Sure, the die still determines the outcome, but the player is more focused on the choice that created the die roll. Random Knowledge checks are randomness without any sense of immediate control.
Even if you are a GM, you'll still fall for this crap yourself. You'll still feel good about the choice of a skill and feel like your foresight paid off if it's just a matter of hidden information. How is that possible? Because, when you're sitting behind the screen, you forget that you don't know what is possible.
To a GM running the game, the Passive Knowledge/Perception thing is a list of binary checks, a list of yes/no answers and nothing more. But to the person on the other side of the screen, that page could literally have anything on it. Or nothing. There could be a thousand bits of knowledge or three or none gated behind various numbers. The space for possibilities is infinite if you don't see the notes. Thus, when you ARE given information, you assume that if you'd had a lower score, you'd have been given less and if you'd had a higher score, you'd have been given more, and if you had different skills, you'd have different information, or you might have missed out and gotten no information. It ISN'T a list of binary choices to you, it's a page of infinite possibilities.
GMs LOSE that perspective the minute they sit behind the screen. So, their sense of the value of Hidden Information as an alternative to Randomness gets really f$%&ed up. And that's dangerous. Because, in general, unless the players have a lot of control in a situation, Randomness sucks. Randomness feels cold and unfeeling and unfair. Have you ever noticed that board games that involve rolling dice to see how far you move have fallen out of favor? And lots of board games – popular board games – involve randomness only in small doses.
GMs value randomness because they see rolling the dice as "doing something," as a form of giving the players "control." But in the absence of a firm choice or a chance to hedge the outcome or a knowledge of what the stakes are, dice actually steal control. And GMs also value randomness because they don't benefit from much hidden information beyond the players' choices. And, let's be honest, most of the time, players don't do much to surprise us. In the average combat scene, most players make their attacks and cast their spells and we know how it's going to go. Right?
I'll let you in on a secret: all those random tables for determining wandering monsters and random encounters and building random dungeons and random personality traits for NPCs and random events and random weather and random treasure parcels? None of that is for the players. The players don't give a s$&%. The weather is what it is whether it is Hidden or Random Information because they have no control over it either way. They react to it. Those tables are for the GM. To surprise the GM. And that's why some GMs – the ones who need MORE surprise in their game – love those things and others – the ones who can handle LESS surprise because they engage in other ways – they ignore them. And even decry them.
Sure, that randomness does do a few things for the players. But it's mostly stuff behind the scenes that they aren't involved in.
The point is, in general, GMs overvalue randomness and undervalue hidden information. And that's why people flipped the f$&% out when 4E introduced Passive Perception. And when the 5E designers threatened to include Passive Ability Checks for things like breaking down doors. And when I wrote an article suggesting people stop rolling for Knowledge checks because it breaks the flow of the game and emphasizes randomness over choice. Hell, people flipped out when I suggested that sometimes, a GM should just declare success or failure and NOT do any die rolling. And it's something that a lot of GMs still have a lot of trouble getting over.
I mean, come on, there's some of you RIGHT F$&%ING NOW pursing your lips and thinking "no, this guy is an idiot. Randomness feels good. People like rolling dice." Well, I dare you – I F$&%ING DARE YOU – to adopt my Passive Skill approach for a month in your game. Put on your big boy pants or your big girl panties and see what happens. Stick it out and see if I'm right. I know I am. I've already done the experiment.
Honestly, I should wrap up there. But I've got one more topic to touch on because there is one bit of weirdness that ties all the way back into a very old topic on metagaming. Don't worry, I'll make this one quick.
Hiding the Wrong Information
As much as GMs overvalue randomness and fail to see the value of hidden information, there is one weird place where GMs WAY overemphasize hidden information: monster statistics. For some reason, GMs live in absolute, abject terror that players will find out the AC and HP of a monster. GMs jealously guard monster statistics. And the argument is always "I don't want my players metagaming." Now, I KNOW some of the reason for that is a misunderstanding of how to challenge players. GMs KNOW that hiding information increases the challenge. They also KNOW that information is powerful and they want the players to EARN the information. Fine and dandy. I understand those motives, even if it's misguided.
But I've also seen a not insubstantial number of GMs who forbid the players from doing things like watching die rolls and then announcing the AC of the monster when they figure it out. Or counting hit points and saying, "we've done 60 points to the monster." These are the GMs who resisted the 4E rule about announcing when a creature was down to half its HP. And I've seen some GMs lose their f$&%ing minds over the idea that a player might read the Monster Manual.
And I honestly don't have a theory as to why so many GMs seem to approach those extremes. I just can't f$&%ing figure it out. I don't want to get into an argument as to why it's good or bad. I've argued before all of the reasons why there is nothing bad about letting the players know things like DCs and AC as part of their decision-making process. After all, the characters SHOULD be able to assess challenges and make reasonable guesses about monster's toughness and evasive and defensive capabilities just by watching it fight for a second or three. Martial artists do it. I was a fencer once. My fencing coach TRAINED US to read our opponent.
Anyway, that's just an aside. I'm just observing that this is a thing that happens and it's stupid too.
Calm Down with the Dice
If there's anything to take away from this article, it's this: die rolling is fun because it introduces an element of randomness. But that randomness is only fun FOR PLAYERS if they feel like they have some control over the randomness. The randomness needs to be driven by a choice OR the players need a way to react to the randomness to mitigate its effects. And the only time that really happens is when the players are declaring actions. Beyond that, rolling dice is only fun until the first bad die roll. After that, it feels like a screwjob. Random die rolls should be added SPARINGLY to the game. And ONLY when it is in direct response to a choice the players make or when it can be affected by a choice the players have to make. Passive Knowledge and Perception rolls DON'T MEET EITHER CRITERIA.
Randomness and Hidden Information serve the same purpose in the game. But they feel different. Randomness feels cold, impartial, and uncontrollable. Hidden Information feels discoverable and empowering. As a GM, it's hard to see that stuff because of your position at the table. But it's mostly true.
Mostly. Everyone knows an exception. I've had a few players in my life who were stuck, hard, in randomness. It took a while to break them of the habit. Part of it is training. Some have been trained to think it isn't really a game unless you're rolling dice. And some have been trained to inherently mistrust GM declarations as not being really a game. And some players are gamblers by nature and enjoy the random payoffs. But they are mostly the exceptions that test the rule. That's the problem with people. Even when you know you are right, some people's brains are just f$&%ing wrong. My advice stands.