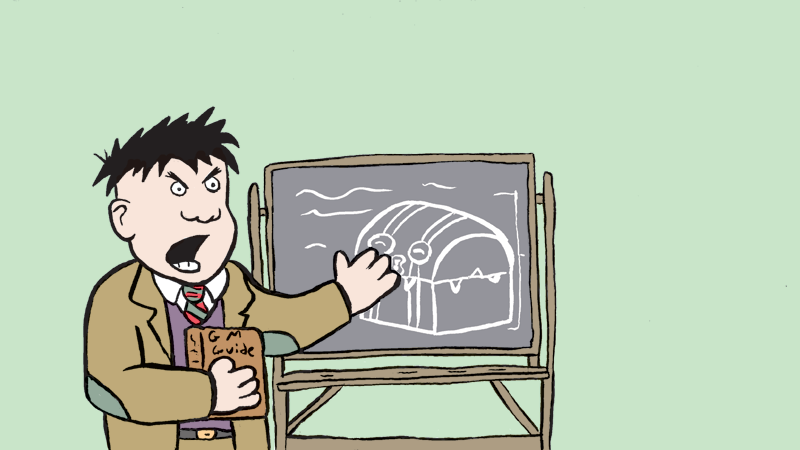 Wow, that last article was a hell of a thing, huh? And considering it was a two-parter and the previous article was kind of huge as well, that whole thing was a bit of an endurance challenge. And now we're going to do the same damned thing for Pathfinder: pick apart the monster math and then build custom monsters.
But I think we need to take a minute to rest first. Light up our cigarettes and just lay here under the covers. And maybe talk about where this whole relationship is going. See, based on some responses and e-mails and Twitter messages and random private threats I've received, I've come to two basic conclusions. First, I'm kind of an overly wordy asshole who is not half as smart as I think I am. Second, we're still laboring under a massive misconception about challenge, difficulty, and balance.
That first conclusion is nothing new. People have been telling me that for five years. And I really can't argue it. I AM a wordy asshole. I've never pretended I I wasn't. And maybe I'm not as smart as I think I am. I can understand that. I think I am VERY smart. But even if I'm only half as smart as I think I am, that's still really, REALLY smart (I have a huge ego). More importantly, it doesn't matter how smart I am objectively. What matters is that, relatively speaking, I'm smarter than you. That's what makes me useful.
I mean, does it matter how much smarter than you Albert Einstein is? No. Once he's smarter than you, the actual difference is immaterial.
The second conclusion really bugs me though. Because I've written a lot about the nature of challenge and difficulty. The problem is, it's always been this sort of "one off" thing. I always shove it into Angry Rants, which I think of the unimportant junk I'm willing to toss to the Mad Adventurers Society while I keep the really good stuff here for myself. Or else I make this throw away mention of it in some other article. And the problem is: challenge is a really central concept when it comes to running games. And not just in combat.
And it's really important that we cover this. See, both D&D and Pathfinder have major problems when it comes to the idea of challenge and difficulty. First of all, both systems are founded on a massive lie. It's not a sinister lie, just a stupid lie of omission, but it's a lie nonetheless. Second of all, both systems offer these rigorous mechanics for certain types of challenges that only sort of work. They work better than most systems, to be fair. But they still only sort of work.
The real problem is that, first, most gamers have unrealistic expectations about what the challenge systems can and should do. And second, that most GMs understand challenge and difficulty about as well as a Galapagos sea turtle understands the theory of evolution. I've heard GMs say insanely stupid things like "you should challenge the character, not the player" or "challenge is for video games." And those things are categorically wrong. They misunderstand the nature of why people play games and how challenge works. So, let's have this out before we try to build monsters in Pathfinder, okay?
What is Challenge
In a game, a challenge is a situation whose outcome is uncertain and can be influenced by the skills, choices, and tactics of the players.
For example: a boulder comes rolling down a hillside. The player is told to make a Dexterity saving throw. Is this a challenge? No. No it is not. While the outcome IS uncertain, the player's choices, skills, and tactics have no impact on the outcome whatsoever. It's just a die roll.
In order for something to be a real challenge, it must include both an uncertain outcome (usually success or failure) and a way by which the player can knowingly affect the outcome. You might argue that the player had his say when he decided not to take the Lightning Reflexes feat and therefore he did affect the outcome. But people say all sorts of things. Some people say Fate is a totally good game and totally deserves to be called an RPG. Those people are f$&%wits. Saying something doesn't make it true.
Challenge is an essential component in most games because players (a) enjoy the tension that derives from uncertainty and (b) hate randomness and need to feel like they have some control over the outcome. In short, players like to know that THEY have control over the outcome but also like to know they don't have COMPLETE control over the outcome.
Of course, this will vary from situation to situation.
For example, imagine there's a riddle trap. The characters enter a room and a voice speaks forth a riddle: "what is the beginning of eternity, the end of time and space, the beginning of every end, and the end of every race?" If they answer correctly, by yelling out "the letter 'e'," they get to continue on their way. If they answer incorrectly or don't answer at all, the entire f$&%ing room explodes (no save) and the characters are never seen or heard from again.
That is as pure a challenge as you can get. The outcome is uncertain (success or failure) and it's also dependant entirely on the players' abilities to solve the riddle. Or their preexisting knowledge of riddles. Maybe one of the players has heard that one before. Technically, that's okay. It's part of the challenge. In this case, the players' extensive reading of riddles and good memory are the skills needed to survive.
On the other hand, a GM can suck literally all of the challenge out of the room by asking for an Intelligence check to solve the riddle (thereby "challenging the characters, not the players"), which renders the scene impotent. That is not a challenge. Not at all. Not even a little bit. And while you occasionally will get a player who says "they prefer that style of play," what those players are really saying is "I don't like riddles" or "I'm not good at riddles and feel I have no chance to win at riddles, so a die roll is preferable." If you find yourself doing that s$&%, what you really need to do is stop throwing riddles at your players. They don't enjoy them.
You can find an analogue for this in almost every situation. The GM who demands Intelligence checks to see if you're smart enough to answer – effectively overriding your skills and choices with your characters – that GM does the same thing. The GM who allows a Charisma or Diplomacy check without requiring any sort of description of how the character is persuading the subject is also robbing the game of its challenge.
Now, both of these points are sore points because you always get the morons who scream about playing characters more Intelligent and more Charismatic than they, themselves, are. And I've written about that before. You literally cannot play a character more Intelligent than you are because Intelligence is a lot more than factual recall. To properly play a character more Intelligent than you are, literally every decision you make would have to be made with a reference to the dice or to someone more Intelligent than you. It's not just solving riddles. It's also about tactics. You wouldn't be allowed the freedom to choose which spells to cast and who to target because your character is too smart to be constrained by your dumb tactical decisions. You couldn't even be allowed to figure out how to bypass an obstacle because your character would see possibilities and connections you don't.
As for Charisma, Charisma doesn't matter when it comes to describing actions. If you're trying to Persuade the king to give you help, you need leverage. You need something to overcome the reasons why the king doesn't want to give you help. Your character's ability to present that argument convincingly lives in Charisma. But if you don't have a solid plan BEHIND that persuasion, that's like saying "well, I'll Dexterity through the door." What the f$&% does that even mean? Are you picking the lock? Are you trying to disassemble the door? Trying to wiggle through the space between the floor and the door? Squeeze through the keyhole?
And honestly, the more you allow your die rolls to cover, the more of the element of challenge you remove from the game. Once upon a time, GMs used to ask players where and what, specifically, they were searching in the room filled with furniture. Nowadays, we have the "one Perception check causes everything in the room to glow – red for traps, green for secret doors, gold for hidden treasure." While that simplifies and streamlines the game, it also removes the element of rewarding the players' cleverness.
Challenge is Everywhere!
In the previous speech, you might have noticed I talked about riddles and obstacles and interactions and NOT combat. And that's because challenge is way more pervasive in the game than you might think. And challenge has almost nothing to do with numbers. Challenge has everything to do with choice and skill. Which is why it is so central to role-playing games, which are about the players making choices and dealing with obstacles.
Riddles are challenges. Social interactions are challenges. Investigations and mysteries are challenges. Puzzles are challenges. Moral dilemmas are challenges. Everything with an uncertain outcome where the players' choices have an impact on whether the outcome is the desired one or the OTHER one is a challenge.
In fact, the closer you get to the numbers, the less challenge your challenge is. Challenging. As with the "roll a Perception check and I'll tell you why if you succeed" and the "making a Saving Throw against boulder," the more reliant the outcome on numbers and random die rolls, the less actual challenge you have.
And I'll give you a perfect example of a challenge that involved no numbers.
Last week, my players ended up going on a rescue mission. They were saving a dwarven high priest from devil goblins. And they had along a dwarf from their hometown. And the dwarf represented a high degree of challenge.
See, the thing was, the town had been having some racial issues. The dwarves, elves, and humans who shared the town were increasingly biased against each other. The dwarves, in particular, were convinced that the humans and the elves only cared about human and elvish problems and the dwarves felt they could only rely on themselves. So they were starting to take the law into their own hands and do some pretty nasty things in the name of dwarven rights.
Now, the party included humans, elves, half-elves, a dragonborn, and a tiefling. And the elf was a dignitary, a priest of elfdom. So the dwarf was already pretty sure they didn't give a s$&% about the dwarven priest. And she was also pretty sure the tiefling was evil because of the whole devil goblin thing.
The party decided to try and mend the racial tension somewhat by teaming up with the dwarf. They sold her on the idea that they really did care and they would help, they would put themselves in harm's way for this dwarven priest. But the party had a rough couple of fights and they were forced to retreat. And the dwarf was incensed and eventually split from the party, feeling it was better to die doing what was right than retreat. Because that's how dwarves think.
That situation was a challenge. And it involved no numbers. I mean, it might have involved a Charisma check here and there, but the real essence of the scene was that the party wanted one outcome (fixed racial relations, friendly dwarves) but they would have to prove themselves to the dwarf who was already inclined to stand against them. The way they dealt with the dwarf determined the outcome. Their choice to retreat, their choice of what to say, and what to let her do. Hell, even their choice to team up in the first place.
The essence of challenge is that there is a situation that could go in many different ways, some desirable, some not desireable. And the PLAYERS influence the outcome.
What is Difficulty?
Now, what makes this whole thing complicated is that GMs tend to conflate the word challenge with the word difficulty. Because we can use "challenge" as an adjective. We can call something "challenging." And I try never to make that mistake. Because it confuses the issue.
When I talk about RPGs (and now, when YOU talk about RPGS), challenge will henceforth be a noun. It will refer to a situation whose outcome is uncertain and which can be impacted by the players choices, skills, and tactics. And now you will also NEVER talk about "challenge the characters," because that phrase is meaningless drivel that basically means "not challenging anyone."
Difficulty is a way of measuring and comparing challenges. A challenge is difficult if, relatively speaking, an undesirable outcome is more likely. For example, a fight against one goblin is less difficult (easier) than a fight against one dragon. A fight against a dragon is harder. Why? Because it is more likely, despite the best efforts of the players, that the outcome will be unfavorable.
But difficulty is actually a really complicated thing to discuss because, from situation to situation, many different things can affect the difficulty. What can affect the difficulty of a riddle? Lots of things. Maybe the language is obscure. Maybe its metaphorical instead of literal. Maybe it relies on esoteric knowledge. Maybe it's too vague or too short. And that's just a sort of "objective" difficulty. That's the difficulty overall, on average, for most people. There's also the possibility of subjective difficulty. A riddle that relies on wordplay or idioms will be much harder for a non-native speaker of a given language. The difficulty of some situations can vary from person to person.
Remember my dwarf example from above? Well, let me tell you how that story ended. The party killed the dwarf. The situation degenerated into violence, they enraged the dwarf, and they had to kill her. That, by the way, was the "bad ending."
What created that difficulty? Well, first her inherent mistrust of the party. Second, the fact that the party was forced to retreat. Third, the character was brutally lawful-good and expected everyone else to live by that same code of noble self-sacrifice even in the face of probable failure. Fourth, the character had lost both her husband and her son and was suffering suicidal levels of survivor's guilt to the point where she was actually self-destructive.
In short, she was volatile, irrational, angry, and suicidal. It's tough to get a good outcome out of that. The odds were stacked against the party. And when the tiefling continued to antagonize and insult her AFTER they discovered the priest had been killed, she flew into a rage and attacked the tiefling, unable to control herself. And the tiefling killed her.
It's weird to think about "suicidal depression" and "irrationally self-sacrificing" as elements of difficulty, isn't it? But you can see how the situation would have been easier to deal with as I removed each of those elements.
And THAT is how challenge and difficulty work. A situation relies on challenge when it relies on the players' skills, choices, and tactics to affect the outcome. A situation is a strong challenge when the players' have the most impact on the impact. It's a weak challenge when the players' have very little control over the outcome. A situation is difficult when the desired outcome is less likely to occur. And it is easier when the desired outcome is more likely to occur.
You HAVE TO understand this s$&%. It's central to running games.
The Narrow View of the GM
Now, what makes this all very difficulty to deal with is the fact that any given GM actually has a very restricted view of challenge and difficulty. What do I mean?
Well, to some extent, it doesn't matter how difficult that dwarf situation was in my game. Or the riddle situation. What matters, in the end, is that I only ever saw one party handle it. My group of players. So, it doesn't matter how likely the outcome is. What matters is the outcome I saw, right?
It's like, imagine I have a game where you insert a coin and if the number five shows up on the screen, you win. Otherwise, you lose. You have no idea how many numbers the game is choosing from or how likely a five is to come up. You only know either you get a five or you don't.
On top of that, we – as GMs – tend to be averse to failure in the game. While we want the possibility of failure (without it, there is no uncertainty) and we want players to have a say in whether they succeed or fail (without that, there is no challenge), we actually don't want to deal with failure. And the moment the players do fail (like when they have to kill a good dwarf), we immediately conclude we made the situation too hard.
It's hard to be objective with only one data point. Especially when you have to look that data point in the eyes and tell them they f$&%ed up and their lives are much harder now. And they have two dwarven corpses to bury.
It is actually impossible to gauge the difficulty of any situation based on a single outcome. Just because the players lost that situation with the dwarf doesn't mean it was "too difficult." The real factor is comparing the outcome to the effort the players expended. The players at my table struggled with that situation. It was very difficulty and, when it was all over, it kind of brought the game to a halt. It was like they had run a marathon. But they still lost. That tells me the situation was a difficult one.
You have to stay objective, as a GM. You have to step back and say "yes, they won, but that doesn't mean it was easy, that doesn't mean it was TOO easy." You have to say "they lost, but that doesn't necessarily mean the situation was TOO difficult. Sometimes s$&% goes wrong."
Challenge, Difficulty, and Combat
So, now, let's look at combat. See, the trouble with riddles, puzzles, obstacles, and all that s$&%, is that it's really abstract. Right? That dwarf thing? There's no real way to know HOW difficult that is. But combat is nice. It's numberful, right? Every monster has a Challenge Rating that tells us exactly how hard that monster is to deal with, right?
We're going to ignore the fact that WE know that should be Difficulty Rating, not Challenge Rating, okay? Just accept that D&D and Pathfinder are stupid.
But now you should be suspicious of that. After all, CR is computed almost purely based on numbers. How long can this creature survive? How much damage can it dish out? How hard is it to hit? How likely is it to hit? Didn't I say that the closer you get to numbers, the more you lose the sense of Challenge?
Well, it's more complicated than that. Remember that a combat is a long series of decisions made by players and the GM about the actions of whole bunches of creatures over numerous rounds. If the fighter chooses to attack the ogre rather than the goblin, that might allow the goblin to get a sneak attack on the wizard two rounds later. If the wizard chooses a spell that involves a Dexterity saving throw instead of one that involves a Wisdom saving throw, that gives the creature a better or worse chance of failure. And on and on and on.
Which is also why people who complain that "misses in combat doesn't mean anything" are f$&%wits. A miss is a huge issue. It's lost resources. It gives the monster an extra round of life. The next thing the monster does only happens because of that miss.
So, combat is definitely a challenge. Every tiny choice has the chance to snowball. And choices in previous fights also have the chance to affect the current fight because now, you might be short on spell slots, or you don't have that potion anymore. Whatever.
But challenge and difficulty are based on all of those choices, right? All of the tactics. So what does the Challenge Rating of a monster actually mean?
Well, you can look at it like this. If you only need one solid hit to down a goblin, and the goblin only does a couple of points of damage in a round, then that goblin isn't going to have much impact on the party before it dies. And it doesn't take much in the way of skill or tactics to down the goblin. Everyone can just choose to attack and that goblin will probably die before it does much damage. The dragon, on the other hand, needs a lot of attacks to take it down. And in the meanwhile, it is causing a lot of havoc. And it will also punish mistakes. If the party stays close together, for example, that dragon is going to blow them apart with fire breath. If they spread out, the fire breath is much less of a threat.
So, you COULD think about the Challenge Rating of the monster as the margin of error. If the Difficulty is high, the party is going to die if they f$&% up too much or make too many poor decisions or come in with too few resources. They don't have much margin for error. Whereas if the Challenge Rating for the monster is low, the party can f$&% around and phone it in and they will still come out ahead. Right?
Well, sort of. There's even more to this than that. Because every group also has a certain number of resources that dwindle throughout the day. Now, the rulebooks try to claim that Difficulty is basically a measure of the resource cost of the fight. If it's an "easy" fight, the party will probably spend "10% or fewer of its resources." The problem with that definition is that its utter horses$&% and also kind of useless.
First of all, that's a statistical average. A wonderful thing to have when you're designing a game for thousands of players but completely useless when you're designing a game for ONE group. But second, it ignores the idea of efficiency.
See, if a party goes into a combat and handles it well (they don't bunch up near the dragon, they control its abilities, they defend against its elemental attacks, and they take it down quickly through cooperation and good tactics), they will come out of that battle with more resources intact: spells, action surges, rages, hit points, potions, charges on magical items. An efficient party just spends fewer resources across the board than an inefficient party.
And THAT is what Challenge Rating is really about. How much do player tactics and player choices affect the efficiency with which they handle the combat.
BUT… that's also kind of a lie.
See, here's where it gets really complicated. The Challenge Rating of monsters in D&D and Pathfinder actually has to pull double duty. It is not just a measure of how much player tactics and player choices affect their efficiency in handling the fight, it also measures what level the characters should be to handle the fight efficiently.
That's a subtle point because it SEEMS like those should be the same thing, right? A second level party can handle the same fight more efficiently than the first level party, right? So, if the fight is CR 2, the first level party is less likely to handle it efficiently. Well,… yeah… ish. Because the second level party can do things the first level party just can't do. They have higher level spell slots, they have more abilities, and so on. But that second level fight also assumes they will USE those resources. When the party gets into a 3rd-level fight in D&D, the game is assuming they are going to probably burn a 2nd-level spell slot on scorching ray or something, right? And that means each level of difficulty assumes the party will use up it's BEST resources first.
So Challenge Rating, BY ITSELF, doesn't mean much beyond "this is the level at which the party can handle this challenge with some likelihood of success." And that is why D&D and Pathfinder ADD the concept of Easy, Moderate, Difficult, and Deadly encounters on top of the CR. CR has to be both a relative AND an absolute measure.
Now, on top of that, D&D and Pathfinder CR are a little bit like that game machine that might spit out a five or it might spit out any other number. The designers fixated on some baseline level of "difficulty," but we'll never know quite what it is. Are the players supposed to win 99% of the time? 80% of the time? How often should a PC run out of hit points? How many new characters should a campaign demand? We have no idea what the baseline difficulty for a 2nd-level party against a CR 2 encounter actually is. And it really doesn't matter. Why?
Well, remember when we talked about that whole subjective difficulty thing? Remember how different people bring baggage with them that further affects the difficulty of a situation. Like a non-native speaker trying to figure out English wordplay in a complex, idiomatic riddle? Well, there are also all sorts of things that affect the difficulty of the combat? And combat is an extremely complex situation. The higher the level, the more complex it is because there are more and more tactics available. And there's all sorts of factors. Tactical skill is a big factor, but so is character building, and so is the synergy between races and classes, and the ability of the players to communicate and work together. For that matter, the tactical skill of the GM and the particular combinations of enemies also play a big role in the subjective difficulty. And that's assuming everyone is trying their best to succeed. Add a GM who fudges things to favor the party for fear of hurting anyone and you've thrown off the whole balance even more. Add one f$&%wit who thinks role-playing is "making crappy choices that screw over the whole party because their character isn't smart enough to live in this world" and it's a complete mess.
The point is, no matter how precise the system claims to be, Challenge Ratings are, at best, vague estimates based on statistical averages and unknown criteria. And, they are conservative as hell. At least, I am assuming they are. I am assuming the designers always erred on the side of making things too easy rather than too hard. Because boredom is easier to fix than the frustration of murdered characters.
And in the end, CRs aren't even based on much actual math, You might think they are, but they aren't.
The Genericons: How CR Came to Exist
The first CR system in D&D came in D&D 3rd Edition (and that's the system Pathfinder adopted and polished). And ultimately, despite how mathematical everything SEEMED, the truth is, there was almost no math behind it. The designers have actually told the Story of the Genericons several times since then. So I can safely repeat it here.
Basically, after the game designers finished designing all of the classes and numbers for the game based on the elegant d20 system and ability modifiers ranging from -5 to +5 and weapons that mostly did single dice of damage and spells that did basically scaling damage based on multiples of levels and single dice and all that other crap, they invented hordes of monsters called Genericons.
A Genericon was basically an educated guess at stats. Attack bonuses, damage bonuses, Armor Class, saving throws, and so on and so forth. The designers built all sorts of parties of PCs and all sorts of Genericons and had them fight over and over and over until they saw what stats were giving them the results they wanted against what levels of monsters.
Once they had the stats for Difficulty 1 and Difficulty 2 and Difficulty 7, they reverse engineered a system for monster building based on Hit Dice progressions and monster types and subtypes. All the s$&% you know.
Its also important to note that the monsters in the Monster Manual were, for the most part, playtested and had their CRs tweaked. And that's why the stats in the Monster Manual don't quite always line up with the monster building system.
Pathfinder absorbed this system with a few system specific tweaks. And again, most of these tweaks came from playtesting rather than rigorous mathematical systems. And again, Pathfinder reverse engineered a system for monster building that would give results close to what their playtests showed were the right numbers.
And, the thing is, there were known bugs in the system. Both the D&D system and the Pathfinder system. For one thing, the designers of D&D outright admitted that fey creatures always came out weak. They had no staying power. I think it was James Wyatt who admitted to pumping drow Constitution scores in his own games just to give the bastards some staying power. Things like that.
What about D&D 5th Edition? Well, if you watched the open playtest, you know that monsters and PCs were being developed in tandem. So, they seemed to have some idea from early on about where the monsters should fall. But I'm not sure I believe there was anything as rigorous as the system they presented in the DMG. Instead, I'm fairly sure that they used a similar system of Genericons to tweak educated guesses before they started sharing monsters through open playtests. And after after the open playtest ended, I know there was a closed playtest that continued, but I signed a piece of paper that said I can't talk about that. So I am legally not allowed to say much.
But I can say that there's a reason some of the monsters in the D&D 5E Monster Manual don't QUITE follow the rules for monster building and setting out challenge as described in the DMG.
For example, someone noted after last week's article that the CR of goblins is too low if Nimble Escape is really worth a +4 AC and +4 attack effectively. And that is true. And I can't say why because of that piece of paper. But D&D 3E and Pathfinder had similar situations and there's probably a clue in there. Wink, wink.
My gut tells me Nimble Escape is overrated. I understand the logic, that it's based on the assumption that the goblin hides every round (because it can). But me, I'd probably assume that, for practical purposes, the goblins are only going to be able to hide half the time at most and scale it down to +2 AC and +2 attack. But that's just me.
I Ain't Down on This
Now, listen, this is important: I'm not trying to say that D&D and Pathfinder suck because they lie about their CR system. I know a lot of people like to scream that "it's broken!" And most of the people screaming that it's' broken are hardcore gamers, the bloggers and the Tweeters passionate enough to give a s$&%. And most of those are the sort of people who are bringing all sorts of excess baggage and assumptions to the Challenge/Difficulty thing. Those are the skilled ones and the creative ones most likely to f$&% with the system.
The system isn't broken. It's just a very rough estimate based on erring on the side of the lowest common denominator. The weekend warriors, the game store casuals, the teenage game club kids. But it is LITERALLY impossible to do any better. For all of the reasons I've discussed.
The reason I'm willing to waste so many words on this topic is because I promised mathematical rigor. I swore that you could build a creature to the exact right level of challenge every time and work your way into that using the system math that the game provided. And I delivered. But I kind of forgot that not everyone understands that the system itself can only promise so much rigor. And it's unrealistic to expect it to do better.
Pathfinder and D&D both have VERY USEFUL tools for assessing challenge. But they aren't perfect and they aren't meant to be used without tweaking. Experienced GMs are totally encouraged to f$&% with the numbers because they won't work for every group. And if you're willing to read tens of thousands of words on custom monster building, you're probably leading one of the groups they won't work perfectly for.
The worst thing I will say about the CR systems in D&D and Pathfinder is the same thing I say about most of the systems in D&D and Pathfinder: they aren't well explained. And that's why I have to write these long, drawn out responses after I try to use those systems and then get blamed because people have the wrong expectations of the systems?
Anyway, that's it. That's Challenge, Difficulty, and Combat in D&D and Pathfinder. Now, I have to get back to picking apart the math of Pathfinder and explaining how it informs monster design. And that is way more of a mess than you might think.