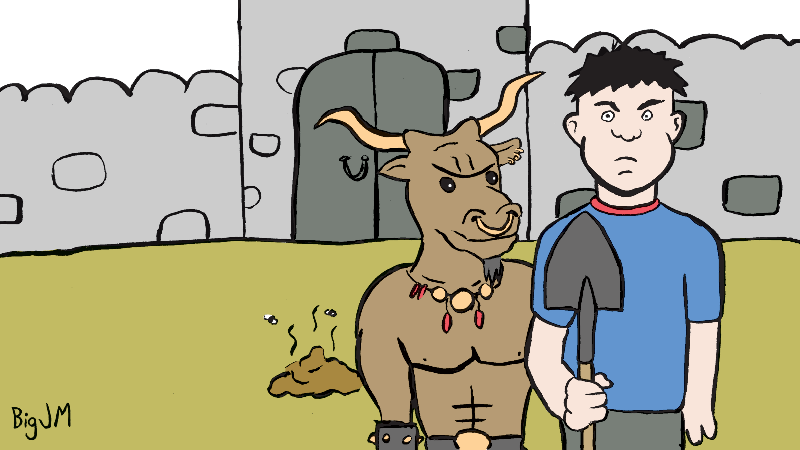 It's time for my monthly Fanservice! And you know what that means, right?! No. It does not mean pictures of me in a magical anime schoolgirl outfit. I only did that one time. And it was for charity. More or less. It means that I asked my higher tier Patreon supporters via my personal, secret, for Patreon supporters only Discord server what topic they'd like me to post a rambling, meandering discussion about. And this month's winner is…
Using race and culture effectively in RPGs.
Whatever the hell that means. I mean, I could have asked for some clarification. But, I was afraid that if I did ask for clarification, I'd have to actually talk to someone for an extended period of time. And f%&$ that. So, instead, I'm just going to assume the person meant "how can I use races and cultures to enhance my world-building and storytelling in fantasy RPGs?" Or perhaps, more generally, "what the hell do I do with races and cultures anyway."
To be fair, there was a vague mention further on in the discussion about "stereotypes" and "using races as costumes" and s$%& like that. But that hardly bears mentioning. First, because that's what GMs always worry about. They always worry about races being nothing more than a collection of stereotypes. When GMs ask, "how do I use race in a way that isn't just a bunch of stereotypes because that's all anyone ever does?" So, it's just implied in the question. Second, I hesitate to mention it because it means I'm just going to piss everyone off by basically how races and cultures are best used as just a bunch of stereotypes.
I love it when I know this article is going to make everyone mad.
The Problem with Verbal Storytelling
The problem with D&D is that it is entirely a game of spoken narrative. There are no visuals to speak. Sure, you can use miniatures and pictures and things, but those aren't visuals in the same way a movie or a video game uses visuals. The only thing you have to convey to the people at the table what is going on in the world is your voice. And you really have only two ways to use that voice. You can describe or you can interact. That is to say, you can tell the players what their characters are experiencing or you can act the part of an NPC.
Let me talk from the player side of the table for a minute just to really piss off as many people as possible. No matter what character you are playing, the players at the table see YOU and they hear YOU. Part of the cognitive load of the game is remembering who is actually playing who. And the more complicated you make that, the harder it is for people to even remember who your character is. Remember, you aren't wearing a mask. And even if you have a placard in front of you the whole time with your name, race, gender, and picture on it, people will only look at that some of the time.
Let's take a simple example: playing a character of a different sex from your own. It comes up every so often and I, frankly, hate it. Not because people should be shackled to who they are in real life in a game, of course. It is an escapist fantasy. That's fine. The problem is that it almost always boils down to being completely meaningless except to the one player actually playing the character. The rest of players mostly forget about it. Until the player is forced to remind them, interrupting the flow of the game. Now, it's a particular pet peeve of mine because, in my games, sex is mostly a non-issue. It's not something that has any bearing at the game. So, it's easily forgotten. All it does is increase the cognitive load on me, the GM. And on everyone else. Obviously, if sex is an important theme in a game – say the game involves a lot of romantic plots or the world includes explorations of sex roles and sexism and stuff – that's a completely different kettle of fish. But those sorts of things are best kept to private, personal tables among close friends because of the reactions some people can have to those things these days. The same is true of a character's race. Amusingly, players have an easier time remembering the classes of their fellow players than their race. And that comes down to something called reinforcement.
Basically, when you're playing a character in an RPG, all you have is the words you say to make people remember who and what you are in the fictional world. All their senses are only seeing YOU. Hell, they are even hearing those words in YOUR voice. To make people remember who you are in the fictional world, you constantly have to reinforce it IN YOUR WORDS. Believe it or not, however silly it sounds, affecting false voices actually helps a lot. The false voice forces players to remember that you are someone else. And then they will rack their brain remembering who you are. That's just one of several tricks you can use to EFFECTIVELY play a character drastically different from what they might "expect" you to play just by seeing and hearing you, the player.
I know this is going to make a lot of people angry, but frankly, I don't give a f$&%. If you don't like me saying all of this – and the people who won't like it most are the people who insist on playing UNIQUE, SNOWFLAKE characters – tough s$&%. It's true. Live with it.
But what does any of that have to do with culture, race, and world-building?
Everything is a Non-Specific Human
RPGs bombard players with a lot of information. Your brain is doing a lot of things when you're playing D&D. You're imagining an entire world based purely on a verbal description. You're imagining yourself as a character in that world. You're making decisions. You're also remembering rules. You're also remembering your party. And you're also being bombarded with plot details and world details out the wazoo. It's a big, mire of information and stuff is constantly rising to the surface then sinking back down below the surface. And because the game is played mostly at the speed of thought, players don't get to sit and rack their brains for information or look it up on a wiki when they forget something. It ain't like reading Game of Thrones and trying to remember who the motherloving f$&% Ramsey Bolton is when he suddenly shows up again.
The problem is that most details sink like a stone in players' brains. And NPC identities are one of those things. Players can actually forget the gender, race, and even the name of the NPC during a conversation. What sticks in their head, mostly, is the archetype. Players may forget whether the NPC is a man or a woman, whether he's a dwarf or a human, or even his name, but they will remember he's "the innkeeper" or "the smith" or "the soldier" or "the wizard." The way to keep this stuff from sinking into the mire forever is to reinforce it. Every time something happens to remind the player of the NPCs identity, it makes those details a little more buoyant. They float to the surface more easily during interactions.
Without reinforcement, your world becomes peopled entirely by nonspecific humans with vague archetypes. And that keeps your world from feeling like a fantastic world. It makes it feel like a world filled with varied and distinct humans. And you don't want that. You want the world to feel fantastic.
Building Feedback Loops
Now, you can constantly drop reminders of various creature's identities into your descriptions. But that's a lot of work and it can start to feel very contrived. And, honestly, that doesn't help YOU – the GM – keep all of this s$&% straight either. So, the alternative is to connect details together so that they reinforce each other. In other words, to build archetypes.
Now, archetypes are pretty standard in RPGs already. Classes are basically just archetypes. As are backgrounds. And so are races. At least, as written they are. And they endure precisely because they take whole collections of details and tie them together in a nice, neat, buoyant package.
Let me give you an example of archetypes at work. Let's say that, in your world, elves are known to be haughty and proud. Let's also say that whenever you voice an elf, you use a breathy voice. Once your players have dealt with a few elves and notice the patterns – even unconsciously – they will put those details together. Haughty attitude, breathy voice, elf. If they encounter an NPC later who speaks with a breathy voice and seems particularly haughty, you may not even have to identify the NPC as an elf. They'll just know it.
Basically, the archetype is the narrative equivalent of the visual character design in a movie. Imagine watching a movie in which the elves looked and behaved exactly like humans. Would you be able to tell the difference? No. Of course not. Not unless they all went around saying "hello, I am an elf." It's the same with archetypes – or, as some people call them, stereotypes – in an RPG.
And THIS is the big reason why one of the major defining traits of humans is that they are so adaptable and changeable and varied. Because we understand that humans are very, very varied. We don't expect any common traits from one person to another. Heck, it'd be crazy to try to do anything else besides that. But that means the only way to get the other races to stand out is to build them around archetypes. And if you want a race to mean ANYTHING in your game beyond a collection of stat bonuses, you have to USE that. You can't fight it.
Humans Have Culture, Non-Humans Have Race
And that brings us around to a very important idea. Another idea people hate when I bring it up, as it happens. Non-human races do not have cultures. They are monolithic. All elven cultures are the same. All dwarven cultures are the same. And so on. Sort of. See, there are some races that aren't monolithic. Elves, for example, actually have two cultures. There are the wise, magical elves who live in private enclaves. And then there are the nature-loving, hunter elves who live in camps in the deep forests. And how does the game handle that? By actually making them two distinct races! Call them subraces all you want. But that's how you fit two archetypes into the same race.
As explained above, this is actually of VITAL F$&%ING IMPORTANCE if you want your RPG world to feel like it isn't just filled with humans with different stat bonuses. If you want a race to MATTER – if you don't want it to be a meaningless and often overlooked detail – your races have to be very strongly defined cultural archetypes. That helps build up the feedback loop that makes the players see different races in their head and also helps emphasize that humans are unique in their diversity.
At the same time, you can – and should – think about creating other cultures as well. After all, humans are diverse. And we expect humans to have different cultural backgrounds. But, even here, you're trying to build archetypes, not rich and diverse cultures. But – and this is where things get tricky – none of these human cultures will be the "default" human culture. The default human culture – the one the players will spend the most time interacting with – is going to be the normal, diverse, cosmopolitan culture that people expect. Unless you REALLY want to make culture a theme by throwing the PCs into an alien culture and asking them to get by – and make that the FOCUS of the game – that's just how it has to be.
The truth is this: races and cultures in stories – especially narrative only stories – are defined PURELY by what makes them different from the default "cosmopolitan, human fantasy culture." And if you load up a race or culture with TOO MANY differences or NOT ENOUGH differences, they just become part of that default. Races – and cultures – only matter if they are distinct from the base race and culture of the world.
GMs have a hard f$&%ing time accepting that.
Archetypes as Storytelling Tools
Ultimately, races – and cultures – have precisely one use in the game: they are tools to tell a better story. They are not there for any other reason than as a storytelling tool. The most basic use is to make the world feel rich and alive and diverse and fantastic. That is, to emphasize the themes of fantasy. And that means they have to stand out against the humans. And since humans can already be pretty much anything, the only way to make those races stand out is by using strong archetypes. Ironically, the key to creating a world that feels diverse is leaning heavily on strongly defined archetypes. Otherwise, the players will NEVER notice the diversity. After all, if everything is diverse, nothing is.
But if all you're doing with racial archetypes is making your world feel like it's made up of more than just humans, you're wasting the opportunity. See, archetypes are extremely powerful. They work as a narrative shorthand that you can define for yourself. And once the players come to understand those archetypes – because you apply them consistently – they will start to pile assumptions on top of them. Consider the trope of the "honorable warrior people." For example: look at the Klingons of Star Trek: The Next Generation and Star Trek: Deep Space Nine. We view them as spiritual, honorable, proud, and strong, but also temperamental, a little backwards, and a little xenophobic. That's a pretty standard trope. So, if I establish the dragonborn in my world as "honorable warrior people," even if I never establish all the parts of that, the players will start to assume some of it. That's because of their familiarity with the trope.
A dumb GM overly concerned with "originality" and "diversity" and "realism" would kick and scream the entire way. But a smart GM – like me – recognizes that and builds on it. That isn't to say I clone it. But anything extra I add has to be laid on top of that foundation.
Once I have that archetype in the game, that archetype becomes a storytelling tool. If I have to tell a story about personal honor, sacrifice, valor, xenophobia, or whatever, that becomes a great place for a dragonborn NPC. He comes loaded with the assumptions – so I don't have to explain or establish as much with the players – and he also reinforces the assumptions – so the players come to understand the race better. THAT'S the feedback loop I was talking about.
Think of a race – or culture – as a package of story themes and personality traits. When you want a specific personality or a particular theme in your game, use a member of that race. And the opposite is true. If you want to liven up your world with members of different races – which is important to do, or else why are they even in the story – remember that they come with a package of personality traits.
The thing is, archetypes are delicate tools. They can easily get broken. If you have a dwarf in your game, make sure the dwarf comes along with the dwarf archetype. Otherwise, at best, the players will simply forget they are dealing with a dwarf after a few seconds. At worst, they will stop seeing dwarves as a race at all. Dwarf will just become a meaningless term for "short and bearded with a high constitution."
Layers of Complexity
The reason so many people balk at everything I've said above is because, well, it's because people are stupid extremists who see only false dilemmas. "So," they shriek, their eyes bugging out, "are you saying all dwarves have to be IDENTICAL?!" No. I'm not saying that. But I am saying that all dwarves should be built on the same foundation. Because that's what archetypes are.
A racial archetype should include only a few distinct traits. Dwarves, in the Angryverse, tend to be gruff, materialistic, diligent, and proud. Any individual dwarf you meet in the Angryverse will exhibit at least two of those traits and will rarely run counter to any of those traits. On top of that, any given dwarf will have a unique trait or two built over the top of those others. You might meet a dwarf in a gambling hall who is proud and materialistic, but also raucous and bawdy. But that's not all. Because those archetypes are very broad. And variations on a theme are possible. A craftsman can be materialistic because he is concerned with making physical things that have a practical use. A thief can be materialistic because he's greedy. A mercenary is materialistic because he doesn't care what he's fighting for as long as he's paid. A craftsman can take pride in his work. A soldier takes pride in his uniform. Any dwarf might take pride in their racial heritage. You see how this all works?
Basically, a racial archetype isn't a straightjacket. It's a foundation on which you build. Any given individual is a variation on a theme. And that actually makes them very useful tools in storytelling and world-building because you can explore the different variations, the good sides and the bad sides. Pride can be a good thing when it leads to honor and self-examination. It can be a bad thing when it leads to egomania or xenophobia.
Playing Against Type
As I mentioned above, racial archetypes are powerful storytelling tools, but they are very delicate. Racial archetypes have to be built up over time and they have to be reinforced. Whenever you include something in your story that runs against an established archetype, you run the risk of breaking the archetype forever.
At the same time, one of the most powerful ways you can play with an archetype is to subvert that. That is, to go against it. Drizzt Do'Urden was interesting because he ran counter to everything his race – the drow – were about. He was moral, free-spirited, and compassionate amongst a people who were selfishly ambitious, cutthroat, and who accepted an unyielding caste structure. But Drizzt only worked because the drow represented a strong racial archetype to begin with. Over the years, that archetype has been weakened by too many Drizzt-clones and even an entire subrace of good-aligned rebel drow who even have their own goddess whose sphere of influence is good-aligned rebel drow.
The point is, you can play against type only once in a very rare while and it has to be clear that the individual is special or unique. In fact, it should be clear that the individual is extremely unusual, not just when compared to their own race, but when compared to the world at large. Radagast the Brown wasn't just weird for a wizard, he was weird for ANYONE. That made it okay. Drizzt was the goddamned hero of his story. That makes him, by definition, unique.
As a GM, as tempting as it might be to have the one dragonborn who isn't an honorable warrior, but who is rather a power-mad wizard. And you COULD get away with it. But you have to find a way to make them unique. Maybe they were born sickly. A runt. And they never got any respect within their clan. They mastered magic as a way to gain power and now they are hell-bent on revenge for their brutal mistreatment. But notice how you're still working within the archetype at that point. The archetype becomes a starting point. "How can I get to villain from here?"
By doing that, even the characters who don't fit the archetype reinforce the archetype. The story of the runty dragonborn megalomaniac only works because dragonborn are the way they are. He's an aberrant. A mutant. He's outside the archetype. Same with Drizzt. He was an aberration. An exile. He existed outside of his own race. And no one ever let him forget it.
Or Maybe It Doesn't Matter
I know that there are going to be a lot of GMs out there who don't like what I said above. Believe me, I know. I f$&%ing know. I hear from them all the time. Those are the ones who think "cliché" and "trope" are dirty words and use words like "stereotype" and "pigeonhole" and "straight-jacket" to describe this sort of crap. But here's the important point that they miss here. Everything I said about how to use race and culture above? You don't have to do it. Hell, I don't always do it. Not in every campaign. I'm not trying to tell you how YOU should run your world or how EVERY GM should run their worlds.
What I'm saying is this: IF you want race and culture to matter in your game and to your players, THEN you have to make race and culture stand out against the noise of the default race and culture of the PC party. And IF that's the case – IF IF F$&%ING IF – IF that's the case, THEN this is how to do it.
Comments are open. Commence pissing and moaning.