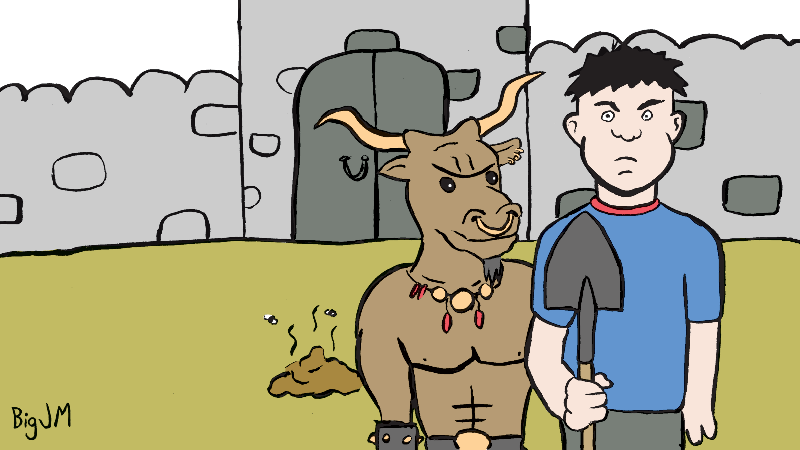 As I was working through my third playthrough of Arkane Studio's Prey on the Playstation 4 – and that's my third time since I bought the game a MONTH ago – it occurred to me that if I was going to be writing an article about secret doors and hidden treasures in D&D, I was setting myself up for a fight. But it also occurred to me that I am uniquely qualified to win that fight.
When it comes to video games, I'm a little bit obsessive. For instance, I want an unspoiled, fresh experience. Before I've finished a game at least once, I avoid all spoilers, hints, tips, strategy guides, and walkthroughs. If I'm going to win – and I'm going to – I'm going to win by myself. But that's not all. I also tend to obsess over seeing all the content. So, I am very thorough. And I know I'm good at being thorough. Because after I've played through the game once or twice, I leaf through the strategy guide – because, paradoxically, I LOVE video game strategy guides – and skim for anything I missed. And in my brain, I'm scoring myself.
To be clear, I'm not a trophy hunter. I don't give a motherloving f$&% about trophies that involve killing the last boss using only the starting peashooter weapon or eating one of every type of rutabaga in the game. Those sorts of trick shots don't interest me. But if there's a trophy for finding all of the missing people or reading absolutely every goddamned line of in-game text in every computer in the entire game, I am ALL OVER THAT S$&%.
Ultimately, my goal is what I call the PERFECT PLAYTHROUGH. After I've played the game once or twice and am pretty sure I can find everything, I start a final playthrough. And that's when I devote myself to experiencing every bit of hidden content I possibly can in one solid run through the game. And after that, I'm done. I can shelf the game and move on. And only then am I allowed to actually read the strategy guide. And look at all the beautiful maps. That's right. I only get to look at the strategy guide after I've proven I don't need it.
As a side note: DLC doesn't count. DLC can bite my a$%&. DLC f$&%ing sucks. If you like it, you're wrong.
Now, if everything goes perfectly, my PERFECT PLAYTHROUGH is also my first playthrough. That is, sometimes I get lucky and find everything on my first trip through the game. And man, does that feel good. But often, it takes a few playthroughs to find everything. Especially because some content is mutually exclusive. Sometimes, some optional objectives lock others out. And sometimes, you need certain skills to unlock certain bits of content, and there aren't enough skill points for all of the skills. And I'm fine with that. In those cases, I'll play through the game twice, seeing all the different options. And then I will pick the options for the PERFECT PLAYTHROUGH. As long as about 90% of the content isn't mutually exclusive, I can be happy with that.
As a side note, this is why I can't play games that are too long or that are loaded with optional content. The Elder Scrolls and the Fallout Series can f$&% right off. I don't have the time in my life to see every bit of content multiple times. And that's also why I hate games that are basically just two games in the same package: a good one and an evil one. But I digress.
But Prey is the perfect storm of video game content for me. Holy f$&%. It's just the right length, at about 15 to 20 hours. There are lots of collectibles and optional objectives, but not so many that it's impossible to remember them all. And it is actually possible to see unlock everything in a single playthrough except a small amount of mutually exclusive content and some minor differences in the endings. The game is a work of f$&%ing art.
What's my f$&%ing point? Apart from the fact that I have an obsessively crazy ritual about how to play video games RIGHT? My point is shut up. How about that?! Shut up. See, this is a "Bulls$&%" article. And that means it's going to be rambling and garbled. Because I'm trying to think through something at the same time as writing about it.
The thing that I'm trying to both think through and explain? It has to do with optional content. And, more specifically, hidden content. And whether optional and hidden content adds anything to table-top role-playing game (TTRPG) adventures and campaigns. And if they do add something, what do they add? And do they work the same way in TTRPGs as they do in video games?
What's Optional? What's Content?
Lots of video games contain optional and hidden content. You've got your collectibles like the ID tags in Alien: Isolation. Those are just objects that are scattered around the game world that you can gather up. Some exist purely to be collected, like those damned ID Tags, exactly ONE of which was the only thing that kept my first playthrough of Alien: Isolation from also being my PERFECT PLAYTHROUGH. Others are actually useful, like the armor upgrade tokens you can collect in Doom (2016) to enhance your character. It doesn't matter whether collectibles are intrinsically or extrinsically valuable. What matters is that they aren't required to complete the game. Collecting them is merely a bonus. Oh, and it's also important that they are unique items of which there are a limited, countable number. Health and ammo packs that you find hidden in toilets and trashcans aren't really collectibles. They are just pickups.
Besides collectibles, there are also side quests and optional objectives. In Prey, for example, which is about blowing up an alien-infested space station and escaping, several of the surviving crewmembers will ask you to perform tasks for them. One NPC needs medicine from her quarters. Another wants you to hunt down a psychopath who murdered her girlfriend. Those things aren't required. They don't change the ending. The space station still blows up and you maybe escape. But they are objectives you can complete and either earn a reward or just get the warm fuzzy feeling of seeing an objective checked off and filed in the "completed quest" list.
Closely related to optional objectives is optional story content. Those include hidden scenes, hidden dialogues, and even alternate endings. Those can be minor little details, like seeing the ghost of a dead party member tending the flowers in a church in Final Fantasy VII, or extensive scenes like the various secret dialogues you can have with your NPC party members in Mass Effect and Dragon Age. They can even include entire hidden endings, like the bit in Shadow Complex where you can abandon your girlfriend and drive away from the terrorist base and the entire game.
And hidden locations to explore, like Bloodborne's Cainhurst castle are just another type of optional content.
In video games, these types of hidden content tend to get jumbled together a lot. Hidden side quests lead to optional story content and might take you to hidden areas. Collectibles, like audio and text logs, might reveal backstory which is, in itself, also optional story content. And so on. The definitions aren't cut and dry.
When it comes to TTRPGs, though, the discussion gets harder. The open-ended nature of role-playing game adventures means that practically anything might be hidden or optional content. The magic sword in room 17, for example, is a completely optional treasure unless room 17 is on the only direct path between the dungeon's front door and the demon king the party was sent to slay. And the demon's true origin story is optional content and might never be heard if the party has their own healer and never has to visit the crazy priest in the temple. It's not unfair to say everything in a D&D adventure is optional content.
And that's why it's important, if we're going to discuss optional content in TTRPGs, to distinguish between content that is actually HIDDEN from content that is merely OPTIONAL. Most of the optional content in RPG adventures is optional by accident. It's just part of the nature of the design that game designers and game masters create worlds and then fill them with stuff. We put stuff where it should go and accept the players will pick their own path and see whatever stuff they see. But HIDDEN content has a deliberateness about it. It's not just that the party might choose to skip room 17, it's that room 17 is hidden behind a secret door. Unless the party purposely goes looking for it, they won't find it.
From that standpoint, hidden content is pretty thin on the ground in most TTRPG adventures. Apart from the occasional hidden treasure, these days most GMs and game designers avoid deliberately hidden content. Heck, most designers and GMs try to avoid even optional stuff. They accept some players might skip some stuff, but they try to find ways to ensure that the players are likely to experience almost everything. Things like optional or hidden side-quests and hidden locations are almost verboten. And when they do exist, they are usually very small. No TTRPG designer or GM would think to do what the designers of Castlevania: Symphony of the Night did and hide the ENTIRE SECOND HALF OF THE GAME.
Why Hide S$&%?
Does optional content – and especially hidden content – does optional content add anything to TTRPGs like D&D and Pathfinder? Does it have any value? The best way to answer might be to start by figuring out what such content adds to video games. After all, video games are a multibillion dollar industry and the video game design is now a respected field of academic study. If lots of games are doing something, that means there's a good reason to do it. So why do video games include hidden content.
Actually, let's ask the opposite question first. Why shouldn't video games – and TTRPGS – include hidden content. The answer is easy. Every bit of content included in a game requires time, effort, and resources. Video game content must be designed and programmed and animated. TTRPG content requires descriptions, mechanics, notes, maps, and stat blocks. That crap takes time and energy. And in a published adventure, it also takes up page space.
Now, what happens when the players ignore or overlook the optional and hidden content? After all, that's what optional means. It means the players have the OPTION of never f$&%ing engaging with it. Or never even knowing it exists. And when that happens, all of the time and resources and pages and 3D character models and everything else devoted to that hidden content, it all becomes wasted f$&%ing resources.
Think of it like this. Suppose you and your team of programmers and animated and designers have just enough time to add one more quest to your video game. You can make it an optional quest or part of the main story. As part of the main story, every player who completes the game is going to experience the quest. As an optional quest, any given player might miss out on it and never know it's in the game. That SHOULD be an easy question to answer.
And yet, every video game includes some hidden content. And some games are f$&%Ing loaded with it. Why? What does it add.
Well, the first thing hidden content adds is what we might call replay factor. If you enjoy a game and suspect there is hidden content in the game that you might have missed, you're going to play it again. Instead of 15 hours of fun, you're going to get 30 hours of fun. In terms of pure value-for-dollar, a game that is fun to replay is worth more than a game that is only worth playing once. And given the price tag on most modern video games, the replay factor is highly valued among some circles.
And remember, if people like your game, they will talk about it. And they will play it on the YouTubes. Many, many people make purchasing decisions based on word-of-mouth and recommendations from friends. The longer you can keep people playing your game, the more copies you will sell.
And that brings up another thing that optional content adds to the game. Games that are loaded with optional content like Telltale's Walking Dead, Dontnod's Life is Strange, and Supermassive Games' Until Dawn change depending on the choices you make in the story. Games like Prey and System Shock 2 provide very different experiences depending on the skills you focus on. So, different players will have different experiences. And that makes them excellent fodder for water-cooler talk. You know, conversations like "you let Carl kill that dude? I stopped him" and "I played through with hacking and found an e-mail about how Mikhaila was hiding a medical condition from the company." It also makes them excellent fodder for YouTube videos because you can watch how other people play through the game and still have a completely different experience yourself.
Speaking of the idea of unique player experiences, games with optional content also allow players to decide how to engage with the game. In Dark Souls and Bloodborne, the entire story is optional. If you want to know what's really going on, you have to search for all the clues, meet all the NPCs, and read all the item descriptions. And if you're the sort of player who gets off on that – like me – that's a crap-ton of fun. But if you're the sort of player who just wants as challenging game that involves murdering your way through undead, demons, and werewolves until you've murdered the biggest undead or demon or werewolf and the game says "okay, you killed everything," you can have that too. Optional content broadens the appeal of your game. I have a friend who loves Bloodborne and Dark Souls as much as I do, but I'm pretty sure she didn't even realize there WAS a story to those games until I started telling her about it.
Finally, to understand one of the most powerful aspects of optional, hidden content, you only have to pay attention to which games are loaded with it. In general, the more the game is focused on exploration, discovery, or open-endedness, the more optional and hidden content the game will probably include. Platformers like the first Super Mario Brothers don't include a whole lot of hidden content beyond the occasionally treasure room. And, as a result, no one talks about them in terms of discovery. No one says, "I discovered Bowser, the King of the Koopas." No one "finds" Bowser. People "get to" Bowser. People "finally manage to reach Bowser." That's because the game is about beating an obstacle course. But, in Super Metroid, people "stumble on the X-Ray scope" and "discover the Charge Beam" and "find 87% of the items in the game."
If you want your players to feel a sense of discovery, you have to actually let them, you know, discover s$%&. Games that are focused on discovery as a core engagement feature a lot of hidden content so that there's actually s$&% to discover.
Obviously, replay factor is barely an issue in TTRPGs. Players don't play the same adventures over and over. Not anymore. Once upon a time, sure, groups would just keep returning to the moathouse dungeon outside of Homlett time and again. Nowadays, with the increased focus on story and a decreased emphasis on purposely hidden content, that doesn't happen so much.
Replay factor is especially irrelevant for GMs who design their own homebrew adventures. Published adventures might occasionally be replayed for fun, but homebrew adventures are pretty much always one-and-done. Likewise, while popular adventures in popular systems like D&D's Curse of Strahd might get some mileage from players sharing their own unique experiences, that's also not a big factor.
But that leaves two good reasons to shove optional content into your game. The first is to provide a sense of discovery. The second is to let your players decide how to engage with the adventure. But are those reasons enough to warrant building in optional content? Or going the extra mile and building deliberately hidden content? Well, they are when you consider how important the Freedom to Miss S$&% is. It's so important that it's the heading for the next section.
The Freedom to Miss S$&%
A sense of discovery is only possible if a given discovery could be overlooked. That is to say, if there was no way to miss something, not missing it is not an accomplishment. And players know that. Even if they don't know that consciously, they do know it. Consider achievements and trophies in video games. The trophy for completing the tutorial level doesn't feel as good as the trophy for finding all of the collectibles. One is a participation award, one rewards an actual accomplishment.
And this is important even in the unlikely event that your group contains not one single player who cares even a little bit about discovery as a core engagement. And trust me, your group does not not contain one single… your group has one of those. Because most people have multiple core engagements and discovery is a pretty big draw for RPGs in general.
But even if you aren't worried about the sense of discovery, the ability to miss s$&% emphasizes something more important: it emphasizes the fact that the players actions and choices change the game in a fundamental way. Simply put, your choices and your actions don't matter if the outcome is a forgone conclusion.
Role-playing game sells themselves on the sheer amount of freedom and agency they grant players. They promise the most open-ended, freeform experience you can have. Even the ones with strict rules. And it's fair to say that most table-top role-playing gamers are drawn to that open-ended freedom, even if they each get off on doing different things with that freedom. And when it comes to freedom and agency, optional content is a big f$&% neon sign that flashes "freedom here!" If you choose to explore a side path and discover a rare treasure, that rare treasure is yours because of the choice you made. If you search the temple library thoroughly and find the hidden Tomb of the Ancient Knight, that discover is all yours.
Optional content doesn't just create a sense of discover, it also creates a sense of freedom. Or rather, hidden content does that. And this is where things get even more complicated.
Why I'm the Only One Who Can Write This
The distinction between hidden content and content that is merely optional is very important. When the players come to an intersection and the dungeon boss is to the left, everything to right is optional content. That's true whether the party knows it or not. Because, eventually, they will figure it out. But the stuff behind the hidden door? That's hidden content. And the difference is a psychological one.
Optional content in TTRPGs isn't special. It just isn't. Most of the content in an RPG is optional. That's just part of the conceit of the game. There's a world that exists and there is stuff in it for the players to find, whatever direction they go. The players don't have to do anything special to choose to engage with or not engage with the optional content. They simply choose whether to go left or right, visit the temple or go right to the dungeon, or whatever. Optional content is a prize that players get merely for showing up. And merely showing up doesn't feel as clever in an RPG as in a video game because of the nature of those two media.
When the party finds a secret door, though, and that leads them to a magical sword? Holy mother of f$&%! They totally could have missed that. It's a good thing they were smart enough to look around. It's a good thing the party found that ring engraved with the blacksmith's wife name. Otherwise, they never would have asked the blacksmith about his wife and gotten themselves involved in a side quest to avenge the blacksmith's wife by finding the killer. And if they hadn't done that, they wouldn't have earned a discount for life on weapons and armor.
There's a difference between the players choosing not to engage with something and with them missing it completely. And that's because merely having options isn't that exciting in a game that is literally about nothing but having options. That's like getting excited because your favorite Chinese food restaurant serves rice. Discovering something a player may have overlooked, though? That's special. And it's special no matter how obvious the clues might have been. Not only does it give you a sense of accomplishment, it drives home the fact that the game isn't designed around your character. It's a world that is going to exist even if you don't see it.
The difference is subtle. But it's important.
But why I am the only one who can explain this? Because I'm perfectly happy if I can pull off the PERFECT PLAYTHROUGH on my first time through a game. See, the difference between hidden content in video games and in TTRPGs has entirely to do with the fact that you're never going to play that TTRPG again. You get one try. And if you miss anything, not only will you never find it, you'll probably never know it. And that means it won't have any effect on you.
That's why I can write this. Because my ideal playthrough of an exploration-based video game is to play it like a D&D adventure. And that means I can understand the importance of making your hidden content look hidden.
Flagging Hidden Content
If all the content in an RPG is basically optional content and if the players will never know about any hidden content they don't find, how will they get any benefit from the fact that hidden content exists? How can they even tell the hidden content they discovered through cleverness from the optional content that they experienced merely for showing up? Obviously, because hidden content is content that is hard to find. Or at least, that seems hard to find.
If you find a pile of treasure in a room because you went left instead of right, that's optional content. It's nice. Finding treasure is fun. But if you find a pile of hidden treasure because you searched for – and found – a secret door, that's a discovery. There's no mistaking that treasure for merely optional content. No. The GM – or the world – tried to hide that treasure from you and you, through your cleverness, you discovered it.
Hidden stuff has to look hidden so that, when the party finds it, they can say "wow, we would have missed that if we weren't so damned awesome and boy it's great to play a game that lets us be awesome in that way." And every adventure should have some hidden stuff.
I'm not saying you need to hide everything. Of course not. You also need optional content and critical paths. Every game needs a mix of things. And I'm also not saying to just fill every dungeon with secret doors and hidden panels hiding all sorts of treasures and hidden locations and optional quests and Easter eggs. Not willy nilly. It's no good just filling the world with secret doors and hoping the party gets lucky.
What I'm saying is that you should plan a certain amount of deliberately hidden content that is obviously hidden for every adventure. Some of it should be easy to find, with obvious clues that invite the party to investigate and provide a high likelihood of success. Some of it should be more difficult to find, with only vague clues. As with all gaming content, proper execution is key. After all, if the party never discovers ANY of your hidden content, it isn't doing anything for your game. But I'll discuss proper execution in the next article on hidden s$&%.
At this point, you're probably wondering why this article even exists if I'm not going to discuss execution. Did I just really want to ramble about why Prey is a great game and why secret doors are awesome and why I'm so good at video games. Honestly? Yes. At least partially.
One Big Sales Pitch
Back when I first started talking about scavenger hunts and East eggs and secret doors and hidden treasures on this blog and on social media, I received a certain amount of what I will politely call "pushback." And I knew I would. Lots of GMs HATE secret doors. They HATE hidden treasures. They HATE hidden content in general. Hell, lots of them HATE traps. Believe me. After I posted the article about traps, it only got worst.
I understand. I really do. To a GM, hidden content is basically just a s$%&-ton of extra work the party might never, ever see. And GMs design enough content that never ends up seeing the light of day to begin with. They don't need to be hiding it.
But, I knew there was value in hidden content. I knew it from my own experiences and my own habits. And I knew it from how prevalent Easter eggs and hidden features are. Not just in video games. In everything. There's hidden Easter eggs in productivity software and in search engines. There's hidden features on DVDs. There's Easter eggs in movies for f$&%'s sake. Pixar can't get enough of that s$&%. And people eat them up. They get so excited when they spot them. And when they don't spot them, they read Top 10 lists and watch YouTube videos about the best hidden content in everything. Most importantly though, I've seen how players respond when they discover hidden things that were obviously hidden things. They get excited.
I wanted to think through why hidden content is so cool. And why it's especially cool in games. And how it might be cool in TTRPGs if it could be done right. And I really do think my own gameplay habits put me in the right frame of mind to really give it all some solid thought. But that's only half the story. The other thing I wanted to do was convince you – yes, YOU – that hidden content is valuable enough to be worth your time. And now, having done that – unless YOU obstinately cling to your stubborn insistence on being wrong – hopefully, having done that, I can avoid arguments about why secret doors and hidden treasures are terrible in TTRPGs when I write articles about how to do them right.
Like that will ever happen. "Avoid arguments." Ha!
Oh well. I can dream, can't I?