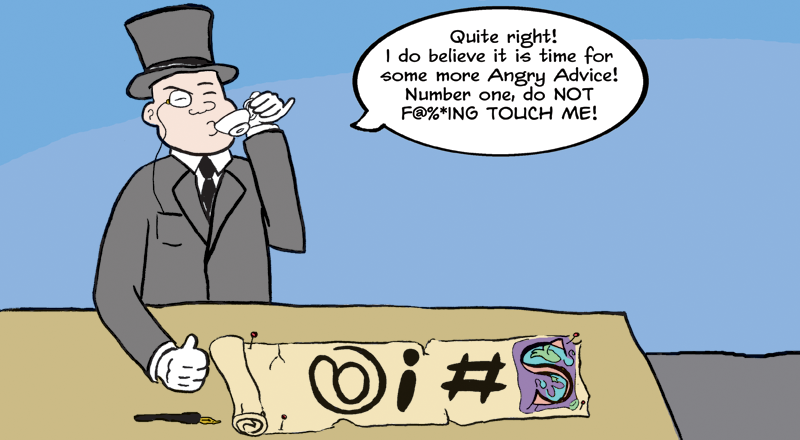 Welcome to the revival of the weekly Ask Angry segment! Each week, I'll sift through my mailbag and pick out one or more letters to answer. And by mailbag, I mean a specific folder somewhere in the mysterious cloud of 1's and 0's that is Gmail that Gmail helpfully organizes for me. And by letter, I mean e-mail. And by one or more, I mean however many will fill about 2,500 to 3,000 words.
Do you want to Ask the Angry GM a question? Check out How to Ask Angry. Oh, and if you don't follow the directions, Gmail has been instructed to treat your e-mail as spam. And delete it. And slap you. Don't test me. I have a plug-in.
Today, I'm tackling some questions about the mechanics of D&D 5E. Because I find that s$&% fun.
Managrimm asks:
Why doesn't a monster's speed factor into it's CR? The aggressive trait raises your offensive CR. It seems like ranged attackers with a speed of 60' are more dangerous than ones with a speed of 15'.
Now, to the untrained non-genius who isn't me, this might seem like a pretty boring question. And the answer is actually pretty straightforward when you think about it. But there's actually a couple of assumptions about D&D built into it. Assumptions the designers made. And it shows how design assumptions can affect the rules and leave some holes in the rules.
First of all, let's take a look at the aggressive trait and see if we can figure out why it's not movement and why it increases offensive CR. And how it increases offensive CR. aggressive is primarily found on orcs. And it reads as follows:
aggressive. As a bonus action, the orc can move up to its speed toward a hostile creature that it can see.
DMG 280 tells us that if we design a creature with the aggressive trait, we should treat its damage output per round as two points higher when we figure it's offensive CR.
Now, first let's look at the actual impact that has. If we look on the table on DMG 274, we can see that if a creature's CR is less than 1, a two-point increase in damage output will almost always result in an increase in its offensive CR. That is, if a creature has an offensive CR of 1/4, it's damage output 4-5. Increasing that by two points will definitely bump it up into the next category. But at CR 1, the damage ranges start to run about five points and they keep increasing.
What's the net result? Well, for low CR monsters, aggressive will increase its offensive CR by 1 and therefore increase its total CR by one half because the offensive and defensive CRs are averaged. But after that, the impact will be much smaller.
In the end, the designers were pretty sure the impact of aggressive was pretty negligible except at very low levels. And that makes sense. But how might aggressive actually come up in the game? Let's see if we can imagine the useful situations when aggressive will come up.
First of all, aggressive is extremely useful at the start of a fight because it allows the orc some extra movement to close with the enemy. That is, the orc can move up to its speed, and then take a bonus action to move some more, and then it can attack. That is to say it allows the orc to maybe get an extra attack during a round in which it would otherwise spend the entire round moving. And that's why it increases the damage output, but only increases it by a negligible amount. In the rare circumstance, wherein the orc would have to use a move and a dash to close to melee range with a target, it is actually able to get in an extra attack. And that is almost always in the first round of combat.
After that, aggressive becomes more situational and it becomes less and less valuable. If some opponent retreats by disengaging and moving, the orc can close the distance. The problem is that most creatures in the game move at about the same speed, 30 feet. So, in order to truly escape from an orc, most creatures will need to move and dash to have a chance of getting away, and that only works if the creature is actually faster than the orc. And the creature is going to draw an opportunity attack. In those rare cases when a creature is fast or has a bonus action that allows them to disengage or dash (like a rogue's cunning action), the orc is harder to escape than other creatures. Beyond that, though, aggressive doesn't really help. Other situations include getting a free move after downing one target to close with another. In general, that isn't terribly useful unless it allows the orc to advance from a downed melee combatant to a ranged combatant. And, given the way PCs arrange themselves, that is definitely a possibility. In that particular situation, the orcs aggression allows it to close with softer targets and perhaps either force them to accept opportunity attacks or deny them actions.
Now, interestingly, there is the possibility of combining this with multiattack, but things get a little tricky there. The rules are a little bit unclear about how bonus actions interact with movement and multiple attacks. You are allowed to move between attacks if you "take an action that includes multiple attacks" by breaking up your movement speed for the round (PHB 190). Because aggressive is NOT a speed increase, but rather a bonus action, one can argue that it can be inserted between attacks. But that's a "letter of the rules" argument that I'm not particularly fond of. And I don't think the designers did that on purpose. You can also argue about whether "you can move up to your speed toward a hostile creature you can see" allows for moving around obstacles or creatures. Must each square of movement carry you closer to your target for it to count as toward? That is also a "letter of the rules" argument and it can be argued that the difference in wording between aggressive, and say, charge (Centaur, MM 38) which uses the phrase "straight toward" is meaningful. Honestly, I don't think the designers were that deliberate or thoughtful about it.
Okay, so what, ultimately, is the difference between aggressive and just an increase in speed? I mean, it is basically just a doubling of speed, right? Well, the answer is actually in the paragraph above: it's a bonus action. And I think, to the designers, that was significant. I think that's why they probably felt they had to assign it a CR.
And this is where we get away from mechanics and into conjecture about how the game is put together and some of the assumptions behind it.
In general, the game is set up on a couple of assumptions. First of all, that on average, most creatures move 30 feet. Fast creatures move around 40 feet. A few very fast creatures, mainly quadrupedal animals known for their speed like horses and hunting cats, move 50 or 60 feet. But that is tremendously rare and not really for humanoids. Now, flying and swimming speeds are faster, but there are special situations governing those. So we don't need to consider them.
Now, if you look through the Monster Manual, you'll notice that there is a strong focus on melee combat. Most enemies are melee enemies and of the enemies that aren't, there are lots of short range attacks like fire breath and poison spitting and the like. And that's because D&D is mainly a game about melee combat. Notice that D&D doesn't include things like increased miss chances on ranged attacks if you spend the round moving, modifiers to ranged attacks for unstable footing or vigorous movement, pop-up-pop-down sniping modifiers, or suppression and the actual rules for cover are pretty general. Even the range rules are very limited. Most ranged weapons will never be fired outside of "normal" range which carries no modifiers. There's no allowance for point blank range, for example. And that's because D&D is a game that allows for ranged attacks as an exception to its melee combat engine. And, for the most part, the only people who will heavily rely on ranged combat are the player-characters themselves. So that rigor isn't needed.
Because of its melee focus, Dungeons & Dragons assumes that most fights will happen in small areas. In fact, most combats in D&D happen in areas that are indoors or are effectively as restricted as indoor areas. And there's a very good reason for that: D&D uses it a grid, it wants you to use a grid, and that grid has to fit on a table. You can choose NOT to use a grid, but that doesn't change the fact that the game's rules are based on a world marked out in five-feet squares and precise measures of precision. The game WANTS a grid.
Now, given those assumptions, it's pretty easy to see why speed is actually pretty trivial. In most situations, the first round will be spent moving around establishing the melee battle lines. In some situations, blows will be exchanged in the first round. Otherwise, they will definitely be exchanged in the second round. And that's important, because too many rounds of positioning bulls$&% is boring. So, all in all, a high speed is only useful in the first round until the battle tightens up and even then, it is only marginally useful.
THAT is why aggressive has such a minimal impact on CR. That's the reasoning.
Now, why does aggressive have any impact at all on CR whereas speed doesn't? Well, my guess is that it's entirely accidental.
See, the designers worked out that speed in D&D isn't a big factor in most situations. Unless that speed is special, like flying, the ability to move fast in a melee game isn't important. What IS important is the action economy. For example, having the speed to close ranks with an opponent or escape from an opponent isn't a big deal because most opponents WANT to close ranks and the few that don't want to be in melee range can't just run away anyway. They have to spend an action to disengage or else they risk taking damage. Speed isn't that valuable. But extra actions are.
And personally, I agree with that. Speed isn't valuable in D&D given how the game is put together. A land speed of 60 feet is kind of like a longbow range of 150 feet. "I can close with anything on the battlefield without a penalty in one round" vs. "I can target anything on the battlefield." Same basic premise.
Ultimately, here's what I think happened. They wanted to design a neat orc ability. And they came up with aggressive. Orcs can close ranks quickly and they are hard to escape from. And then, because they assigned the ability, they had to figure out what value that ability had. And, as designers, they saw that it was giving them a bonus in the action economy and so they knew it had to have SOME impact. And when they worked through it, they realized the impact was trivial except for the weakest of monsters. And even then, it was still fairly trivial.
In short, the designers never intended for high land speeds within what they considered to be the "normal range" of movement to impact CR because of the way the game is designed. But, when someone designed aggressive, they had to assign it SOME value because it was a trait and because it affected the action economy. But they probably didn't consider the fact that, in the end, it was no different than a creature with 60 feet of movement. So, basically, the general rules say high speeds are so close to worthless that it's not worth setting a value. Then, someone came along and said "we have to assign a value to this speed boost" and they set a value as $0.01.
And by the way, remember all that CR crap is just a way of making an estimate. There's nothing exact in it and some of the values are a bit off kilter. There's no such thing as perfect balance there.