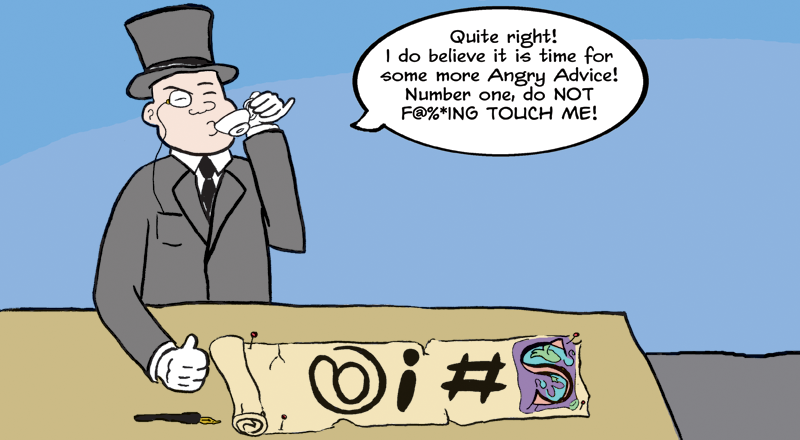 For my obligatory, meandering introduction I'd like to say a few things. First of all, there is a small contingent of my readership that feels the need to point out that I don't NEED rambling, meandering introductions. They point out they add nothing to the article except word count. They come out of the wood work every time I mention my obligatory long, rambling introduction. And they always end by pointing out that they just SKIP the long, meandering introduction. If you're one of those people, you've probably already skipped this paragraph. Which is a shame, because this bit is especially for you.
Shut up, dumba$&. Have you ever noticed that I purposely make it easy for you to skip this part? First of all, the actual content of the article always starts AFTER the first header. Which is easy to scroll down to. Second of all, the reason I call out the unnecessary bulls$&% introductions as unnecessary bulls$&% is because sometimes I use the introduction for actual useful s$&%. So, I actually make a joke out of the unnecessary introduction to help you identify the bulls$&% ones. THAT is why you (a) recognize the bulls$&% unnecessary introductory verbiage and (b) are able to easily skip it. Yes. I actually do this on purpose. I ENABLE you to skip the introduction if you want to.
But, just because YOU don't get the point and just because it doesn't do anything for YOU, doesn't mean these introductions don't serve SOME purpose and entertain SOME people. The thing is, you have recognized that the introductions are entirely optional and you've figured out how to skip them. So there is NO REASON to tell me how much better my writing would be if I removed them. The fact that my writing allows you to skip the chaff and find the wheat while allowing other people to enjoy the entertaining chaff demonstrates that I actually AM pretty good at this. And I'm also already meeting you dumba$&es halfway. So stop pissing and moaning about my introductions. Skip them if you want. Or read and enjoy them. Just SHUT UP ABOUT IT EITHER WAY.
Second of all – and here is where I AM purposely f$&%ing with all the people who skip the introduction by including actual useful explanation in an introduction I've already called out as useless bulls$&% – second of all, I have a couple of really exciting things in the works. First of all, we have to continue our series on NPCs. Second of all, I have a really big, amazing article about how to run a game for a group of people completely new to RPGs and convince them that this is the greatest hobby ever without boring or confusing the f$&% out of them. Third, Operation Catch the F$&% Up is going very well despite the lateness of this article and the still haphazard nature of the Megadungeon project. I'm afraid things will continue to be a little haphazard until the deadline date of October 31.
So, with those big things going on in the background, I'm taking another week out to catch up on some Ask Angry questions. And that's what your reading now.
Third of all, I want to take just a moment to thank all of you who took the time to respond to my introduction about Operate Catch the F$&% Up two weeks ago. I appreciate all of your support. Honestly, it is because of how engaged and supportive you all are that I feel like I've been failing you. If you were just nameless, faceless eyeballs; if you were just an impressive number on my page view stats; it'd be easy to just keep floating without guilt. The fact that so many people go out of their way to let me know how valuable all of this garbage I vomit out into the internet actually is to them is what keeps me going. So, thanks for that. It's your fault I can't put less than 110% into this s$&%.
Okay, meandering introduction done. Let's give some Angry Answers.
Goblingravy asks:
My question is about world building, which I don't see you cover all that often, but I know you'll have a good answer. Basically, how do you track calendar time in your campaigns? What I mean is, it's very useful to track the passage of time in weeks, month, and years, but personally I find it very boring and immersion-breaking to just use our real-world calendar. On the other hand, I don't want to make up a new calendar for my setting with all new structures for days in a week, weeks in a month, names of the months, and so on. You could just rename the months to fit your world, but that still feels lame. Do you have any good tips for this?
"Do you have any good tips for this?" Why would you ever ask that. Of course I have good tips for this. I have good tips for everything. I'm a never ending fountain of good tips, spurting an endless stream of good tips majestically skyward like… like something stands up straight and shoots endless streams of stuff all over the place. I can't think of anything at the moment.
Calendars are in a weird class of world detail. A class that also includes the sun, moon, and sky. And the basic appearance of the world. And certain laws of physics and chemistry. They are things that are so ubiquitous to us real life human beings that they are just basic assumptions. If you tell a group of players that they are standing on a grassy hill, overlooking a forest, while the sun sets over the ocean in the distance, they are going to assume the grass and the forest are green, the sun is yellow and gold, the ocean is blue, and so on. And they are so ubiquitous that, unless you point out an exception, the player brain is going to always picture the default. What do I mean? And how is it related to calendars? Well, let me explain.
Imagine your world has two small suns, one red and one yellow. The world has a normal climate through the magic of who cares how astrophysics works. It's just, when you look up, you're going to see two suns. So, the first time you describe the sunset, you describe two suns. But then, the next day, when the characters are out and you describe the weather as sunny, the players will still only see one sun in their head. Basically, unless you remind the players CONSTANTLY of the weird detail, they won't ever remember it.
Now, if you're willing to be repetitive and always mention the two suns in as much flavor text as you can every single session, your players will remember the two suns. But you have to constantly reinforce it because they can't SEE the game. They can only imagine it based on their own experiences and what you describe.
Now, GMs LOVE to change the number of suns and moons or add other nifty features like debris rings in orbit around the planet. It is an easy way to make the world feel fantastic and different from Earth. But, for the most part, the details just don't stick in player brains. Look at Eberron. Quick: how many suns and moons did Eberron have? What did the night sky of Eberron look like? Do you remember any other odd features?
The problem is those changes are useless. They are a class of things some folks call "Calling a Rabbit a Smeerp." Basically, that's the practice of painting a thin, meaningless veneer over something to give it the appearance of fantasy. The trouble is, unless the changes actually make themselves FELT in a meaningful way, in a narrative game like D&D, they won't matter much. They will just get forgotten.
For example, if you had a system of magic that was based on the lunar cycles of two moons, or a series of moongates that connect different parts of the world based on lunar cycles, or if certain types of magical effects manifested themselves in a variety of ways based on the lunar cycles, or if the world was filled with the descendants of lycanthropes so that the PCs stats and abilities changed slightly depending on lunar cycles, or monsters and fiends would manifest under the dark of the new moons so that the world was decidedly more dangerous when the moons were dark, no one is going to give a damn about how many moons the world has.
Now, Eberron TRIED to tell us how important the effects of its TWELVE F$&%ING MOONS and it's magical RING OF SIBERYS were. But, in the end, the effects were minor, complicated, and dependent on the GM to give a f$&% about. So, that bulls$&% barely mattered.
In general, unless I have a cool mechanic that is tied to some element of celestial mechanics, my worlds have one sun and one moon and the usual number of stars scattered across the inky blackness of the night. In point of fact, because the word Earth (capital OR lowercase) is so ingrained in our consciousness as a synonym for "the world" and "the ground" and "reality" and "dirt," all of my worlds are also named something that sounds exactly like Earth with a slight misspelling. Aerth. Erth. Urth. Urf. Airth. Whatever.
Which brings us to calendars. And the problem with calendars. And why I misspell Earth. See, although it is perfectly acceptable to imagine a fantasy world very much like Earth that has the proper number of suns and moons and stars and things, there are some things that would be really weird coincidences. Like if the planet is actually CALLED Earth. Hell, even Tolkien knew it couldn't just be Earth. It had to be a weird, timeless age long forgotten. Middle Earth. And Gygax knew it couldn't just be Earth. It had to be Oerth. But people ARE going to slip and say "earth" when they mean "the fantasy world we're pretending to be in."
Calendars are like that. See, calendars are useful tools. They are going to come up in most games. It'd be very weird for your world NOT to have a calendar. And calendars are based mostly on celestial mechanics. Days are 24 hours long because Earth rotates. Months are 30 days because the moon goes around the Earth. Years are 365 days because the Earth revolves around the sun. And there are four distinct seasons in much of the world because the Earth is off-kilter by 23 degrees. And, if we assume that Ayrth has the same celestial mechanics as the Earth and weather works basically the same, we can presume that Ayrth has the same calendar as Earth.
Except that our Calendar, the Gregorian Calendar, has a lot of crap named for things that just don't exist in Ayrth. The days of the week are named for the Norse Gods. Some months are named after Roman deities (January, March, May, June), one is named after a festival (February), two are named for famous Emperors (July, August), and the last four are just named after the Latin for seven, eight, nine, and ten (September, October, November, and December). And yes, they are now misnumbered thanks to some changes to the calendar. The point is, it would be really weird for Ayrth to have that calendar. And, by weird, I mean "it would f$&% up suspension of disbelief" in a way that "misspelled Earth" really doesn't.
At the same time, our calendar is kind of complicated because our solar system is stupid. The moon cycle isn't perfectly aligned to the day-night cycle, so it doesn't synch up, and then means months are a little MORE than 28 days. If they were even based on the moon anymore, which they aren't. Because the Earth takes 365 days and a skosh to go around the sun, which means the proper number of months don't even really fit evenly into a year if we go by the moon. And then there's leap years. And even those are imperfect because we have to skip leap three leap years every four centuries to synch everything up.
So, we want a calendar that matches our experiences on Earth. But we want a unique calendar for Ayrth. And, given the chance, we can simplify the whole f$&%ing thing. But players aren't going to remember complex details like how each month is named for a different god of your made up religions or whatever. And naming the days of the week is a f$&%ing waste because who even cares?
And that brings me around to the Official Calendar of Ayrth. This is the calendar I use in every campaign. It is simple, easy to remember, and makes perfect sense for a fantasy world created by gods. And it just rounds off some of the oddities in the celestial mechanics.
There are 336 days in a year. But I never explicitly say that and no one ever notices. Instead, I just say there are 12 months in a year and each month is exactly 28 days. And 28 days is exactly how long it takes the moon to go through all of its cycles and get back to new. A New Moon is a New Month. Which means, the 14th day of the month is always a full moon. And that's when werewolves happen.
There are seven days in a week. They aren't named. It's not important. I HAVE named them after the gods in some campaigns, but no one ever cared. I just keep that detail to myself. But it doesn't hurt to have it. What IS important – to breathe some life into your cities and towns – is this: every sixth day is a worship day. That is the day set aside for everyone to make offerings to the gods, visit temples and pray for good harvests, hold weddings, hold funerals, and all the other religious s$&%. On that day, the god's power is strongest. That's when they listening. Every seventh day is a day of rest. That's a fun day. People don't work. They bathe and relax and hang with their family and visit neighbors and have fun. Bathing was actually an important part of Sundays, historically. The other five days of the week are work days. Pure and simple.
Now, the real beauty of the calendar is the months. Twelve months and four seasons means three months per season. Each month is named after the season it's a part of with a word and a descriptive word that means start, middle, and end. For example, I use -wax (for growing), -tide (for time), and -ebb (for shrinking). So, my calendar has 12 months:
Springswax
Springtide
Springsebb
Summerswax
Summertide
Summersebb
Autumnswax
Autumntide
Autumnsebb
Winterswax
Wintertide
Wintersebb
And that's it. It's simple, it's easy to keep track of, it makes perfect sense, and it is totally logical. It is fantastic, but not confusion. It seems perfect for a medieval fantasy world.
Feel free to steal that calendar. Or, you can do things like Springsrise, Springspeak, and Springsfall. Or Low Spring, High Spring, Fading Spring. Same basic idea, different descriptive poetic bulls$%&.
Jeff asks:
In your recent Plot Arcs article, I noticed you never specifically mentioned any "Save-the-World" plot arcs. How would you balance Save-the-World arcs against other plot arcs? Would you even recommend using them at all, or is it too easy for them to overwhelm the rest of the campaign?
Hey Jeff! Aren't you the smart one. Yeah, I saw a whole big thread in the comments of my A-Plot, B-Plot, 1, 2, 3-Plot article about "Save the World" arcs. And I sure as hell wasn't going to try to clarify in the comment section. Thankfully, here you are giving me the opportunity to set the record right. So, let's talk about Save-the-World arcs.
First of all, "Save the World" is not a type of arc. It's a narrative. It's a specific story that might happen in an arc. It's something an arc can be about. "Save the world" is no different from "reclaim the kingdom" or "find the seven pieces of the rod of seven parts" or "buy the brother out of prison" or "overthrow the evil empire" or "become the best adventurers in the world" or "win the big game." IN THEORY, it doesn't even have to be a major arc. But it'd be really hard NOT to make that the major arc. It's possible to have save the world as a minor plot, but not practical.
The point is, there is nothing that keeps "save the world" from sitting alongside another major arc and three minor arcs in your campaign. Or another major arc, two minor arcs, and Filler Crap. Seriously. Look at Star Wars. Basically, that was "save the world by defeating the evil empire," right? But there was also "deal with Han Solo's past and rescue him from Jabba" and "Luke's Jedi training."
Now, some folks in the comments pointed out that the most logical thing to do when faced with a world-ending threat you can defeat is to deal with it as soon as possible and not spend time dicking around on smaller crap. And that is certainly true. Most of the Final Fantasy games are perfect examples of the ludicrous nature of "putting the main plot on hold," but Final Fantasy is the most egregious. There is a literal giant, planet killing meteor hurtling toward the world summoned by the clone of ancient space Satan, but the game is perfectly happy for you to spend as long as you like playing a medieval ostrich kart racer and watching your race birds f$&% and the meteor will just keep hanging in the sky. Yeah, that's stupid. But that isn't the fault of "save the world" type plots. It's the fault of crappy pacing and thoughtlessness.
If there is a literal gun pointing at the world right now and the villain is about to pull the trigger and heroes have the opportunity to stop it, yes, the only thing to do is save the world. Because nothing else matters. But even Final Fantasy VII didn't start that way. The first third of the game was structured as a chase, trying to track Space Satan Jr. across the globe, losing the trail, and finding it again. And, along the way, the heroes lost the trail a few times. And during those times of lost trails, they got distracted with resolving that machine gun arm guy's family issues and helping the magical lion with his daddy issues and helping Angsty Spice deal with his angsty issues and so on. Dragon Quest VIII actually handled this very well. The party spent the game chasing after a possessed clown. They kept picking up and losing the trail and getting distracted with other adventures, some of which were false leads, some were just people in need, and some actually helped the party pick up the trail. Then, when they caught the possessed clown, Satan moved on to a dog, and the party's wizard, and a priest, and the chase kept going. Only in the last few moments did Satan reveal himself.
The point is that, just because the party has to save the world, that doesn't mean they CAN save the world right now. They might not have the opportunity or the means. And the threat might be vague and distant and only barely understood. Mulder and Scully were basically saving the world from aliens (I think?), but they had to peel back all the layers first to even figure out who they were saving it from and how to save it. And along the way, they ran into a lot of problems that MIGHT or MIGHT NOT be related to the big one. In Final Fantasy VI, you can fly to Kefka's Tower in the World of Ruin immediately upon reaching the second half of the game. You can try to kill Clown Satan. But you aren't going to win. You need to gather a party and power them up. And you can still do it at any time. You can decide to do it with as small a party as you want. Same with Mass Effect 2. You had to build up your team. You could do the final mission at any time.
Those worked because the threat was looming, but it wasn't imminent. Kefka was a tyrant who already ruled the world. He wasn't actively going to destroy it any more than he already had. Sure, he was going to keep tormenting and murdering people. Crono Trigger did the same as Mass Effect. In Crono Trigger, you have a time machine. You can literally defeat the bad guy at any time you want. But you want your party to be at full power because if you die, there's no second chance.
If you give the party the means, the opportunity, and the power to save the world RIGHT NOW, they will take it. They'd be stupid not to. But if they are lacking in any or all of those things, they have to wait. And you – as the GM – control that s$&%. They can try to track down the villain, but if their leads keep coming up dry and you throw distractions in their path in the meantime, they will get distracted. Of course, if the threat is going to blow up the world in exactly 24 hours, the heroes will NOT be distracted. You can't hang the meteor in the air and expect the party to get distracted. They WILL go on the suicide mission even if they don't feel they can win if the moon is going to crush Termina in six hours.
But there's another key to the "save the world" arc not eating all the other plots. It's the reason Luke went to save Han Solo even though the fleet was massing to destroy the Second Death Star that could literally destroy worlds. It was personal. If the party has a sense that "saving the world" can wait or if it HAS TO wait because they can't save it YET, then their personal motives are going to take over. They might come to town looking for a lead on the possessed clown, but if they can't find a lead but meanwhile everyone is dying of the Curse of Flesh Rot that originated from the Evil Temple of Really Horrible Plot Devices, and you really sell how terrible that is and the people are begging to be saved, you can bet the players will take the distraction. If not, they are kind of a$&holes.
And while we're on the subject, I also want to address this comment right quick.
Kiqjaq comments:
Only thing I don't get is why Filler Crap is being almost recommended. Historically, when the tension needs to drop in my game to keep good pacing, I drag out the denoument for a victory the PCs recently had. Or I hand out some exposition on things the players are interested in, or that is important for an upcoming challenge/adventure. I feel like here you're recommending I make entire adventures, several sessions' worth, just completely trivial and unimportant. What huh?
Don't confuse my use of the name Filler Crap as a statement of importance. Filler Crap isn't trivial or unimportant. Because every adventure has a motivation, a resolution, and all the stuff in the middle. All adventures are good stories. My word "Filler Crap" is sarcasm. That's all.
Filler Crap isn't JUST about dropping tension. It's about a lot of things. It's about giving the players something lower stakes to deal with so they don't feel like every action they do is going to destroy the f$&%ing world. It's about adding variety into your game with other villains and plots and stories that don't fit the main arcs. It's about giving the GM a chance to take a break away from the main arcs to let them stir. It's about the chance to establish relationships and explore the world without the looming threat of the main arcs overshadowing things. And it's because most major arcs will either end too quickly or turn super boring if they drag out too long. Seriously, how long would Skyrim be if all you did was do the main story quests? I'm guessing like fifteen minutes. Now, if you want a campaign to last only three months, that's fine. But if you're going for a long, meaty campaign, you need to vary the plot arcs.
Dragging out the denouement is terrible, TERRIBLE pacing. By definition, the denouement is boring. All the decisions are made, the battles are won, the obstacles are defeated, so there is no interesting decisions with actual consequences to make. It's a holding pattern. Now, some groups get really into "dicking around in character" and those groups will probably eat up three sessions of "celebrating the defeat of the dragon." But those are rare exceptions. And some groups will try to enjoy it if that's all they have, but they will discover that they want something better once something better comes along.
Oh, by the way: yes, I absolutely recommend USING "save the world" arcs. They are a crapton of fun. Especially when the PCs f$&% up and you tell them that the campaign is over because the world got destroyed.